Updated July 2022.
It's summertime and the sippin' is easy. And, Whistler is sip central, with a vibrant cocktail scene and patios galore dotted throughout town. So, after enjoying a fun-filled day of activities in town, corral your pals and head off in search of a tipple or two.
Here are just a few of the featured cocktails on offer throughout Whistler this summer season.
Araxi Restaurant + Oyster Bar
As one of Whistler's most celebrated fine dining establishments, Araxi never disappoints when it comes to food and drink. Located in the heart of Whistler Village, the restaurant is known for its upscale dining experience, farm (and ocean) to table dining, and an impressive bar menu. Bar Manager, René and his team have concocted a dynamic selection of cocktails, which pair perfectly with the restaurant's fusion cuisine.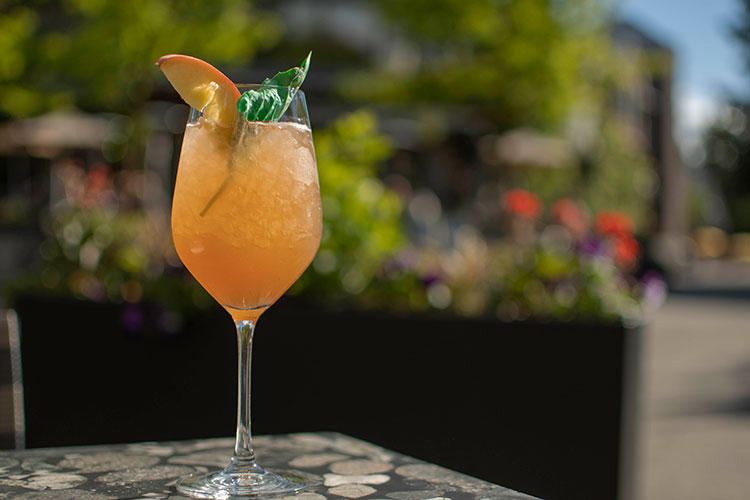 Nothing says summer quite like fresh basil on a sunny patio. The Basil Fawlty is a must-sip featuring sloe gin with hints of apple, ginger and a dash of peach. Try this with the BC Heirloom Tomato Salad with buffalo mozzarella, aged balsamic vinegar, basil pesto and croutons.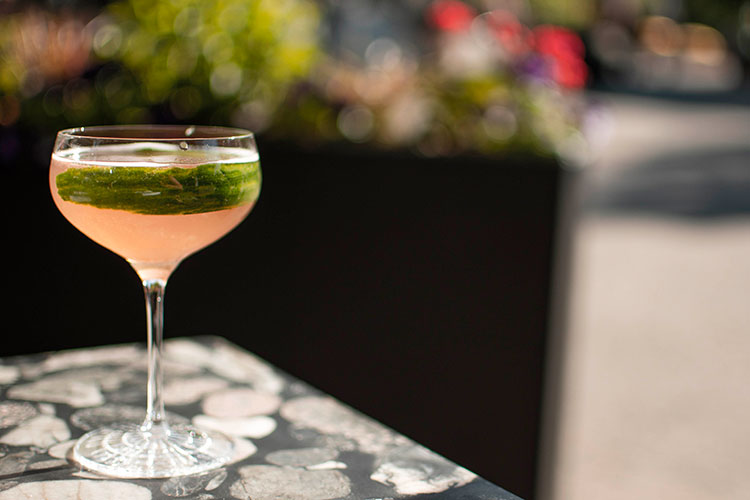 The Forty Thieves is a burst of refreshing Asian flavours, with traces of green tea and sesame washed Russian Standard Vodka. The cucumber garnish is the perfect tribute to the season. Try this with the Wild BC Tuna Tataki or Lobster and Matane Shrimp Sushi Roll. 
For a limited time in July, you can also sample the Rhubarb Old Fashioned with BC rhubarb-infused bourbon. Oysters, an Araxi staple and the perfect start to any meal, pair well with this cocktail. For an alternative, try the Mushroom Tart with onion jam, blue cheese foam, thyme gel and fig crema.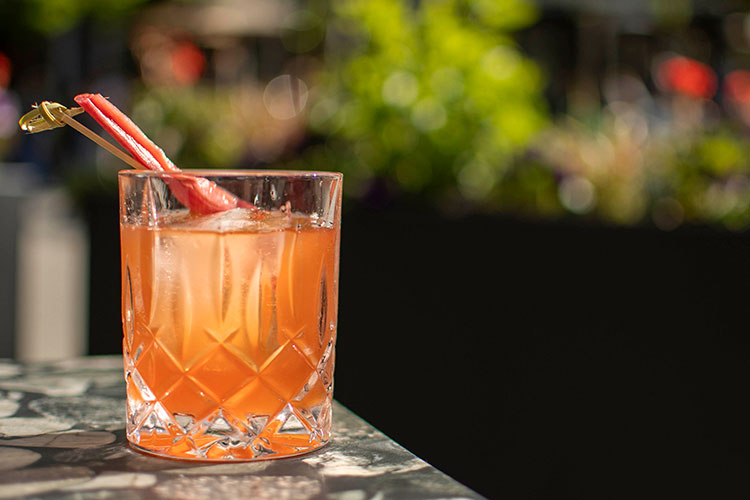 Editor's Note: Please check the dining guide for current hours.
Bar Oso (currently closed due to rennovations)
This Spanish tapas bar in Village Square offers small tasting plates, hand-crafted cocktails and intimate dining in a European-inspired setting.   
Try an Oso Sour topped with maple bacon or add a little pep to your day with the Café con Crema, a zingy mix of Monkey Shoulder Scotch, crème de cacao, chilled espresso, Averna and Spanish cream. If you're more of a classic cocktail drinker, there is always the beloved Longtable Gin G&T.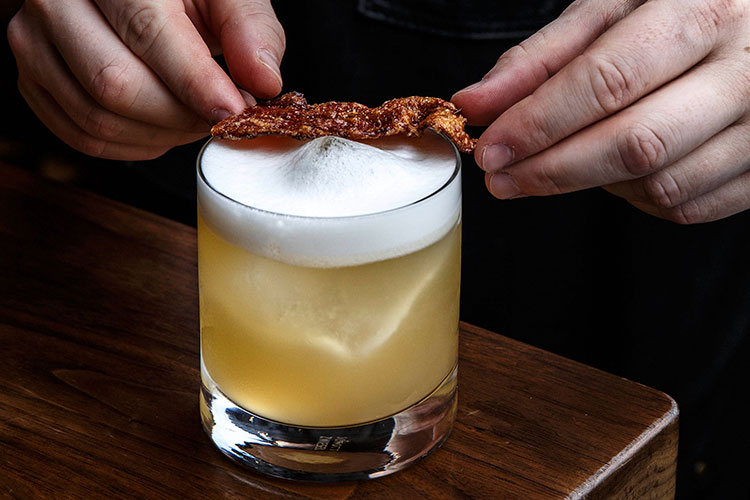 Bar Oso, which translates to "bear" in Spanish, is well-known for its charcuterie board selection, which features cured meats, artisan cheeses, homemade pickles, chutney and crostini. Alternatively, you can pair your cocktail with Iberico ham or a wild scallop crudo.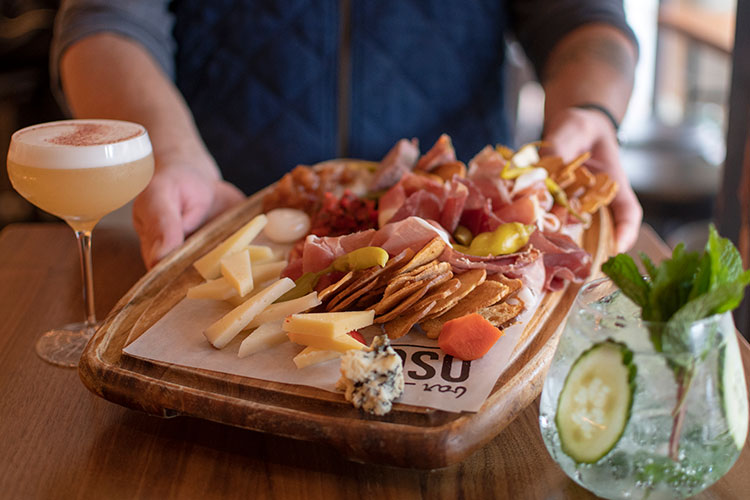 Editor's Note: Please check the dining guide for current hours.
Bearfoot Bistro
Dining at Bearfoot Bistro is always a sensory experience. From sabering champagne to sampling a flight of sub-zero vodka in the ice room, there's always something fun to sip and sample at this Whistler must-do. Summers at Bearfoot are all about the sunny patio experience, which is one of the best-kept secrets in town mid-week.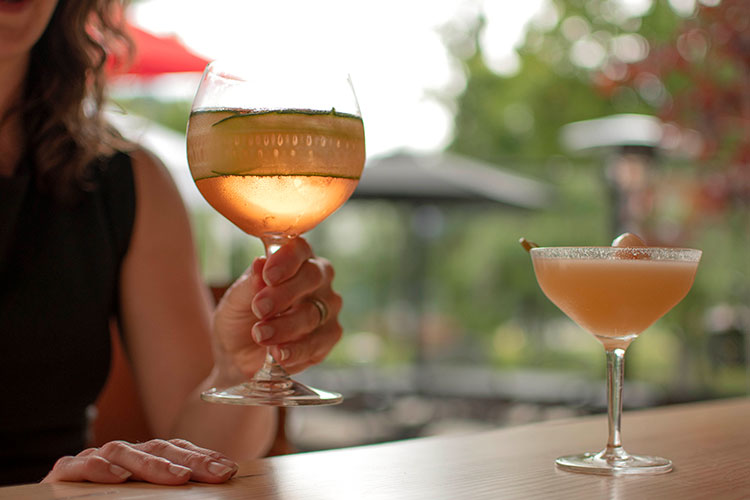 In true Bearfoot fashion, bartender and passionate mixologist Tommy, is always re-inventing the art of the cocktail and has produced a colourful array of boozy bevvies for those long summer days and nights. The eclectic cocktail menu is full of creative musings like marmalade-infused tequila, making for a vibrant (and highly Instagrammable) drink.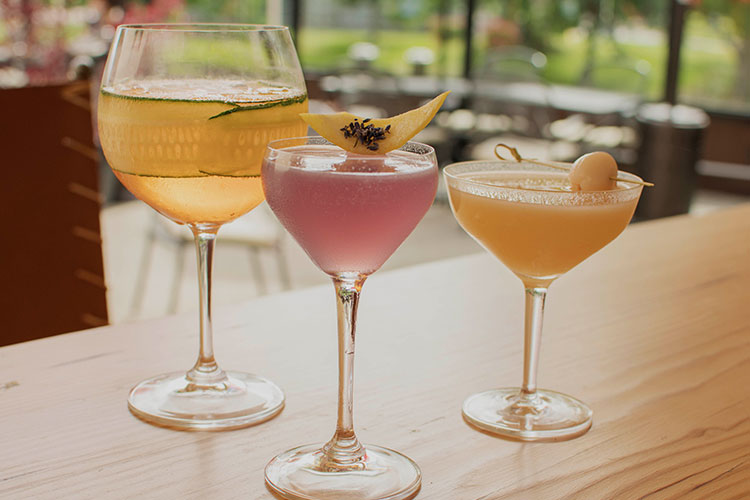 Try the electric purple First Empressions cocktail, with Empress 1908 Gin, Crème de Violette, and hints of citrus and botanicals. The Cocktail Special, a gin and tonic with Aperol, Lillet fortified wine, a hint of thyme, and cucumber garnish, is a refreshing drink that goes down easy (maybe a little too easy). The ever-popular Gin Chin puts Japanese gin and yuzu-lychee flavours at the forefront of your palate.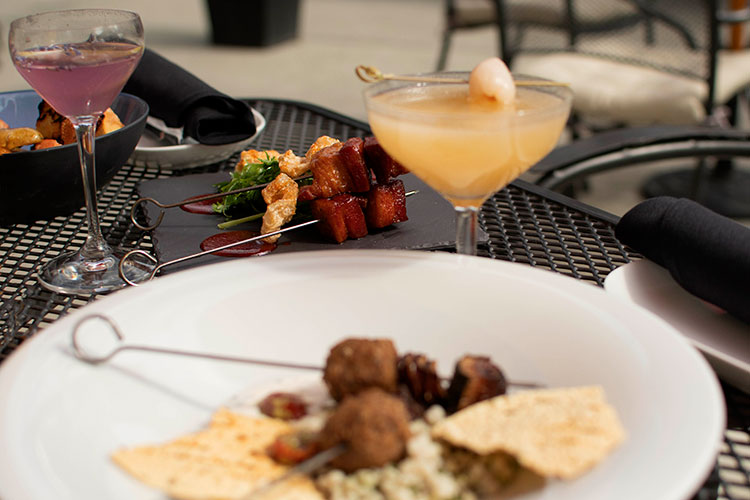 Oysters are a must at Bearfoot, and their small tasting plates make for light and delicious bites too. Savour Mediterranean fare with roasted vegetable and halloumi skewers, or Morrocan lamb kefta with couscous, harissa yogurt, mint, and chickpea crisp. The chili-glazed pork belly with gochujang, jalapeno, cilantro and chicharron is a winning combination, while the octopus and prawn dish will have your mouth watering for more. 
Editor's Note: Please check the dining guide for current hours.
Cure Lounge and Patio at Nita Lake Lodge
ISO tranquil lakeside patio vibes? Cure Lounge and Patio at Nita Lake Lodge in Creekside is perched alongside the Whistler Valley Trail with stunning views of the mountains and Nita Lake. Watch the world go by as you enjoy fresh, local fare and artisan cocktails with garnishes and infusions harvested from the hotel's own garden. 
Though their cocktail list has some new inventions and old favourites (Caesar, Moscow Mule, and Margaritas to name a few), the suite of gin and tonics is particularly enticing.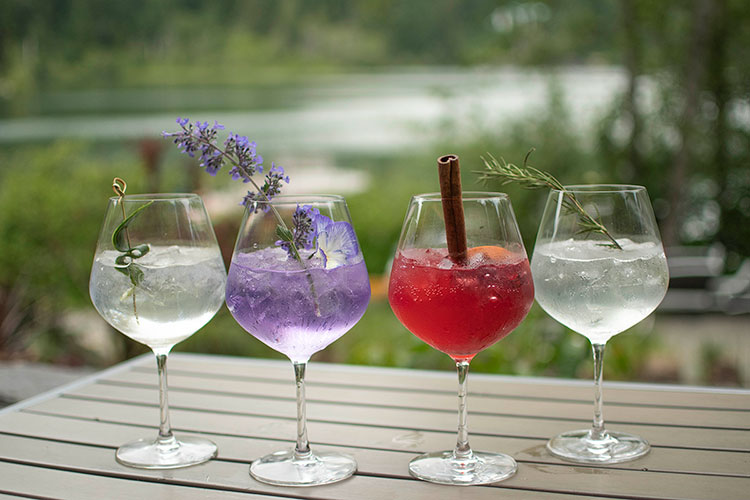 The Blood Orange G&T features Nita Lake's Signature Gin and bursts of blood orange and cinnamon. Try this with the pork belly bites. The Mediterranean G&T, poured with Deep Cove Gin and a dash of rosemary, pairs nicely with the green chickpea hummus, patatas bravas, or crispy fried calamari (a patron favourite).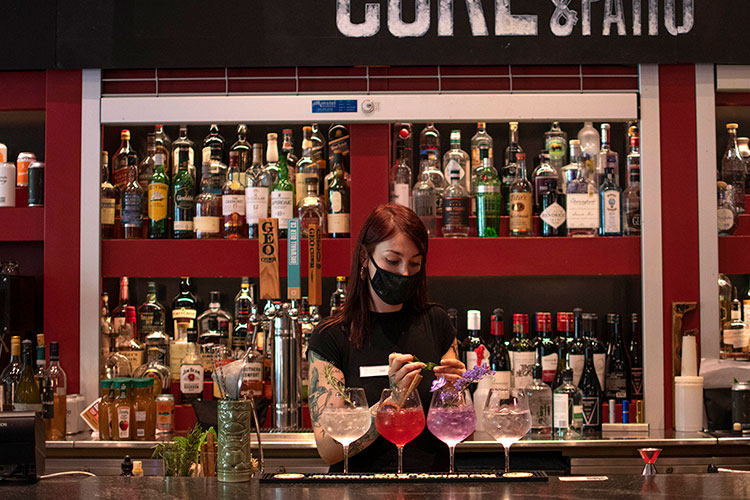 The Elderflower G&T is backed by Empress Gin, elderflower and lavender; while Longtable cucumber gin, fresh mint and gold flakes are marquee ingredients of the Cucumber G&T. These subtle flavours complement seared Haida Gwaii albacore tuna, parmesan garlic fries, or crispy fried cauliflower. 
Editor's Note: Please check the dining guide for current hours.
Mallard Lounge and Terrace at Fairmont Chateau Whistler
The Mallard, tucked away in the relaxed Upper Village, is a must-do for cocktail sampling. Sit in a peaceful garden setting with views of Blackcomb and while away the afternoon with a cool cocktail and fresh, seasonal cuisine.  
Celebrate the season with the colourful and elegant Rhubarb Patch (Empress Gin, Veuve Clicquot Rhubarb, and a hint of lemon). The rhubarb is harvested from Fairmont's rooftop garden. Meanwhile, the Alpine Punch is inspired by the popular Aperol spritz, with light and refreshing flavours of pineapple, lemon, cranberry and orange.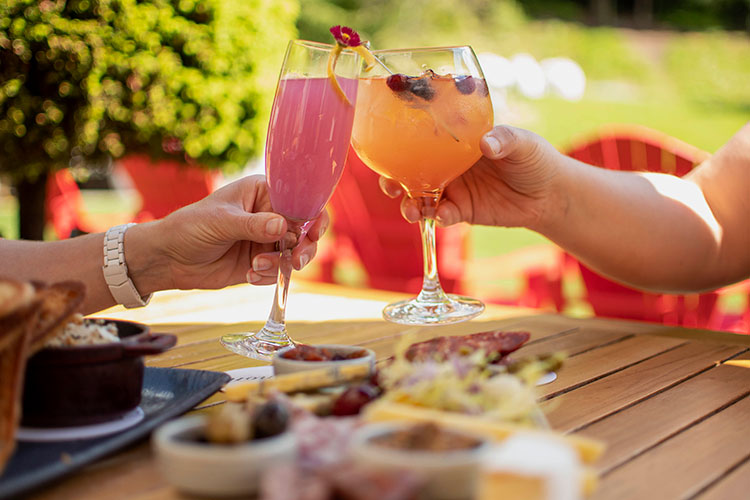 Pair these breezy cocktails with a starter like the meat and cheese plate, with Chef's selection of hand-smoked and cured meats from Two Rivers Meats, local cheese from Golden Ears Cheesecrafters, crostini and accompaniments. 
If you're in the mood for a Mai Tai, try the Highliner, complete with a tiki glass. With Tonka bean–infused Bourbon, you'll pick up the aromas and flavuors of vanilla and almond. If botanicals are your thing, you must try the Flowerbomb. Made with premium copper still Elyx Vodka and paired with flavours of lemon and lavender, this is a great pre-dinner sipper.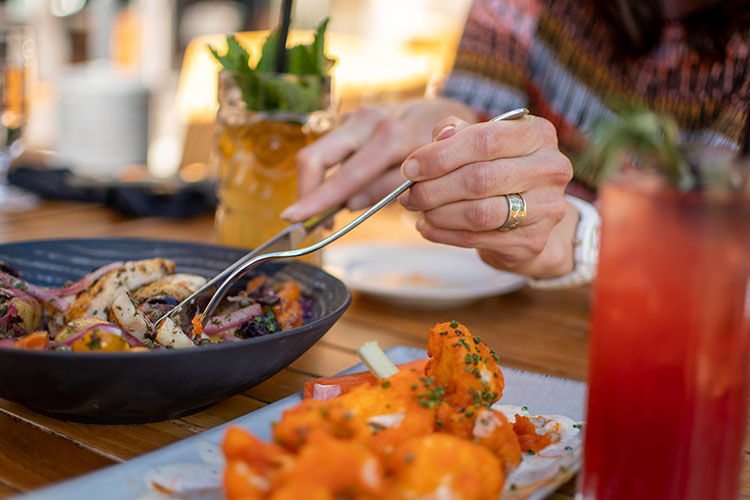 The crispy buffalo cauliflower with buttermilk ranch dressing makes for a great pairing appetizer. Or, if you have a bit more of an appetite, try the tender grilled Humboldt squid with lemon, capers, olives, red onions, tomato roast garlic and fingerling potatoes. 
Editor's Note: Please check the dining guide for current hours.
The Raven Room
The cocktail menu at The Raven Room is all about summer crushability. The passionate bar team has delved into their "Shrine to Spirits" collection to craft a fun and playful menu that is both locally sourced and globally inspired. 
In an effort to break down the barrier of boring cocktails, every drink is lovingly crafted and thoughtfully named with a personal touch. The Mom Wants the Pool Boy (inspired by a staffer's own personal experience) features sugar snap pea infused JC Tradicional tequila, house-made cucumber liqueur, lime juice and agave syrup.
Make your own garnish for the Paper Crane, a smooth and flavourful drink with Japanese gin, sake, Aperol, lemon juice, yuzu, and sesame oil (yum!). If you're a cheese lover, try the Parmesan-washed Plymouth Gin Martini or gin and tonic, you'll be delighted by the zesty flavour.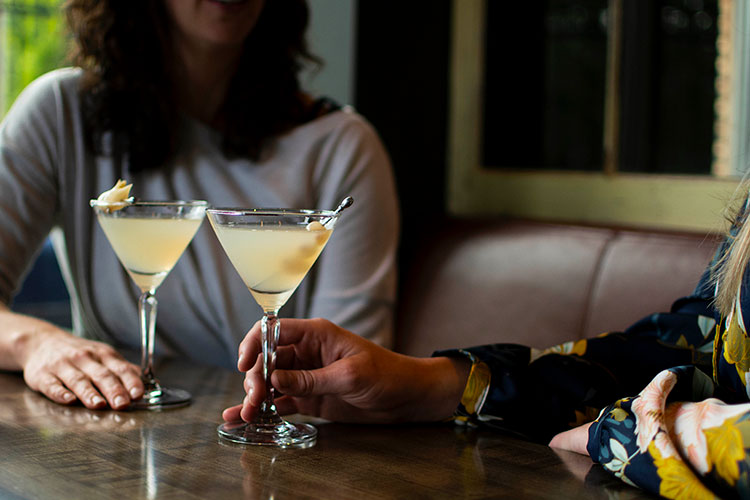 Their seasonal menu is always rotating, which keeps things exciting. Pair your cocktails with spicy thai fried chicken, parmesan potato puffs (to go with that martini), or miso-glazed Hakurei turnips. They also offer vegan options like jackfruit bao buns and crispy mushroom and chickpea fritters. 
Editor's Note: Please check the dining guide for current hours.
Braidwood Tavern at the Four Seasons Resort & Residences Whistler
The Braidwood Tavern is a relative newcomer on the Whistler restaurant scene, and it's certainly making its mark with an array of craft beers, exciting cocktails and approachable bites. Bartender Rocio, originally from Mexico, has put several spins on the classic margarita and you try three of them when you order a Margarita Flight (don't be intimidated, they're a reduced 5-ounce size). The Hibiscus and Ginger and Mijo, which both have a base of Hornitos Silver Tequila, are incredibly unique and both lend themselves to warm, summer evenings as they are nicely balanced, fresh and a little punchy.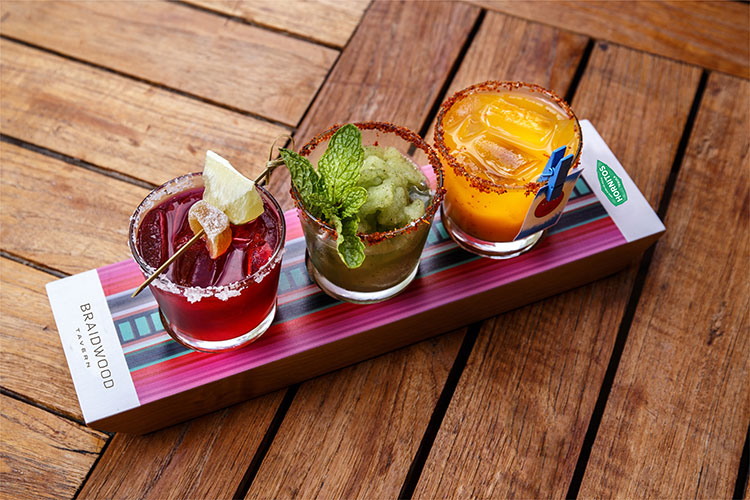 Try these out on the patio at one of their Braidwood Summer Sunset events, which happen at twilight (5 – 9 PM) on Fridays and Saturdays. Pair your margarita with a halibut and oyster mushroom skewer, fresh off the grill, served with a green goddess sauce and lemon aioli. The Braidwood Summer Sunsets also include live music and the chance to chat with local brewers and artisans, which makes it a one-of-a-kind Whistler experience, almost as unique as the margarita in your hand. 
Editor's Note: Please check the dining guide for current hours.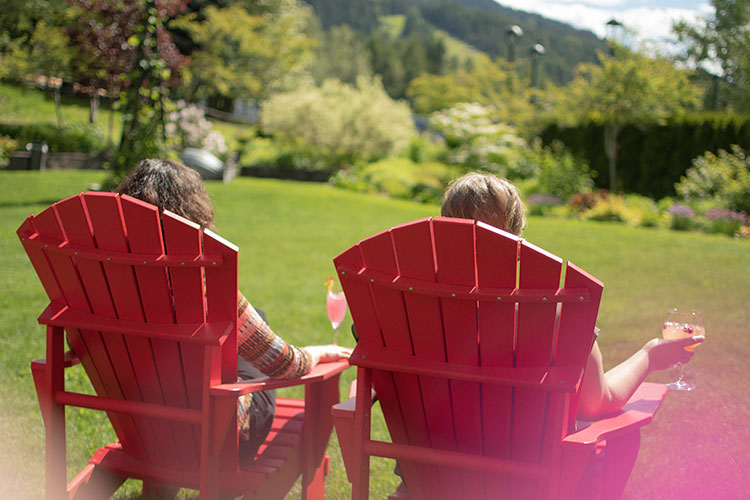 Book your winter holiday with Whistler.com by November 15 to secure the best rates for the winter 2022/23 season (save up to 40% on lodging and 60% on lift tickets). It's easy to book your vacation when you have the freedom of our Flexible Cancellation options backed by our Book With Confidence program.