A skateboard ramp is not a typical installation piece at the Squamish Lil'wat Cultural Centre and the local First Nations ambassadors don't typically have to explain the difference between a pow surfer and a snowboard, but Boarder X is not a typical art show. And after months of hurdles, the much-heralded showcase of Indigenous connections to the land through board sports has finally arrived in a town where board sports are taken as seriously as…anything really.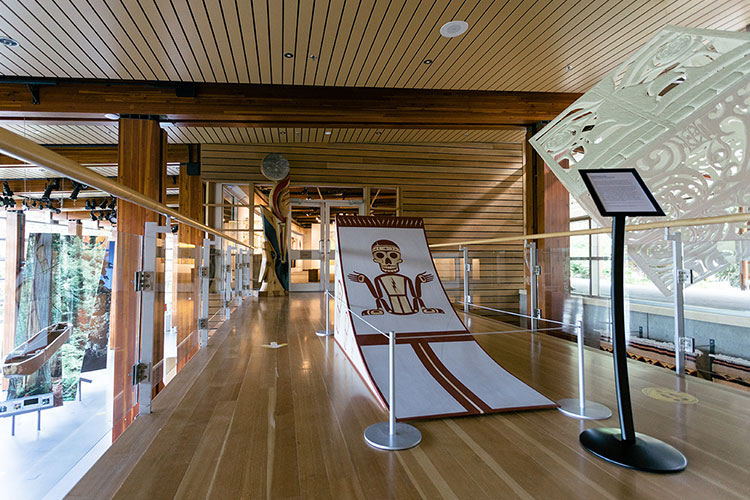 "The shared passion for sport is something we all have in common here in Whistler," says Alison Pascal (Mixalhítsa7), a Cultural Ambassador of the Lil'wat Nation. "This show has a theme of connection to the land, and for First Nations peoples, our stories are written on the land. So it's exciting to have an exhibit that opens these stories to younger people and asks them to think about how they connect to the land."
Originally opening at the Winnipeg Art Gallery in 2016, Boarder X is a multi-discipline art show bringing together seven contemporary Indigenous artists who skate, surf, and/or snowboard. The works, which include painting, carving, video, weaving, photography and more, explore the intersections between Indigenous culture, board culture and the landscapes these sports come from.
Local artist/photographer Mason Mashon hand-carved a pow board (pictured left) from a single piece of western red cedar he discovered while surfing the remote beaches of western Vancouver Island. The board, which has never been ridden, features a woven cedar bark topsheet created by snowboarder and master weaver Meghann O'Brien (Jaad Kuujus), who has another piece of work, Sky Blanket, in the Boarder X show. The wrapped cedar skateboard deck on the right is part of the Indigenous Life Sport Academy's auction and was created by Avis O'Brien (Meghann's younger sister).
"The artists relate to the land through these experiences," says Boarder X curator, Jaimie Isaac, "and their art is a vehicle for expression and dialogue that is environmental, political, cultural, artistic and social."
With work from artists across Canada, Boarder X pieces touch on themes such as breaking stereotypes, subverting gender expectations, shared traditions, ancestral knowledge transfer, silenced voices, the connectivity between traditional materials and landscapes/territories and the power of sport to heal trauma.
"Topics like inequality, gender identity, or the residential school system are not always easy to discuss, for young people or anyone else," Pascal says. "But when you approach these subjects through art it takes away that hesitancy and offers an easier way to begin talking about these things."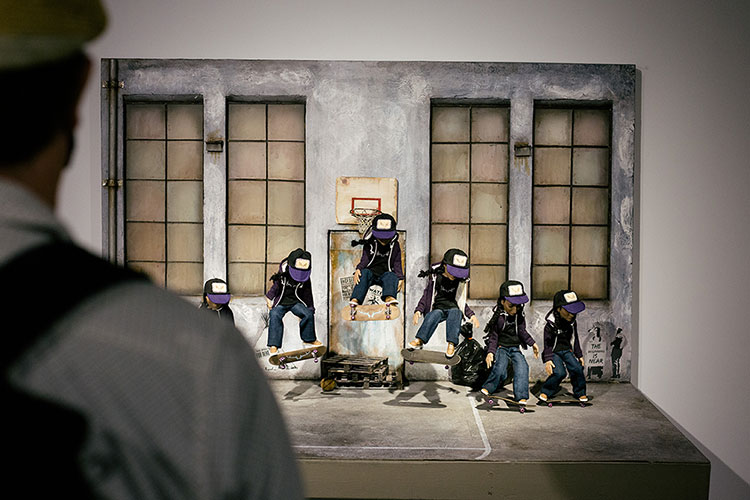 Having exhibited in six cities across Canada in the past five years, the idea of attracting young people, particularly young Indigenous kids, has always been a key part of Boarder X. Isaac says that the commonality of sports, like snowboarding and skateboarding, can help young people feel a greater sense of belonging in venues such as art galleries or museums; places that may have previously felt beyond their reach.
"When I was starting out, skating and snowboarding were subcultures that weren't really accepted by the mainstream," says Isaac, a member of the Sagkeeng First Nation who learned to snowboard on a 150-vertical-foot ski hill outside of Winnipeg. "Even in ski resorts, these sports had a negative association and I saw parallels between these alternative ways of life and the struggles Indigenous youth face to defy stereotypes. With the Boarder X programming and community partnerships with groups like the Indigenous Life Sport academy, the idea is to change these spaces in a decolonial way to make art institutions more inclusive and relevant to groups that can be engaged with contemporary art in a meaningful way."
The Indigenous Life Sport Academy (ILSA) is a Whistler-based organization that focuses on unstructured sports and activities that benefit the mental health and physical well-being of Indigenous and foster-care youth. They run a number of sports camps in the Sea to Sky Corridor and across BC (skateboard, snowboard, rock climbing, mountaineering, ethnobotany, animal tracking, mountain biking). At Boarder X, the ILSA is showcasing a number of skateboard decks featuring art from Indigenous artists.
"I reached out to Jaimie and said, I want you to paint a skateboard and I want us to be part of your show," says ILSA director Court Blackbird (Siginaak). "We immediately partnered, and she has already mailed her board. We have 12 pieces up and more coming in daily."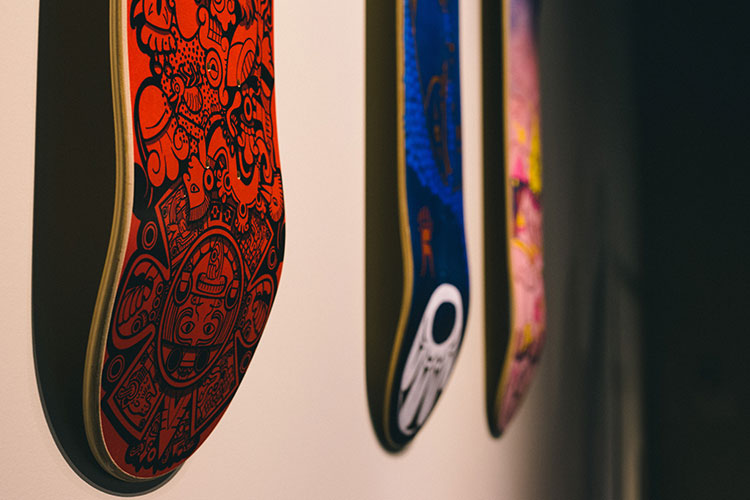 The boards (plus more created by non-Indigenous artists) will be auctioned off on the summer solstice on June 21 (National Indigenous Peoples Day) with proceeds going to support the Artists communities as well as offering skateboards and clinics to youth in the Sea to Sky.
"Any Indigenous or foster-care kid can get a free skateboard anytime they want," Blackbird says. "Skateboards save lives, that is intercultural and it is proven. Skateboarders are the misfits and the outcasts and that feeling of being judged and pushed out is exactly how it feels for Indigenous youth. Skateboarding, snowboarding, these sports create a sense of community and of belonging."
June is National Indigenous Peoples Month in Canada, so there is truly no better time to delve deeper into Indigenous culture, stories and history.
"Indigenous stories are written on the land," Alison Pascal reiterates. "And our traditional practices reflect the importance of the land. We all live here and love it here, and there are more shared commonalities than we might realize."
The Boarder X show runs until October and the Squamish Lil'wat Cultural Centre has special youth-aimed art activations planned throughout the summer.
Whistler is still the same fun-loving, thrill-seeking destination it's always been, we're just slowing the pace a touch this summer. We can't wait to welcome you back when the time is right for you, and if you want to win a trip to Whistler this summer (enter now, travel later), check out the Adventure Deeper Contest, which includes round-trip airfare, six nights' accommodation and a host of summer activity fun.
This summer, the longer you stay, the more you save with room rates dropping as you book more nights (7 nights from $93 CAD per night). You will also receive a free adventure voucher, which gets you up to $100 off a Whistler activity.