Updated April 2022
We all love a good park. The wide-open space, luscious grass underfoot, access to the water and therefore, water toys, the dappled shade of a grove of trees, and the views out over the snow-capped mountain ranges. And, because we all love it, we have to share it.
Whistler's parks and lakes will be busy this summer, so make your summer plans diverse, consider coming midweek and off-peak (early morning and evenings), and have a Plan B in your back pocket (not hard when you're in one of the most adventure-filled places on the planet).
Getting to Whistler's Lakes and Parks
One of Whistler's most unsung achievements is the 46-kilometre, car-free, Valley Trail system that winds around parks, lakes and neighbourhoods. Park and play this summer by leaving the car (at your accommodation or in the Day Lots) and getting on a bike. Whether you rent a bike or bring your own, there are many ways that active transport is the better option. Not only is it good for you and the planet, but it's a fun way to explore a bit farther this summer.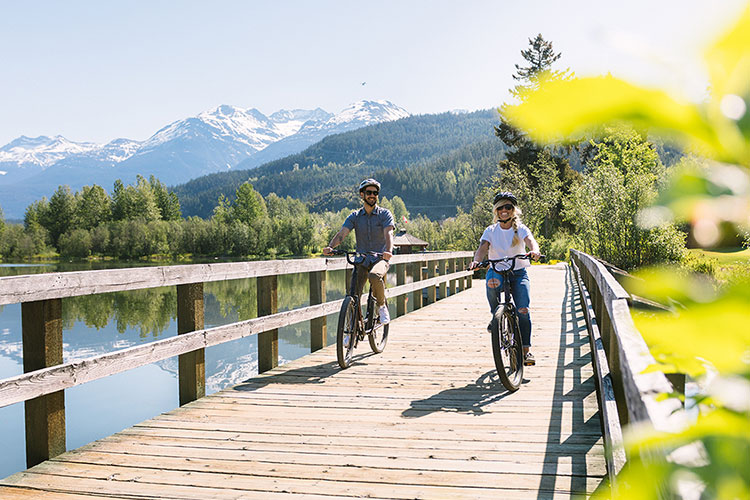 Knowing that more people will be out on their bikes, the Resort Municipality of Whistler (RMOW) has free and secure bike and gear valet stations at Whistler Olympic Plaza, Rainbow Park, and Lost Lake Park this summer, so you can store your two wheels and beach gear safely while you explore on foot.
The RMOW is also running free Rainbow and Lost Lake park shuttles, which are in addition to free local transit this summer (until September 5, 2022). There are also some road and construction projects that will make it a little tougher to get to some of Whistler's parks via car this summer, so ditch the car and opt to bike, shuttle, or use transit when you're in Whistler.
Picnics at the Park
There's no need to lug a full picnic basket and cooler to the park with you this summer as Whistler's food truck program, Park Eats!, has been amped up. There will be rotating, locally-owned and operated food trucks and pop-up tents at Alpha Lake, Lakeside, Lost Lake and Rainbow parks serving up crepes, coffees, salads, burgers, pizza, gelato, kombucha and more tasty lunch options and refreshing treats.
There's also a new in-park delivery point for orders from Portobello (run by Fairmont Chateau Whistler) at eight park locations. The Park Eats! program runs from June to September with vendors operating from 11 AM to 5 PM.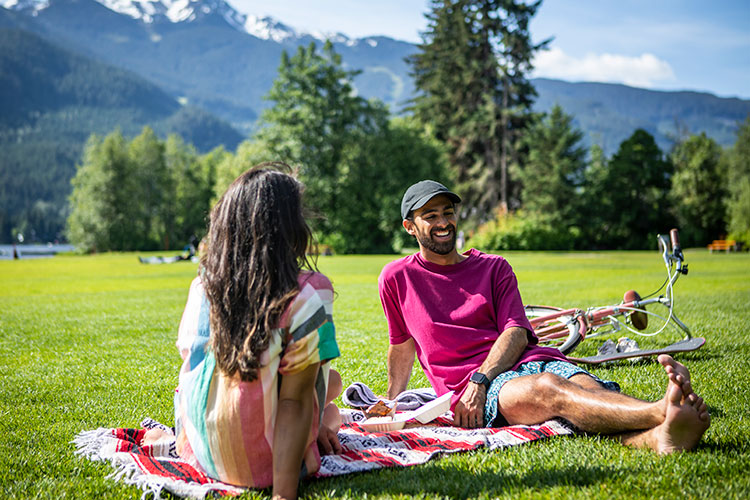 It's good to know that the fire rating in Whistler in the summer months typically sits at high to extreme, which means you're only allowed gas and propane barbeques at the parks and lakes. If you are thinking of bringing your own barbeque with you, check the fire rating before you pack it and never put hot coals into the bins at the park.
Talking of bins, please don't overflow them. If they're looking a bit full, take your waste with you and dispose of it back at your accommodation. Don't leave it for Whistler's wildlife; a fed bear is a dead bear. There are recycling and compost bin options at the parks, so make sure to take a look at what you're putting in each one. Whistler's environmental group, AWARE, will be on hand on weekends to help with any waste-based questions.
Water Toys & Tents
You know we started this post off on the topic of sharing, well, we all love our toys but we've got to think about what we cart down to the parks this summer and how much room it takes up. You should really try to limit yourself to one picnic blanket and don't bring a tent – not only do they take up a lot of room, but they block sightlines to the water and if the wind picks up they can become moving projectiles with sharp pegs attached.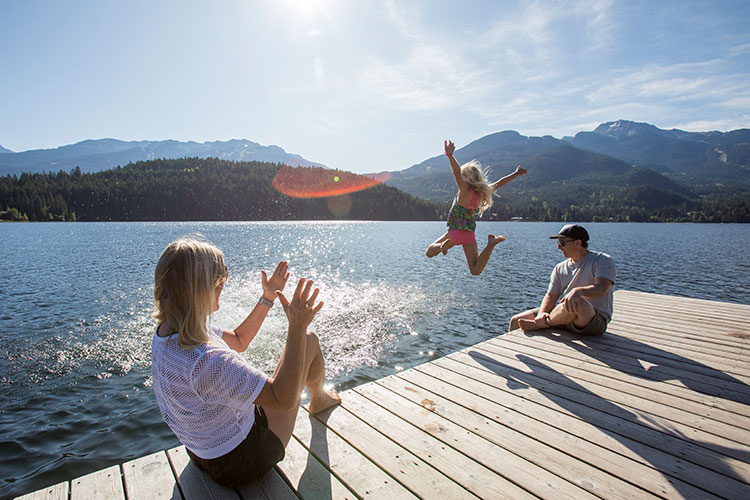 Shop local for fun things you might want to have at the lake – sandcastle competition, anyone? If you do buy something new, remove all the packaging before you come to the park, as the bins aren't built for huge cardboard boxes or Styrofoam.
We also suggest leaving your floaties at home and opting to rent a sturdier floatation device like a canoe, kayak, or standup paddleboard, our rivers and lakes have rocks and branches that love to make holes in thin plastic. Want to dip a rod into those waters? Grab a fishing license before you do (you can get these at Whistler Hardware) and make sure you know which lakes are catch and release only.
If you are bringing your own water toys to Whistler, remember to give them a wash before and after so that you don't accidentally drop off some invasive species that shouldn't be here. Talking of invasive species, if you are intrigued by Whistler's flora and fauna, then look out for the pop-up nature stations at the parks on weekends.
Know that if you are paddleboarding, canoeing, kayaking or using an inflatable boat, you are required by Canadian law to have the right safety gear. The Conservation Officer Service is actively doing patrols in Whistler to enforce this federal law and non-compliance may result in a $230 fine for each missing item (ouch). Find out more in Transport Canada's Safe Boating Guide.
Respect the Space
If you want to throw a Frisbee or play a game of soccer, then we suggest getting to the park early, or coming later when the main rush of the day is over. Running over a toddler as you go for a goal will not win you any points.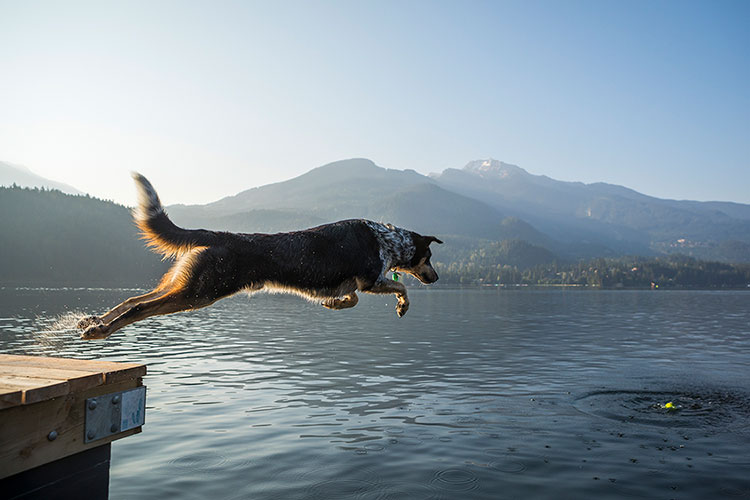 We do love our furry members of the family here in Whistler, but we ask that you keep them on a leash in the parks and on the trails, unless you're at an off-leash park / area. And please pick up the poop, we have bag stations and bins at all the parks too!
See you at the park this summer!
Book your winter holiday with Whistler.com by November 15 to secure the best rates for the winter 2022/23 season (save up to 40% on lodging and 60% on lift tickets). It's easy to book your vacation when you have the freedom of our Flexible Cancellation options backed by our Book With Confidence program.
Fall in Whistler offers great value on accommodation with rooms from $129 CAD, plus a free $100 CAD Dining Voucher when you book a stay of 3 nights or more.