Why Whistler? A question that Whistler locals get asked all the time. And, although there are a variety of responses to this question, you can be sure they'll answer with passion, pride and a fun story.
What is it about these mountains that draw people from all over the world and then won't let some of them go? If they're from here, what makes them return? What makes people work in fields that have nothing to do with their education? What gets under their skin and embeds itself so deep that Whistler becomes part of their soul?
We ask a variety of Whistler locals Why Whistler? In Video 3, we chat with Kylie Wilkins, Assistant Manager at The Adventure Group's Vallea Lumina, a multimedia light show set deep in Whistler's forest. She grew up in the Sea to Sky and talks about why she returned, what it's like to work in the tourism industry and how it feels to make people smile.
Where Are You From?
I'm originally from Pemberton (twenty minutes north of Whistler), but when I graduated high school my family ended up moving to Whistler. I came back to Whistler after going to university, and I've stayed here ever since.
Why Did You Come Back to Whistler After University?
I wasn't really sure what I wanted to do. I figured I'd come back home and go from there. I went to the University of Victoria and majored in biology, with a focus on genetics and cellular biology. I'm not using it at all at the moment. I thought I wanted to go into veterinarian medicine, but during university, I realized I didn't want to do that. It just wasn't a fit for me.
I grew up working in the tourism industry; I'd guided during high school and university and really liked it. So, when I got home that's what I did. I renewed my 80-hour, wilderness, first-responder course and talked to some people in the industry, which included my sister (a Canadian Wilderness Adventures guide) and father (a Whistler Heli Skiing guide)
I applied to The Adventure Group (TAG) when I got back and was hired as a zipline guide. I worked my way up from there. From zipline guiding, I went to mechanized guiding, so ATVs and side x sides in the summer and snowmobiling in the winter. I was still looking for something more and applied for the supervisor position at Vallea Lumina, and now I'm the assistant manager. I hadn't planned this to be a long term thing, but I'm still here and still moving up. I've been with TAG for four years now, it's fun!
What Is It About Guiding That You Really Like?
Being outdoors is number one for me. Being able to spend every day outside, even in terrible weather, it's still kinda fun. I'm all about the adventure, so sometimes those hard days are just part of the fun. It's nice to meet people from all over the world, connect with them and share in their experiences. What I like about guiding is twofold, there's the adventure and there's the meeting people.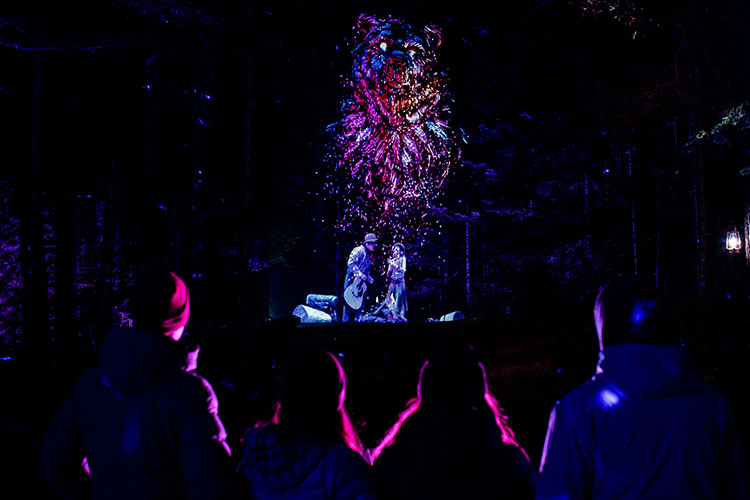 What's an Average Day Like at Vallea Lumina?
I actually make the team dinner. I like to do that first so that it's ready for when they get there. Then I walk the Vallea Lumina course and see if there's any maintenance that needs doing. Then I'll relay that to the tech team or the operations crew – it all needs to get done before the show starts.
There's a bit of admin, I'll brief the team over their dinner and then it's setup time. We make sure the base is clean, that the fires are on, the ticket machines are working, the parking signage is up and once the tech team tells us the show is ready, we're just waiting for the first set of guests to arrive.
Then it's just a case of monitoring things and making sure that guests are happy. After the last show, we shut it all down and prep for the next day. That's my night!
What's It Like When That First Group Goes Through?
It depends on how the preparation has gone as to whether I feel ready, nervous, or stressed before the show. We're usually ready way before the first show, but sometimes I spend a lot of time running around. There will be days when we have a tech issue, the course is slippery or we have staff running late, which is stressful, but for the most part, we're ready to go.
What's It Like Seeing People Experience the Show?
It's fun to see people's perceptions change. Some people are like, it's just a light show in the forest, and then they come out saying how amazing it is, that's super cool.
The level of excitement you see from kids is pretty amazing. Being part of these people's experiences and adventures – that's what I love about being in the tourism industry.
We got an email recently from a family who'd been to the show, thanking us. Thanks to COVID-19, they said it had been a while since they'd seen their kids being kids. It made me really happy to think that the experience they'd had with us had meant that they could forget what was going on in the world and just enjoy themselves – be kids.
What Do You Love About Your Job?
I love making people smile. I think that's really cool. Having someone come up to you after their tour to thank you, say it was awesome, with a big smile on their face.
Working in the tourism industry has helped me grow as a person. It's given me the confidence to deal with a lot of different situations and a wide variety of people. It's also given me some skills like first aid, how to manage conflict and guest expectations. I'm not sure what the future holds just yet, I'm going to see how it goes!
What's Unique About Whistler?
Whistler's amazing because you can walk out your front door and do so many activities, and meet so many people from all over the world. You can have a different experience every day. It's accessible. Things are so close. I can go for a ski before I go to work – there are not many places in the world where you can do that.
It's easy to throw your skis in the car, go for a couple of hours and then come back, before your shift. That's the thing about Whistler, it's easy to get outside and have fun.
INSIDER TIP: In the video, Kylie is enjoying a morning cross country ski at Whistler Olympic Park, a twenty-minute drive south from Whistler Village. It has 90 kilometres of cross-country ski trails (including 30 km of dog-friendly trails) and more than 30 kilometres of maintained snowshoe trails (with 15 km of dog-friendly trails).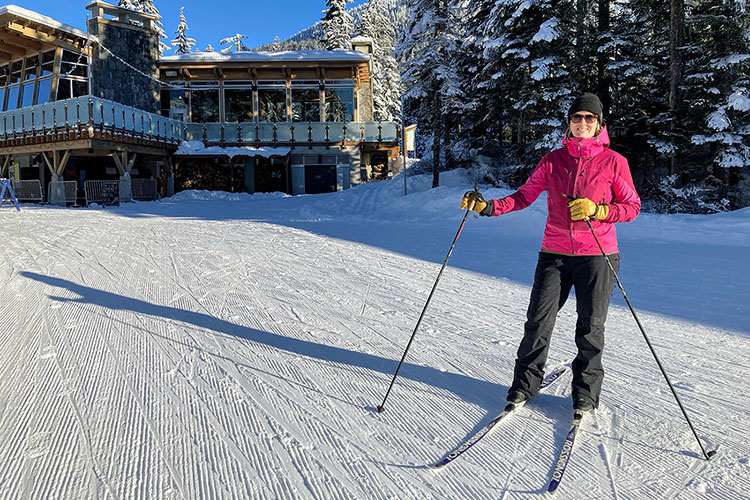 What Do You Do With Your Time Off?
I like to get outside for at least a few hours every day. In the winter, I go skiing, whether that's downhill, touring or cross-country at Whistler Olympic Park. I've been snowmobiling a bit recently too. In the summertime, I like to go hiking or hang out at the lake.
There's something about being outside in the clear air – it just makes me feel better. It lifts any stress I have, clears my head and makes me appreciate life.
How Has Living in Whistler Shaped You?
I think it's made me a little more radical and a bit more aware of social issues. Whistler is one of the most expensive places to live in Canada, a lot of people are struggling to be here. You need to make sure people are safe and happy. If you can be kind and go out of your way to help someone, make their life a little easier, it makes it a better place for all of us.
What's the Heart and Soul of Whistler?
The locals, the people who commit to being here, create the culture of Whistler. Everybody's here to enjoy the lifestyle, be outside, be ambassadors for the outdoors, and share that with people from all over the world.
Locals, like Kylie, are the beating heart of Whistler, which is made up of tireless workers, small business owners, and passionate entrepreneurs who all love to revel in the mountains. This is #WhistlerNice.
Follow us on social media to get the next installment of Why Whistler? To meet more Whistler locals take a look at the rest of the video series, we're adding more as we go!
If this video has you dreaming of a trip to Whistler, enter the Winterscape Contest for a chance to win an incredible Whistler travel package. 
Ross Reid is our talented videographer on this project. To see more of his work visit his website.