Updated June, 2022.
Many years back, my husband, Shashank, and I had taken a beginner's ski lesson at Mount Seymour in Vancouver. It was our first visit to his parents' home after our wedding, and we wanted to do something memorable to mark our visit. As much as this was supposed to be a class for learning to ski, for me, it was a lesson in tumbling.
All I could manage by the end of it was to put on my skis, slide down a small slope, frantically try to push my heels out to bring the skis into a pizza position, fail to do so, and eventually fall at the end of the slope. The saving grace was that I managed to fall on the left side of the path so that the next student could take her turn skiing down. I waited, sitting down for either my husband or the ski instructor to come and help prop me up again so I could take the skis off, walk up the slope and give it another try. At the end of the half-day lesson, I was tired. Tired of the tumbling class.
The Wonder That Is Muscle Memory
Naturally, when we booked a beginner's ski lesson in Whistler six years later, I knew better than to expect anything. If I could do a little more skiing and a little less tumbling, I'd consider it a success. The sheer opportunity to be in such surreal, Coast Mountain scenery while learning to ski was enough.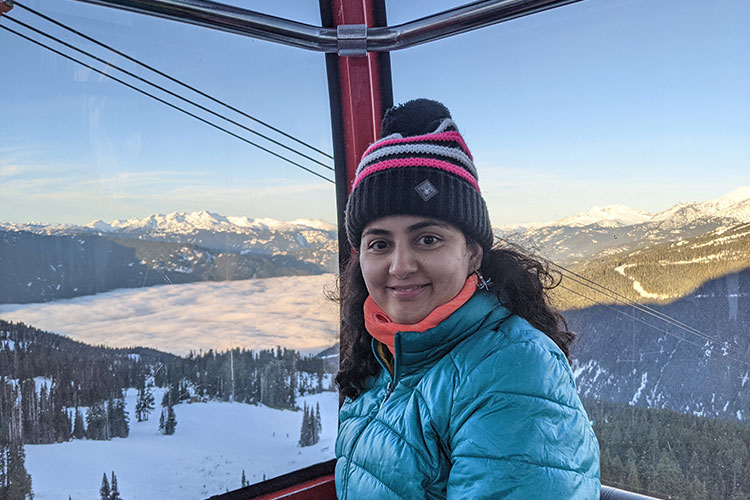 Moreover, having developed a daily meditation practice over a year and a half, this student no longer lives in the future but tries to stay in the present moment. So I was happy, but not excited. And I was calm, not nervous. Perhaps, the calm within me also came from a deep knowledge that not everything from that first lesson was lost. Perhaps, some muscle memory remained?
Our coach, Pablo, took us up to the learner's area on Whistler Mountain for our lesson. After a warm up and some sliding exercises, he took us up the slope to try our first slide down. I was convinced I would tumble at least a few times before getting the hang of it. But I didn't! Not once! Thanks to Pablo's detailed instructions, my body figured out how to change stances, how to vary the weight I placed on each ski, and I managed to come down without a collision and without a tumble.
I was right. Learning to ski, I realize, is like a bamboo seedling growing into a plant. The bamboo seed doesn't show any shoots above the ground for five years. Then, all of a sudden, it sprouts and grows a metre taller every day! All this while when it seemed to have made zero progress, it was putting down its roots deep and developing the internal ability to sustain its imminent growth spurt.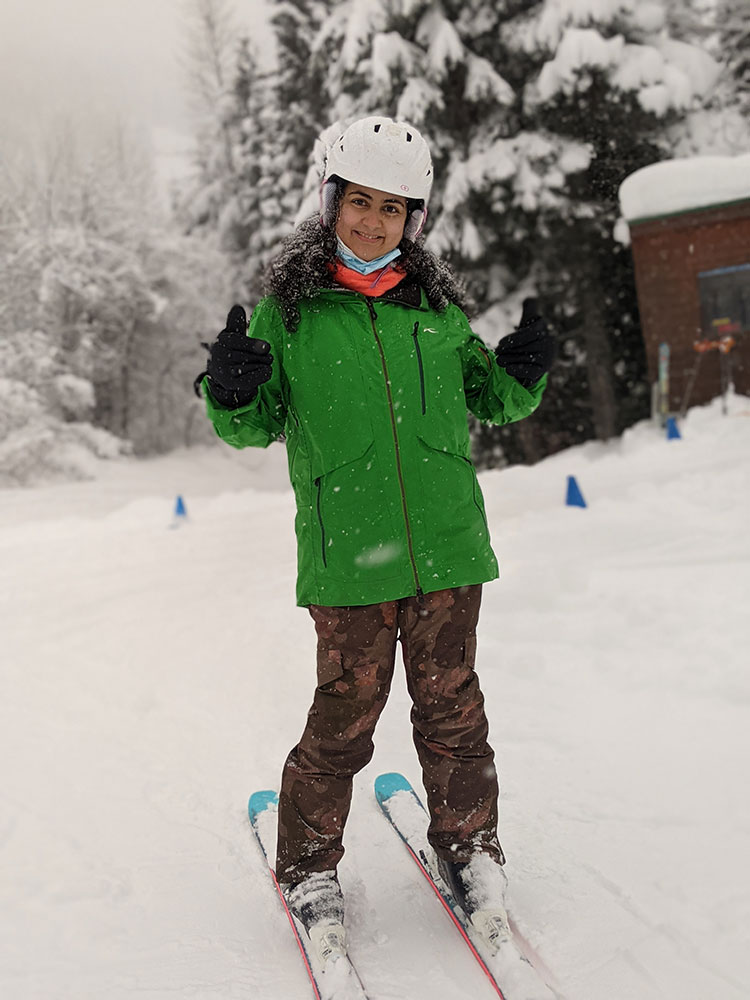 I felt the same about skiing. The first lesson I had many years back was dismal because I felt like I developed no skill whatsoever except falling. But I was wrong, my muscle memory was being built and it showed in how quickly I learned in the lesson I took in Whistler, after so many years.
Several things that you did not successfully manage to do in your first lesson are still embedded somewhere in your body's wisdom. So, even if no ability is visible on the surface, your mind and your muscles are training even when we tumble. The next time you try learning to ski, you might surprise yourself!
Meditative Skiing
This time I was blissfully aware of what was also happening in my mind. I was no longer concerned about the bottom of the slope. I was not thinking of who might get in the way. I wasn't even thinking. This time, my mind let my body's wisdom take over. Perhaps, that's why the learning was effortless?
I went for a second run and then a third, and then a final run on a much icier surface in the afternoon. I skied, made pizza slices to stop and made some very, very wide turns. I also stopped successfully when I wanted to. I even enjoyed the fluid motion of straightening and narrowing my skis and just letting the snow carry me. That part was truly meditative. I was in a flow and could go on endlessly if the run didn't end.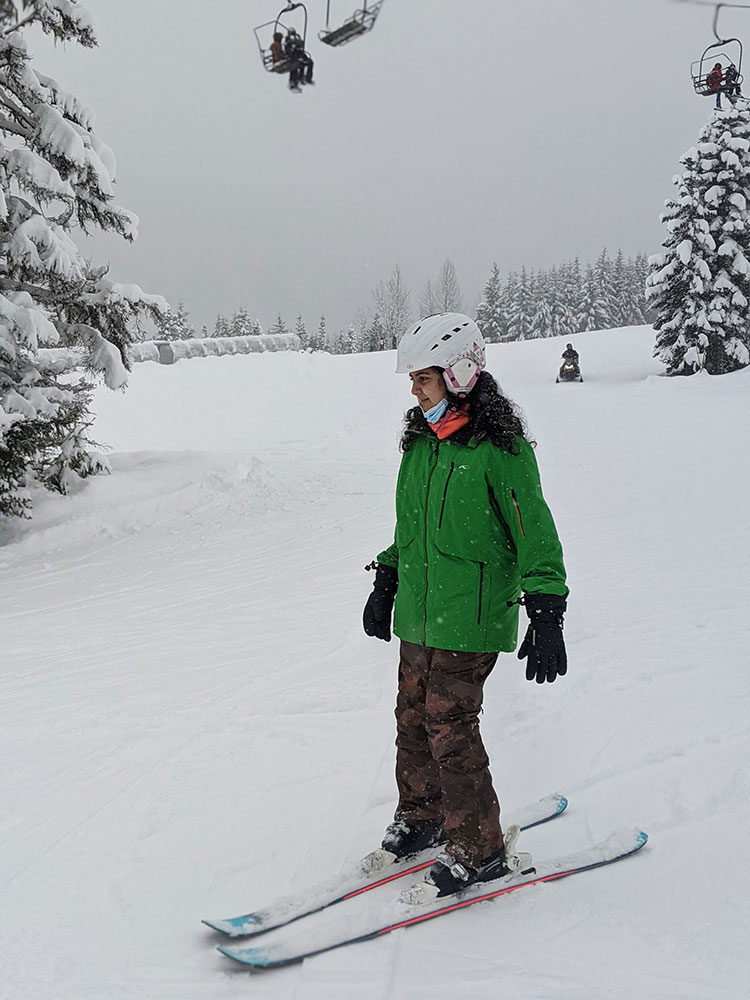 Après ski, my body was sore. My toes, which were imprisoned in ski boots all day, and the hands that carried the skis around ached. Surprisingly though, my legs were fine, they seem to have revelled in the chance to finally show what they had learned long back but didn't have an opportunity to refine. Until now. They are already beckoning for the next run!
My little take-away from my first skiing lesson is to give your body, a second chance. Always. Sometimes that is all it needs to demonstrate its remarkable wisdom and learning ability.
For more information about learning to ski, see Whistler Ski and Snowboard Lessons on Whistler.com. To chat through your options give the local travel agents at Whistler.com a call – they might just have their own snow school story to share with you! 
Book your winter trip now to secure up to 25% off lodging, 65% off lift tickets and 45% off rentals. Come experience Whistler Blackcomb's extensive terrain and adventure at every turn to see why we're known as one of the best resorts on the planet. Secure your winter getaway with Whistler.com for Flexible Cancellation and our Price Match Guarantee. Want to win a winter trip for two to Whistler? Check out our Drop In to Winter contest.