While it's been contested more than a few times, everyone has heard of the rule "No friends on a pow day." Lesser known, however, is the "No kids on opening day" rule.
For one, opening day on Whistler Blackcomb is often a school day and education is important. Secondly, with limited terrain open and scores of ultra-stoked locals and guests chomping at the bit for those first turns of the year, opening day can feel a little hectic for knee-high shredders.
And finally, the reality is that most parents are just as ultra-stoked and pow deprived as everyone else – a day of our own is a nice way to kick off a season that will likely see more groomers and flat-landing side hits than our childless counterparts will experience.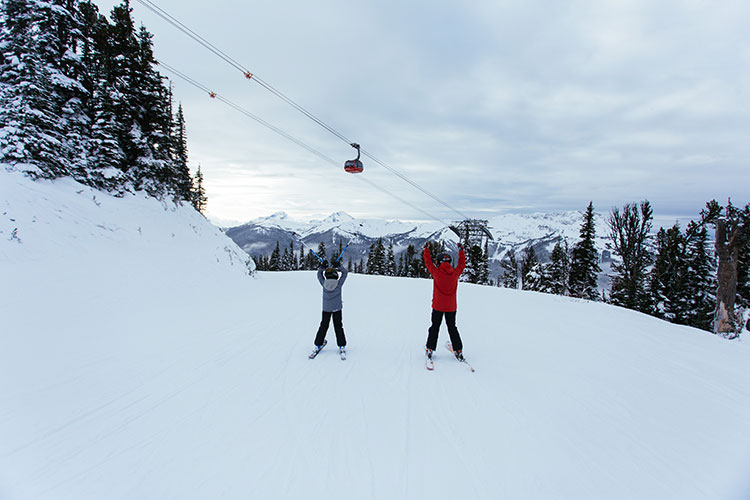 But rules are meant to be broken (and every child deserves a shred-ucation) so, with pandemic-fuelled uncertainty swirling around like snowflakes, I decided this was the year to give my 11-year-old son his first opening day experience.
We hit Blackcomb early, not knowing what to expect but excited to finally be back on snow after the early shutdown last spring. It was a good call – the snow was excellent, the vibe was high and I'm sure my parent of the year award is in the mail. And since it was a school day, here's what I learned in the greatest outdoor classroom ever.
Patience Is a Virtue (but Donuts Help Too)
Safety is always important, so with new pandemic proximity guidelines hindering Whistler Blackcomb from filling the gondolas to capacity, morning upload times are a bit longer than usual (don't stress, it's worth it up top). As well, physically distanced lift lines stretch a lot further back from the lift than ever before.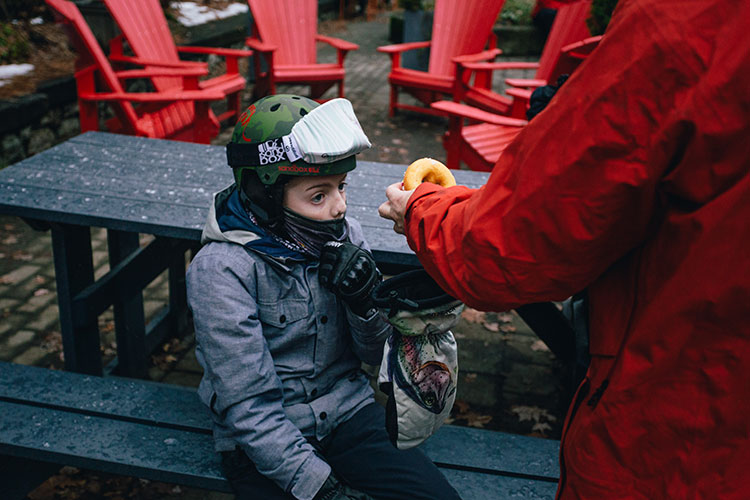 The upside, as my son pointed out, is that at the base of Blackcomb all this can put you much closer to Portobello, one of the best coffee / baked goods spots in town. Good things (i.e.: fresh donuts) come to those who wait…
The New Reservation System Works
Ask anyone who remembers the 1980s – when snowboarding was banned from ski hills (but not Blackcomb!) or the 1990s – when fat skis were ridiculed: skiers don't like change. As such, the reservation system Whistler Blackcomb adopted in order to keep the mountain more COVID-19 safe had everyone nervous in the weeks leading up to the big day.
However, proactive shredders who booked their days early and approached the hill with an open mind were rewarded with an opening day that felt safe (face coverings mandatory) and spacious with no issues and lots of good snow for everyone.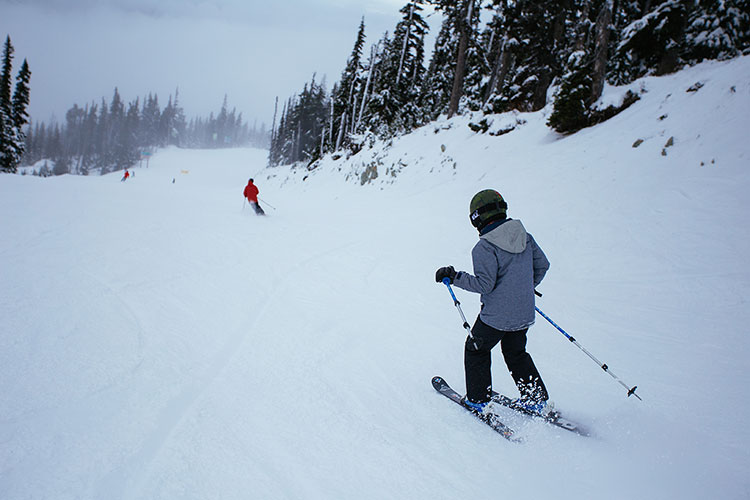 There will likely be hitches down the road – there always are with computers involved – but staff at Whistler Blackcomb deserve praise for overcoming the challenges and bringing us a season at all. Well done!
Numbers Aren't Everything
Kids have such a unique perspective on numbers. On the one hand, my son's estimation that we had about three feet of snow was surprisingly close to the actual base of 86 centimetres (33 inches), but when asked how many people he thought we were lined up with the answer was hyperbolic: "maybe 50 or 60 thousand." (The busiest ski day in Whistler history, for both mountains, saw less than 40,000 skiers).
I expected my kid would be into the trend of gamifying his ski season by tracking runs and vertical via an online app, but thankfully, he shows no interest. The best things in life are unquantifiable and fun shouldn't require a quarterly report. Just get out and giv'r.
Nostalgia Is Real
There's a certain joy to revisiting the glory of your youth with your own kids. Having grown up on Whistler and Blackcomb (mostly Blackcomb, all hail the dark side!) it's a real trip to share all my old secret spots, stashes and favourite jumps with my son.
He doesn't go near as big as I did at his age (or as big as I think I did). But, there's a certain time warp that opens up when you're carving fresh tracks through vivid memories with a small human who kind of resembles the person you used to be. It's surreal, but satisfying, and who doesn't love a good time warp?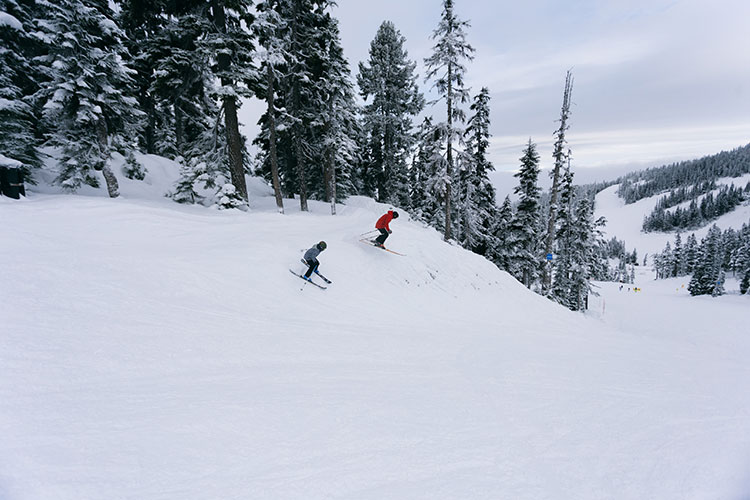 One of the greatest things about skiing or snowboarding will always be the family aspect. It's not uncommon to see three generations out ripping the slopes together ,and if a tentative family member doesn't want to hike for a patch of pow, they can ski around and watch from below or meet at the lodge for lunch (be sure to reserve your table this year on the EpicMix app). That transfer of knowledge and values is integral to the future of our sport, our natural places and society at large.
Some Things Never Change
We had a fantastic day. The happy offshoot of limiting the number of skiers and snowboarders to meet safety requirements and fit the amount of terrain open is that the usual bedlam of opening day was replaced by a sense of calm gratitude that we were even able to ski at all.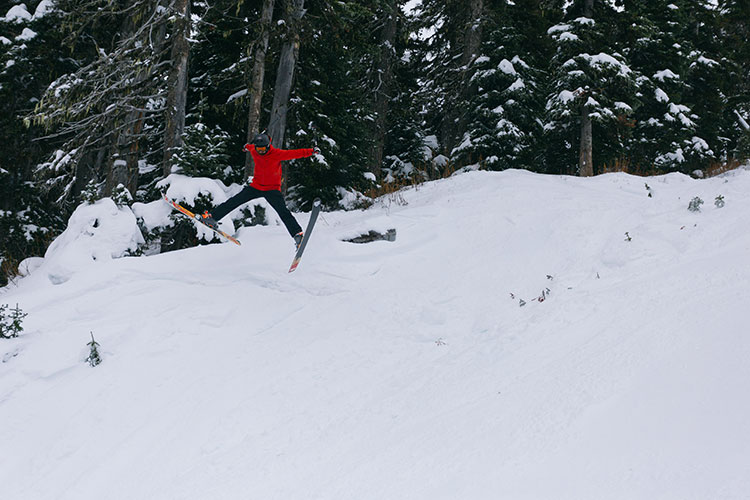 2020 has put a lot of people through the wringer and it's times like these when we can really appreciate the simplicity and joy of sliding through a patch of untouched snow. That floaty combination of weightlessness and momentum that seems to flood the brain and wash everything else away. Call it a flow state, or living in the moment, enlightenment, call it whatever you want, the feeling is real and it's real nice to feel that way again.
My son, however, isn't as distracted by all that hippy airiness and nostalgic emotion that comes with being middle aged. And as we walked back to the parking lot, I asked him what he felt the best part of the day was. We'd cruised, carved, caught air, and howled glee into the snow-laden forests (or Uncle Chili trees as my son always calls them). He didn't answer right away, but when prodded for a highlight, my kid looked up and said, "The best part of the day is always the same dad, taking off your ski boots."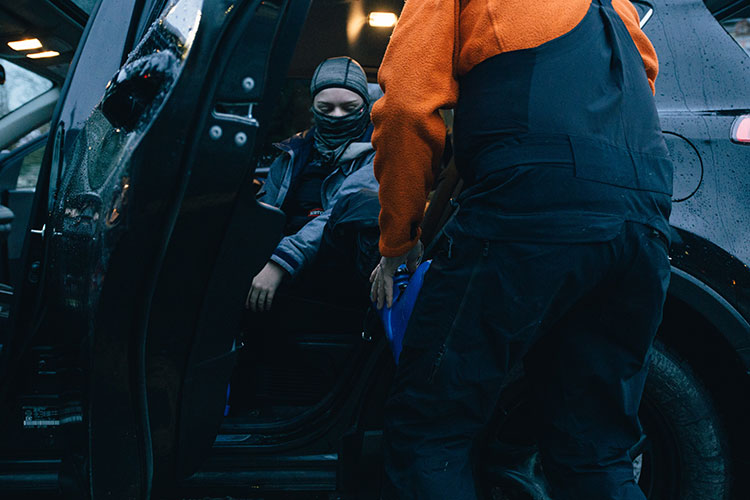 Hard to deny that. But that flood of relief is even sweeter on opening day, knowing we can put them right back on tomorrow and do it all again.
Get the best deal on winter packages by booking with Whistler.com before December 1, with flexible cancellation and a price match guarantee. Consider booking midweek for less people and quieter slopes.