Skiing and snowboarding definitely burn a few hundred calories per hour, especially if you're hitting the moguls; and with 18 on-mountain dining options on Whistler Blackcomb, where do you choose to refuel?
We've laid out a few of our top, on-mountain dining picks for Whistler and Blackcomb Mountains, from fancy charcuterie boards to udon noodle bowls, vegan sandwiches to fully-loaded waffles.
You don't even have to be a skier to hit up some of these locations, all you need is an appetite!
Blackcomb Mountain
Rendezvous Lodge
This ski lodge eatery recently received a face-lift and the variety of menu options matches the new, contemporary atmosphere. It houses flavours from all over the world including a Mexican taqueria, burger bar and Japanese udon noodle bar.
Once you've sampled a few different cuisines, venture out onto the balcony to watch the PEAK 2 PEAK making its record-breaking way across the valley to and from Whistler Mountain.
Christine's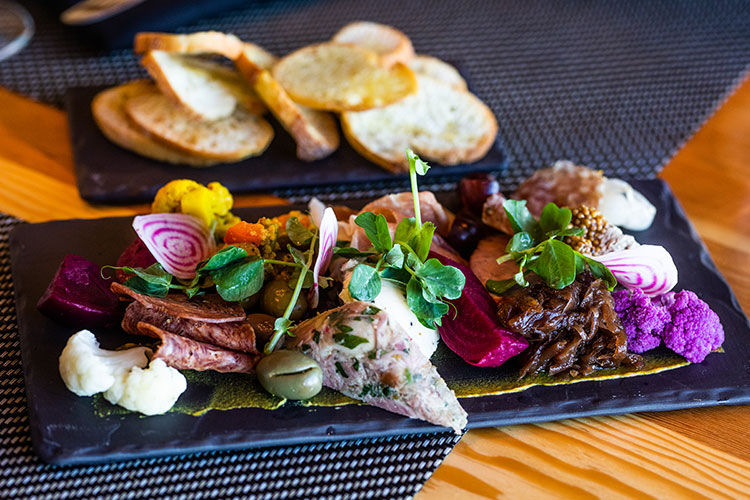 If you're looking for a full-service dining experience with incredible mountain views, head to Christine's at the back of the Rendezvous Lodge. Select a glass from their extensive local wine list, while indulging in elevated comfort food like the BBQ Duck Salad or Wild Mushroom Risotto.
We're fans of sharing their charcuterie board loaded with local meats, cheeses and house-made pickles. Christine's is a popular spot, so you need to make a reservation ahead of time (call 604 938 7437).
Glacier Creek
Follow the beats to Glacier Creek Lodge. On weekends, they have a DJ pumping out the tunes, encouraging you to do a little dance in your ski boots as you head inside. Glacier Creek has many tasty options, but some of the standouts are a make-your-own sandwich bar and the stir-fries loaded with veggies.
If you're in the mood for something on the lighter side, enjoy a latte and a blueberry, cream cheese croissant from the espresso bar. The floor-to-ceiling views out over the Glacier and Jersey Cream Chairlifts make for some good skier watching, and they've got a great patio area so you can work on that goggle tan.
Crystal Hut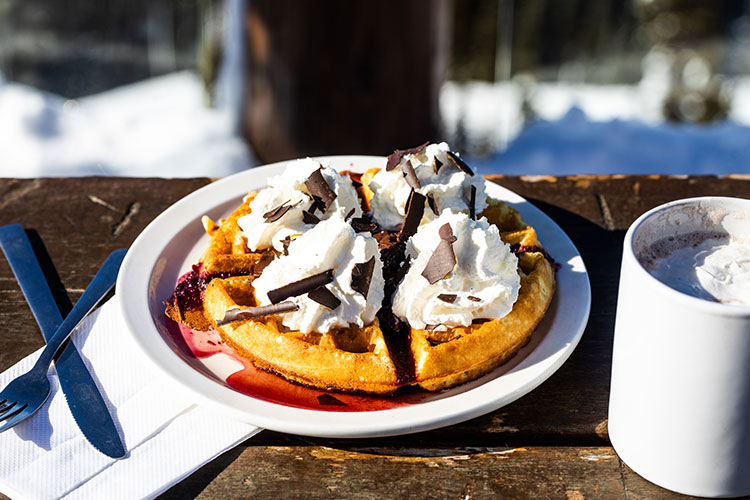 7th Heaven is an aptly-named ski run on Blackcomb Mountain, but heaven for your taste buds can be found at the Crystal Hut, a rustic, log cabin situated at the top of Crystal Chair. They're known for their Belgium waffles, which come fully loaded with berry compote, maple syrup and fluffy, whipped cream.
Sit back on the balcony on a bluebird day while the Whisky Jacks (a.k.a. Gray Jays) flutter around as you enjoy your little slice of heaven, guilt-free . . . after all, you still have to ski down. 
Whistler Mountain
Roundhouse Lodge
It's usually action-packed at the Roundhouse Lodge, the hub for the Whistler Gondola and PEAK 2 PEAK Gondola. With three, open food courts (Pika's, Mountain Market and Expressway), a vast balcony with exceptional views, Peak Corner Cafe, Seppo's Bar and the option of a full-service dining experience at Steeps Grill & Wine Bar, it's designed for hungry mountain revellers.
We love their loaded chili packed with beans, beef and scrumptious veggies and then topped with a generous helping of sour cream and cheese. This lunch option is hearty enough to fuel you through the day and well into après.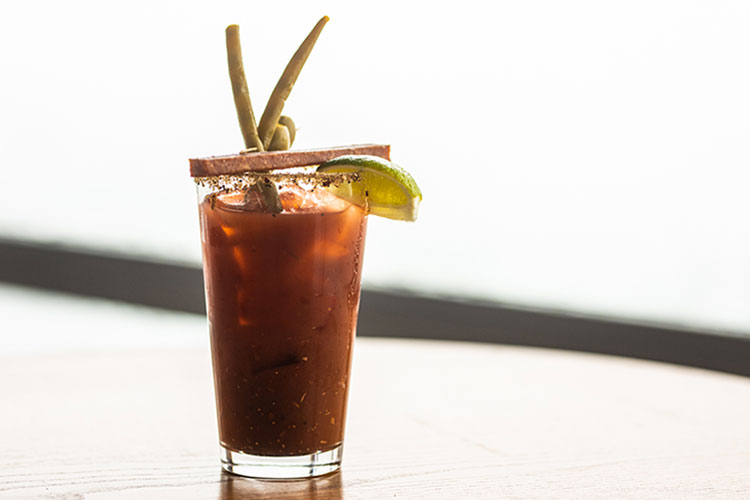 INSIDER TIP:
Be sure to check out the Umbrella Bar at the back of the Roundhouse. It overlooks the valley and is a great place to meet friends for a drink. We suggest the Umbrella Bar's take on the
classic Canadian Caesar
, the Ubar Caesar – it's a bonafide meal in a glass.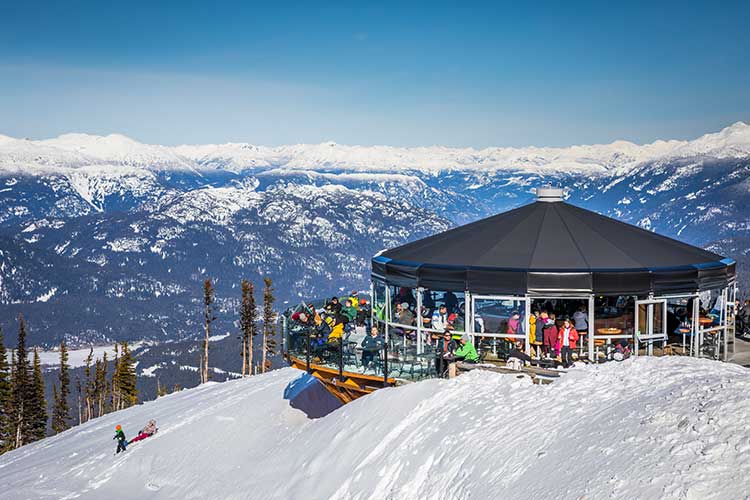 Steeps Grill & Wine Bar
Plan to rest your weary ski legs ahead of time by reserving a table at the full-service Steeps Grill & Wine Bar (call to book: 604 905 2379). Try their wine flights, a selection of local wines mostly from the Okanagan region, BC's version of Napa Valley.
Their menu has a focus on farm-to-table produce, with many of the ingredients grown in the Pemberton Valley, a short drive north of Whistler. We like the sushi salad with its Ocean Wise steelhead trout, the short rib poutine with crispy kale and Montréal smoked meat sandwich with lashings of mustard. 
Raven's Nest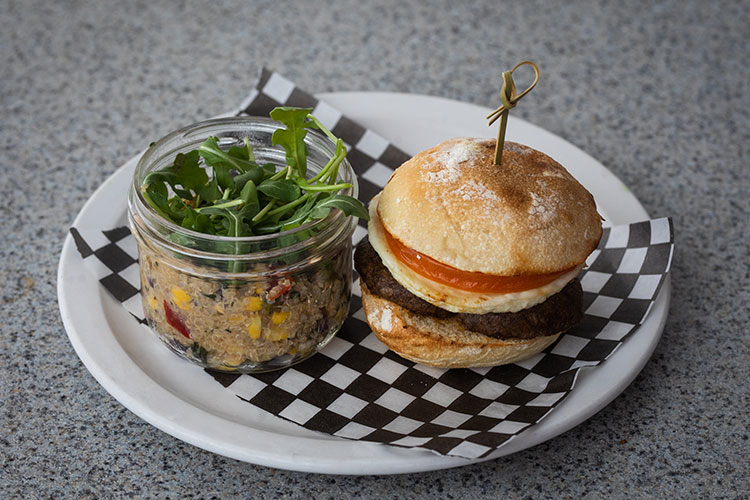 If plant-based food is your jam, you'll have to visit Raven's Nest at the top of the Creekside Gondola. Its menu features options like the Tempeh TVALT; a wheat hoagie, marinated tempeh bean patty, Veganaise, avocado, lettuce and tomato or the Smokey Raven sandwich, which features a bean patty beneath a smoked, creamy slaw.
It's Whistler Blackcomb's first-ever, completely vegetarian restaurant and the first of its kind in a North American ski resort. 
Ollie's Grilled Cheese Shack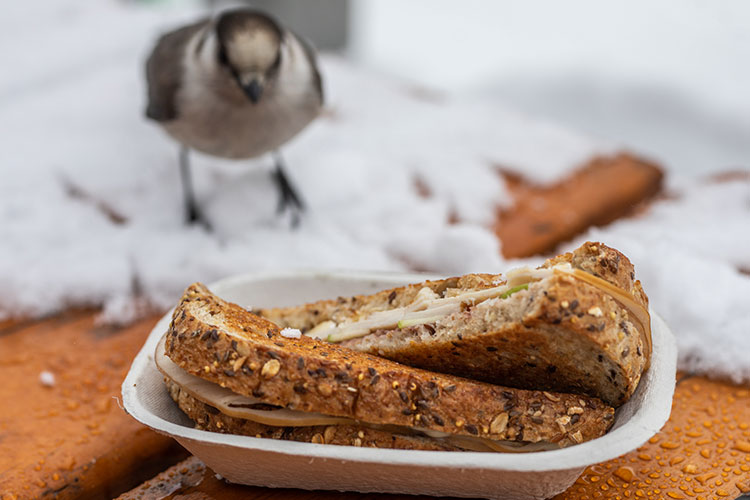 Gourmet grilled cheese? Oh yes, it's a thing and it's on Whistler Mountain. Pass by Ollie's Grilled Cheese Shack between Garbanzo laps or on your way to Mid Station. Opt for the Classic, a creamy fusion of Canadian medium and old cheddar.
Or, if you're feeling bold, try the braised pulled pork with melted cheddar or the turkey with sliced apple, cranberry and brie. Grab a picnic table, skier-watch and watch out for those cheeky birds!
Whistler Blackcomb Foodie Route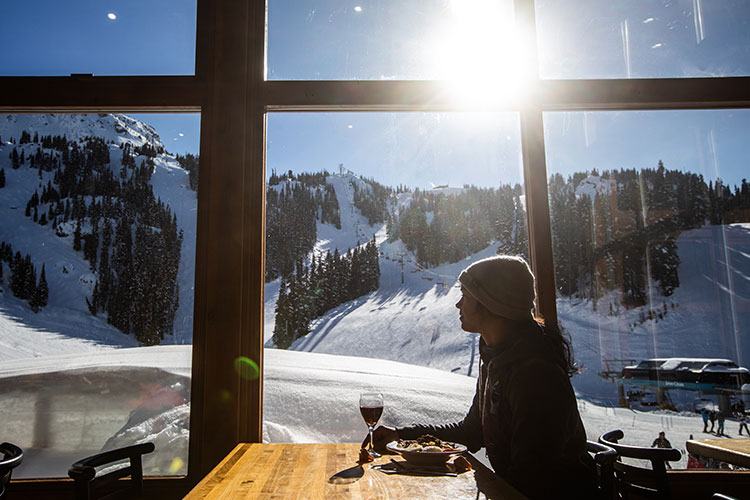 We know it's a lot to digest, so here's how this works best over the span of an epic day on the mountain:
Head up the Whistler Village Gondola first thing and then take a cruisy, warm-up run to Raven's Nest for their plant-based breakfast sandwich to start the day.

After a few laps, it's into the Roundhouse Lodge for a mid-morning coffee or hot chocolate with whipped cream (if your turns earned it).

Then it's across the PEAK 2 PEAK for some slope-fun on Blackcomb Mountain in the Jersey Cream area before grabbing tacos at the taqueria inside the Rendezvous Lodge.

A ride over to 7th Heaven means you catch some afternoon rays before a date with the waffles over at the Crystal Hut. On a slight sugar high, hit up the Crystal Zone before grabbing a pitcher and nachos at Glacier Creek Lodge to finish off the day. 
Take a look at the Whistler Blackcomb Trail Map and plan your own route. If you're sightseeing you can get to the Roundhouse Lodge on Whistler Mountain and Rendezvous on Blackcomb Mountain; remember to make a booking if you're thinking about either Christine's or Steeps!
Whistler Blackcomb is pretty unique with it's broad range of on-mountain dining options. We hope you (and your belly) have fun exploring, bon appetit! For more information on dining in Whistler in general, visit Whistler.com and take a look at this selection of blog stories. As it's now spring, the days are longer and the patios are calling; room rates start at $129 with free après vouchers up for grabs!