"Weeeeeee!" Mikio exclaims.
He cranes his neck around, eager to share his excitement with me. In doing so, he stops paying attention to his skis, which immediately begin to part. That's my cue to lift him up out of the snow and then place him back down again to start fresh. It's also an opportunity to straighten my aching back. Hovering over an 18-month-old as they try skiing for the first time is hard work, but his giggles make it worth it.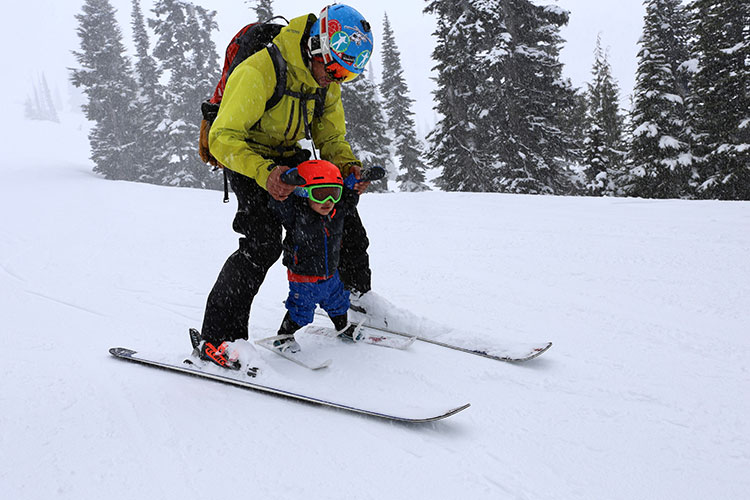 Looking at him, with his goggles and helmet caked in snow, I knew that this experience would be the beginning of a lifelong relationship between my little dude and the mountain. I spent my youth on the ski hills around Montreal, where I was born, and 35 years later, I still love it. Seeing my son tackle the slopes is definitely a "first" I'll never forget.
As toddlers are only just developing their ski legs, we hadn't even made it halfway down the green run to Emerald Chair when he turns to me and says:
"Tired Papa," and I carry him the rest of the way.
He marvels at the snow from the vantage point of the chairlift as we head towards the Roundhouse Lodge on Whistler Mountain. The fatigue is forgotten. His tiny skis clap together in delight at the views while I make sure to hold onto him extra tight. I live in the moment with him and enjoy the spectacular vistas of the place we now call home.
We live at the base of Creekside Gondola in a small one-bedroom apartment. For the same price, we could have a house on the outskirts of Montreal with tons of space. But we wouldn't have all this. White capped peaks, crisp mountain air and views like few other places on earth. We believe that this big, mountain playground is the perfect place to raise a child.
When we get off the lift, Mummy is waiting inside the Roundhouse Lodge armed with a hot chocolate. We peel off his layers, which is a challenging task as he wriggles to reach for his cocoa. An hour later and Mikio's still sipping on his drink, savouring the sweetness. We don't rush him. He states, matter-of-factly:
"I skied! Just like Papa!"

Ready for a day on the slopes. PHOTO ROBERTO GIBBONS GOMEZ
Yes you did. He lays his head on his arms on the table, and his eyes begin to droop. He crawls into his stroller, and before we can count to ten, he's snoring. We've been back on the mountain with Mikio several times since his first go and each one lasts a little longer as we learn together what works and what doesn't.
Here Are Our Tips on How to Ski With a Toddler in Whistler: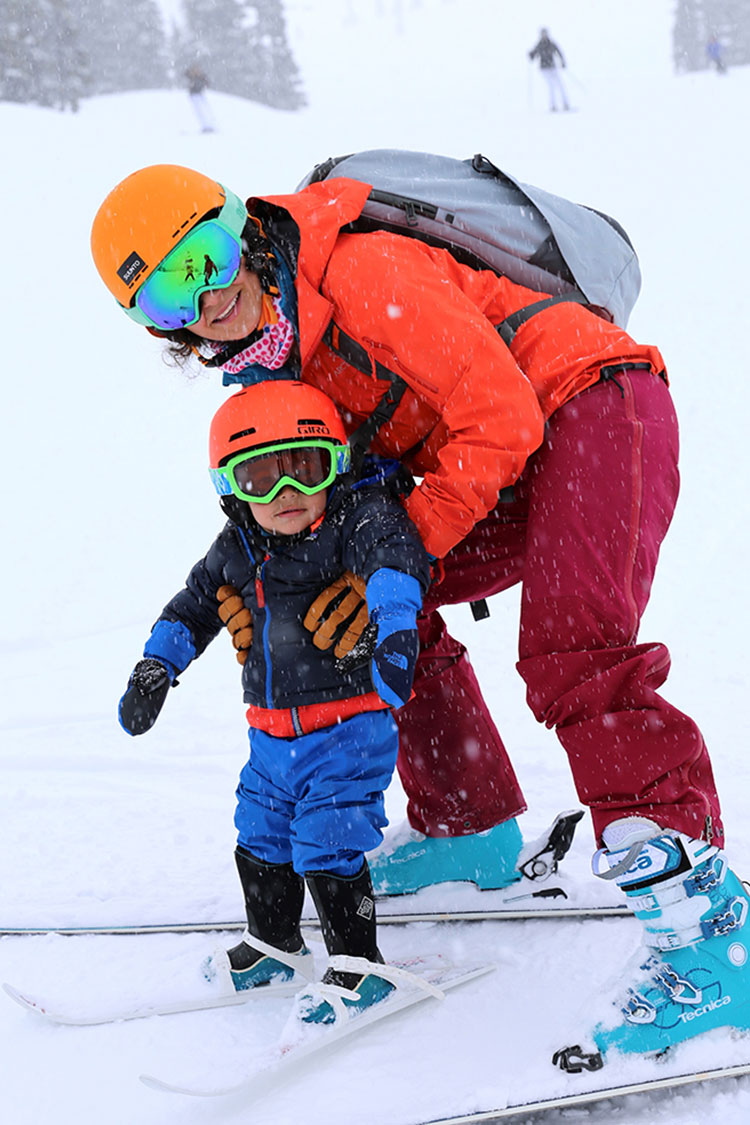 1. Dress for Success
Make sure your toddler is well dressed. It's better that they be too warm, than cold (they can always take a layer off). They simply won't be motivated to ski if they can't feel their little toes or fingers. Opt for a warm base layer (we like Merino wool), a mid layer, and a warm, down jacket. If it's a day with wet snow you might want to add a waterproof "shell" layer on top. A balaclava is a good option for under their helmet as it keeps their hair out of the way, and ears nice and toasty. They will also need waterproof gloves (bring two pairs as they always get soggy) and some goggles. I carry a small rucksack so I can store his extra clothes and snacks! If you don't have gear for your little one (they grow so fast) then you can rent everything (including clothing) except for gloves and goggles.
The skis that you see Mikio wearing in these photos aren't currently available in Whistler (at the time of publishing), but can be purchased online at places like Mountain Equipment Co-Op and Amazon. 
2. Ski School
If you're taking your little one on the mountain yourself make sure you're ready for a workout. I've had to carry Mikio on a few occasions and it's hard work. If you don't feel one hundred percent confident, then the best thing to do is ski school. They take kids as young as three (need to be potty-trained). The instructors are very experienced in not only teaching the kids, but also in having fun. Furthermore, being in ski school will often motivate children to advance more quickly simply because they are around other kids.
3. Where to Go
Plan your route ahead of time, as making decisions on the fly with a toddler is tough. A favourite place of ours is the Olympic area on Whistler Mountain. Head up on the Whistler Village Gondola, get off at Mid Station and do laps of the short green runs via the Olympic Chairlift or the magic carpets (conveyor belts). If you want to go higher and longer, stay on the Whistler Village Gondola and take Upper Whiskey Jack to Lower Whiskey Jack, or Upper Whiskey Jack to Pony Trail. The base of Blackcomb Mountain also has a great beginner area with another magic carpet and the Magic Chair that's a great practice chair for the little ones as it's short and relatively slow. For some more kid-friendly runs check out Best Whistler Ski Runs for Little Ones.
4. Snack Time
Bring plenty of snacks, they obviously keep energy levels up but are also a good source of bribery when encouraging them to finish a run under their own steam. If you decide to eat at one of the on-mountain restaurants, you'll see that there are kid-sized portions on some of the menu options that come with snacks and a drink.
5. Stroller Power
You can bring a stroller on Whistler Village Gondola, Blackcomb Gondola and the PEAK 2 PEAK (Creekside Gondola doesn't go far enough up the mountain). The lift operator will usually slow the cabins down or will help you get on. Our little dude has ended up in the stroller more than once and it's a great way to carry all the gear, snacks, change of clothes, etc.
6. Setting Expectations
It's about the experience above all else. Don't set your expectations too high as the ski boots, helmet and other gear are a big load for their little bodies and they will tire quickly. You want them to be excited for their next ski adventure – not dreading it.
7. Have Fun
The most important thing is for everyone to have fun. Studies have shown time and time again that having FUN is a key factor in children's development, and it's definitely not harming mine.
So, there you have it – our tips for skiing with a toddler in Whistler. Hit us up in the comments if you have any of your own thoughts on making this process even more fun on the slopes!
If you're considering bringing your little one to Whistler for the first time then check in with the team at Whistler.com. They can help you choose family-friendly accommodation and organize life tickets, rental equipment, and lessons – easy!