Fear is a funny thing, especially in a place like Whistler.
For many, Whistler is where you come to face your fears, to slip outside your comfort zone and to tap into that total-focus-flow-vibe the human brain defaults to when it feels like things could go horribly wrong at any moment. Facing our fears is part of Whistler's DNA.
As a kid growing up here, I got to face a lot of those fears early on. It was a youth spent jumping off cliffs, rock climbing up larger cliffs, floating down river rapids and hitting new speeds on a bike. As mountain kids, we found inspiration in the world around us and the people Whistler's landscape lured in (ski bums, snowboard bums, dudes who lived in vans and rock climbed every day, and people who went on surf vacations three to five times a year).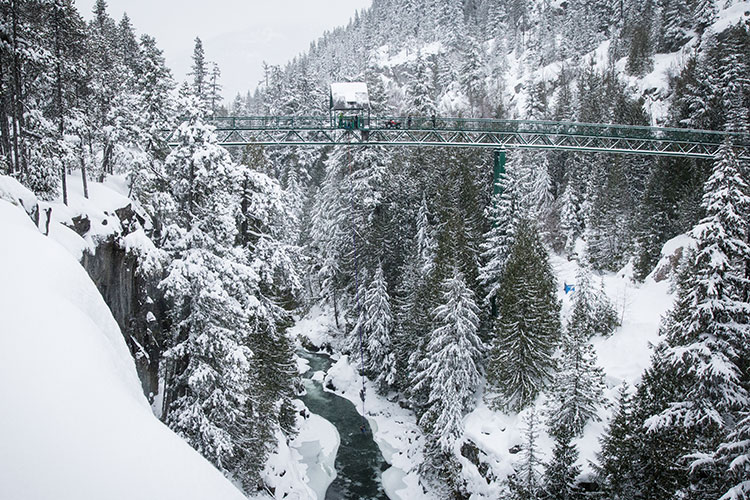 But something about bungee jumping always freaked me out. Despite growing up less than 15 minutes from the bridge, I'd purposely stayed away from it my entire life. Skydiving was no problem, bungee . . . uh-uh. I don't know why and the aversion was almost subconscious, but after enjoying every other activity this valley offers, I'd never 3-2-1-Bungee'd.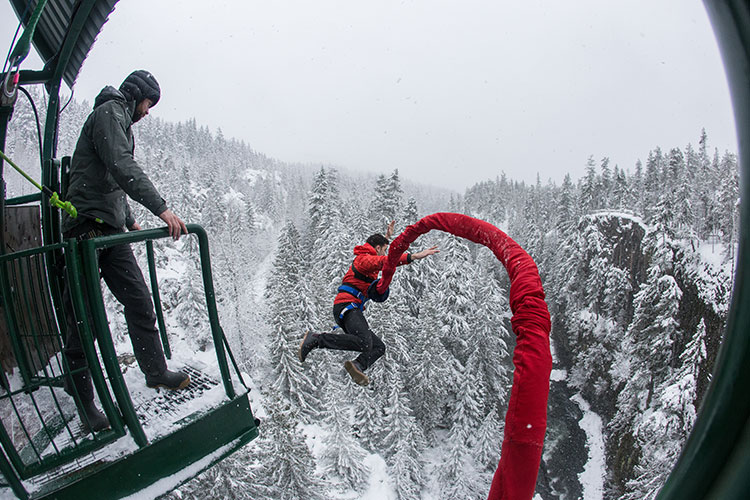 Without a certain level of self-awareness, it seems the older we get the more fear takes grip. So, as I tiptoe into what is hard not to acknowledge as "middle age", I've been making an effort to take a hard look at those instances when my first instinct is "no way." Facing your fears, in this culture, is one thing that can keep us young.
So, when a friend invited me bungee jumping to celebrate an important milestone in her life, I had no more excuses. And that's how I ended up harnessed to another person and staring over a 53-metre (160-foot) drop into the glacial torrents of the Cheakamus River in the middle of a heavy Coast Mountains rainstorm. Scared as heck.
But I wasn't alone. Tandem jumping brings a new element — you know you can't back out without letting someone close to you down (both on a friendship level and literally tied to you). And of course you can't let down a friend, especially not on a special anniversary.
"There's no way I can do this," she suddenly says. "You've gotta jump for both of us."
It's not like there's any other option. The grinning safety staff laugh and count us down.  "Three" . . . The rain falls. "Two" . . . The river water churns so far below, why did I look down? "One" . . . I guess this is it . . . "BUNGEEEEEEEE!"
. . . And away we go.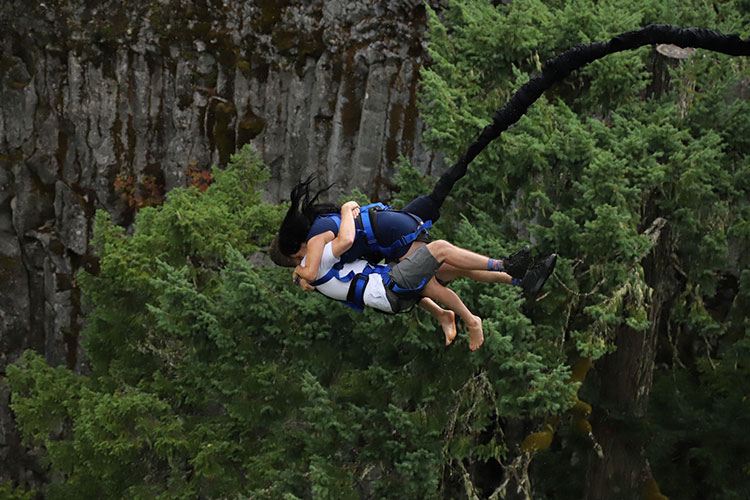 To be honest, there is no way to really describe that first free-fall of a bungee jump. A lot of people won't even be able to remember it, it's a pretty unnatural, crazy and incredible feeling. When the bungee is at full stretch, as taut as it will go, you realize the thrills aren't over yet. Because after the fall, after that single moment of calm, with a glacial-fed river rushing oh-so-close, the bungee recoils and you shoot back upwards and that is where things get really wild.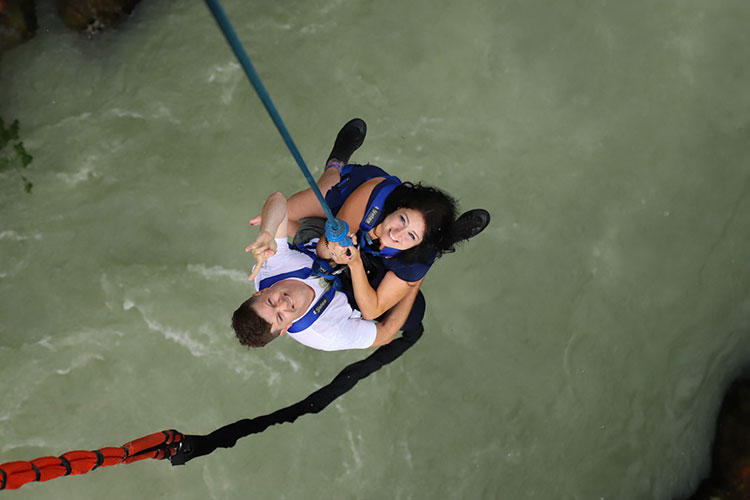 We jumped in the middle of a downpour. As the giant raindrops plummeted past us the bungee pulled us back up to the sky — moving in one direction, as the natural world goes the other, defying gravity . . . it creates a sort of time warp. And everyone loves a good time warp. Then, at the top of our bounce, we pause . . . weightless, silent, fully in the moment. And then the laws of gravity, the pull that governs every single other moment of or lives, kick back in and down we go. But for a moment there, we're astronauts in our own incredible bungee world. And that is what it's all about.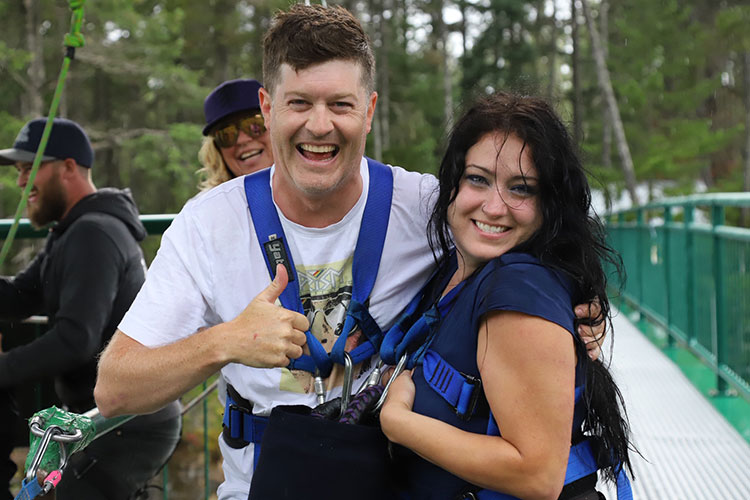 Facing our fears is important, integral even. My friend and I jumped off a bridge together in a rainstorm and found a moment I'll remember for the rest of my life. I can only think how mind-blowing it would be in a snowstorm . . . You should do it and let me know. Or better yet, I'll see you there.
Feeling inspired to take a leap? Find out how over at Whistler.com.