When I moved to Whistler over eight years ago, I considered myself an average athlete with an open mind. Now, although I'm still an amateur athlete, my heart sings for terrifying descents on a mountain bike. I dream in an alpenglow spectrum of powder days, and I'm constantly on the hunt for harder, longer endurance challenges.
I have officially caught the Whistler bug.
The Coast Outdoors P'ayakentsut
The newest goal on my horizon is crossing the 50-kilometre finish line of the Coast Outdoors P'ayakentsut, which happens annually in February. P'ayakentsut or Payak is a term that originates with the Squamish Nation. It translates to "a place to train oneself physically." Aptly named, this annual Nordic ski race is held at Whistler Olympic Park, which runs over the very territory Squamish warriors came to train on. They would head into seclusion to fast and perform rigorous endurance exercises in the forest and lakes of the Callaghan Valley to prove their mettle.
Choose Your Own Adventure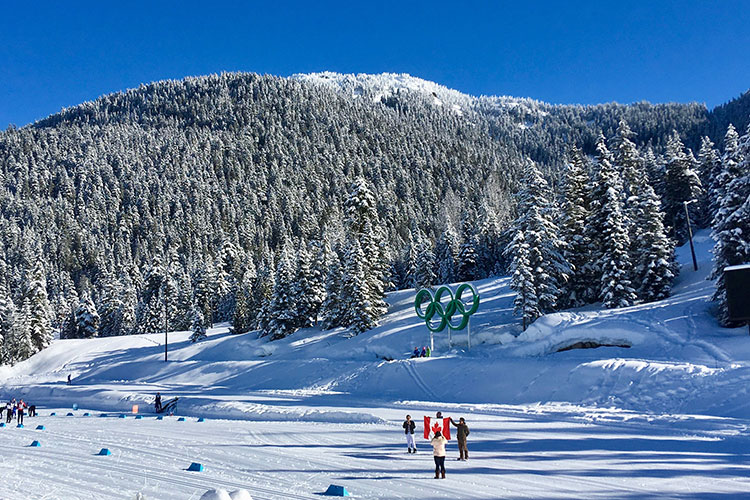 The Coast Outdoors P'ayakentsut hosts multiple distances for ages as young as five, and for various skier types from sit-ski to skate to classic. For nine years running, the race has brought out hundreds of racers to test their strength, skills, and determination. It has a friendly, grassroots vibe with a hot dash of competitive spirit that lights a fire in a skier's belly.
The last couple of seasons I've raced the 15-kilometre and 30-kilometre distances. The experience? Burning lungs, some slushy falls, a strategic pass or two, and some big climbs. The true magic lies in the stunning wilderness, but it is always over too quickly. So, this year, I'm taking on the ultra marathon distance, which definitely gives me the time to soak it all in.
I've pulled together some key training techniques that helped me get to the start line when I was just starting out, and that I'm still using, as I prepare for my longest distance to date.
Six Tips for XC Ski Racing
1. Don't Rush It
In the early days of learning to skate ski, it was easy to be frustrated with my lack of balance or inability to perform simple actions like stopping. I thought I would have a natural talent because of my background as an alpine skier. The truth is, it's best to go easy on yourself, and laugh it off — nobody comes out of the gate as an expert.
The same rings true when moving from casually checking out the trails at Whistler Olympic Park (WOP), to training three to five days per week. Next-levelling your dedication can take time. It's a good idea to start with a focus on general fitness in the fall, and the gym is a great place to build agility until the snow flies.
2. Get Some Coaching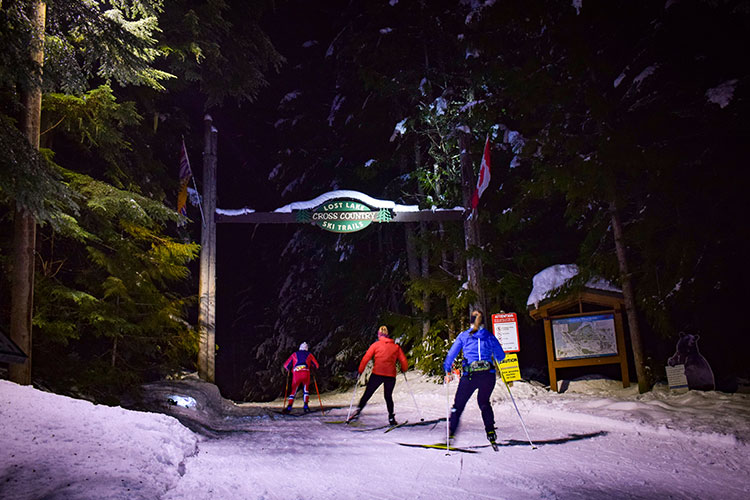 In the past, I've shied away from structured learning when it comes to sports. Give me enough instruction to stop and glide, and off I go in search of adventure. I tried this for a season on skate skis and was completely humbled. Never again.
I befriended local Nordic coach Munny Munroe, and he showed me that good technique is a solid way to:
Shave off time in a race
Save energy
Have more fun
Munny is the man. He helped me dial in my skate efficiency through drills, steady progression, and equipment suggestions. Similar to the alpine skiing community, there are loads of friendly Nordic instructors in town. Head to Cross-Country Connection or WOP to get some help.
3. Cross-Train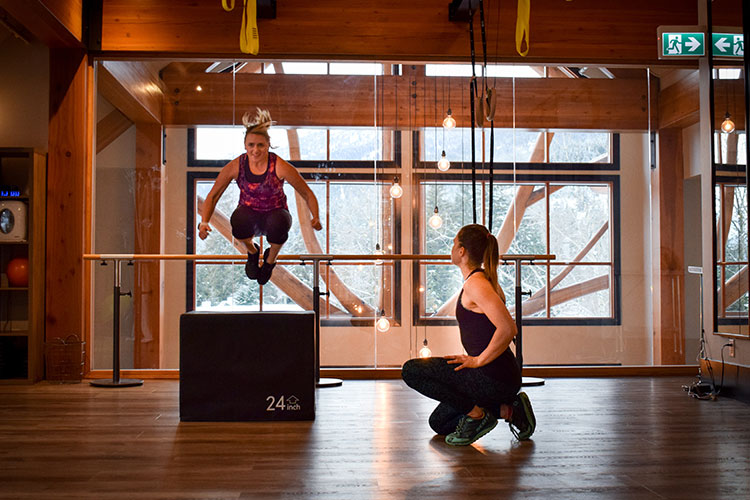 Not all of my training happens on snow. I add a few cross-training sessions per week to build strength and maintain mountain bike fitness for the summer.
Once a week, I head over to TAG Cycling for a mind-bendingly hard session with the Whistler Triathlon Club. Twice a week, I'll work on strength and mobility in Creekside's beautiful and bright new Altitude Fitness gym. Lastly, if I'm in need of some recovery or a lower impact workout I'll head to the local's favourite, Meadow Park Sports Centre for a swim. I decide based on feel and commit to movement, regardless of intensity, six days per week.
4. Time on Snow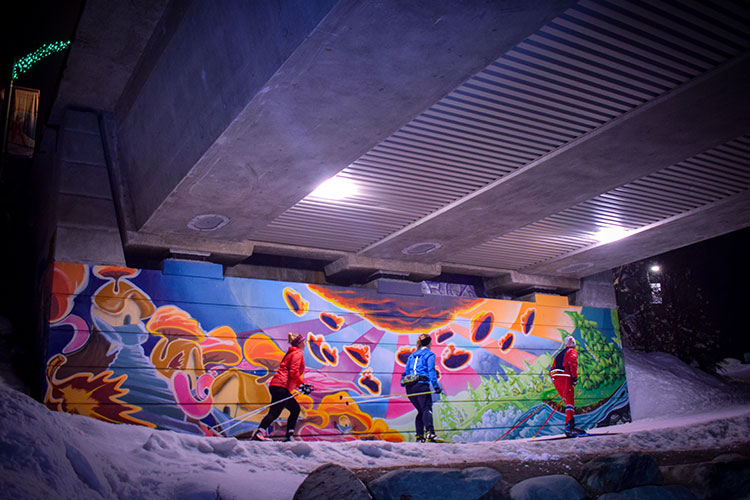 The best way to get better at a sport is to spend loads of time doing it. In my early days of training, I found a few of the climbs on the race course overwhelming and really tough to ascend.
However, I made a habit of trying to ski them once a week. Eventually, I nailed a few in a row and the steep pitches that were once terrifying became totally manageable. The more I practiced, the quicker that happened.
Each week, I put in some longer efforts (two or more hours) cruising around WOP and Callaghan Country trails. I'll also add some faster-paced technique sessions after work under the lights of Lost Lake Park.
With most long-distance races, competitors rarely train over the full distance of the course in a single session. The same school of thought applies for the Coast Outdoors Payak. I put the time in each week, and my total volume will get me set up for race day.
5. Recovery Is Training
My husband gave me some advice that has changed the way I approach all sports. He questioned how I could spend so many hours training and not consider the holistic perspective of my well-being — nutrition and recovery.
I now plan out nutrition before, during and after skate skiing sessions. I also bring a change of clothes with me because even though I work up a serious sweat on skate skis, my temperature drops significantly when I'm done. (Seriously, don't forget about this one. Nobody likes getting the chills.)
Another big help is spending a lunch break, or some time before work, each week, using a foam roller and getting in some basic stretching. It's sometimes hard to motivate yourself to stretch with a busy training schedule, but as a great coach once told me, "that's when you need to stretch the most."
6. Get the Right Gear
Sport Stop Source for Sports and the shops at the base of each of the Nordic ski areas are my go to spots for getting ready for a big day on snow. I've learned that just as in biking or alpine skiing, your gear will start to hold you back as you get stronger. I upgraded my poles, then skis and lastly boots — all making huge differences in my performance.
Are You Ready?
Ready to give the Coast Outdoors Payak a try?
If nothing else, it makes for a good story, tired muscles, and some funny photos. Follow along on my journey to the start line on my Outdoor Stories blog.
For other Nordic-inspired activities and experiences, take a look at the Whistler Insider Nordic Guide, and contact the experts at Whistler.com to help you make some bookings. If you're from BC or Washington you should also consider signing up for Whistler Rewards (it's free), which gives you access to deals and discounts you can't find elsewhere. Happy training!