Guest Author: Kilee LeBlanc Header Photo: Jason Coleman
So, you want to see a bear?
It's a rite of passage to see some sort of large animal in the wild while visiting Canada; and fear not, fellow travellers, for Whistler is well within the black bear's habitat. Between the months of May and October, you may well see one during your trip before they curl up for their annual snooze.
Despite their cute, cuddly personas it's important to remember that they are wild animals that need their space. Whistler encourages people to be "bear aware," and a big part of that is to not approach or feed them, even if you're aching for that perfect Instagram shot. The best way to safely view bears in the wild in Whistler is through a bear viewing tour. Whistler Photo Safaris offer a guided experience that not only takes you to the site of the 2010 Winter Olympics and Paralympic Games, but also gives you the opportunity to see bears in their natural habitat.
Comfortable 4×4 Jeeps escort you from the hustle and bustle of Whistler Village to the tranquil Callaghan Valley and Whistler Olympic Park for a 2.5 hour tour. Since bears are most active at dawn or dusk, Whistler Photo Safaris offer a sunrise and sunset tour to maximize your chances of seeing one. We opted for the evening tour and saw five bears in total, including a mama bear and her cute little cubs.
Bears in the Whistler Olympic Park are neither tagged nor trained, so there is no ironclad guarantee that you'll see one, but the chances are high. Experienced guides will keep you engaged as they show you dens, scat and even claw marks on trees. They can also tell you everything there is to know about bears and dispel any funny bear myths – so don't hold back! Our guide, Joel Lycklama, told us that the name "black bear" is a little deceiving given that they can be cinnamon, blonde, brown, and grey.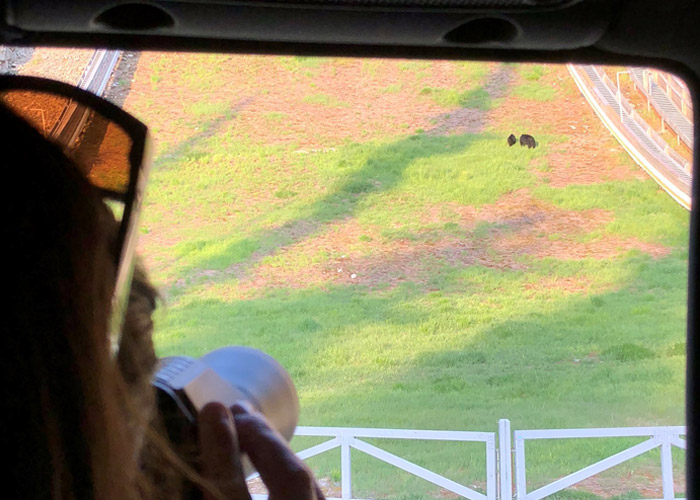 The Whistler Olympic Park itself is an amazing sight to behold – you can stand on top of the 140 metre high ski jump, drive alongside the biathlon range and travel the same trails cross country ski athletes did during the games. One of my favourite parts of the evening was watching the sunset behind the mountains from the top of the jump. The bears seem to enjoy this panoramic view too as Joel mentioned they often find them there having a munch and taking in the sights.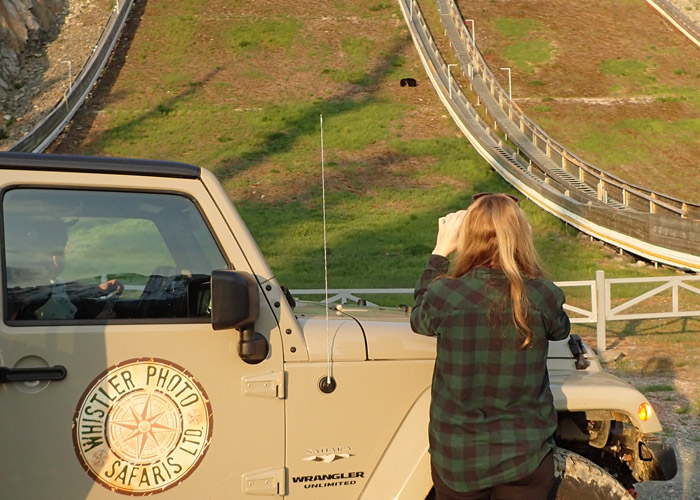 Besides bears, you may come across deer, eagles and coyotes who also call the Callaghan Valley home. Amazing mountain vistas, thundering waterfalls and lush forests will keep your finger on the camera trigger and leave you with many desktop background-worthy photos.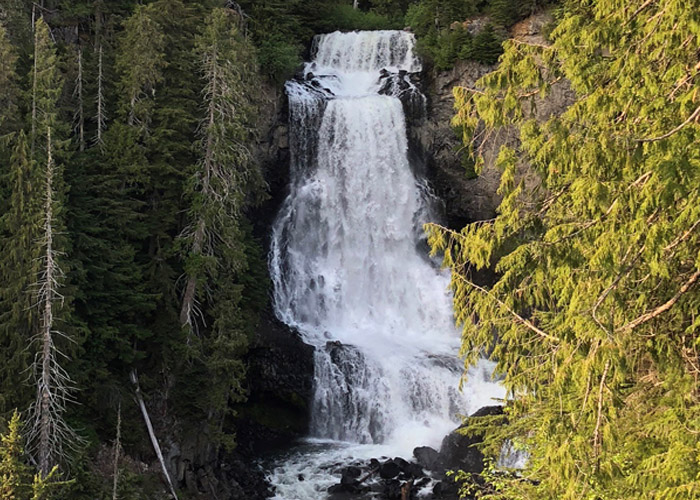 You don't need a fancy camera to enjoy the tour, even a cellphone camera will suffice! Many of the guides are also professional photographers and can work with camera aficionados to help them capture the perfect shot or can share their image bounty with those who didn't bring a camera along.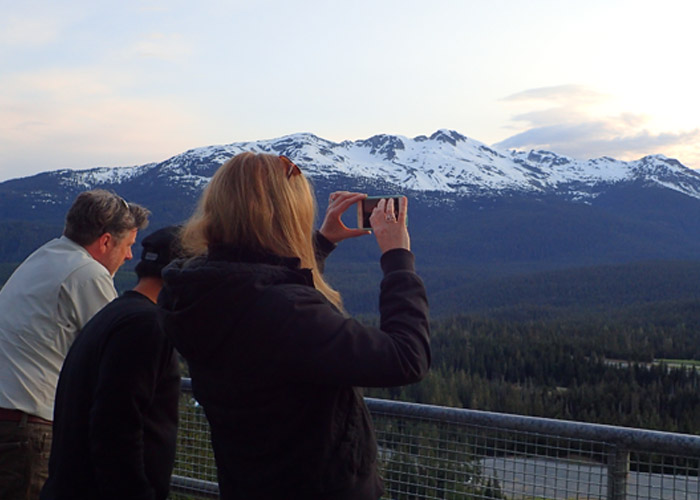 Witnessing a bear in its natural habitat is a bucket list item for many, and if time allows while you're in Whistler, consider taking a bear viewing tour. You'll leave with further knowledge and appreciation for these magnificent beasts, not to mention a full SD card and brain filled with memories of seeing a bear how it should be – wild and free.​
The last day for Whistler Photo Safaris Bear Tours is October 15, although this may change depending on bear numbers so give the folks at Whistler.com a call to make sure. Looking for more fall activities in Whistler? Check out our top ten (well, maybe 11) list or see An Autumn "How To" Guide.