Editor Update: Unfortunately, A-Rides doesn't exist in Whistler anymore, but we felt this was a fun story so we've left it up!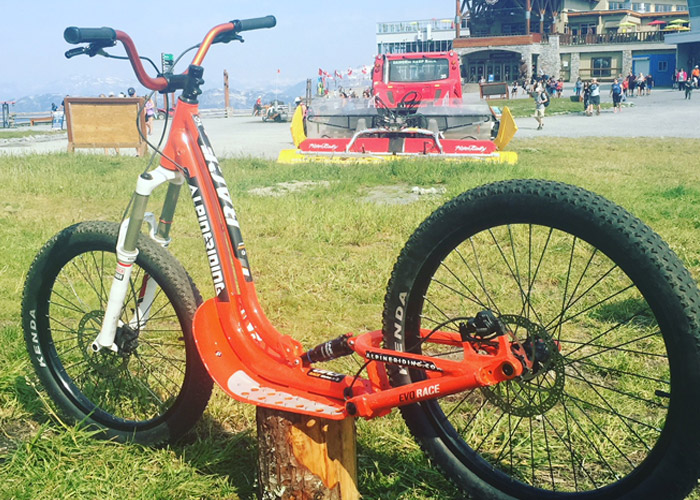 Where's the seat? Hang on, where are the pedals? These are questions Audric Lacour, owner of Alpine Riding must get all the time. Set up just outside the Roundhouse Lodge on Whistler Mountain he has his fleet of brand new 'A-Rides' lined up and ready to go. He's going to shake his head at me for describing them this way, but they're like souped-up mountain scooters. Armed with disc brakes and a full suspension these A-Rides mean business. Already a hot sport in Europe they can now be found on Whistler Mountain Bike Park trails and people are loving them.
"At first it was a little awkward," says Sarah Atcheson, a visitor to Whistler from Northern Ireland (who happens to be my sister-in-law). "But once I had the hang of it they were incredibly easy to handle. I don't think I would have ever attempted a blue run in the bike park, now I can check that off my bucket list."
She's right. After you get used to simply standing, versus hunching over the handlebars, they are incredibly easy to use. Although I've attempted to get Sarah in the bike park for a number of years, it was the A-Ride approach that finally got her on the hill. With their lower centre of gravity, they are a little easier to wield than your average downhill bike, and that's the whole point – more families having fun together on the mountain. However, in the hands of pros like Audric, these A-Rides can whip and air just like their pedal-powered brothers.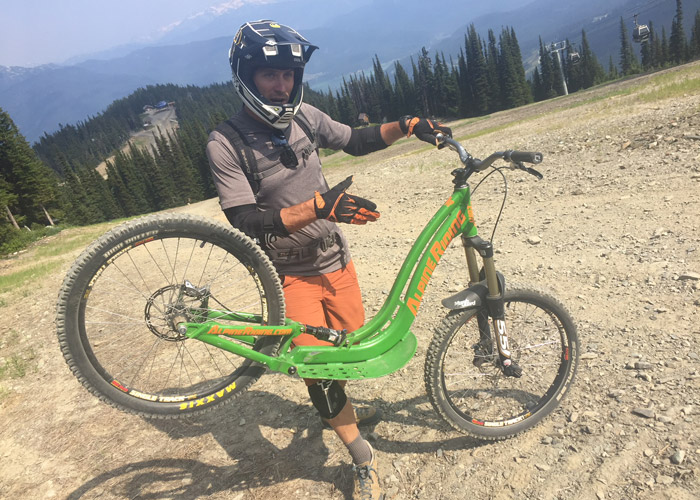 I've ridden the bike park a few times, and still not mastered the art of the berm, those lovely curved corners with a pile of loose gravel gravitating to the centre spot – don't look at the gravel. Without the pedals to worry about I focused on my braking or lack of it, and it clicked for the first time. I was whipping around those corners – it also helps that Audric is such an attentive guide. A trained sports educator, his passion for both biking and the mountains shine through. We'd stop at scenic vistas and take in the views, listen for the hoary marmots that give Whistler its name, and he'd tell us the odd history nugget or story from his biking past. He opened a Mountain Scooter centre in the Alps back in 2010, but after a trip to Whistler, he decided that North America was also ready for some A-Ride action.
"You have a low centre of gravity on an A-Ride," explains Audric. "This gives you more balance and stability, so it's an accessible sport for anyone who wants to get out on the bike trails. You don't need any off-road or downhill experience, you just need to know the basics of riding a bike. It's another way to ride."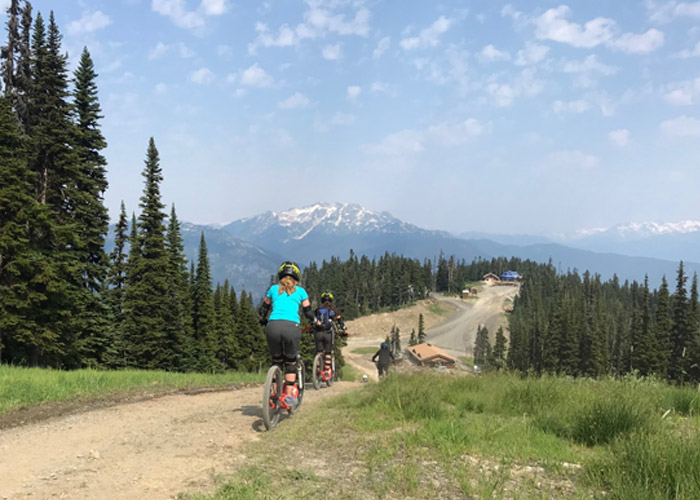 I was on the three-hour Peak to Valley Tour, which starts at the Roundhouse and ends at the bottom of Whistler Mountain. When you start from the top, you have to get used to the steep gradients relatively quickly, but Audric takes his time making sure everyone has the hang of it before you start weaving your way down. The trails I usually ski down I was now navigating on the A-Ride, making use of the wider slopes to get the hang of it before we entered the bike park runs. The first trail we entered was Una Moss, and I was stunned at how fluid it felt on the A-Ride, I was getting used to this lower centre of gravity thing. Up next was Blue Velvet, which involves a high woodwork berm that looks a little intimidating, but once again the A-Ride sailed right over it. My favourite run of the day was a cutely named run called Blueberry Bathtub, it seemed to lend itself to the flowy nature of the A-Ride, and I was sad to learn that we were close to the bottom.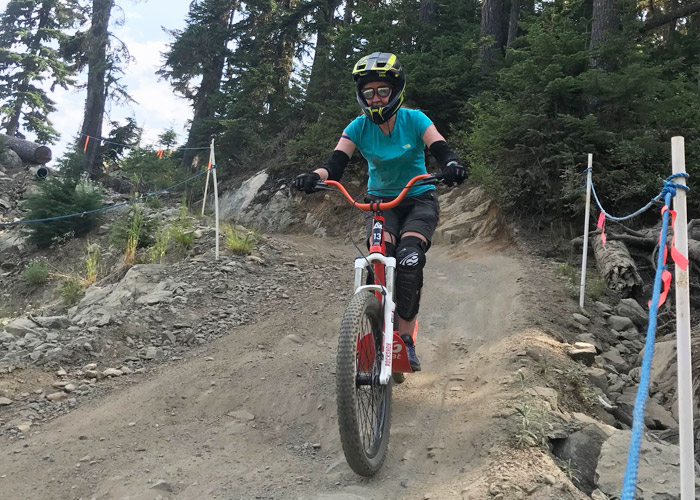 The Alpine Riding team sets you up with all the gear you need including elbow and knee pads, a full-face helmet, gloves, and of course, the A-Ride itself. Dress for the weather and in athletic gear that you don't mind getting a bit dusty and dirty. Definitely make sure you wear closed-toe shoes, stick some water in a backpack, and throw in your sunnies and camera. Currently they are offering a choice of the Peak to Valley tour and Bike Park ABC tour. These tours start on the mountain, so you do need to buy a bike park ticket to get up there. You can book the tour online or in-person at the booth opposite the Roundhouse.
For more fall adventures check out our top 15 list of things to do in Whistler.