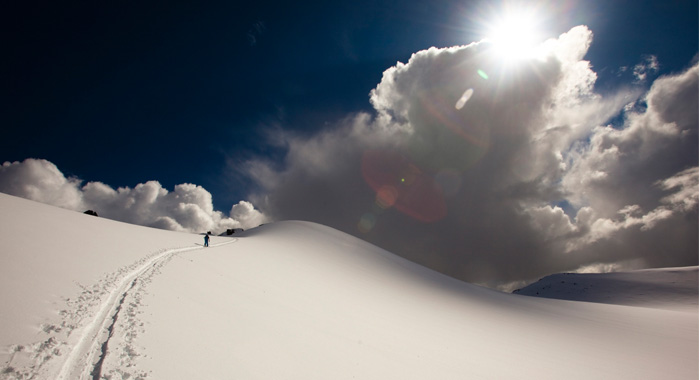 Mount Pattison approach. PHOTO: Vince Shuley
Guest Blogger: Vince Shuley
Hold on… a guide to guidebooks? Yes indeed. There are a lot of mountains out there and more and more people each year seem keen to head out and explore them.
"As soon as the snow starts falling people start to get excited about skiing and backcountry touring," says Dan Ellis, owner and manager of Armchair Books. "It's not a fad, it's grown into a mainstream thing. Every year we seem to sell more of these maps, more of these backcountry ski guides. It's also a great gift idea for friends and family if there's someone who is into backcountry skiing or starting out. I think these guides are invaluable."

The Trail Map
With more skiable acreage than any resort in North America, getting around Whistler Blackcomb can be a little intimidating at first. Thankfully, there's trail maps everywhere: in the lodge, on the mountain billboards and even attached to the safety bars of some of the chairlifts. The Whistler Blackcomb trail map (which, by the way, was painted by the trail map Rembrandt himself, James Niehues), is great for getting around and checking off the most popular areas of the mountain but if maps aren't your thing a friendly mountain host will likely be able to help you out. Look for them at entrance to all base lifts in the Village, Blackcomb, and Creekside.
Beyond the Map
If you're an advanced skier or snowboarder looking for the sphincter-shrinking lines not shown on the official trail map you're going to want to pick up a copy of the Advanced/Expert Ski and Snowboard Guide to Whistler Blackcomb (2nd Edition) by Brian Finestone and Kevin Hodder. Dog-eared copies of this book can be found on pretty much every Whistler local's bookshelf and its aerial photography, accurate overlays and concise descriptions help lead you to more than 120 runs that you may have never heard of such as "Chimney to Grey Zone" or "Don't Miss."
With this book you can find where locals rush to on powder days and the safest way to approach some of Whistler Blackcomb's steepest and gnarliest terrain. If you want to keep it mellow, there's also an intermediate version of the guidebook available. And if you're a regular visitor to Spanky's Ladder, Quickdraw Publications also print a poster of the entire Gemstone Bowl area on Blackcomb, great for pointing out your line from that day and bragging to your friends.
Advanced/Expert Ski and Snowboard Guide to Whistler Blackcomb is available at most retailers in Whistler Village for $26.95.

Key gear to have (especially the stuff in the middle).
From Front to Back(country)
You've got the ability to ski most areas in the resort, you've done your Avalanche Skills Training Level 1 course and you're staring hungrily beyond the boundary ropes to the endless powder expanse of the Coast Range. Time to pick up a guidebook!
For the backcountry newbies a great place to start is the Whistler & Area Ski Touring Guide, published by Backcountry Skiing Canada (and edited by the author of this very post, Vince Shuley). It features the classic routes of the Sea to Sky Corridor complete with individual photos of the skiable lines. Specific areas covered are Whistler Blackcomb backcountry, the Duffey Lake area north of Pemberton and the Elfin Lakes area in Squamish. All the objectives in this guide can be done in a day, but some may prefer to stay the night in one of the listed huts and get another full day of skiing in. Basic topographical maps are included on the pages, but if you plan on heading out deeper than a day trip, it's worth picking up a proper topo map (see below)The Whistler & Area Ski Touring Guide is available at Armchair Books, The Escape Route and Excess Backcountry for $16.95
Powder Cartography
The Spearhead Traverse is one of the most travelled ski touring routes in North America and if you're looking to embark on this classic or just want to head out for a big day of skiing in the Spearhead or Fitzsimmons Ranges, you'll want to pick up a copy of the Backcountry Whistler Map by legendary Coast Mountain explorer John Baldwin. With ski lines, traverse routes and even crevasses clearly marked on a large 1:25,000 scale map, this should be your first entry into any backcountry map collection. It's also waterproof and tear-proof, so you can be sure it will last for many powder-soaked outings beyond the boundary. Baldwin also has a similarly detailed map of the Duffey Lake area including the classic ascents and descents around Cerise Creek, Steep Creek and Cayoosh, among others.Find John Baldwin's Backcountry Whistler map at Escape Route, Excess Backcountry and Armchair Books.

Left: The best book on the Subject. RIGHT: A section of John Baldwin's Backcountry Whistler Map.
One Guidebook to Rule Them All
John Baldwin's much-revered tome Exploring the Coast Mountains on Skis: A Guide to Ski Mountaineering is essentially the local backcountry bible. With 448 pages of maps, photos and text describing the entire Coast Mountain Range from the North Cascades in Washington State all the way up to the Alaska panhandle, this is one book that every adventuring backcountry skier in B.C. could spend their lifetime pouring through. The entire Sea to Sky Corridor is well covered with all kinds of outings from day trips to expeditions lasting several weeks. Areas often overlooked by Whistler locals such as the Callaghan, Birkenhead and Howe Sound are all covered, as are popular road trip destinations like Mt Baker and the Coquihalla Highway.
Over the last few decades there have been dozens of huts built throughout the Coast Range, so for those looking for a more cozy multi day ski touring experience, there are more than enough listed in Exploring the Coast Mountains on Skis to fill your winter trip schedule. Being the weighty, bulky codex that it is, it's worth photocopying and laminating pages out of the book to take into the field with you. Every chapter points to the appropriate topographical map of the area to complement Baldwin's own hand drawn representations.Exploring the Coast Mountains on Skis: A Guide to Ski Mountaineering costs $39.95 and is available at Armchair Books, The Escape Route and Excess Backcountry.

Editor's Note: Every one of these books/maps/guides is an excellent resource but knowing where to go in the backcountry is useless, dangerous even, if you don't have the skills and experience to survive once you are out there. Guided backcountry trips and tours are a great way to taste the goods, then you can start educating yourself with a Level One AST course. Be safe, have fun, live to ski another day.