Traditionally, an Inukshuk is a stone cairn or landmark built by the people of Canada's Arctic for navigation or to point out good fishing or camping spots. However, after the 2010 Winter Games adopted a more human-shaped Inuksuk (traditionally known as Inunnguaq) as its logo the little stone sculptures gained a much broader recognition locally and worldwide. These days, hikers in the Whistler backcountry will often stumble upon groups or clusters of small Inuksuit (plural) left by previous travelers.

"For me the Inukshuk has always been a symbol of our existence in nature," says renowned Whistler landscape artist Chili Thom. "You're out on a hike and you arrive at a sweet spot, a beautiful viewpoint or lake or something, and there's an Inukshuk to let you know you're not alone. That someone else has shared this moment and experience. I think we intrinsically seek out that kind of affirmation of our existence."
Chili created the iconic painting of a snow-covered Inukshuk overlooking Black Tusk mountain which now hangs in the dining area of the Roundhouse restaurant atop Whistler mountain but there are many more Inuksuit around in the valley and surrounding backcountry. From the alpine scree slopes to the forested riverbanks and beyond, anywhere is a good spot to stop for a moment and let future travelers know they're on the right path.
How to build an Inukshuk:
Stop moving, take a deep breath, and look around. If there are Inuksuit about chances are you are somewhere pretty awesome, enjoy it for a moment.
Find some rocks. Look for ones that have flat spots on them unless you are some kind of Zen rock stacking master. Choose a multitude of sizes and remember—a sturdy foundation is always a good call.
Stack 'em up. Place rocks atop each other to form any shape or size you like. Don't feel like your Inukshuk has to fit any conventions. The sky (and gravity and rock selection) is the limit.
Be patient. There is no quick trick to crafting the perfect Inukshuk other than trial and error and good rocks. If your Inukshuk falls over, just build it back up stronger. With great effort comes greater reward.
Choose your spot. Even though there are more and more Inuksuit being built each year, their traditional use has generally been as route finding markers for mountaineers and backcountry enthusiasts so try not to lead people astray if there is an obvious Inukshuk trail where you are. Or, build one right beside the obvious marker. Wind, snowmelt and animals can topple anyone's hard work so two Inuksuit is likely better than one.
Most Importantly. Have fun.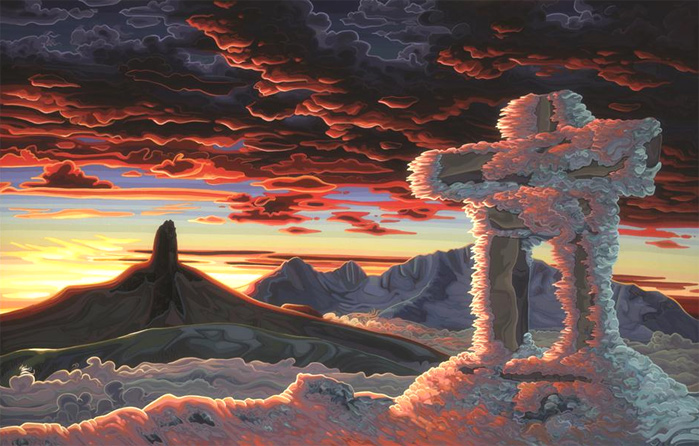 Artwork by Chili Thom