On a late night towards the end of last year, I was driving home through dense fog. I had just moved to Pemberton, about a 30-minute drive north of Whistler, and I was almost home when a large figure materialized through the mist. I proceeded cautiously given my familiarity with the inevitable encounters Canadian residents have with large wildlife.
To my astonishment, the figure materialized into the form of a horse, calmly standing in the center of the road. My astonishment grew as I continued slowly past the horse and dozens more came into focus, grazing serenely on the grass along my street. 
Since it had been so late, the following morning I had difficulty discerning whether the previous night's experience had been a dream, but the horse droppings strewn around my neighbourhood were proof that what I had seen had been reality.
It was my first encounter with the herd of horses that roam the area, which is a sight that I have since witnessed on numerous occasions. But little did I know that next summer I would be riding a horse that hailed from that very herd, through the mountainous backcountry that he had freely roamed as a youngster.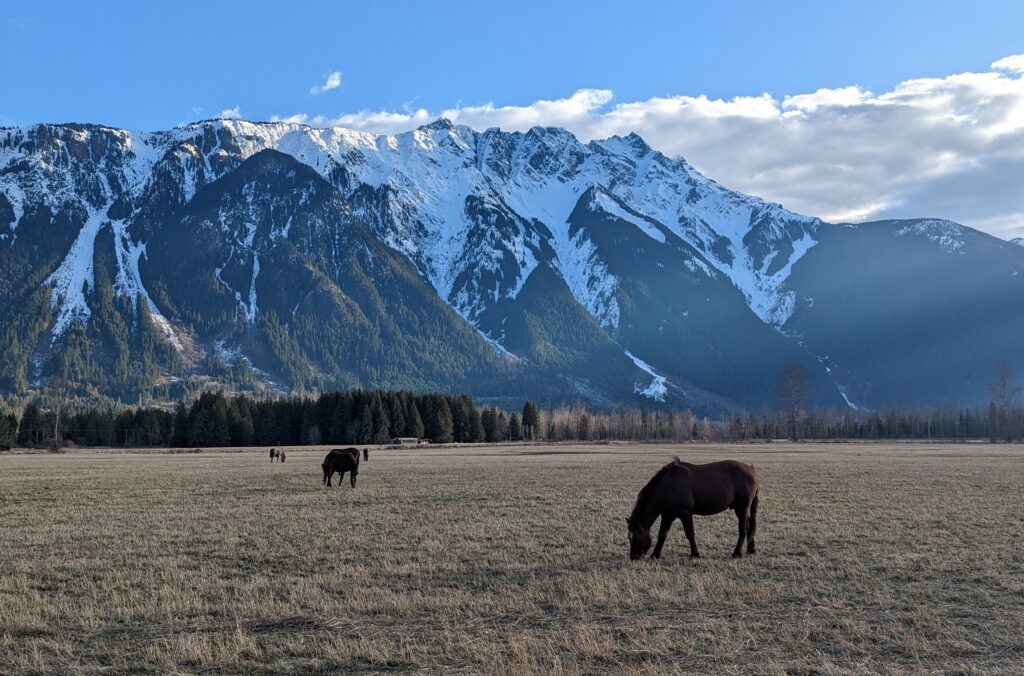 Whistler Horseback Riding with Copper Cayuse Outfitters
Copper Cayuse Outfitters is a horseback riding tour operator based in Pemberton, on the beautiful territory of the Lil'wat First Nation. They run tours from April through until October, with options ranging from hour-long rides to half-day, full-day, and even overnight trips which take riders camping deep into the wilderness.
Many of their horses, or cayuses – a Pacific Northwest term denoting the horses of the region, originate from the roaming herd of Pemberton. They spent their early years freely navigating the area, learning the way of the local wilderness. The horses are remarkably placid, displaying a range of personalities that can be matched with riders of any ability, who they will happily carry through their home trails.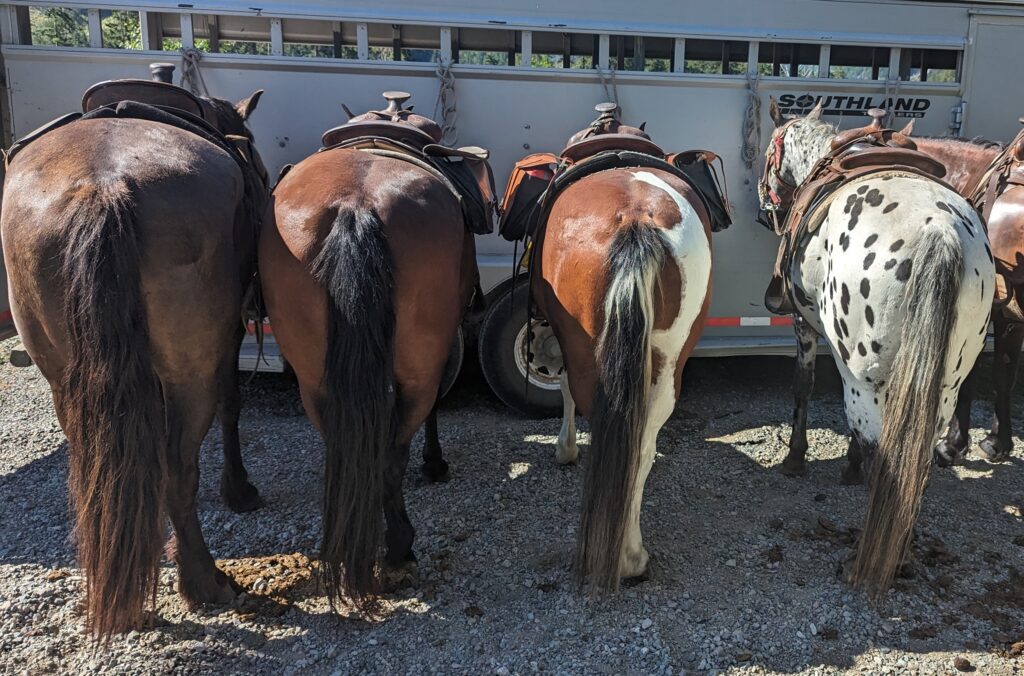 As we had booked a half-day ride, we met our guides at the Birkenhead trailhead, where they'd transported the horses who stood waiting, ready to set off along the trails. Some of the shorter rides set off from the nearby ranch – instructions and detailed directions are provided upon booking.
Our guide briefly chatted with us about our riding experience before we were paired with our horses for the day. I was assigned to Bingo, a chunky, bay-coloured horse who, I was informed, had a cheeky habit of sneaking snacks of trailside foliage. In total, the Copper Cayuse herd consists of over 35 horses. Each one has their own distinct personality, ready to partner with riders of all different levels.
Our group encompassed a full range of horseback riding backgrounds. Some of us, like me, had a keen interest in horses when we were younger, and others had barely stepped foot into a stirrup. Once we were each matched with a suitable steed, we received a quick tutorial on accelerating, braking and steering, before we packed our supplied lunches into our saddlebags, hopped on and set off.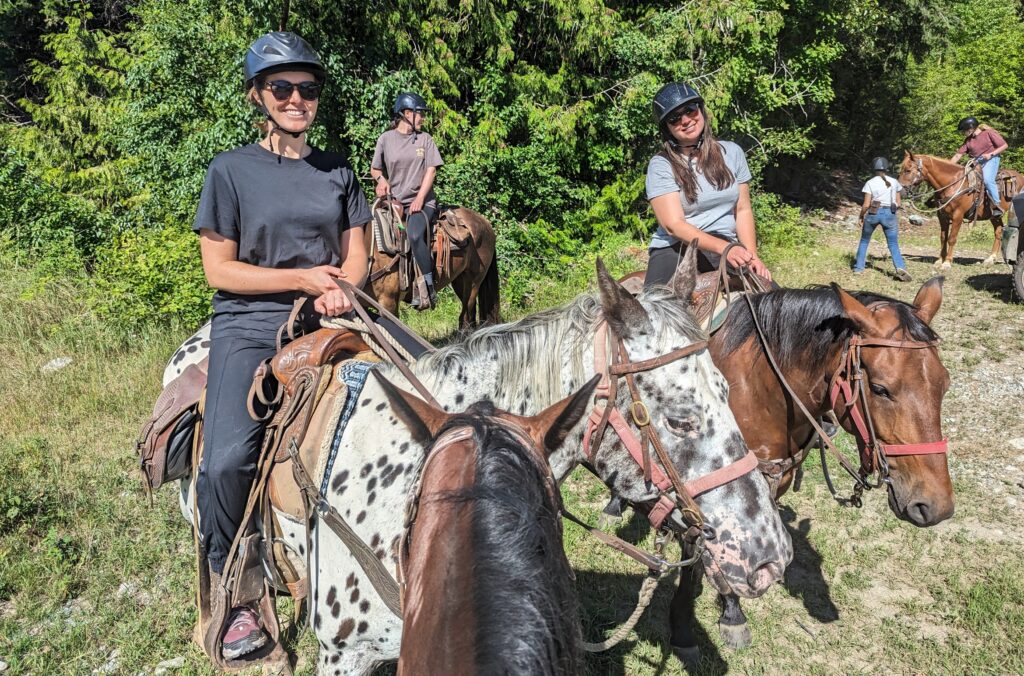 As we began our trek into the Birkenhead backcountry it immediately became apparent that these sure-footed horses were at home. Our path meandered through the wilderness, making its way through the forest where we were treated to stunning views of the surrounding mountains and valleys.
After reaching the peak of the uphill portion, the horses paused to drink from a stream. We picked up a faster gait along a wide flat section and came to a clearing where we gave the horses a breather. It was an old mining site, a remnant of the gold rush era when horses were used to transport equipment through the area.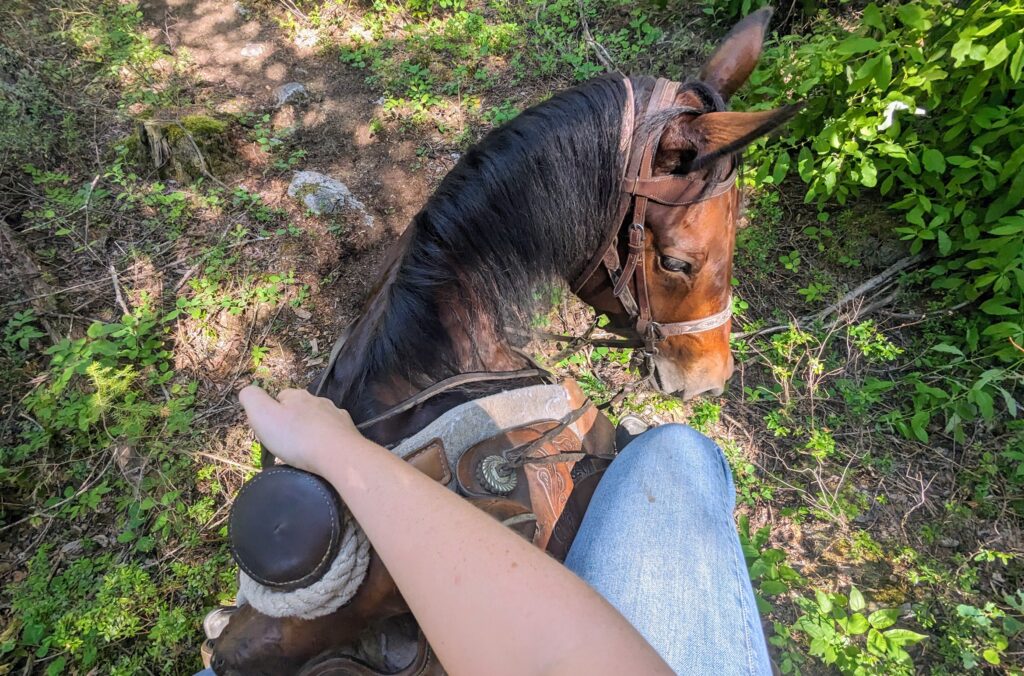 We were all having such a wonderful time that we didn't realize how quickly the day had passed us by, and before we knew it we pulled up to our lunch spot. We dismounted the horses, retrieved our lunches out of our saddlebags and gratefully offered our supplied apples to our horses. After leaving the horses blissfully munching, attached to trees, we took a short walk to a stunning lunch spot.
We relaxed in the shade and enjoyed the picturesque scenery while we ate our cookies and sandwiches, surprised at being so hungry when the horses had done all the work to get us there. We chatted with Gabbie, our guide, about her time chasing summer around the world as a horseback riding guide, having just arrived in Pemberton from the mountains of New Zealand. I asked Brian, the trainer, about what Bingo was like when he was learning to be ridden and he said that he only fell off once, which apparently reflects well on Bingo.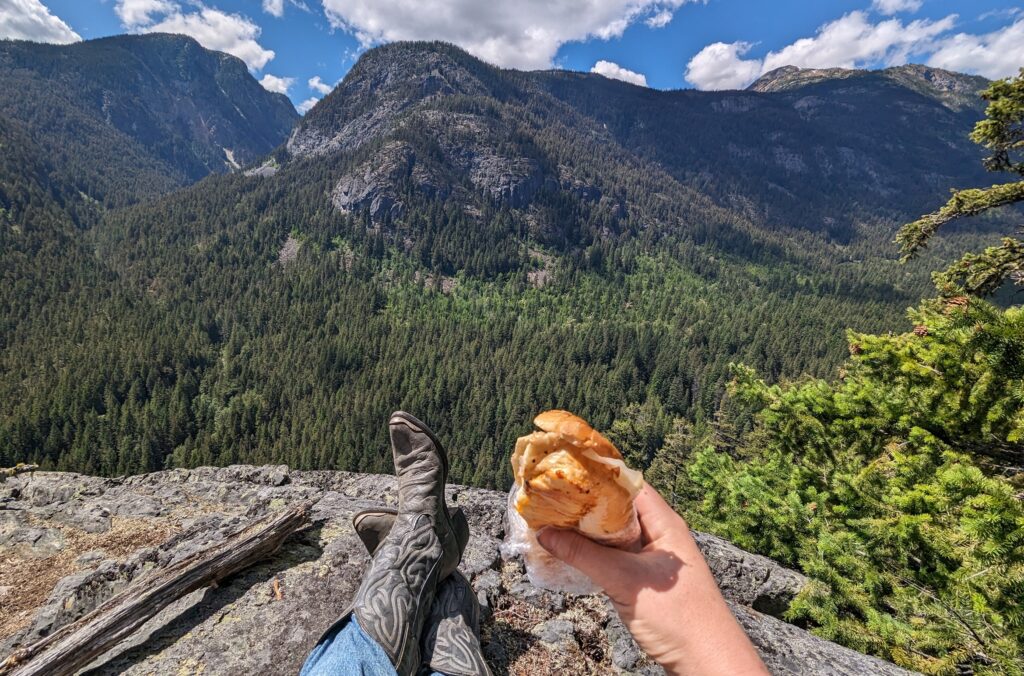 Post-lunch, we remounted our horses for the last short leg of the journey and far too soon, we sadly farewelled our horses as they were loaded up for their drive back home to the ranch. 
Whether you've never ridden a horse or you're a well-seasoned equestrian, a horse riding tour with Copper Cayuse Outfitters is an amazing experience and a fun way to see the Coast Mountains; you're exploring well off the beaten path while only having to venture about 30 minutes north of Whistler. The experience connects riders with the local wilderness and an animal whose history is intricately intertwined with ours.
Fall in Whistler means more, like great value on accommodation with rooms from $135 CAD per night, plus a free $100 CAD Dining Voucher when you book a stay of 3-plus nights. Book in confidence with Whistler.com for Flexible Cancellation and a Price Match Guarantee. If you're dreaming of a trip to Whistler, enter our Find Your Altitude contest for a chance to win a six-night vacation with flights, accommodation and activities (including a heli trip) all covered.