When Whistler's first gay ski week was held in February 1992, it was a relatively small and discreet event; its lack of advertising and visual presence made it easy to miss when going through the local newspapers and archival records from that time. However, the event has grown and evolved over the past three decades and, as the Whistler Pride and Ski Festival looks to celebrate its 30th event this month, has become one of the most visible, annual events in Whistler and the largest event of its kind internationally.
Origins with Altitude
In 1992, Brent Benaschak, who had recently opened a bed and breakfast in Whistler, wanted to create a gay-friendly space both on the mountain and in the valley while also attracting new visitors. His company, Out on the Slopes, produced Altitude, the first incarnation of a gay ski week in Whistler. In the beginning, Altitude was advertised mainly by word-of-mouth with festival goers taking part in a guided ski and ride program, and other events, but Benaschak had a bigger vision for Altitude.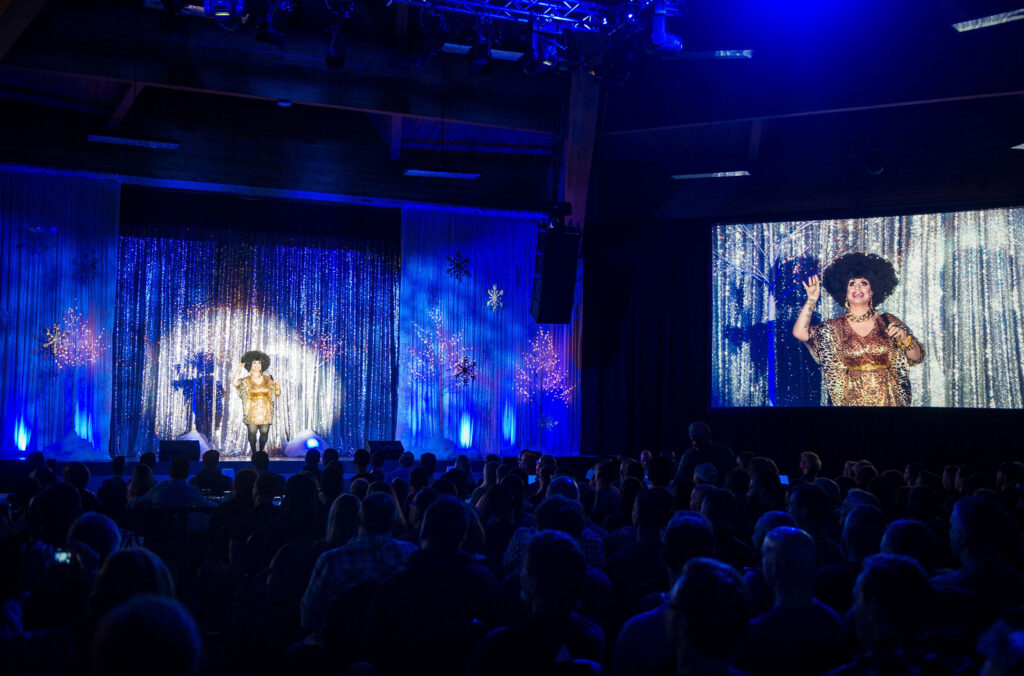 In its early years, the festival was not actively hidden but it also wasn't highly publicized around Whistler.  As it grew, it became increasingly visible and more, and different, events were added. These included concerts, pool parties, fashion shows, auctions, tea dances, film screenings, drag queen performances and, in 1998, Thunderthrob, its first women-only dance. Altitude also introduced a charity ski / snowboard race on a course under the Emerald Express that, according to the current Director of Ski and Snowboard Guiding Program, John Sutherland, could get "quite festive." This race continues today at the Race Centre on Blackcomb Mountain, raising money for a different charity each year through the entry donations of the racers.
"The guided ski program and on-mountain events were a central component of the festival from the beginning, with a very dedicated and passionate team of volunteer ski and snowboard guides leading groups around the mountains, " explains Sutherland, who first attended as a participant and then began guiding ski groups in the mid-1990s before taking over the organization of the program around 2007. "Ski and snowboard groups meet for lunches and après ski at the end of the day to share stories and celebrate. We have a definite, visual presence when gathered together on the mountain. It's magic."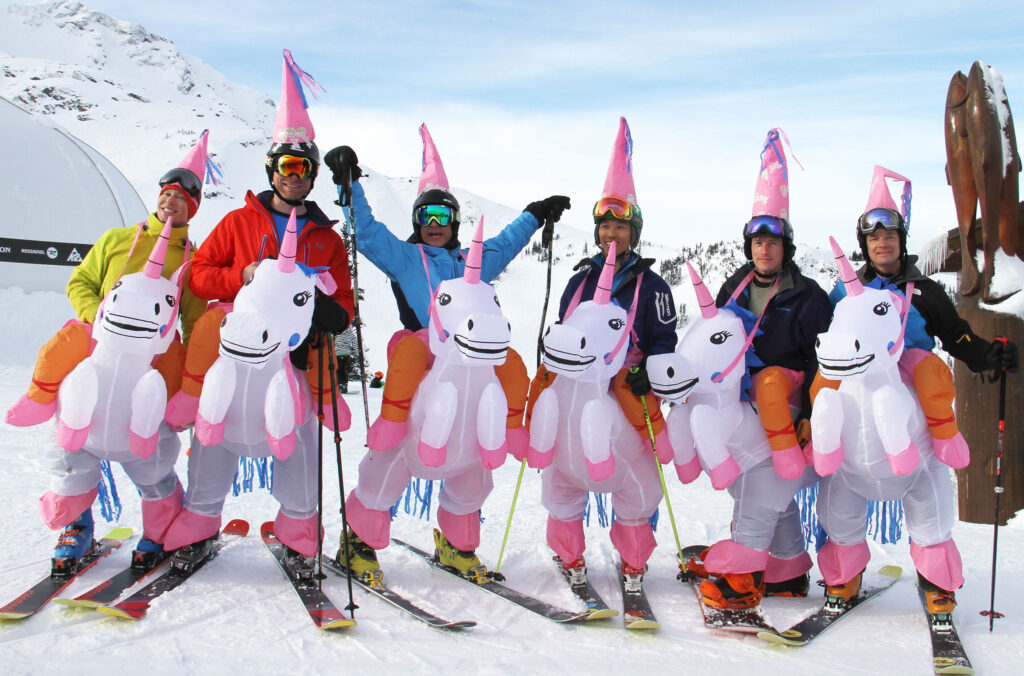 Proving the Economics
Not all of Whistler immediately embraced the festival and organizers found it difficult to secure spaces for events like the Snowball, the end-of-the-week dance party. Brent Neave, an early co-producer of Altitude, later recalled that some businesses would refuse to work with them or claim they didn't have the space or availability. Thankfully, Beverly Brown, then the general manager of Monk's Grill in the Upper Village (today the location of Milestones) chose to support the event. The Snowball, as well as other après ski events, were welcomed at Monk's in Altitude's early years with open arms.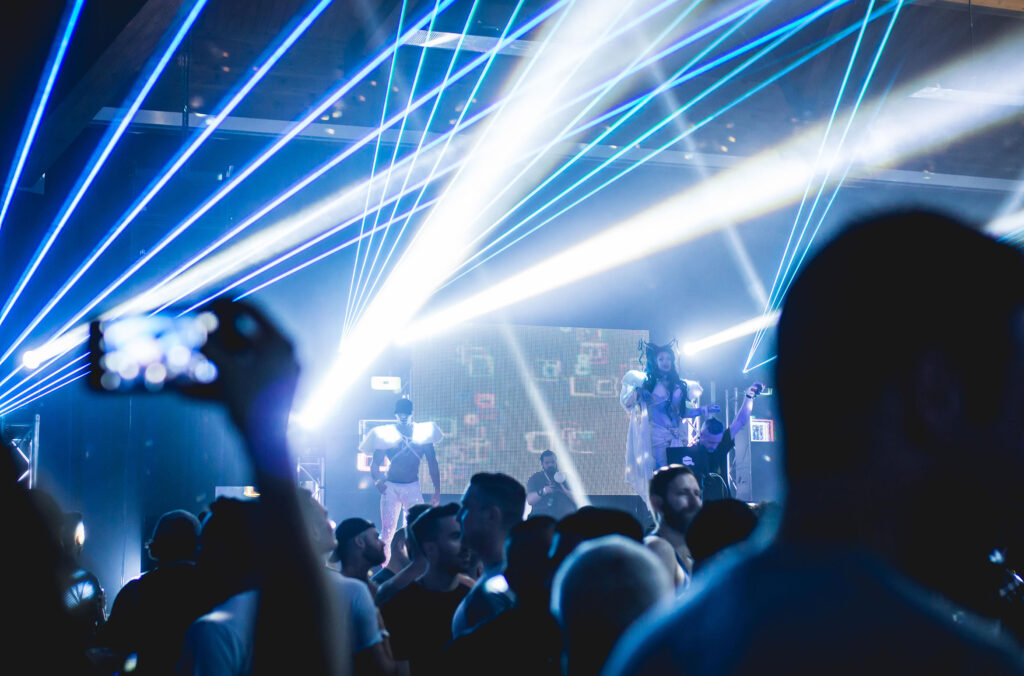 Though the festival was becoming better known, organizers still had difficulty getting support from some businesses in Whistler. In the mid-1990s, Altitude organizers launched a pink dot campaign to show local businesses the economic value of the gay ski week. Attendees were encouraged to put pink stickers on any cash they spent or credit card receipts in order to make visible how much money Altitude was bringing into the resort. The campaign was a success and more businesses began to support the festival with partnerships, sponsorships and space.
Local Support for the Festival
Economics were not enough to win over all of the critics, however, and Altitude's growth in the early 1990s led to some homophobic reactions. In 1994, homophobic flyers were distributed under business doors and on car windows around Whistler during the event. These flyers had the opposite effect than intended and rallied many residents and businesses to publicly defend and demonstrate their support for the festival, including Mayor Ted Nebbeling, the first openly gay mayor in British Columbia.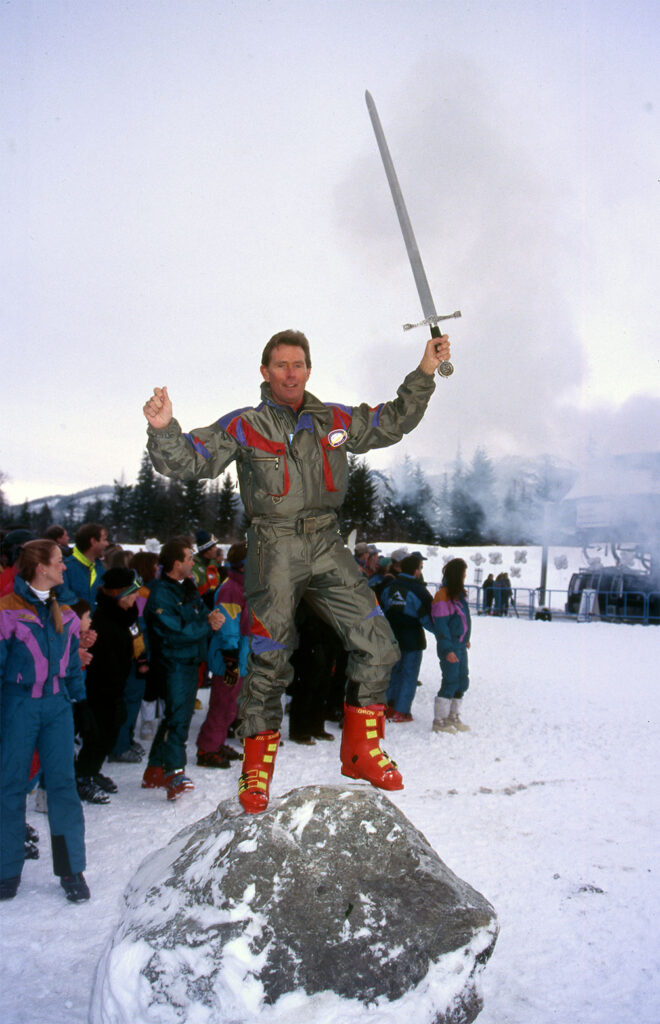 Altitude's growth through the 1990s was prompted in part by Amendment 2, legislation passed in Colorado that effectively banned local governments from enacting anti-discrimination laws based on sexuality. This amendment led to calls to boycott the state and many people who had planned to attend Aspen's gay ski week chose to attend Altitude instead. Amendment 2 was later declared unconstitutional by the Supreme Court of the United States in 1996, by which time Whistler's gay ski week was established.
Brent Benaschak continued to run Altitude until his sudden death in December 2003. Lee Bergeron, a businessman from San Diego, purchased Out on the Slopes and committed to run the 2004 Altitude as scheduled as a tribute to Benaschak. Bergeron continued to produce the festival until January 2006, when the festival was cancelled on short notice.
Rebranding to be More Inclusive
With only twelve days to go before the festival was set to begin, Sean Kearns (who owned the travel website GayWhistler.com) recruited Dean Nelson, Wayne Hartrick, Mark Clements-Kearns and Tatiana Kostiak to put together a stripped-down version rebranded as GayWhistler Gay Ski Week. According to Nelson, the group managed this with "a lot of stress and anxiety and excitement and balls." They approached Tourism Whistler and the Resort Municipality and, for the first time, had rainbow banners hung along Village Gate Boulevard during the festival for all visitors to see. Nelson later recalled that "That was the first time in the event's history that we were really out and proud and really visible."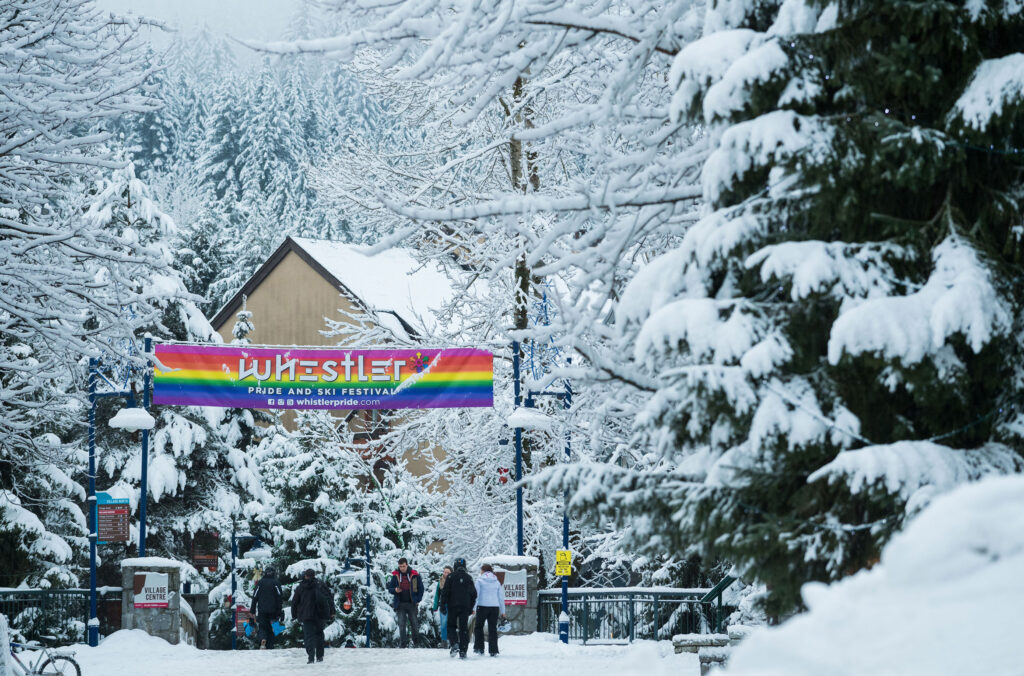 The festival was relaunched in 2007 as WinterPRIDE to be more inclusive of diverse 2SLGBTQIA+ communities and then, in 2008, Nelson and Ken Coolen took over the leadership of the festival. Nelson had first become involved around 1994 as a hotel sponsor through his role at the Holiday Inn Sunspree Resort (now the Whistler Peak Lodge) after being approached by Benaschak. Though he was not really out yet, he volunteered to help with that year's fashion show and attended his first Snowball, an "eye-opening" experience. Nelson had assumed the Snowball was a formal affair, as he remembered;
"I went with a couple of colleagues from work and they're in these beautiful dresses and I'm in a suit and we get in there and everybody's half-naked and we're just like, 'Whoah.'"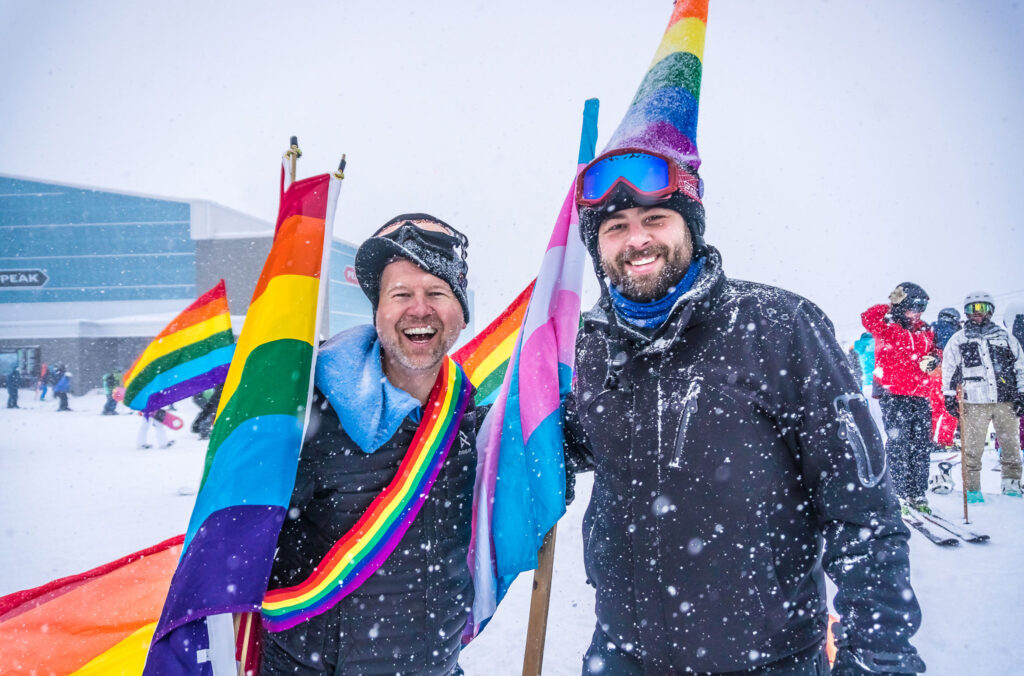 As WinterPRIDE, the festival continued to increase its visibility within Whistler by hanging banners along Village Gate and encouraging businesses to hang rainbow flags on their doors and in windows. While core events such as the Snowball and the ski program remained steady, other events targeting different audiences were introduced, tested and sometimes replaced.
In 2010, Nelson and the festival team were also part of establishing the first Olympic and Paralympic Pride Houses in both Whistler and, in partnership with QMUNITY, Vancouver. Though not part of the festival, that year also marked the first parade down the Village Stroll as part of a Pride House news conference.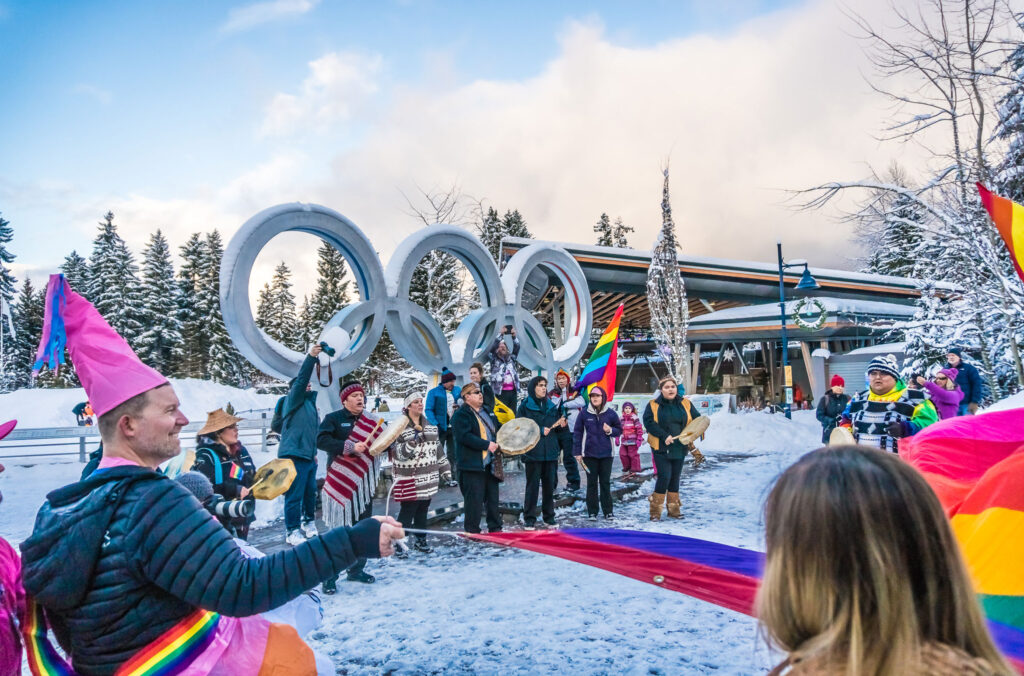 2012 marked the 20th anniversary of the festival. February 5 to 12, 2012, was officially proclaimed Pride Week by Mayor Nancy Wilhlem-Morden. The first Pride Ski Out, a parade down Whistler Mountain on skis and snowboards with an enormous rainbow flag, was organized as part of the festival, expanding upon the parade that happened in 2010.
Skiing and Riding at its Roots
While the festival has evolved over the years with organizers also adding events targeting non-skiers, the ski and snowboard program remains an incredibly important part of the festival that has expanded in part due to increased support from Whistler Blackcomb. Thanks to dedicated guides described by Sutherland as "enthusiastic, welcoming and passionate about showing off their great mountains," the festival has had as many as 30 groups out skiing and snowboarding together.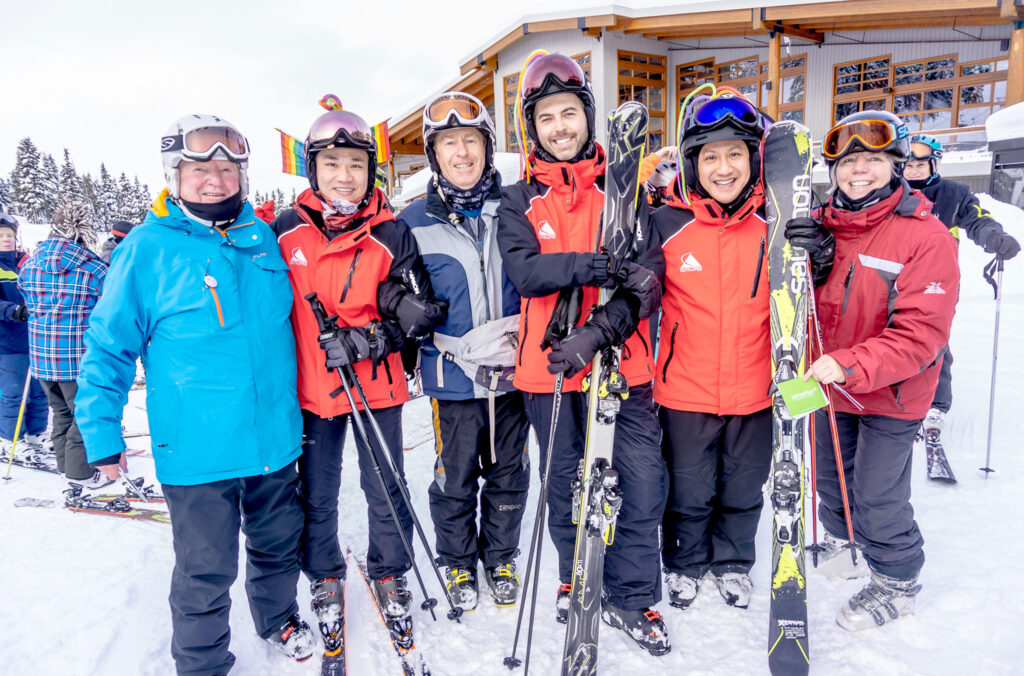 For some participants, especially those who attend the festival alone, the guided groups are a way to meet new friends who ski or snowboard at a similar level, while for others it is a chance to reunite with those they met in previous years.  
Renamed the Whistler Pride and Ski Festival in 2015, the festival continues to work to diversify its events and offerings while aiming to provide a safe, inclusive space in the resort. Though there was no festival in 2021 due to the COVID-19 pandemic and the 2022 festival had to be scaled back substantially due to health restrictions, the Whistler Pride and Ski Festival is back with a bang to celebrate its 30th festival from January 22 to 29, 2023.
Take a look at the nightly events, which include a comedy night with the fierce, funny, and fabulous Bianca Del Rio. She won the sixth season of RuPaul's Drag Race, recently made her West End debut in the hit musical Everybody's Talking About Jamie and completed her fourth global stand-up comedy tour, It's Jester Joke, where she made history being the first drag queen to headline Carnegie Hall and Wembley Arena, selling out both venues. There's also the Sip'n'Dip at the Scandianve Spa, Lit! at Vallea Lumina and an incredible dining experience at the Spo7ez Winter Feast.
Visit the Whistler Museum, located behind the Whistler Public Library, for more Whistler history gems.
Book your winter trip now to secure up to 25% off lodging, 65% off lift tickets and 45% off rentals. Come experience Whistler Blackcomb's extensive terrain and adventure at every turn to see why we're known as one of the best resorts on the planet. Secure your winter getaway with Whistler.com for Flexible Cancellation and our Price Match Guarantee. Want to win a winter trip for two to Whistler? Check out our Drop In to Winter contest.