In mid-March, in response to the global epidemic caused by COVID-19, British Columbia went into a state of emergency with the rest of Canada. Instead of visitors coming for spring skiing and the opening of the Whistler Mountain Bike Park, the buses were going the wrong direction taking seasonal workers to the airport, so they could be with loved ones back home.
The ski runs and bike trails were empty and the Village eerily deserted, for a town built on tourism this was an unimaginable situation. Whistlerites waited patiently, baking sourdough, strolling with their bubble pals and managing to keep that celebratory vibe going with garage-based, virtual concerts and fundraising galas aimed at helping them stay connected.
As the BC Restart Plan was rolled out Whistler waited with bated breath as phase two and then phase three finally enabled us to start welcoming visitors back to the resort. The latest phase saw the launch of Tourism Whistler's Adventure Differently campaign, an approach aimed at remaining true to what the resort stands for, but recognizing the need for adaptation.
"The effects of COVID-19 have sent shock waves throughout the community, province and the world," says Barrett Fisher, Tourism Whistler's President and CEO in an interview with The Whistler Insider. "It's incredibly challenging from both a health and tourism perspective. We weathered two months of a non-existent tourism economy and are facing an uncertain future."
Fisher moved to Whistler in the early 90s and has thirty years under her belt with Tourism Whistler. Since 2008 she's held the reins as Tourism Whistler's President and CEO and is currently facing her biggest challenge yet. As Whistler reopens, she's helping to lead the resort into a new era, one that's asking people to slow their pace and take a holistic outlook on the choices they're making while they're here.
"Whistler is known as an adventurous destination – this is its brand. It's about passion for the outdoors and sharing the exhilaration of the mountains, whether that's on a ski run, bike ride or hiking a peak. It's been about pushing our limits, both physically and spiritually, but this summer we're asking people to play within their limits – to adventure differently. It's still about adventure and exploration but at a slightly slower, more mindful pace."
Fisher, the Tourism Whistler team and local branding agency Origin, developed four messaging pillars. These set expectations and clearly express the resort's values and approach. They weren't dreamed up by the marketing team, but rather, as a result of surveys done within the community and sent out to prospective visitors, as well as direction taken from meetings with resort partners. 
"Feedback was that visitors wanted to make sure there were new safety protocols in place, but they also wanted to know they were welcome. So, we asked. The community feedback was yes, we're ready. Tourism is obviously really important, it's our core economy, but it needs to be done safely. The new marketing campaign really outlines our values, this is how we want to interact as a community with our visitors and vice versa."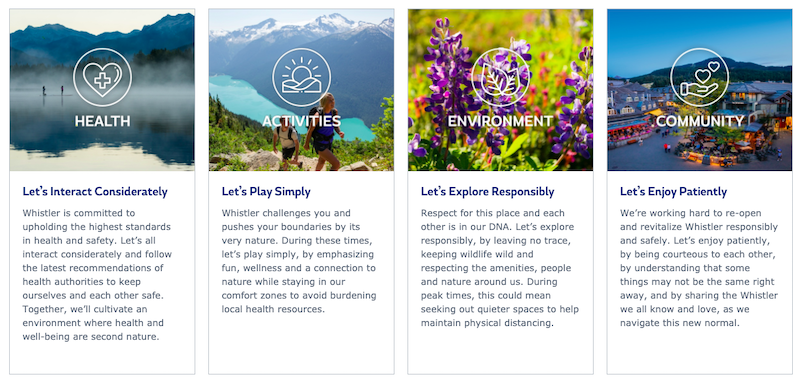 The Play Simply pillar is one that Fisher likes to focus on. As a mountain playground, we like to seek thrills in Whistler, but now is not the time to ride that black-rated rock slab for the first time. Our municipal, medical, and search and rescue teams have explicitly told us not to apply undue pressure to the healthcare system, so the adventure differently campaign really speaks to an adjustment in behaviour as we gear down a level for this summer.
"Whistler hasn't changed, our wide-open spaces are actually conducive to the restrictions, by our very nature we're a great vacation option in these times. We want people to relax and enjoy, but also understand that it might take a bit longer to do the things they want to do. Before coming here we'd like people to understand the four pillars and take a look at some of the tools we've built to help them plan their vacation."
On Whistler.com locals and visitors can find a page dedicated to COVID-19 related information as well as a business listing called the Doors Open Directory, which gives people details on what's open and how they're enacting safety measures. The Insider team has also been putting together timely Know Before You Go content for this very reason.
"We all want to be aligned in doing the right thing, respectful of fellow visitors and residents, and enjoy a beautiful vacation. Weekends are definitely getting busier, which is a typical trend, so we're urging people to come midweek and to really explore the wider Whistler Valley."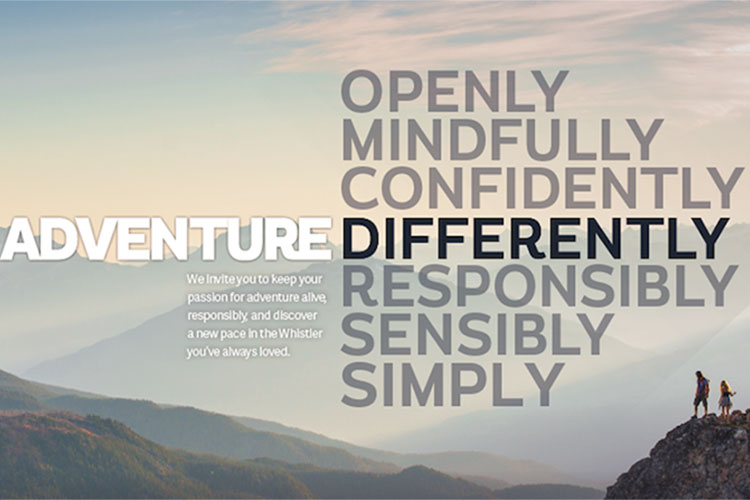 We asked Fisher to gaze into her crystal ball and tell us what she thinks the winter season might look like in Whistler.
"We're hopeful that we'll continue to see positive progress with the containment of the virus. If this happens, we anticipate more markets opening up. Today, the focus is BC but that radius will expand to Western Canada in the late summer, national Canada by the fall and into the US and international markets in 2021. But, safety comes first. If we can achieve that we will continue to host experiences in Whistler that give people the opportunity to get away, thrill seek and fulfill their passion for travel in a safe and comfortable way."
As Fisher continues to navigate these waters with the team at Tourism Whistler, she likes to look at the positive aspects of the situation. Her daughter is back from university and her husband, who often travels for work, is home.
"It makes us realize just how much we take for granted. We've taken long walks, hikes and bike rides, got a lot of fresh air, and are genuinely thankful to be living in this amazing mountain setting. We have also been doing things as a family, like baking, playing cards and organizing things, that we wouldn't usually make time to do.

From a tourism perspective, the silver lining is that we can recalibrate as an industry and as a society on how we engage with tourism destinations like Whistler. We know that travel and tourism are critically important, both to visitors and to communities, but this pause has allowed us to rethink and reset.

We understand better than ever the importance of protecting this beautiful place we call home, so we need to ensure we respect the natural environment, minimize our footprint, give back as much as we take, and preserve the character and culture of this incredible mountain town for generations to come."
We look forward to adventuring differently with you here in Whistler this summer.