Being cold stinks — there's no way around it. In the mountains, it gets cold — there's no way around that, either. But, with modern technology, a bit of advice from the right people and some forward planning, it isn't hard to stay warm and have an amazing time in the mountains, no matter what the weather does.
We've outlined a few techniques we've learned from clothing brands we've worn, doctors we've talked to and hours we've logged on chairlifts through all sorts of weather. If you've been cold on a ski trip before, you'll know how important these tips can be — and be thankful for how effectively you can nullify the problem with just a few tweaks.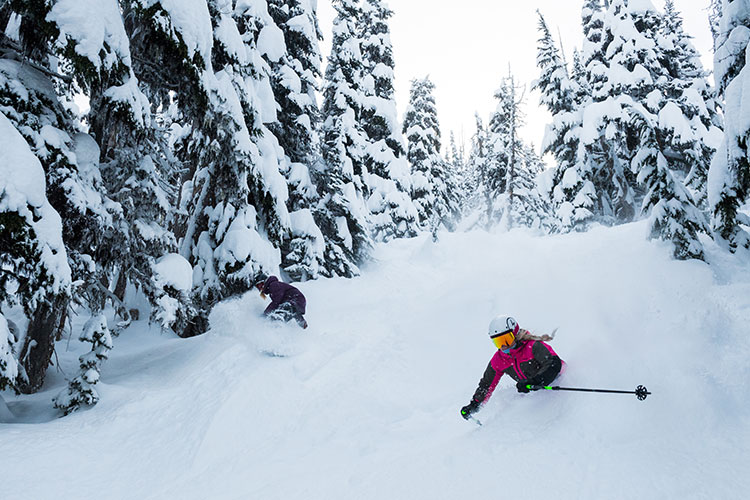 Tip #1: Layering, Layering, Layering
With a huge temperature difference from the valley to the peak and plenty of precipitation (outside and possibly inside after a few runs), the way you construct or "layer" your outfit in the Coast Mountains is important.
One way to be prepared is by dressing in layers. Having a base layer, mid layer and an outer layer may seem excessive, but as you go up and down the mountain crushing vert, you'll notice that having the ability to de-layer and re-layer is essential.
While you could be sweating at the bottom of a Peak to Creek lap (11 kilometres and thousands of metres of vertical), your temperature will go right back down when you head back up in the gondola. Thus, having the right layering system is important.
But, that system won't do much if it's just 15 cotton t-shirts under a down jacket — and that's where the materials come in.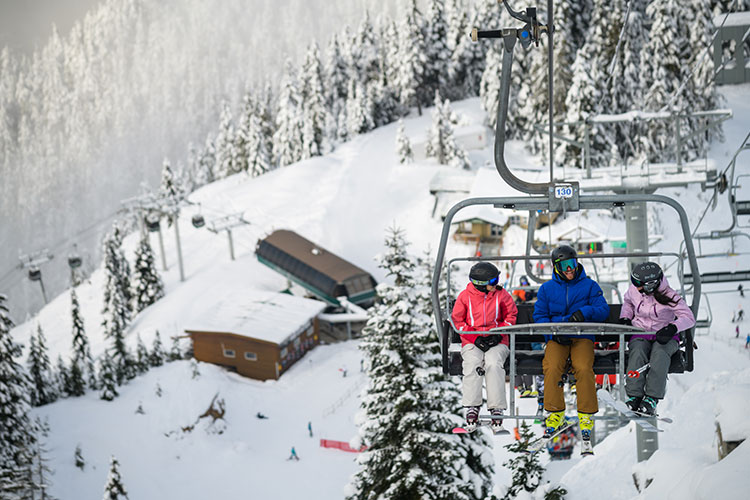 Tip #2: The Right Materials
You work hard on the slopes, often working up a sweat, even in frigid temperatures, which is why staying away from cotton and using new materials can make all the difference.
For a base layer, it's important to have something that dries quickly and is sweat-wicking. We've found merino wool to be the best for this. Slightly more expensive, this material is worth the cost. On top of its fast-drying ability and undeniable comfort, it also doesn't hold onto scent — meaning you can wear it on the mountain a few days in a row without having to worry about washing, which is great if you are on a long vacation and don't want to pack the entire wardrobe.
For a mid layer, each brand has its iteration, but consider wearing something similar to the Arc'teryx Atom — a synthetic insulated, lightly waterproofed down jacket that packs down to the size of a water bottle and fits well under your jacket. You can find this and other options at stores like The North Face, Columbia, Escape Route, Helly Hansen and Arc'teryx.
For an outer layer, you'll notice most locals wearing a waterproof (GORE-TEX) shell jacket. You might be used to wearing a large, puffy, down jacket, but what's keeping Whistler's temperatures relatively mild is its proximity to the ocean. While our annual snowfall often tops the charts across North America, the temperatures in the Village typically hover around freezing, making for plenty of mixed precipitation and a strong need for waterproof materials.
Tip #3: Eat and Drink Right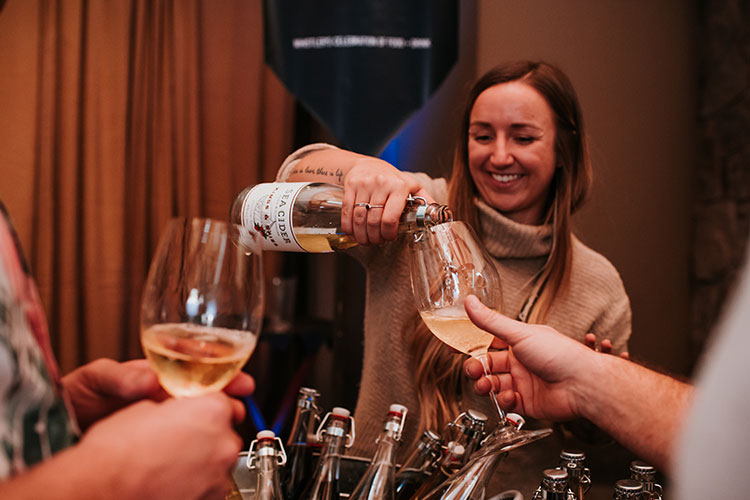 While it may be hard to believe, the way you eat and drink the day before can have an affect on your warmth the next day.
First off — hydration. While it might be tempting to have a few extra drinks with dinner, think twice if you're looking to get on the hill early. According to local, naturopathic doctor, Dr. Landon McLean, alcohol thins the blood and sends it to the gut — away from the muscles you need to keep warm for your day on the slopes.
In the morning, McLean recommends eating two hours before you hit the slopes. This allows your body to process the food and the resulting energy keeps your extremities warm throughout the day. If you can't get up early, make sure to eat intermittently throughout the day rather than having one big meal, which would re-divert blood flow to your gut.
Tip #4: Keep it Covered
The wind has an amazing ability to find patches of exposed skin. It especially loves that spot between your helmet and goggles, and you can make your chin feel a bit raw if you repeatedly try to tuck it under a crusty jacket front.
You can opt for a thin balaclava that fits under your helmet for full coverage or a neck warmer / tube that can be pulled up when the going gets tough. One thing we noticed is that sometimes these can get a bit wet when you power down the hill and then become stiff on the way back up, so we often pack a spare.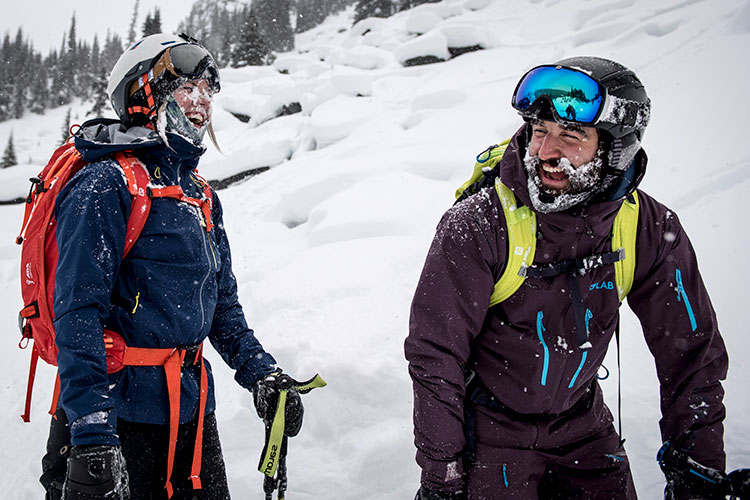 You could also grow a snow beard.
Tip #5: Use Technology
Did you know you can get heated socks that you can control the temperature of with an app on your phone? Well, you can. It's hard to layer and de-layer your feet when they're strapped into a boot so this is an option for those who really struggle with cold toes (the Therm-ic Powersock can be found at McCoo's). You could also check out boot warmers, which are typically battery-powered heat pads that fit under the insole of your boot.
Cold hands are another typical complaint and you can now get rechargeable, heated gloves that have coils down the fingers (check out the Hestra Power Heater Ski Gloves at McCoo's). If you want to go all-out on the heat front, there are vests, jackets and whole bodysuits that can be controlled by a battery-powered heat pack like the Roxy Premier Jacket, which is stocked at the Quiksilver store in Whistler.
On the other end of the spectrum, you'll see Whistlerites packing small, single-use warmers that they slip into their gloves.
"Make sure you put the hand warmers on top of your hand, not in your palm," says Drew Dobesch, Manager at McCoo's. "Your palm is already the warmest part of your hand, so focus on heating the upper, outside area for maximum toastiness."
The people working in Whistler's retail scene are pretty versed in keeping warm on the slopes, that's why they're here, so go in and chat to them about which products they'd recommend if you're feeling a little on the chilly side.
BONUS Tip # 6: Hot Tub
Hit the hot tub when you get off the slopes. If your accommodation doesn't have its own, then head to the Scandinave Spa.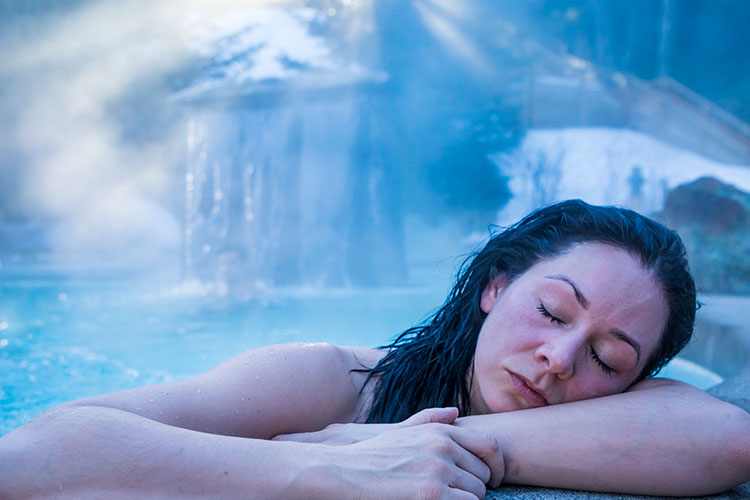 Being in Whistler is all about getting out, experiencing the great outdoors and being able to come home with plenty of stories about the wild, natural beauty of British Columbia. If you are feeling cold, or see the telltale signs of frostbite (white spots on your face, tingling in your extremities), head inside and warm up. When it's time to get back out there, the mountains will be waiting.