Words and Images by Guest Authors: Allie Conway and Sam Kwiatkowski of AllieandSam.com
My wife and I love to travel and have been to several different Pride festivals around the globe. 
June is Pride Month, which means most Pride festivals happen in the summer, and to be honest – they're all pretty similar. Bright colours, sweaty parties, multiple music stages, and rows and rows of vendors handing out stickers and buttons with rainbows on them. All very fun, but they start to blend together after a while. 
We're always looking to experience different types of Pride celebrations, and last year we were lucky enough to experience Whistler Pride and Ski Festival. Safe to say, it blew the other experiences out of the water (or maybe I should say snow)!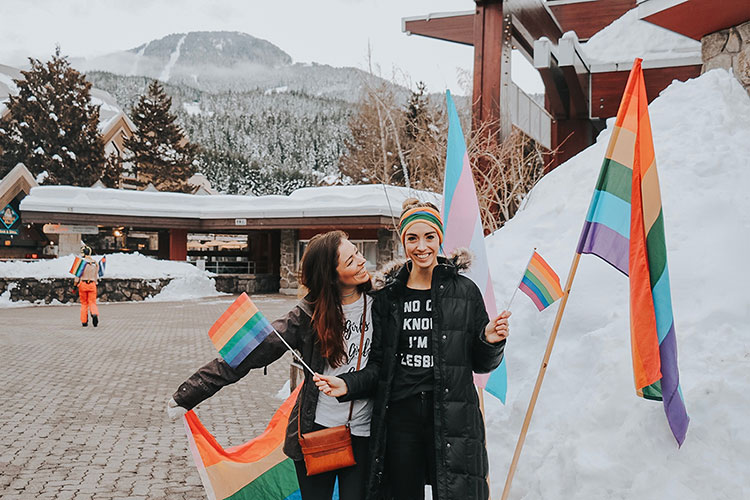 Whistler Pride happens in January, which is not only a nice change from the classic summer Prides, but it also means we can celebrate all year long!
If you haven't been to Whistler, picture this: breathtaking mountains, tons of snow and a type of magic in the air you just can't describe.
Whistler Village sits at the bottom of Whistler and Blackcomb Mountains. It's open only to foot (and ski) traffic and is lined with restaurants, bars, shops and hotels, and during Pride, rainbows!
The eight-day festival is jam-packed with events. Whether you're into spas or skiing, nightlife or day drinking, there's something for everyone and every interest.
Taking to the Slopes
We kicked off our Pride week with a half-day ski lesson. For someone who had never put skis on in her life, the thought of learning in Whistler was a bit daunting. But, between the picturesque gondola ride and the fantastic instructor, my fear was gone in seconds.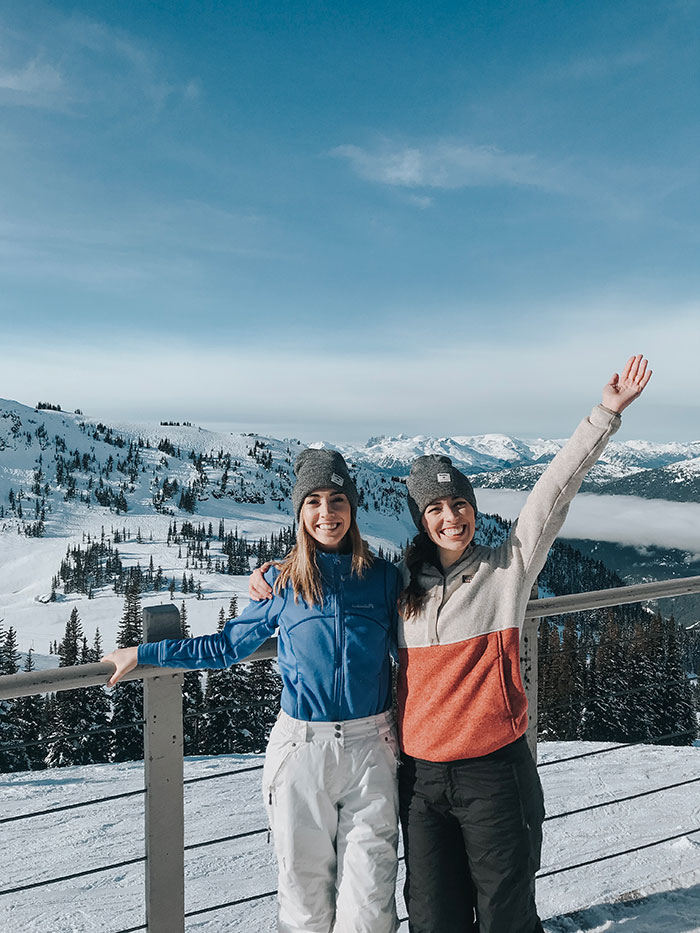 Once you're steady on your feet, Pride offers guided ski and snowboarding groups down both Whistler and Blackcomb Mountains – the perfect way to meet new queer people. We'll definitely be joining in next time!
The Pride Parade
All of this practice leads up to one of the most unique moments you'll experience during Whistler Pride – the parade.
Skiers come down the mountain in fun, colourful outfits holding on to a larger-than-life Pride flag. Once everyone reaches the bottom, spectators join in and march through the Village.
If you've ever wanted to be in a Pride parade, now is your time to shine! We loved this part of the Festival because it was so warm (metaphorically, of course) and inclusive. It was great to see the whole Village involved!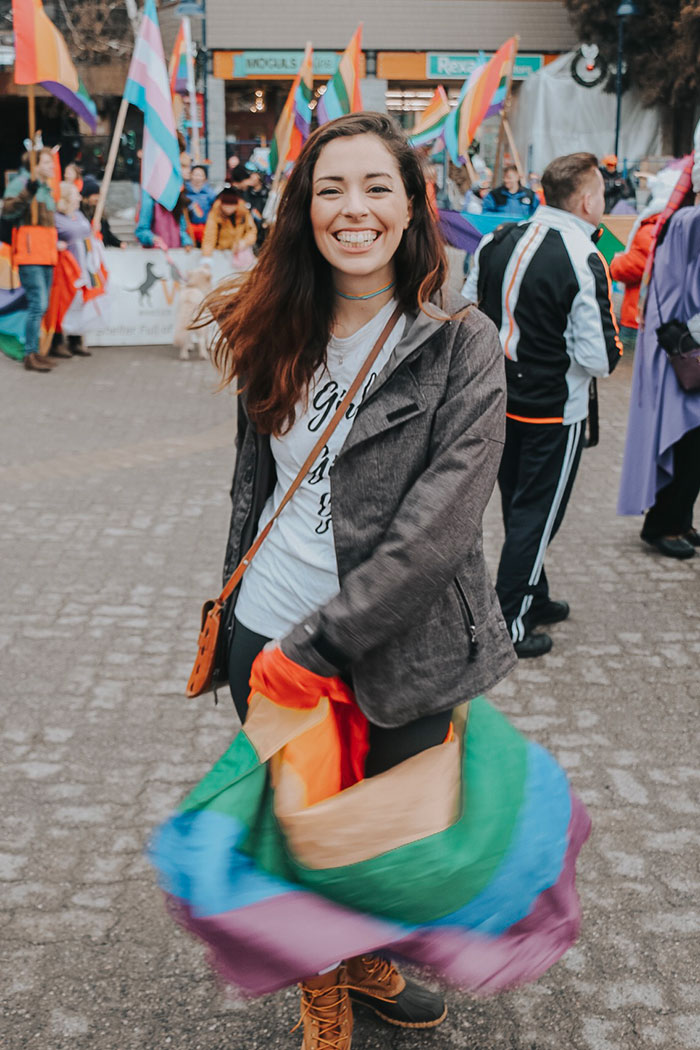 And what's better than skiing, you ask? Après-ski! The term is literally French for "after ski", and refers to winding down and socializing after a long day on the slopes.
During Pride, the daily après (as the locals lovingly call it) sessions are at the Aava Whistler, the festival's host hotel. It's the perfect way to come together with fellow Pride-goers and share a drink, yummy food, and warm up after a day in the chilly air. Oh, and pro tip: you don't actually need to hit the slopes to go!
Snowmobiles and Spas
Instead of skiing every day, we opted for some other outdoor adventures Whistler has to offer. 
Snowmobiling through the mountains is something I never thought I'd be doing, but wow was it a fun way to see the trails and see some out of this world views.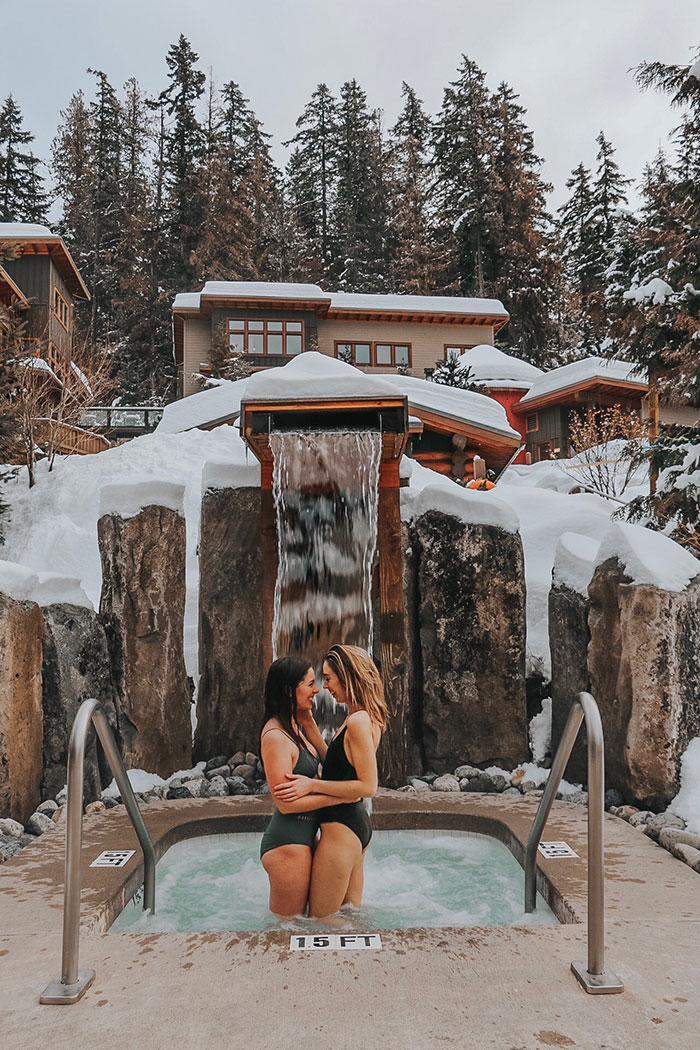 If you're not really the adventurous type, the Scandinave Spa is probably up your alley. It provides a unique hydrotherapy experience, based on age-old thermal tradition – you switch between hot tubs, saunas and cold plunges, which are not for the faint of heart! All of this, overlooking snow-covered trees. Truly, a once in a lifetime experience.
Whistler Pride Events
During Pride, Scandinave hosts "Sip 'N Dip" – a private event where you can sip on wine and beer, and enjoy music by DJ Foxy Moron with your fellow queers.
Pride also has events like Drag Bingo, Splash Indoor Pool Party and nightly events at the CABN, the Festival's official gathering place at Aava Whistler.
Our favourite event of the week was absolutely the "Night of Comedy". Who doesn't love a good laugh!?
Last year we saw Pam Ann, and this year, Nicole Byer is taking to the stage. She's a hilarious woman you might recognize from Netflix's baking series Nailed-It. Definitely, a don't-miss, must-see event! Note: Unfortunately, due to a scheduling conflict Nicole Byer is no longer attending, but Pam Ann is stepping back in. The schedule date, time and venue for the event all remain the same and any tickets or passes that have already been issued remain the same. For more information on the show visit Whistler Pride.
To finish off the week? SNOWBALL! A massive closing party where everyone can toast to an amazing week with new friends, and say goodbye until next year.
We can't wait to make it back to Whistler and experience Pride again, which can only be summed up with the most classic (okay, cheesy) and age-old saying: cold hands, warm heart. 
To book your stay during the Whistler Pride and Ski Festival speak to the team at Whistler.com who can bring it all together for you.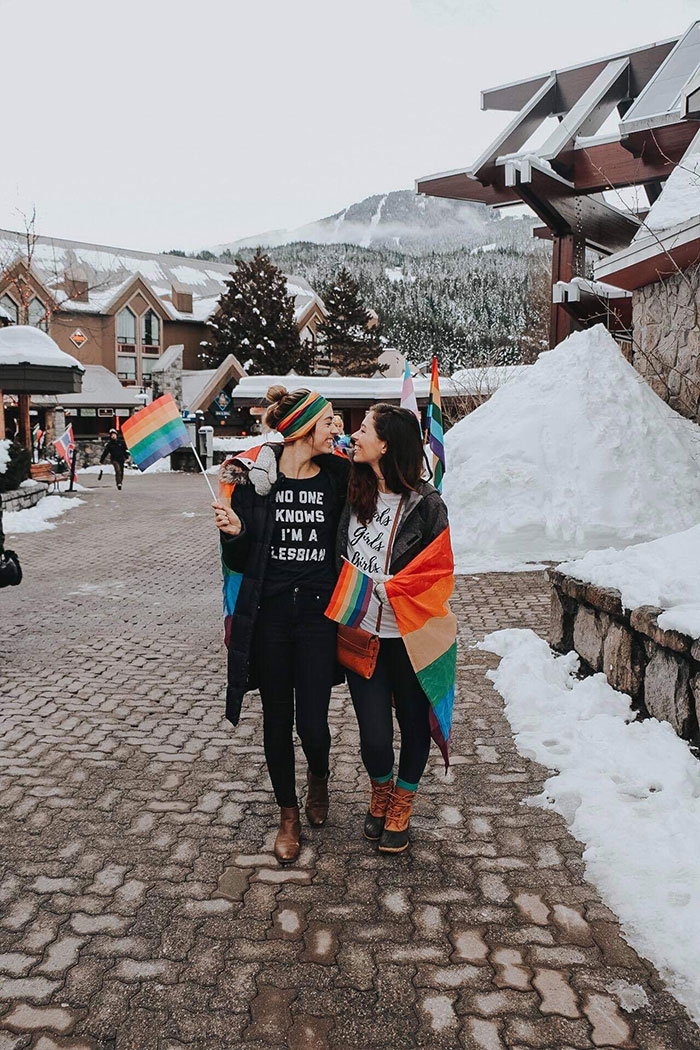 About the Authors
Allie and Sam are Canadian wives, in love with travel, their pets and each other. The couple shares their adventures on social media, hoping to empower others to live their best lives and be happy with who they are – whoever that may be! You can find them online, or via their social channels.