When I think of home, I think of Whistler with its impressive peaks, glacial lakes and the incredible people in my life who encourage me to get out and explore them. And while, hopefully for a lot of you, and most certainly in my case, you trust your family and those closest to you unconditionally, this trust can lead to fatal flaws in our decision-making process, causing us to base decisions on emotion rather than facts. The truth above all else is that the wild demands respect. The best thing you can do for yourself and those you love is to learn everything you can about a piece of terrain before setting out into it. The Extremely Canadian Avalanche Skills Training 2 (AST 2) course helps you do just that, learn and learn how to ask the questions people don't always want to face.
I often hear people speaking about Mother Nature as a great, powerful and yet, empathetic presence. It's easy to feel connected to the idea of a maternal Mother Earth while living in or visiting Whistler. Out here, the lights of the big city don't outshine the stars and escaping into the woods is as simple as walking 15 minutes in any direction. But when headed into backcountry terrain, the promise of untouched powder can blind us to the possibility that something could go wrong.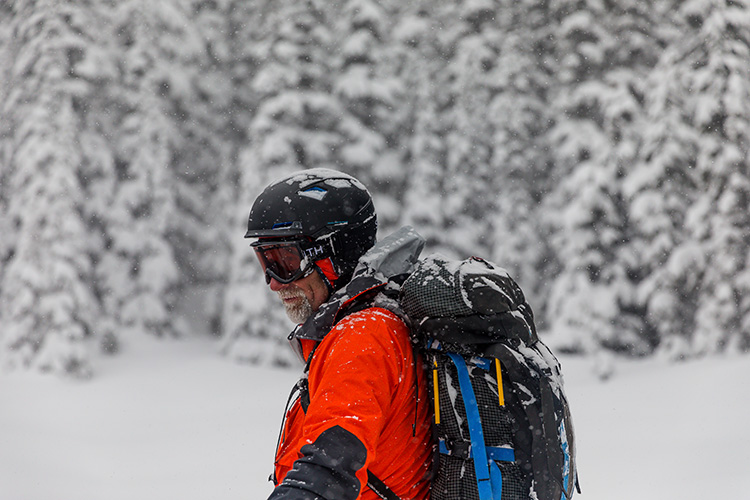 Throughout the AST 2 course, our exceptionally wise guides ingrained in us that knowing how to use your beacon, probe and shovel is only a fraction of the education needed before heading out. Being able to consider risks before even stepping outside your front door and then making wise judgment calls on location is what the AST 2 course highlights. These judgment calls are known as human FACETS.
F: Familiarity
You've been hiking out to the same zone in the backcountry for the past few seasons and now you feel comfortable. You've been there, you know what to expect out of the terrain. But a false sense of comfort can lead to not doing your due diligence in the planning and decision-making process.
Do your research:
Utilize the Avalanche Danger Scale and Public Avalanche Bulletins. We're lucky that in Canada, and specifically on the West Coast, there are a plethora of resources ranging from public forums to government-run bulletins and Facebook groups to apps, all constantly tracking every change in weather pattern, snowfall and its layers. By taking a deep dive into any of these options prior to heading out you'll have a better sense of what you're getting yourself into – regardless of how well you "know the zone."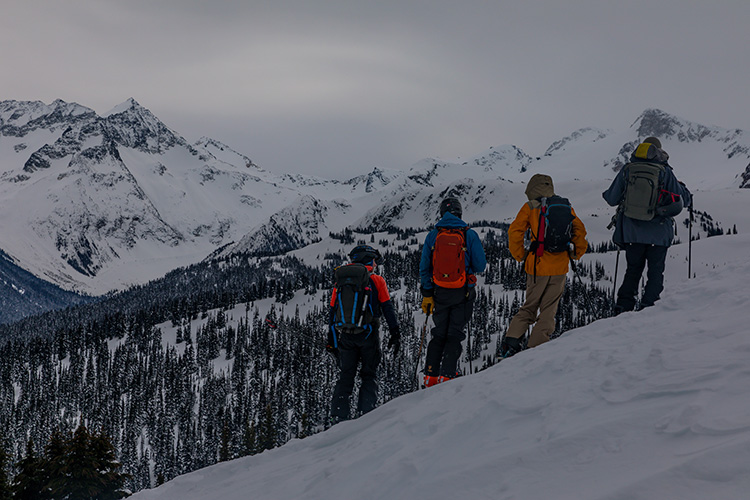 A: Acceptance
As much as we'd like to believe peer pressure is something we outgrew in grade school – we can all still feel the need to impress or be accepted by our groups of friends. Especially in social activities that are physically engaging, psychologists note that parties with many people inadvertently encourage risky behavior to gain approval.
Go with a smaller group of people you trust:
Humans are complex emotional beings and we sometimes require the comfort that comes with being in a smaller group of individuals. When we go out with people we don't feel the need to impress or outdo, we end up being able to accomplish more, in a safer setting.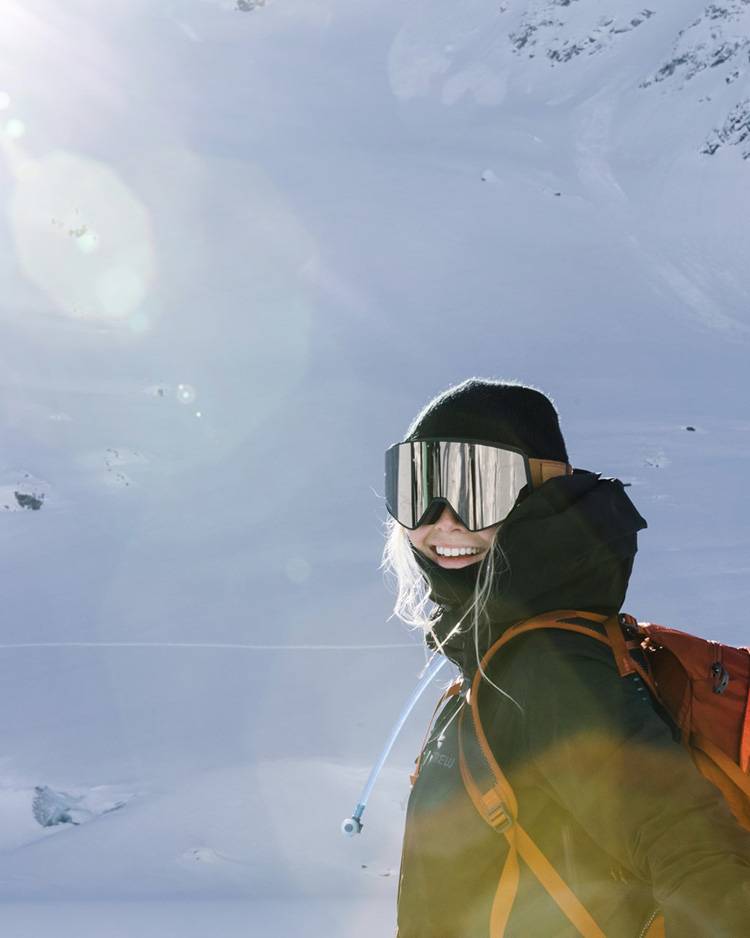 C: Consistency
Parties that are highly committed to a goal – a summit, ski slope or an objective in deteriorating weather – make riskier decisions than parties that go out solely for enjoyment. This effect is most pronounced in parties of four or more people.
Know when to tap out:
There are a million inspirational mood boards on Pinterest that state "winners never quit and quitters never win." But there's strength in knowing when to say no, and making the decision to revisit an area at a later date. So you spent your Saturday hiking up for six hours only to realize you may have to turn around? The mountains will still be there when the stars align for the right, safe conditions.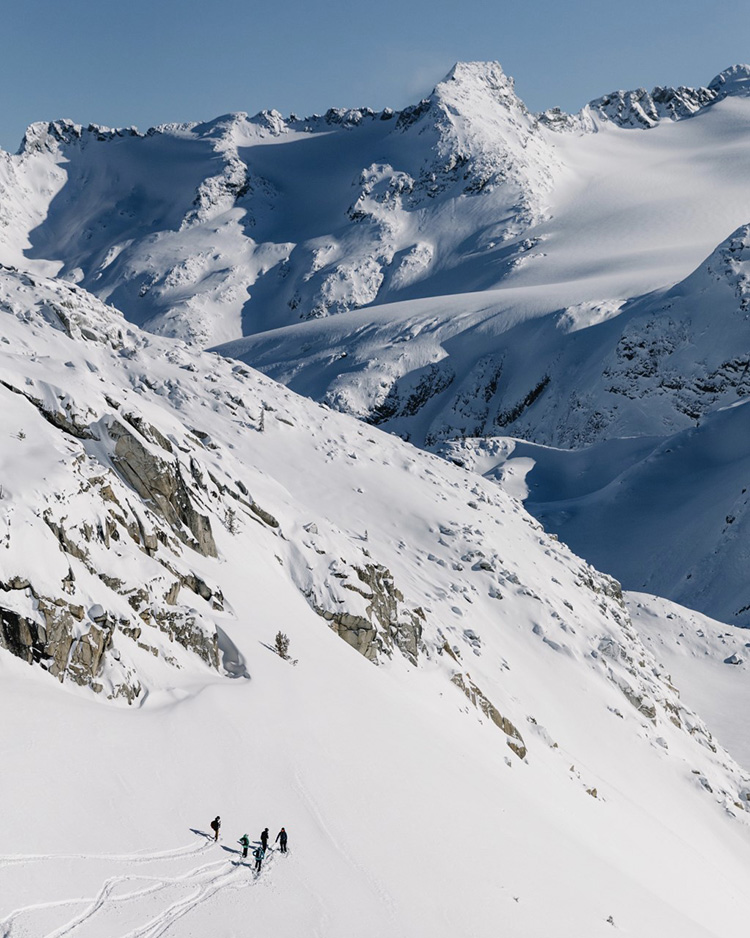 E: Expert Halo
Parties that experience an accident often contain a de facto leader – someone who is more experienced, older or more skilled. In these situations, novices are more likely to follow the leader into a dangerous situation than when with a group of other novices and making decisions by consensus.
Make a plan together:
While the lessons you can learn from experienced backcountry explorers are priceless, and oftentimes, the ones you simply can't learn from reading a web page, taking the time to sit down as a team and make decisions prior to heading out is incredibly important. Trusting your gut and speaking up if a situation doesn't feel right is something you owe to yourself and the other members of your party.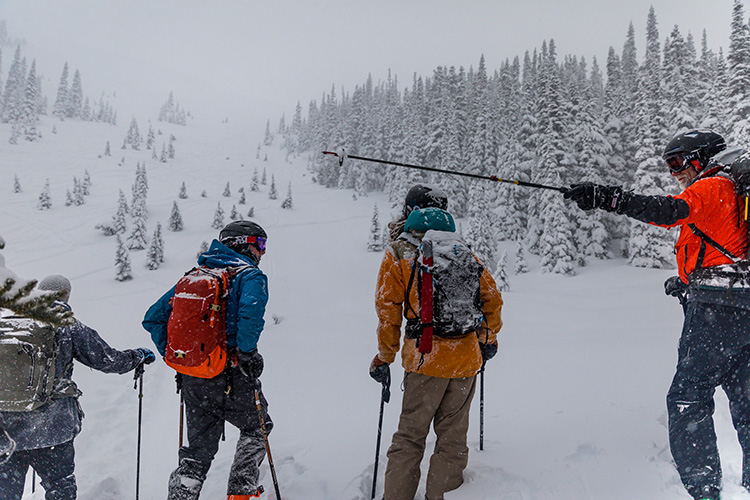 T: Tracks / Scarcity
Parties take more risks when they are racing a closing window of opportunity, such as competing with another group for first tracks.
Practice sharing space:
The call of fresh lines on a sick pow day is not one that's easy to ignore. When that snow phone starts ringing, be sure to answer and get out there early. That being said, understand that the mountain is owned by no one and everyone has a right to enjoy the space it provides.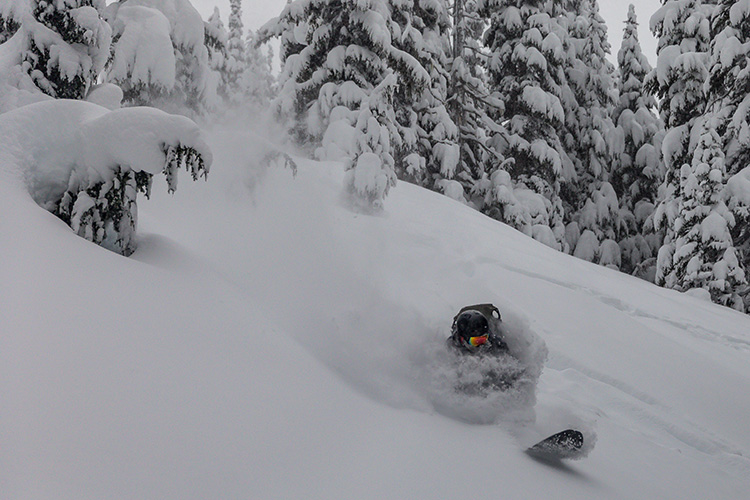 S: Social Facilitation
When skilled parties meet other people in the backcountry, they are more likely to take risks than parties that are less skilled. This effect is most pronounced in groups with the highest levels of training.
Don't assume safety:
Just because there is an appearance of tracks in new snow – doesn't mean it's totally safe. There are people who will head out without the proper preparation or training, so don't let that be a factor in swaying your mind. Furthermore, social media provides an interesting new lens under which people may try to make judgment calls based on things they see online. Make sure you're doing the proper research.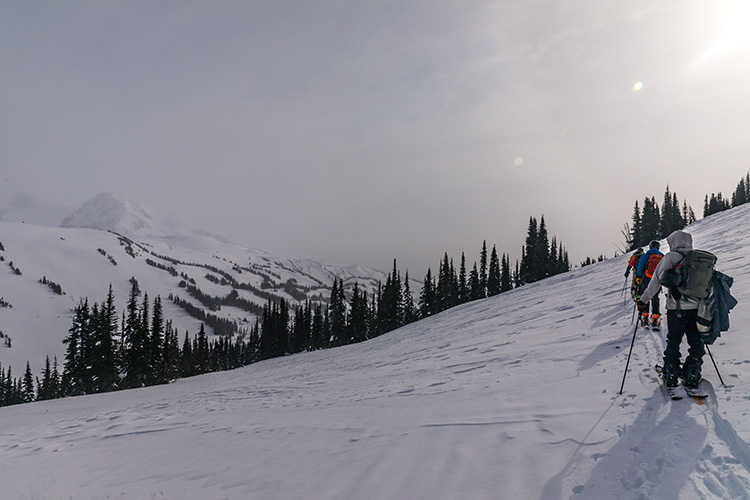 Taking an avalanche safety course is meant to scare you. It's meant to make you think about frightening scenarios so that you know how to face them, when or if they come around. And most importantly, it teaches you the steps you can take to avoid those scenarios in the first place. A lot of the time, letting go of our own ego is essential for being safe out in the backcountry. The guides ingrained this in our heads during our course, and they are a standing testament to the beautiful opportunities the mountain can provide if you're willing to listen and learn.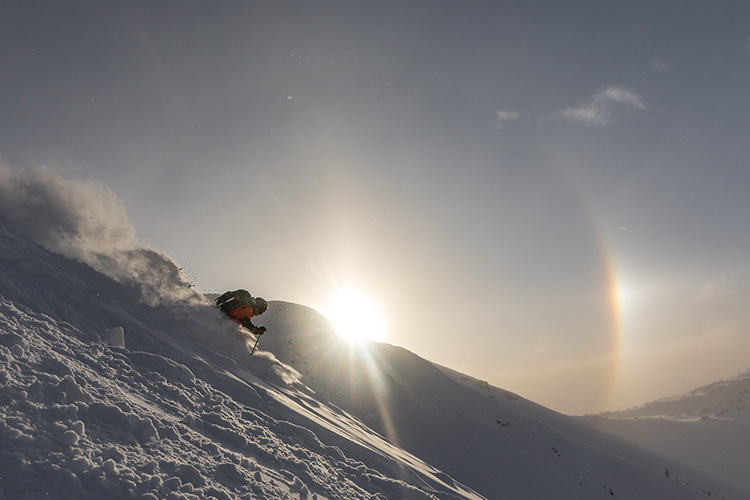 Want to learn more about Whistler's backcountry? Check out these Insider blogs and visit Whistler.com for guided experiences. Find Avalanche Skills Training courses and more backcountry skill-building opportunities from Extremely Canadian.