When was the last time that you had a romantic getaway with your partner? If you can't remember, then I'd say it's a sign that you need to take one. Imagine a weekend stay where you're surrounded by nature, steps away from Whistler Mountain, and within an arm's reach of a plethora of dining options. My husband, Shayne, and I recently had a romantic stay in Whistler's Creekside area, and it ticked all those boxes.
Hotel Heaven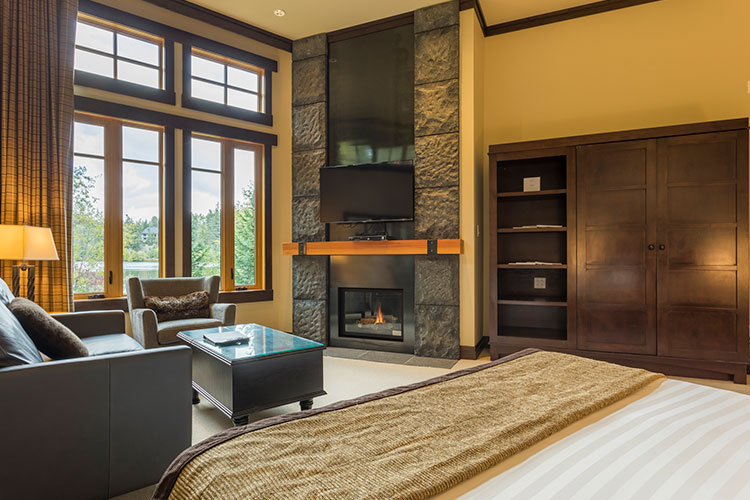 Our dreamy adventure began when we checked into our Studio Lake View Suite at Nita Lake Lodge, located in Whistler's Creekside area, a five-minute drive south from Whistler Village. Not only did we love the calming lake view, but the fireplace, double-soaker tub, and king-size bed were an integral part of setting the indulgent mood of our romantic escape to the mountains. This boutique hotel is beautiful. There are six room types to choose from, and every room option is exceptionally spacious with a contemporary, mountain-design feel. Nita has several great amenities such as a gym, spa, their own restaurant, bar, and café. Not only that, but they also offer complimentary use of snowshoes and fat bikes (bikes with huge tires to tackle the snow), and a free shuttle to Whistler Village. We quickly found our fluffy, white robes and made ourselves at home.
Spa Time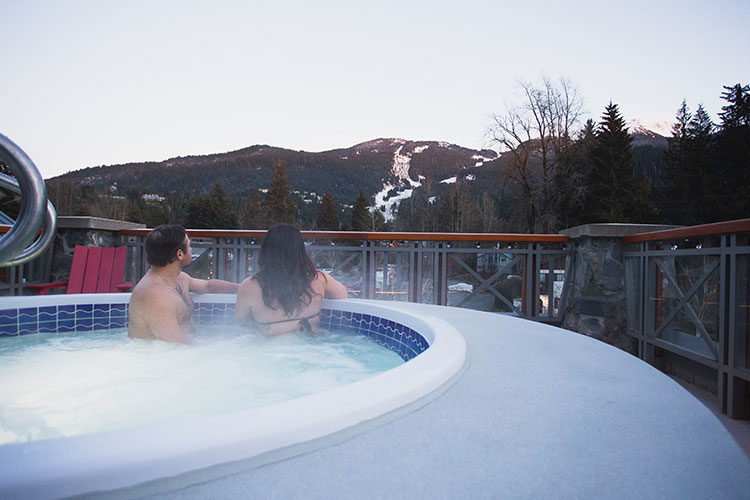 I'm a massageaholic, so I booked us in for a 60-minute, deep tissue, couple's massage at The Spa at Nita Lake Lodge. Nothing is more fun than strutting around in a fluffy hotel robe, am I right? Before our massage we enjoyed a sunset soak in their hot tubs, which offer a stunning view of Whistler Mountain. We also snuck in a quick steam and a relaxing cup of organic, herbal tea in their plush spa lounge.
The treatment turned us both to jelly. While descending back to planet earth, we debated getting pizza from nearby, local-favourite Creekbread, so that we could eat dinner in bed, but I'd packed a great dinner outfit and wanted to dress up – sorry Shayne, no pizza for you!
Dinner Date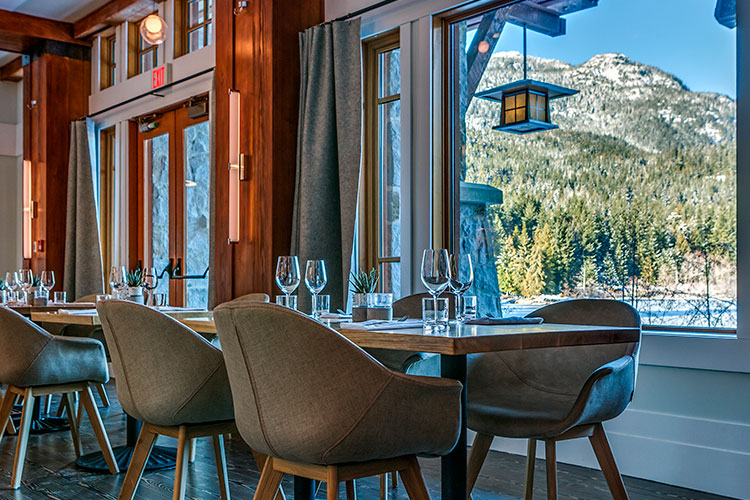 We went to Aura Restaurant at the hotel, which is known for its use of fresh and locally-sourced ingredients. Our intimate dining experience included Yellowfin Tuna and BC Salmon Poke, which melted in our mouths. Shayne dined on the tender Duck Confit Linguine, and I chose the juicy Grilled AAA Striploin, both paired with wine suggestions from our server. Although challenging, it's imperative to save room for dessert, which is something that we regrettably didn't do. If you want to continue revelling into the evening, the Cure Lounge has an incredible cocktail list, but our after-dinner food coma directed us to our cloud-like bed rather early!
INSIDER TIP: Besides Aura, other intimate dinner spots in Creekside include the
Rimrock Café
and
Red Door Bistro
 — we recommend making reservations, as these places are popular.
Lakeside Strolls
Waking up to the daylight flowing through the blinds, we eased into the day with a coffee beside the fireplace. Nita Lake Lodge is the perfect location for a morning stroll, with various paths to explore that weave around both Nita Lake and Alpha Lake. Our walk was followed by breakfast at The Fix, which is located in the hotel and known for its gourmet coffees, locally-made pastries, artisan bread, and gluten-free options. Another breakfast option, which is just up the street, is Southside Diner, which has a bit more of an eggs-and-bacon approach to the first meal of the day.
Mountain Fun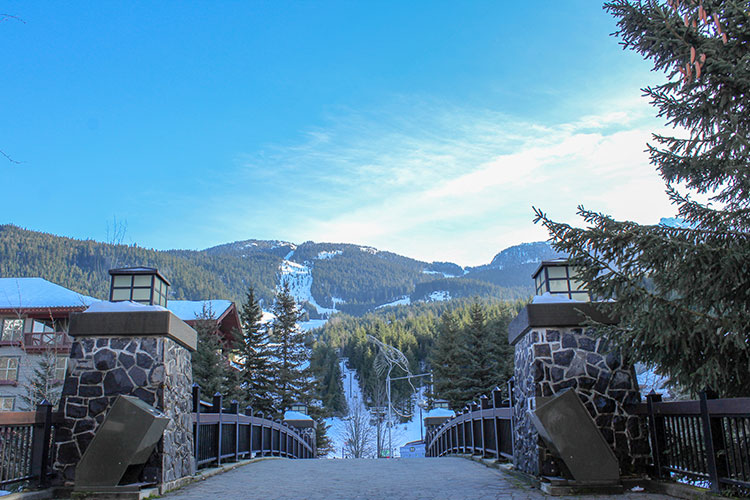 Nita Lake Lodge is only 500 metres from the Creekside Gondola, which whisks you up Whistler Mountain. With a rental store and guest relations building right at the base, you can get everything you need without leaving Creekside. If your ski legs are up for it then check out the Peak to Creek run, an 11-kilometre (seven-mile) ski run from the top of Whistler Mountain all the way down to Creekside.
INSIDER TIP: At the top of Peak Chair there's a great
photo opportunity
by the inukshuk.
Après Options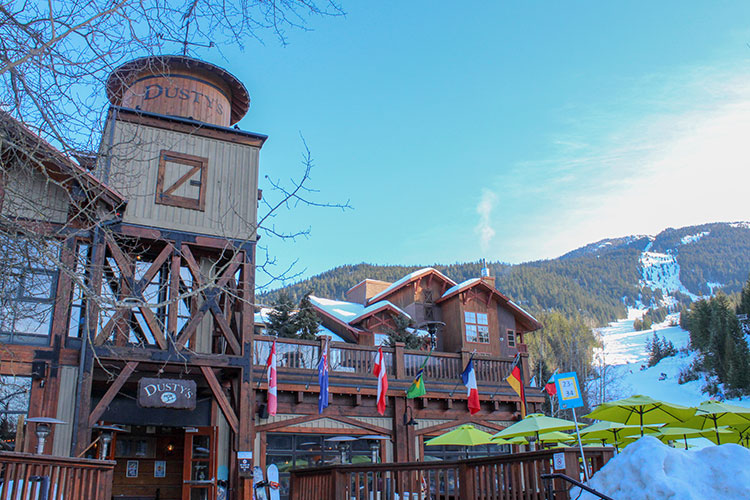 Sometimes I think people go skiing just so they can après, and there's nothing wrong with that. Creekside is home to legendary après spot, Dusty's Bar and BBQ. If you're looking for one of the best Caesars in town and to bust a move while the tunes are pumping, then this is the spot for you. If you're a sports-loving couple, you don't have to worry about missing a game because you can après at Roland's Creekside Pub, with it's nine flat-screen TVs. When you're craving a cozy experience after your mountain adventure, Cure Lounge, located at Nita Lake Lodge, is where you want to be. The couches right beside the fireplace are my favourite spot to sip on mulled wine, which I like to pair with Cure's Parmesan Fries.
INSIDER TIP: The Caesar is considered a classic Canadian cocktail, and Dusty's offers three to choose from: The Dusty's Legendary Caesar, the Horse with No Shame, and The Smokepit Caesar. It never hurts to try all three! For more Caesar suggestions take a look at: 
A Whistler Tour de Caesar
.
Retail Fix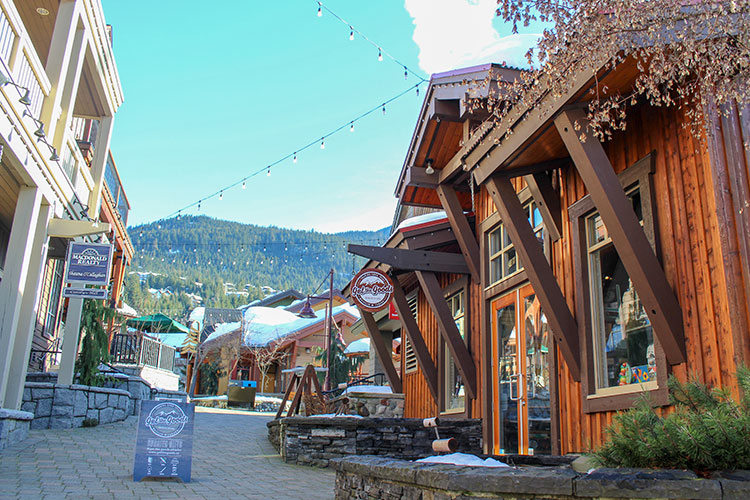 Get the Goods recently opened in Creekside, and it has fast become a go-to place for unusual and locally-sourced gifts and keepsakes. They have everything from table and lawn games to Riedel glassware and cocktail shakers, children's toys and skincare to funky sunglasses and jewellery. It's like Aladdin's cave in there! There's also a lovely interior design store called 122 West, where you could definitely get carried away imagining what you'd buy for your own mountain chalet pad. It's also worth noting that there's both a grocery and liquor store for any little bits and bobs you might want to grab.
The hardest part about staying at Nita Lake Lodge was checking out. Waking up beside a glacier-fed lake and to the peaceful sounds of nature reminded me that not only was this vacation important for Shayne and I, but it was, in fact, really good for my soul.
Valentine's Day is coming up, but who needs an excuse to whisk your other half away for a mountain getaway? Let the team at Whistler.com help you plan your stay – the romance is up to you! If you're a BC or Washington resident make sure you sign up for Whistler Rewards for deals, discounts and perks you can't get anywhere else.