Updated September 2019.
"If you could choose any piece in this gallery to have on the wall, which one would it be?"
That's the hypothetical question my husband and I ask ourselves each time we go into one of Whistler's art galleries. But for some, this question might not be such a pipe dream. Whistler has over a dozen galleries, and this October four of them have come together to offer an experience combining art and wine called Whistler Wine Walk.
Dotted around the Village, these four locations will serve up delectable BC wine tastings and hors d'oeuvres, along with an interactive art experience each Friday during October from 5 – 7 PM. Expect artists live painting, demonstrations, and informal gallery owner chats as you sip and nibble on something yummy.  This is the perfect date night idea, pre-dinner activity, or simply a lovely way to explore what's happening in the world of art in Whistler.
"The Whistler Wine Walk is a great opportunity for people to connect with artists and enjoy the various gallery soirees," says Liz Peacock, Co-Director and Gallery Manager of the Mountain Galleries at the Fairmont Chateau Whistler. "Fall is a time when the town slows down and visitors can enjoy all that the mountains have to offer, the crisp mountain air, the vibrant colours, and it's a chance to relax and mingle with the locals."
Enjoy the crisp evening air and fall colours as you slowly amble from each gallery to the next. This isn't the time to rush. It's all about taking a moment to think about colour, texture, form, and how it makes you feel. The four galleries are very different, and we reached out to each one to see what you can expect and what you should keep an eye out for when you go on your own, self-guided Wine Walk this October.
The Gallery at Maury Young Arts Centre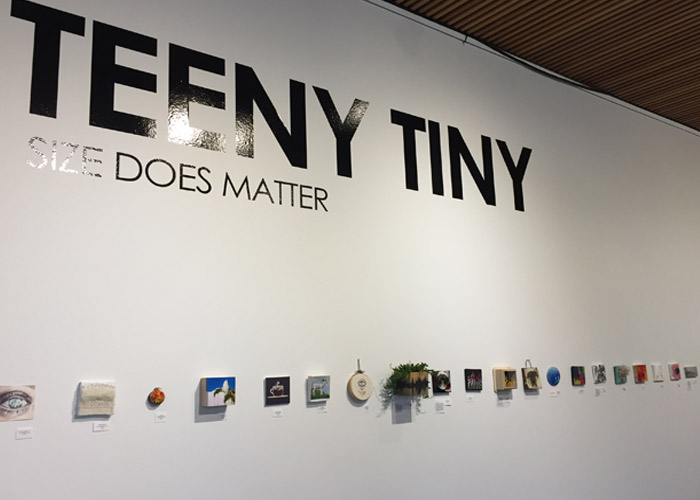 Size does matter at the Teeny Tiny Art Show & Exhibit where over 90 artists from the Sea to Sky have created mini-masterpieces – all under 3 by 3 inches. On the Wine Walks, you'll have the opportunity to make your own teeny creation, which can then hang on the group art wall or you can take it home as a Whistler memento. The Maury Young Arts Centre is on the Wine Walk schedule for all four Fridays during October. The affordable artwork at the Teeny Tiny show sells quickly, don't miss your chance to take home a piece of original Whistler art!
Adele Campbell Fine Art Gallery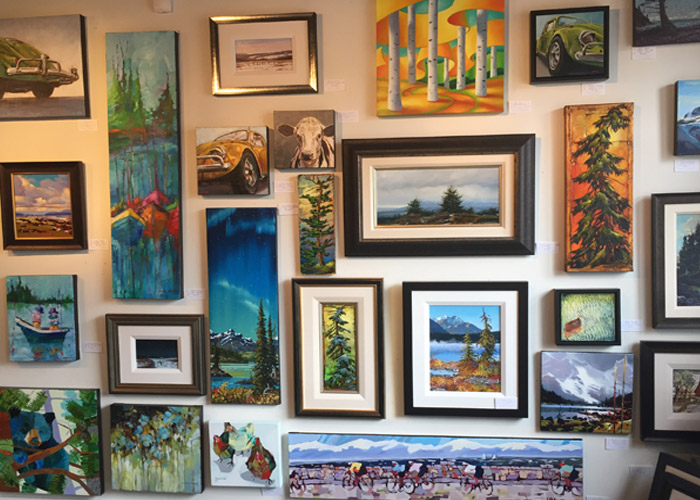 The Adele Campbell Fine Art Gallery is known for its support of Canadian art and local artists. For three of the four October Wine Walks, they'll be featuring an "artist-in-residence" who will be on-hand to answer questions, share some painting secrets, and demonstrate their techniques as they paint live in the gallery. October 4 will feature artist Joel Mara, he says, "my main inspiration is the beauty of the West Coast… My aim is to create a feeling of "being there". On October 11 it's Valerie Butters with her explosions of joyful colour with her still-life and landscape paintings. On October 18 Angela Morgan will be sharing her work that celebrates movement and the human form. The fourth week, October 25, will see a double artist feature with landscape artists Janice Robertson and Susie Cipolla sharing the space.
Mountain Galleries at the Fairmont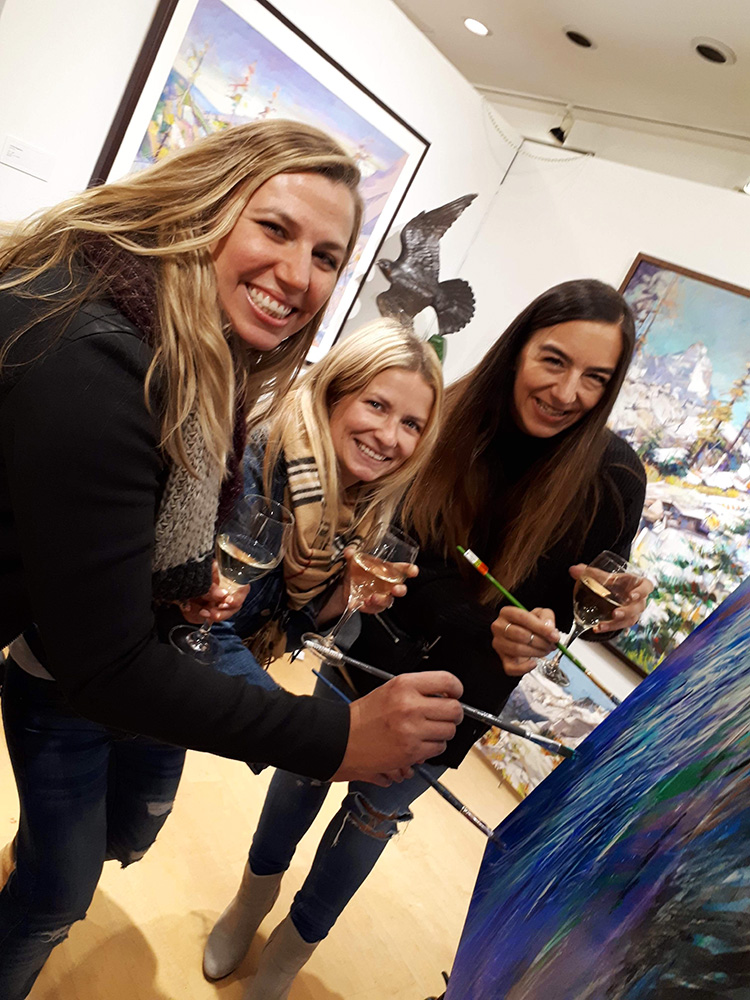 When strolling through the Upper Village, you can't help but stop at Mountain Galleries as its windows are packed with incredible artwork from all over Canada. There are sculptures, paintings, and furniture to take in, and the team there are passionate about sharing what they know about the artists they represent. For the month of October, the gallery has organized painting demonstrations by colourful animal painter, Shannon Ford; Andrea Moore with her incredibly expressive wolves and dogs; Doria Moodie's imposing grizzly bears and vivid little skiers; as well as live music by Jeff Heintzman. It's going to be an exciting time to visit Mountain Galleries, located inside the Fairmont Chateau Whistler and nicely positioned next to Portobello, which has a new smokehouse dinner menu and some of the best sandwiches and donuts in town. The Mountain Gallery is on the Wine Walk schedule for all four Fridays during October.
Audain Art Museum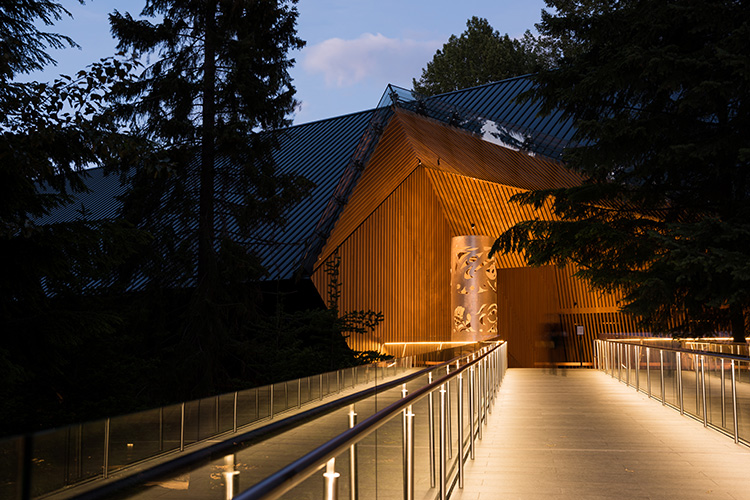 Alongside their stunning permanent collection, which includes nearly 200 pieces of coastal BC art from the 18th century to modern-day, the Audain Art Museum brings in visiting exhibitions from all over the world. Opening on September 21 is Emily Carr: Fresh Seeing – French Modernism and the West Coast. It explores the changes in Carr's style after her momentous journey to France. The exhibit will feature over 50 works by the renowned Canadian artist.
The fall ushers in another change for the museum, which will be open at the later time of 9 PM on Fridays enabling mountain adventurers to explore the galleries in the evening. For the October Wine Walk, the Audain will have an interactive art experience featuring a limited selection of works for you to enjoy. If you've not already done so, you'll want to come back and explore the whole museum!
Wine Then Dine
The timing of the Whistler Wine Walks (5 – 7 PM) is perfect for an après-art dinner and gives you some great over-food conversation topics on what you've just seen and sipped. It also makes that wine list choice a little easier too. Take a look at your favourite Whistler restaurants, or have a scroll through Whistler.com's list, as many of them roll out specials at this time of year. I asked our Whistler Insider contributors for their top picks when it comes to a fall dinner out and this is what they said…
Hailey Elise: I always look forward to the fall deals, in particular, being able to enjoy the Rimrock Cafe's menu. The flavours and service are beyond outstanding. I also love taking a trip to Creekside, it's a treat to step outside the Village and into a cozy atmosphere where it's just you, the wine, the food, and the company!
Feet Banks: Alta Bistro. It's small and intimate, and the menu is always bold, showcasing the culinary evolution in Whistler. The owner, Eric Griffith grew up here in the Village learning from the exec chefs at places like Il Caminetto and Araxi. It's second generation fine dining with Whistler's casual, friendly feel. I love sitting at the oyster bar at Araxi, and if I'm in a rush I know I'll get great service and food at 21 Steps. However, Sushi Village has got to be my top pick for best menu and value.
Nikkey Dawn: I look forward to going to Aura at Nita Lake Lodge in the fall. They have a seasonal menu with fresh local produce, and it's vegan-friendly! They also have a great wine selection, and it's a gorgeous spot to wander around before or after dinner to appreciate the fall atmosphere.
Blair Kaplan Venables: My husband and I always end up having our date nights at Sachi Sushi because we love everything about the culinary experience that they offer. I love their unique and fresh sushi rolls, and I'm addicted to their spicy agedashi tofu. Each meal always ends with Kani blossoms and a delightfully full belly.
Megan Wilson: Going for a great steak dinner at Sidecut at the Four Seasons is on my 'must do' list every fall. The cozy fire-warmed dining room, and delicious, hearty food is just what you need on a cool fall evening.
We look forward to seeing you this October for a Whistler Wine Walk! Want to explore more arts and culture in Whistler? Book a 2+ night stay with an arrival date between September 2 – November 28, 2019, receive 2 free Whistler Cultural Passes valued at $60, details on Whistler.com.