Updated May 2022.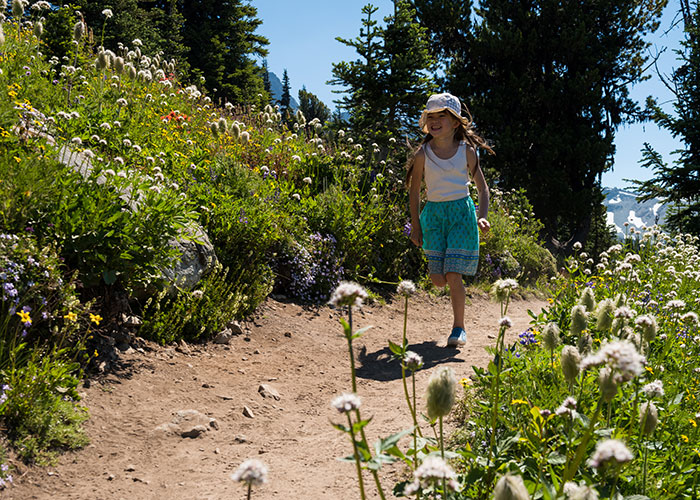 Starting a family doesn't mean you have to give up adventuring in the mountains. On the contrary, expanding your family becomes an opportunity to see your favourite alpine spaces through the wide eyes of the next generation. With a few easy tips and tricks, you can be back exploring your favourite alpine meadows with your little ones in tow.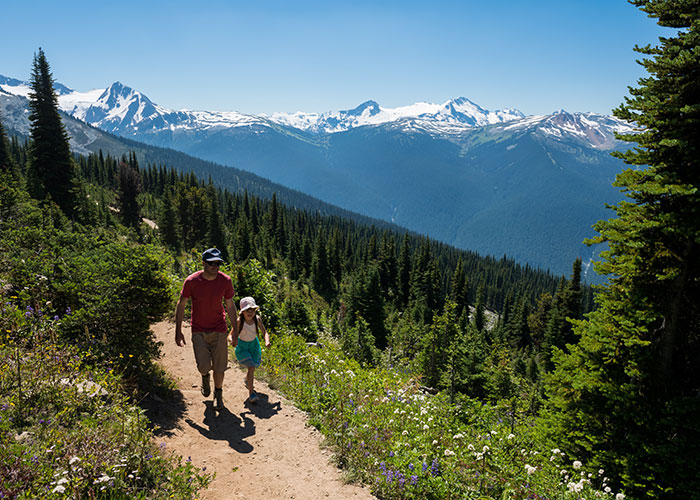 Choose Your Adventure Wisely
Selecting the hike that is just right for you, and your kids is the most crucial ingredient for a successful day. By choosing the right hike you can set yourself up for incredible family memories, or for an afternoon of tears. The lift-accessed trails on Whistler and Blackcomb mountains can take the slog out of getting to the alpine, making hiking up high a possibility with even the smallest tykes in tow. Here are some sure winners for different age groups:
Stroller-friendly: Pika's Traverse on Whistler Mountain – The smooth surface of this wide access trail makes pushing a stroller a breeze. As you walk, you can savour the views across to Blackcomb and Flute along the way.
Little legs: Harmony Lake Loop – This hike is just a short walk from the Roundhouse Lodge, and it features an amazing boardwalk around an alpine lake. On Blackcomb, there's the Alpine Loop, which has great ecosystem storyboards to read along the way.
Teen or pre-teen adventurers: As your kids get older you can venture out farther. High Note Trail on Whistler Mountain or Garibaldi Lake Trail is a great introduction to more difficult alpine hiking for your teens.
Don't forget to get your PEAK 2 PEAK 360 sightseeing ticket to access these amazing hikes. If you already have a 2022/23 ski pass, then it's already included!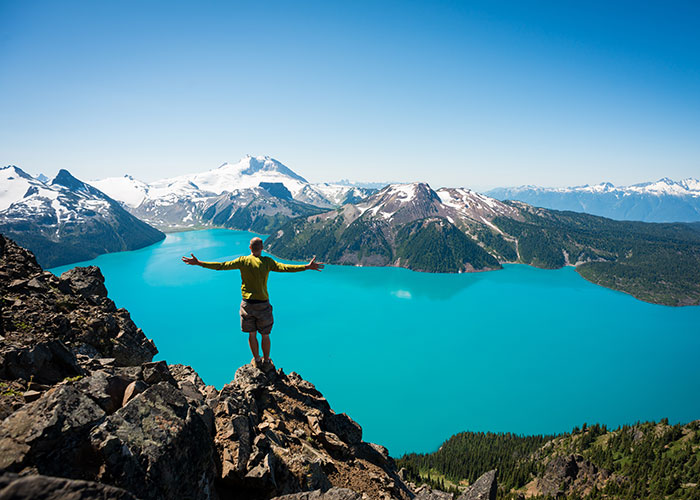 Dress Appropriately
The key to planning your alpine outfit falls under three categories, flexible, protective and comfortable.
Flexible – The weather varies greatly from the valley floor to the mountaintops, and even from hour to hour on your hike. Packing some extra layers for yourself and your little ones will help you adapt to changing conditions. Your kids can even carry their own layers and water in their own pack. It will not only help to share the load, but it's also a great first step towards your kids eventually being able to carry their own gear.
Protective – On your hike, you will want to protect yourself and your little ones from the elements. On hot, sunny days that means including sunglasses for everyone, sunscreen and light layers for protection from the powerful alpine sun. If the weather is looking variable, having a raincoat in your pack will give you peace of mind for whatever Mother Nature throws your way. Most importantly, you should all remember to wear protective shoes. Hiking boots are best, but at bare minimum, closed-toe running shoes with good tread are important for happy feet throughout the whole hike.
Comfortable – If you're going to be wearing something for hours of activity, comfort is key. When planning everyone's outfits, look out for stiff, restrictive, or rough clothing. Leave the jeans at home, and opt instead for stretchy, sweat-wicking clothes like you would for the gym or park.
Plan Fuel
Food is the fuel for your adventure, and with a bit of planning, you can keep your tanks full all day. For your snacks and lunch, the best options are portable so you can enjoy them trailside. Before heading out for your hike, stop by our village grocery stores or the Roundhouse Lodge for grab-and-go sandwiches, snacks and drinks to throw in your pack. Post-hike, a sunset dinner at the Mountain Top Summer Feast is the ultimate way to end your day. Book your tickets before you get up there and let the chefs take care of the rest.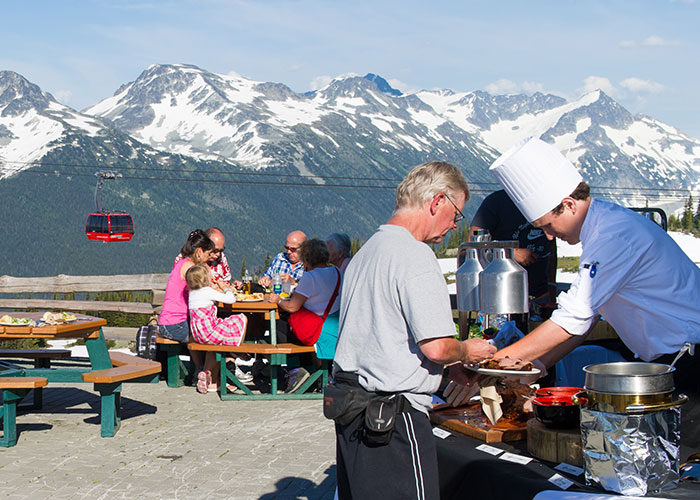 Stay Close
When out alpine hiking, you can save yourself a lot of stress by not hiking out any farther than you would be comfortable carrying your small kids back. I'm sure it's not news to you that kids can tire out easily.
You can save the meltdown and a ton of stress by always having the option to carry them back. Small loop trails like Harmony Lake Trail can keep you close to the lifts while still accessing incredible views. Note that there are washrooms available at the top of the lifts, but none on the trails so make use of the facilities before heading out.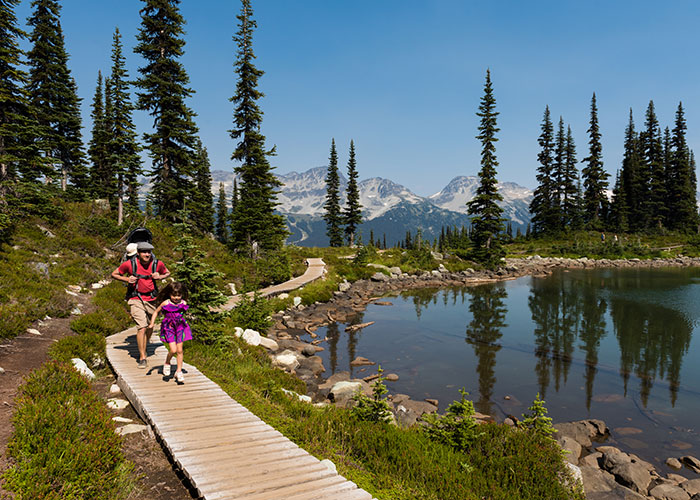 Take Lots of Breaks
Alpine hiking with kids is really more about the journey than the destination. You can use your break time to have a snack, soak in the views, reapply sunscreen, or spot the flora and fauna unique to the alpine.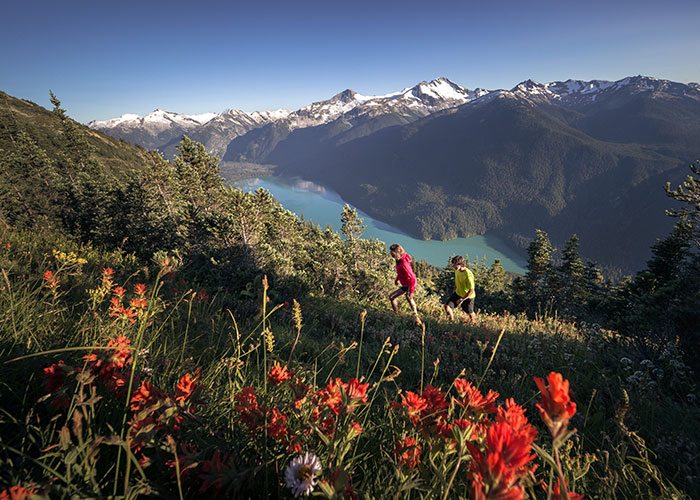 Get Snap Happy
You will treasure images of your little one falling in love with the mountains. Whenever you get to a beautiful vista, or your little one is happily enjoying nature, take time to snap a shot. It only takes a minute and you'll enjoy it forever.
More Kid-Friendly Walks and Hikes
Walking and hiking are some of the easiest things to do with kids in Whistler. Check out our Insider hiking archives for more ideas on where to wander with your crew, from stroller-friendly Lost Lake to other mellow trails, the paved Valley Trail, the Cultural Connector and more.
For more information on kid-friendly summer activities, head over to Whistler.com.