Full disclosure: the Black Velvet Ski Team are not technically Whistler locals (they all live in the US), but these cats have been making an annual ski pilgrimage here since 1989 and they travel with their own shot ski (across an international border) so that's good enough for us.
We cover this trip every year here at the Insider (check out the origins of their 'Black Velvet" name) and while not every member of the original group can make it up every year, those that do always ski hard, après harder and generally enjoy Whistler exactly as it was meant to be. What started out as a little trip for a bunch of soccer dads has become, according to O.G. Black Velvet team member Gary "Swanski" Swanson, "the most amazing and satisfying tradition one could dream of."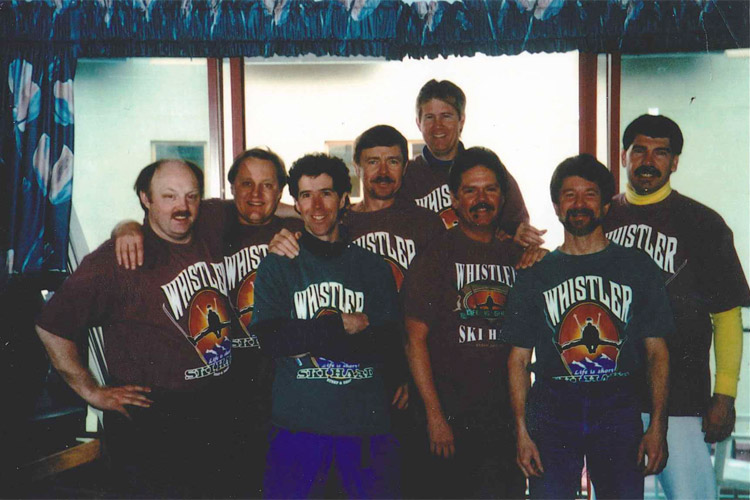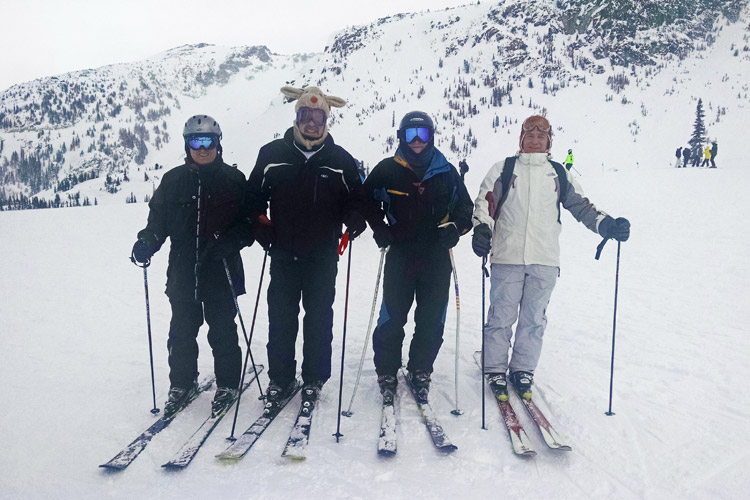 This year, we decided to share the 200+ years collective knowledge of a group who has been coming here longer than some Insider staff have been alive. For the 29th anniversary of their epic ski trip Swanksi polled his crew and came back with this list of Black Velvet's favourite Whistler spots and secrets. Enjoy.
Whistler or Blackcomb?
 "We really enjoy both mountains because they each have their own character and you can find great skiing on either. That's one reason we love coming up here. On the first day of the trip though, we usually hit Whistler, does that make it our favourite?"
Best Cruising Run
"That is easy. We love Cruiser on Blackcomb. The terrain is perfect for cruising, go figure. And the snow always seems great there."
Favourite Pow Zone
"We all agree on this one: Rhapsody Bowl in the Symphony area of Whistler. That wasn't an inbounds run when we first started doing this trip, now it gets me excited just writing it."
Best Spot for Après
"Without a doubt it's The Longhorn and specifically the outside patio. The food, the service, people and music are all outstanding. It's a party every day and they always make us feel welcomed back to town."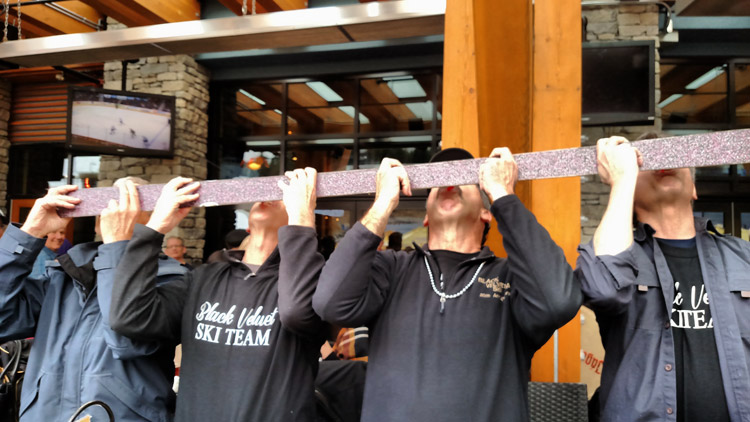 Best Breakfast
"Breakfast is the only meal we eat in for. With 8-10 guys we elect one guy as the cook and he cooks breakfast every day. And that's right, it's me."
Most Scenic Spot for a Picture
"The view from the top of Harmony Chair never gets old. "
One thing everyone should bring with them to Whistler?
"Just remember this slogan: "You may not be here for a long time, so make it a good time."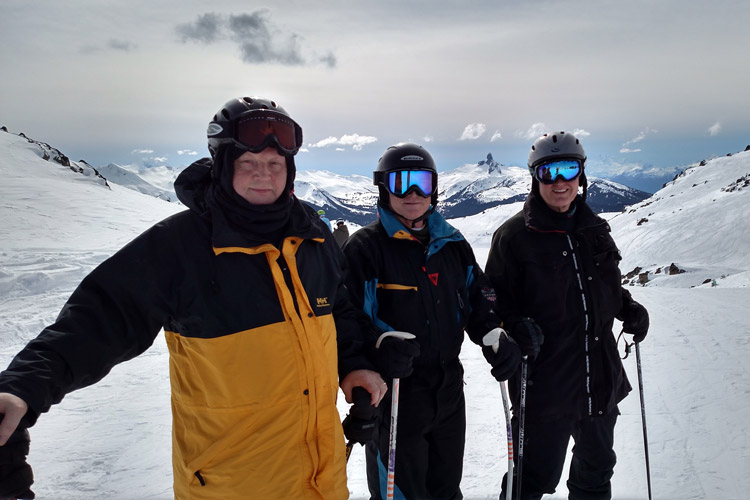 Thanks Black Velvet crew, Whistler is ready for you! Welcome back.
The guys from Black Velvet will be at the Longhorn celebrating their 29th annual ski trip from 5 PM on Friday March 10 and Saturday March 11 – drop by and give these legends a high five. For info and advice on how to start your own long-running Whistler group holiday hit up Whistler.com
2017 Ski Trip Highlights:
[pi_ifg data_shortcodeid='pi_ifg' data_shortcodeid='pi_ifg' pi_image_ids="9393,9395,9391,9392,9394,9396″ pi_insert_urls="https://www.whistler.com/blog/wp-content/uploads/2017/03/shot-ski-longhorn-150×150.jpg,https://www.whistler.com/blog/wp-content/uploads/2017/03/brew-board-longhorn-150×150.jpg,https://www.whistler.com/blog/wp-content/uploads/2017/03/whistler-group-accomodation-150×150.jpg,https://www.whistler.com/blog/wp-content/uploads/2017/03/black-velvet-ski-team-2-150×150.jpg,https://www.whistler.com/blog/wp-content/uploads/2017/03/whistler-group-travel-150×150.jpg,https://www.whistler.com/blog/wp-content/uploads/2017/03/whistler-apres-longhorn-2-150×150.jpg" pi_type="custom" pi_style="tiled_gallery" pi_slideshow_limit="20″ pi_maximun_width="" pi_slideshow_autoplay="" pi_slideshow_auto_height="false" pi_slideshow_single_item="0″ pi_slideshow_items="5″ pi_slideshow_items_desktop="5″ pi_slideshow_items_tablet="2″ pi_slideshow_items_mobile="2″ pi_tiled_gallery_limit="20″ pi_rowheight="80″ pi_maxrowheight="200%" pi_fixedheight="false" pi_lastrow="nojustify" pi_showcaption="true" pi_randomize="false" pi_margin="0″]