For many years ski towns were generally known for having a very unbalanced male-to-female ratio. With far more "dudes" than "chicks" the scientific term for many ski towns was always,"sausage party".
Thankfully Whistler bucked that trend nearly two decades ago and currently has no shortage of talented women on and off the slopes. It's always a pleasure to host another one however, and on Thursday November 4, 2013 American freeskier and big mountain slayer Ingrid Backstrom is in town to give a presentation at Millennium Place as part of the North Face Speakers Series.

Originally from Seattle, Ingrid grew up ski racing and didn't discover freeskiing until after she finished college. Since then she's made up for lost time – Ingrid has starred in 13 ski films and consistently podiums at freeski competitions. Working with the top ski magazines and film companies, Ingrid is known for stepping up to big, gnarly lines with confidence and ability and she's traveled around the world ripping pow and spreading the stoke in her own easygoing way.
The Insider caught up with Ingrid at home to discuss her upcoming event and get her thoughts on returning to Whistler.
Whistler Insider: You're coming to Whistler but ski season hasn't started yet. Is this time of year exciting or torturous for you?
Ingird Backstrom: I love fall. The mountain biking is still good and that's when things calm down in ski towns. We get to enjoy everything and it's mellow but also there is that anticipation of a new season just around the corner.
Insider: What can we expect at your North Face Speaker's Series event?
Ingrid: I don't have it totally dialed in yet. I am a classic procrastinator. But it will be good to be back in Canada, all my Speakers Series are in Canada and I've had some of my best and worst trips in BC. There will be photos and video and I think I will give the perspective of a hapless American skier in Canada.
Insider: In a winter you can be travelling all over the place, how often do you get to ski in Whistler?
Ingrid: There have been some winters where I spend a lot of time in Whistler or Pemberton. It's like my second home in the winter and I've had some amazing skiing up at Bralorne or the Meager zone: such crazy terrain there but not the most accessible. As far as ski hills go, Whistler is one of my favourite places to ski, I love doing big long laps of Spanky's Ladder. All that terrain is incredible.
Insider: What are some other things you like about Whistler?
Ingrid: I love going to Merlins for après and having a Caesar. My rule is like to have one Caesar with every trip to Canada. I'm not sure why we don't have them at home in the US. I'm sure we have clams down here, we just need some Canadians to make the clam juice. I also love Pasta Lupino and Sushi Village is the most amazing place ever.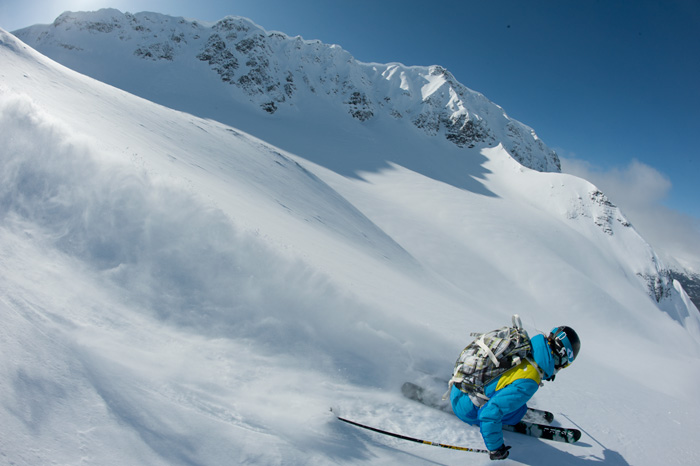 Insider: What do you like most about big mountain skiing? What keeps you stoked and driven?
Ingrid: I guess it's the freedom of it, you get to choose what kind of experience you get. The pow and going fast and being out in the mountains, the nature of it, that is really inspiring to me.
Ingrid will be sharing lots more adventures and insight at the North Face Speakers Series on November 4, 2013 at Whistler's Millennium Place. Get your tickets from the Whistler Arts Council and check out Ingrid ripping in the video below.
Bring on the snow!