HEADER PHOTO BY JOHN ENTWISTLE / WHISTLER BLACKCOMB
Editor's Note: This post was originally written in 2018 but has been updated to reflect new operations for 2023. The image we've used for the header is what the suspension bridge typically looks like in late July / early August.
Whistler Peak has always been home to some of the most breathtaking views in town. I wouldn't have thought it possible, but Whistler Blackcomb found a way to make your visit to the Peak even more unforgettable – the Cloudraker Skybridge and Raven's Eye.
Whether you're an alpine hiking regular, or you're coming for your first visit, you're going to want to add a trip to the suspension bridge to your summer bucket list. In this blog, we guide you through what you can expect, but we've also added a video at the bottom too!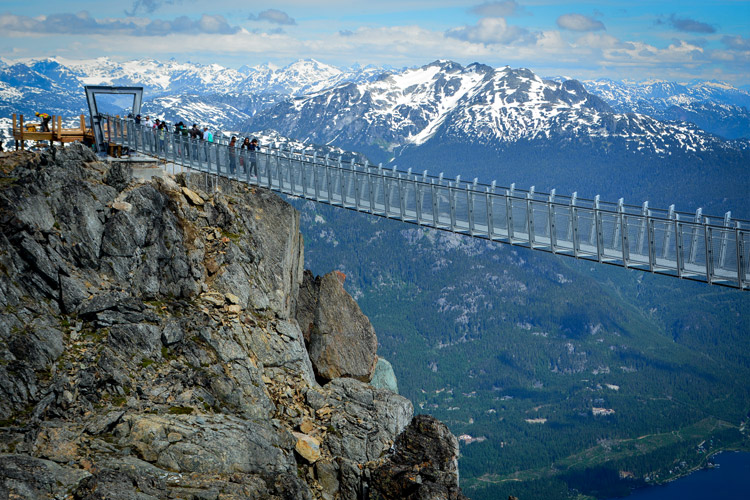 Where is the Cloudraker Skybridge?
The suspension bridge is located right beside the top station of Peak Chair on Whistler Mountain. Access is included in the Summer Sightsee 360 Experience Ticket, so you can make this trip part of a full day of adventure. You can also access the Raven's Eye from the bridge on the West Ridge Lookout.
If you're travelling with kids, note that the height requirement is 40 inches (3.3 feet / one metre) to ride the Peak Chair and that you can't ride the chair with a child in any form of carrier. To experience the bridge with your little one you will have to hike there and back versus taking the Peak Chair.
How to Get to Cloudraker Skybridge
From the valley, you upload using the Blackcomb Gondola in the Upper Village and head across the PEAK 2 PEAK as the bridge is on Whistler Mountain (a fun trip in itself). Always check the Hours of Operation page before planning your visit as the gondolas and lifts do close for maintenance throughout the year.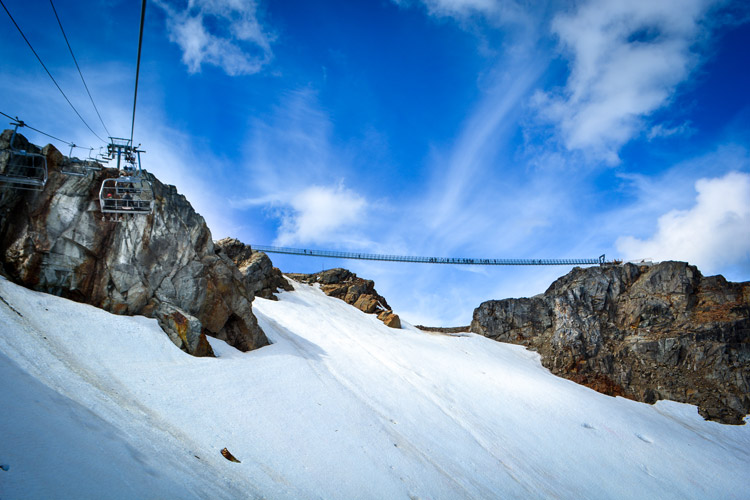 Good to Know – Hiking to and From the Roundhouse
It takes approximately 10 to 20 minutes to hike the Peak Express Traverse from the Roundhouse down to the base of the Peak Chair.
There are two options for your return and they both require some hiking. You can either take one of the alpine hiking trails for additional views or download via the Peak Chair. If you choose to download the Peak Chair, it is important to note you will still have to walk back up the Peak Express Traverse from the base of the Peak Chair to the Roundhouse to get home.
At 0.6 kilometres it is not a great distance, but it is uphill all the way with an elevation gain of 63 metres. Depending on the fitness levels and ages of people in your group, this may be challenging after a day of adventuring. Make sure to take water and snacks, leave plenty of time and energy to walk back, and take lots of breaks on your way out.
Take time to review the Whistler Mountain hiking maps before you go so you can plan your day.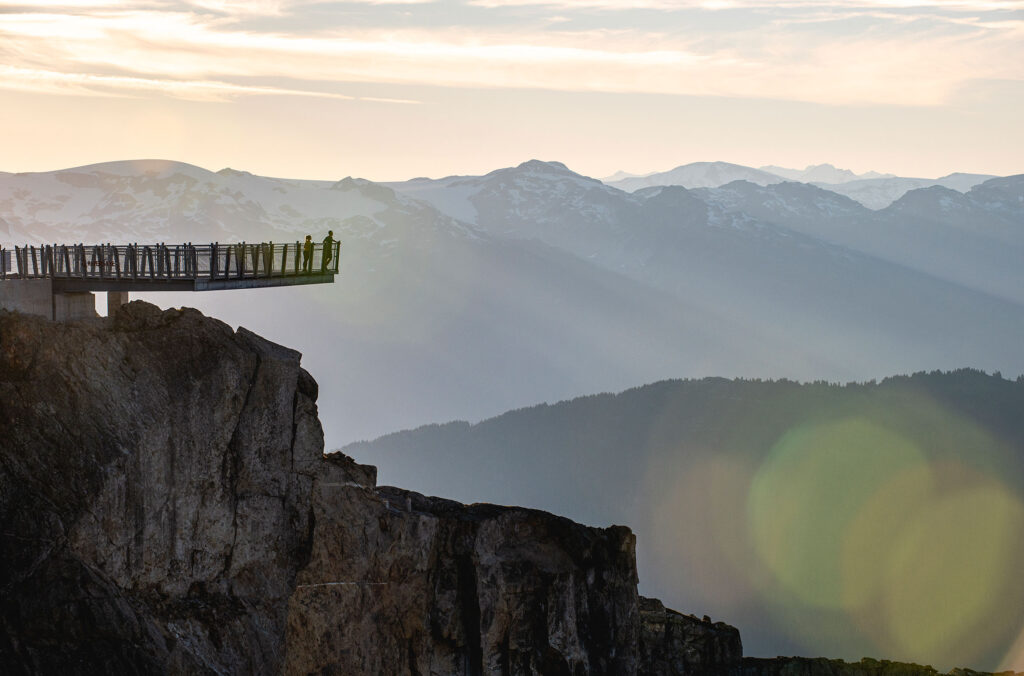 What to Wear
When planning for your day you should plan an outfit not only for style but also comfort. The alpine is typically a few degrees colder than in Whistler Village (see the village vs alpine weather forecast here), so make sure to pack layers, and remember to wear good shoes suitable for hiking.
For full advice on what to wear check out this article on hiking gear. Bring a reusable water bottle and use the free, refilling stations at the Roundhouse and Rendezvous to make sure you stay hydrated.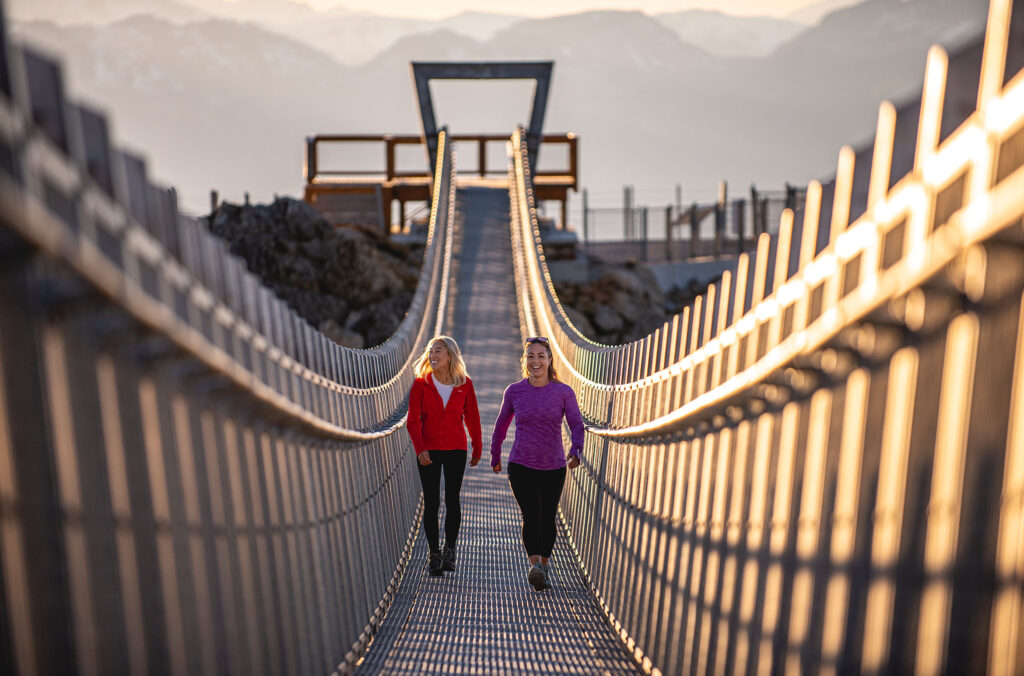 What it's Like to Walk the Bridge
I really like this bridge because of its easy access and stunning views. The design of the bridge feels very secure with fully closed sides and small holes on the bottom grating. I will note that it does sway a bit when walking – not enough for me to find it scary, but good to know before you get on.
If you're not big on heights you can still check out the bridge from solid ground and enjoy the endless views from the Peak.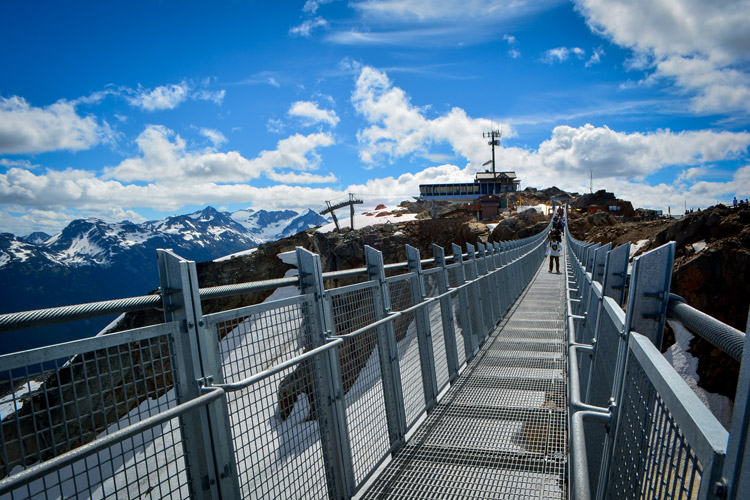 When to Go
The Cloudraker Skybridge and Raven's Eye open in the summer, typically in mid-June (there's currently no winter access). I recommend starting your day early for the best experience. There will be fewer people up top and the light will be better for photos.
Remember to check the hours of operation before planning your day, and check out our guide to alpine sightseeing for more handy tips and an FAQ. Although tickets for the PEAK 2 PEAK gondola never sell out, it can't help to get them early so all you need to do is pick them up when you get here. You can book them via Whistler.com or by calling 1-800-944-7853.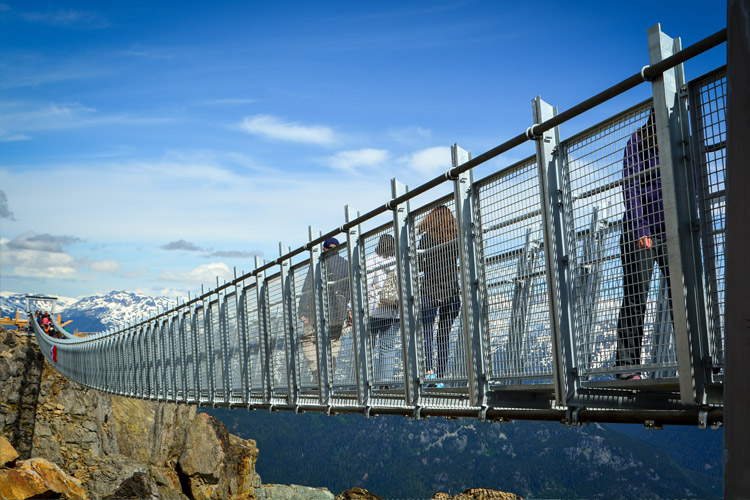 More to Explore
The suspension bridge is only one of many incredible experiences on the mountain. Here are a few other activities you'll love:
Stay in the loop of the latest updates by connecting to @GoWhistler on social media, by subscribing to our email newsletter, or checking out the summer information on Whistler.com.
Fall in Whistler means more, like great value on accommodation with rooms from $135 CAD per night, plus a free $100 CAD Dining Voucher when you book a stay of 3-plus nights. Book in confidence with Whistler.com for Flexible Cancellation and a Price Match Guarantee. If you're dreaming of a trip to Whistler, enter our Find Your Altitude contest for a chance to win a six-night vacation with flights, accommodation and activities (including a heli trip) all covered.