You're sat on the soft, lush grass at the Whistler Olympic Plaza. You have kombucha in one hand and in front of you, on your picnic blanket, is an expertly crafted charcuterie box. The sun has started to set and the pinky hues of the alpenglow make the mountain backdrop look surreal.  That's when the band takes to the stage.
You feel the energy ripple through the crowd as the first note reverberates into the warm, evening air. This is the best way to end a summer's day, with music, food and good vibes all around; this is the Whistler Summer Concert Series.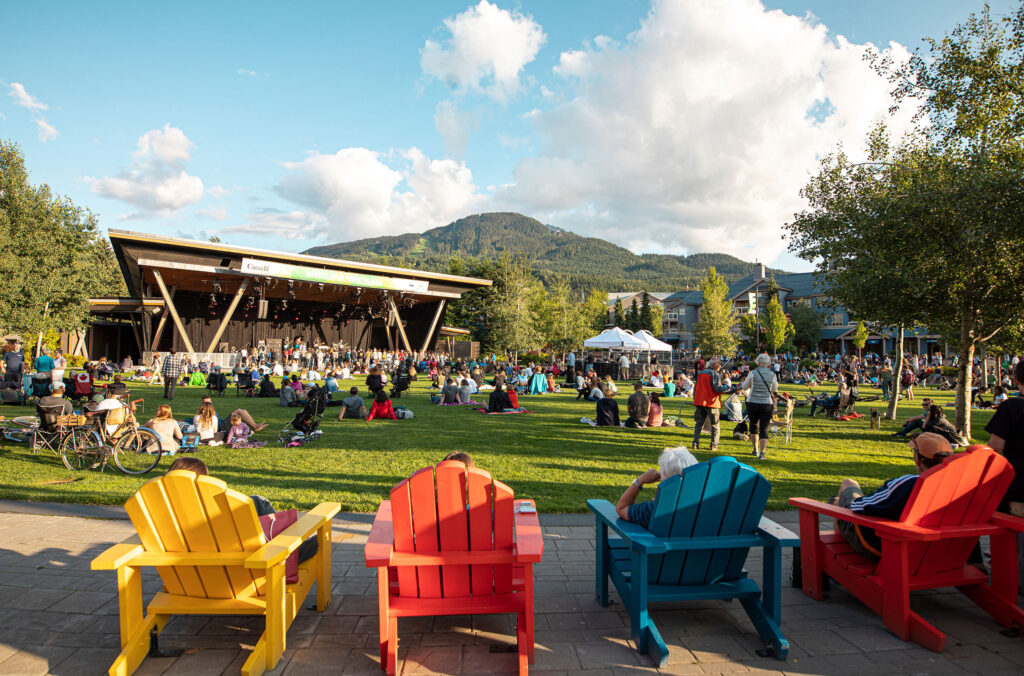 The Resort Municipality of Whistler is especially excited to start the free music concerts with the return of the Vancouver Symphony Orchestra (VSO), who are taking to the Whistler Olympic Plaza stage on Thursday, June 29. Then the Whistler Summer Concert Series kicks in with a diverse lineup of musical talent spread over 14 nights starting on Saturday, July 1 with critically-acclaimed JUNO Award-winning Canadian treasures Blackie and The Rodeo Kings featuring musical guests Daniel Lanois and Terra Lightfoot.
"We are so excited to welcome the VSO back to Whistler Olympic Plaza to launch another summer of music in our community. The power of a full orchestra playing iconic musical scores in this majestic outdoor setting will be an unforgettable experience," says Whistler Mayor Jack Crompton. "On top of that, Whistler's Summer Concerts Series features an outstanding line-up of musical performances through July and August with even more concerts than last year."
Happening on Thursdays and Fridays throughout July and August, each evening's programming starts at 6:30 PM with a live DJ set before the headlining performers take to the stage at 7:30 PM. We suggest getting there early to scope out a good spot, organize your nibbles and simply relax and take it all in! 
It's good to note that one of the Paralympic legacies at Whistler Olympic Plaza is that it has a network of low-grade (less than five per cent) ramps and raised viewing areas for performances, so the music can be enjoyed by all.
Whistler Summer Concert Series Lineup
Saturday, July 1 – Blackie and The Rodeo Kings featuring Daniel Lanois and Terra Lightfoot
Canadian musical legends Blackie and The Rodeo Kings will be joined by friends and fellow musicians Daniel Lanois and Terra Lightfoot to meld roots and rock in what is sure to be an unforgettable collaboration between some of this country's most celebrated musical artists.
Thursday, July 6 – Lazy Syrup Orchestra with Ashleigh Ball
When Lazy Syrup Orchestra takes the stage with Ashleigh Ball, the magnetic frontwoman for Canadian Juno-nominated indie pop band Hey Ocean!, expect to enjoy a "mellow kind of hype music" with high-energy, dance-driven storytelling and an array of sultry vocals and instrumentation.
Friday, July 7 – Dear Rouge
For over 10 years, Juno Award-winning "Breakthrough Group of the Year" Dear Rouge has consistently hit new career heights with multiple Top 10 radio hits. Their finely crafted alternative tunes will inspire listeners to be bold and brave; to foster, to create, to encourage, and to celebrate themselves and others.
Thursday, July 13 – Moontricks
Electro-folk duo Moontricks draw inspiration from the cycles of nature and their uniquely hybrid sound has a technicolor campfire quality; mixing organic folk, roots rock, and blues with electronic production. Sink into ever-evolving, cohesive blend of introspective writing, soulful, gritty blues, boot-stomping basslines, and intricate electronic arrangements.
Friday, July 14 – Bedouin Soundclash
After a nine-year hiatus, Bedouin Soundclash, the Canadian reggae and world-beat legends, are back better than ever to continue the next chapter in their singular genre-defying career. They have been celebrated at home and abroad with JUNO Awards, Top 10 radio hits, and international tours.
Thursday, August 3 – William Prince
Juno Award-winning contemporary roots artist William Prince will take the stage to showcase his exceptional body of work that has graced some of the most iconic stages in the world, including the Grand Ole Opry in February 2023. A masterclass in skilful simplicity, William Prince's songwriting is grounded in a balance between the personal and the universal. Lean into his expressive baritone and drink in every drop of joy in this concert where his musical gifts and worldview converge in and between songs.
Friday, August 4 – Dumpstaphunk
Over the past 17 years, Dumpstaphunk has earned its reputation as the most well-regarded, next-generation New Orleans live powerhouses. Dumpstaphunk's founding members Ivan Neville, Ian Neville, Tony Hall,  and Nick Daniels along with newest members Alex Wasily and Deven Trusclair, have built upon the Neville family's iconic NOLA legacy with a hard-hitting performance that will dare listeners not to move.
Thursday, August 10 – Bruce Cockburn
Bruce Cockburn is one of Canada's finest artists and brightest musical stars. His guitar playing, both acoustic and electric, has placed him in the company of the world's top instrumentalists. This legendary talent has earned 13 Juno Awards, an induction into both the Canadian Music Hall of Fame and the Canadian Songwriters Hall of Fame, as well as the Governor General's Performing Arts Award, and he has been made an Officer of the Order of Canada.
Friday, August 11 – Half Moon Run
Montreal indie rockers Half Moon Run are best known for their cerebral arrangements and multi-part harmonies that, according to one anonymous fan, "sounds like gold dust". While their sound is hard to categorize the band doesn't much mind what genre they're filed under—whether it's neoclassical dream-folk, ambient math-pop, or rustic art rock.
Thursday, August 17 – Allison Russell
Juno Award-winning, Grammy-nominated Allison Russell, musician, poet, singer, songwriter, and activist, is an extraordinary artist of power, empathy, and grace. She is a pivotal voice in two bands: Birds of Chicago and Our Native Daughters and will take the stage in Whistler to tell her own story.
Friday, August 18 – Steph Strings
Steph Strings is an Australian guitarist, singer-songwriter & story teller whose musical style entails bursts of percussion alongside Celtic, blues, coastal folk and indie-rock. Look forward to groovy acoustic guitar riffs and an enchanting sense of melody.
Thursday, August 24 – SkiiTour
Whistler's beloved, fun-loving DJ/production duo SkiiTour are known for their upbeat "feel-good house music that keeps the vibe groovy". Expect to see them draw a huge local crowd ready to party to a summery version of their legendary, high-energy après ski show on Whistler's biggest stage.
Friday, August 25 – Drag in the Mountains with THE BRATPACK
Canada's Drag Race babes Kendall Gender, Gia Metric and Synthia Kiss, aka THE BRATPACK, are back to bring Drag to the Mountains. The opening show will be hosted by Vancouver's Next Drag Superstar winner, Genesis, and will feature performances by Batty B Banks, Bibi Souphresh, Continental Breakfast, King Fisher, Tiffany Ann Co and more!
Thursday, August 31 – The Original Wailers
The Original Wailers, featuring Al Anderson, will come to Whistler to continue the legacy of Bob Marley's soulful reggae with an energetic performance featuring many of Marley's best-known songs. A one-time member of Bob Marley and The Wailers, Anderson is celebrated for his stunning lead guitar work on classic songs, including No Woman, No Cry. The Original Wailers earned a Grammy nomination in 2013 and continue the legacy of Bob Marley & The Wailers' music.
To get ready for this lineup we've put together a YouTube playlist featuring all of the artists coming to Whistler this summer. Enjoy!
Getting There
The Whistler Summer Concert Series is being held at Whistler Olympic Plaza, in Whistler Village North. If your accommodation is in Whistler Village then it's an easy walk along the Village Stroll, but if you're a little further afield then consider using some pedal power.
The car-free Whistler Valley Trail stretches for 46 kilometres, connecting Whistler's lakes, parks and neighbourhoods, the perfect way to cruise in for some mountain tunes. When you get to Whistler Olympic Plaza there's a complimentary bike valet service (open late on concert nights) you can use to make sure your ride (and any other gear) is safe.
What to Bring (and Not to Bring)
It can be hot in the sun, but as soon as it drops behind the mountains it can get a little chilly, so bring some layers.
The concerts happen rain or shine, but don't bring an umbrella or tent to the concert as it will definitely be a view blocker!
We suggest packing a picnic blanket to lay on the lawn and if you're considering bringing chairs, make sure they're not too big or tall so as to block the view for other concert-goers.
Kids and fur babies are welcome, but be aware that people will be picnicking and are there to enjoy the tunes – so it's not ideal if they're playing food defence against your pooch or curious toddler.
If you're going to be picnicking then bring your reusable drink bottles, straws, cutlery and other eating implements to reduce the usage of the recycling bins around the plaza area.
Dine Early
A lot of your favourite Whistler restaurants will be opening earlier on concert days, so check in with them to see if you can get an early reservation before the music starts. They may also have additional take-out options if you do want to dine while the music plays.
Nearby Nibbles
Whistler Olympic Plaza is ideally situated close to Main Street, a hub of grab-and-go food options. The Deli by Picnic opened last year and offers beautifully curated charcuterie boxes and a range of sandwiches and vegan wraps.
For something warm, there's Peaked Pies where you can get an Aussie-style pie topped with mashed potato, mushy peas and gravy (they also do sweet treats and coffees). Splitz Grill is where to go for burgers and fries (they have great milkshakes and ice cream by the scoop too), and Hunter Gather does a yummy chicken shawarma, and pulled jackfruit sandwich.
We also love the fresh pizza at Pasta Lupino (bought by the slice), a box of Crispy Chili Beef of Pad Thai from Main Street Noodles or a fresh, ahi poke tuna bowl from Main Street Poke. You could also pop into Fresh St. Market (which closes at 7 PM) to grab some goodies including organic, cold-pressed juices, Whistler Roasting Company (coffee) and a range of gourmet donuts.
Other nearby options include The Brickworks, Brewhouse, Quattro and Alta Bistro. Visit Whistler.com's dining guide for a full list of where to dine in Whistler.
Concert Etiquette
You can't consume alcohol at Whistler Olympic Plaza
There's no smoking or vaping allowed
Pack out what you pack in, and if the bins are full please take any garbage back to your accommodation and dispose of it there
Support local by buying your food and nibbles from close-by businesses
Keep dogs on a leash
It feels good to be able to come together again and revel in good music with the mountains as our backdrop. We hope we get to bop along to some tunes with you this summer!
Fall in Whistler means more, like great value on accommodation with rooms from $135 CAD per night, plus a free $100 CAD Dining Voucher when you book a stay of 3-plus nights. Book in confidence with Whistler.com for Flexible Cancellation and a Price Match Guarantee. If you're dreaming of a trip to Whistler, enter our Find Your Altitude contest for a chance to win a six-night vacation with flights, accommodation and activities (including a heli trip) all covered.