Crankworx Whistler is the ultimate celebration of mountain biking, bringing together adrenaline junkies, professional athletes and passionate fans from around the world. With a lineup of 12 thrilling events across 10 action-packed days from July 21 to 30, this festival offers an unforgettable experience for anyone with a love for two-wheeled adventure.
Here are seven, can't-miss events that will keep your heart pounding and your excitement levels through the roof during Crankworx Whistler 2023.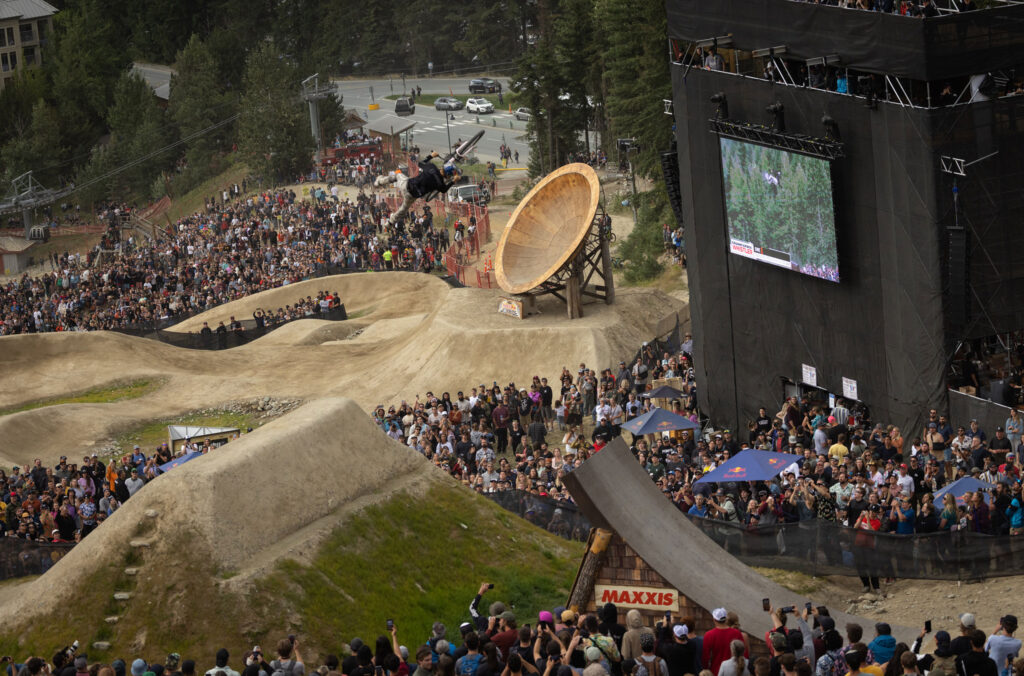 1. Red Bull Joyride – The Epic Slopestyle Showdown
Date: July 29th (Finals 4:30 PM to 7 PM)
Location: "The Boneyard," located at the base of Whistler Mountain
Prepare yourself for the most exhilarating, slopestyle, mountain bike competition on the planet. Red Bull Joyride is the ultimate battleground where the world's top riders compete for the prestigious Crankworx FMBA Slopestyle World Championship and the Triple Crown of Slopestyle.
The top 14 riders in the world bring their A-game to this invitation-only showcase, each interpreting the custom-built course in their unique style and leaving it all on the line for a chance at glory. Located in the notorious "Boneyard," at the base of the Whistler Mountain Bike Park, this event features high-scoring tricks, death-defying stunts and fierce competition that will leave you in awe. Don't worry if you can't attend in person; you can catch all the action on Red Bull TV.
Athlete to Watch: Emil Johansson (SWE). The stylish Swede is coming off an impressive showing at the Crankworks Cairns stop in Australia, which saw him take the victory and tie slopestyle legend (and Whistler local), Brandon Semenuk who sports a record 11 career Crankworx Slopestyle victories. Johansson will be looking for another big win as he looks to further cement his legacy and separate himself in a league of his own atop the all-time wins rankings.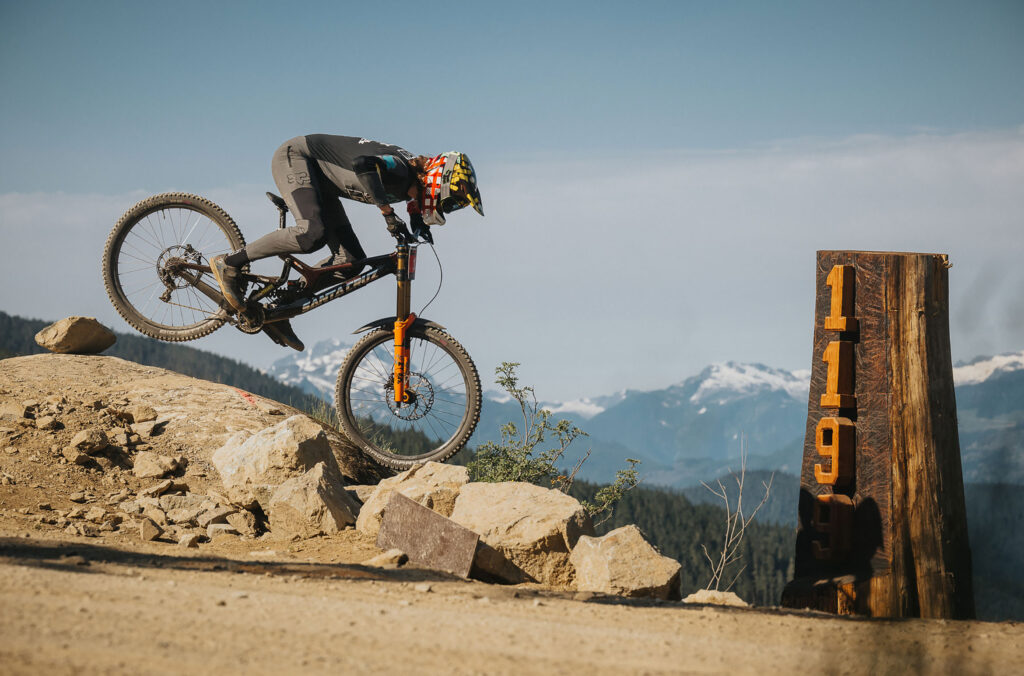 Date: July 23rd  (Group B Finals 10 AM to 12:30 PM, Group A Finals 2:15 PM to 6 PM)
Location: Starting at the top of Creekside Gondola, finishing near the bottom at the Creekside timing flats
Witness the ultimate battle of speed and skill at the RockShox Canadian Open DH. For the first time ever this exciting event will take place near Creekside Village on the opening weekend of the festival! This bone-rattling, heart-stopping downhill race takes place on the new "1199" track, paying homage to the late Canadian DH legend Stevie Smith.
Elite downhill competitors from around the world will face off on this treacherous course, featuring boulder fields, rock gardens, old-growth trees, cliffs and fast-rolling dirt. It's a thrilling event that will keep you on the edge of your seat from start to finish.
For the first time in 2023, Crankworx Whistler presents Adaptive DH, where athletes shred the popular B-Line trail in the Fitzsimmons zone of the Whistler Bike Park. Catch the event on Monday, July 24 at 10 AM.
Athletes to Watch: Jenna Hastings (NZL) and Tuhuto Ariki-Pene (NZL). Hastings is coming off of a big win at the Crankworx Cairns RockShox Downhill event as she took the top step by nearly two seconds, while an ever-consistent Pene came in third. The podium finishes in Cairns were particularly important for the pair of impressive Kiwis, as they both currently sit in second place in the overall standings and look to capture their first career King / Queen of Crankworx titles.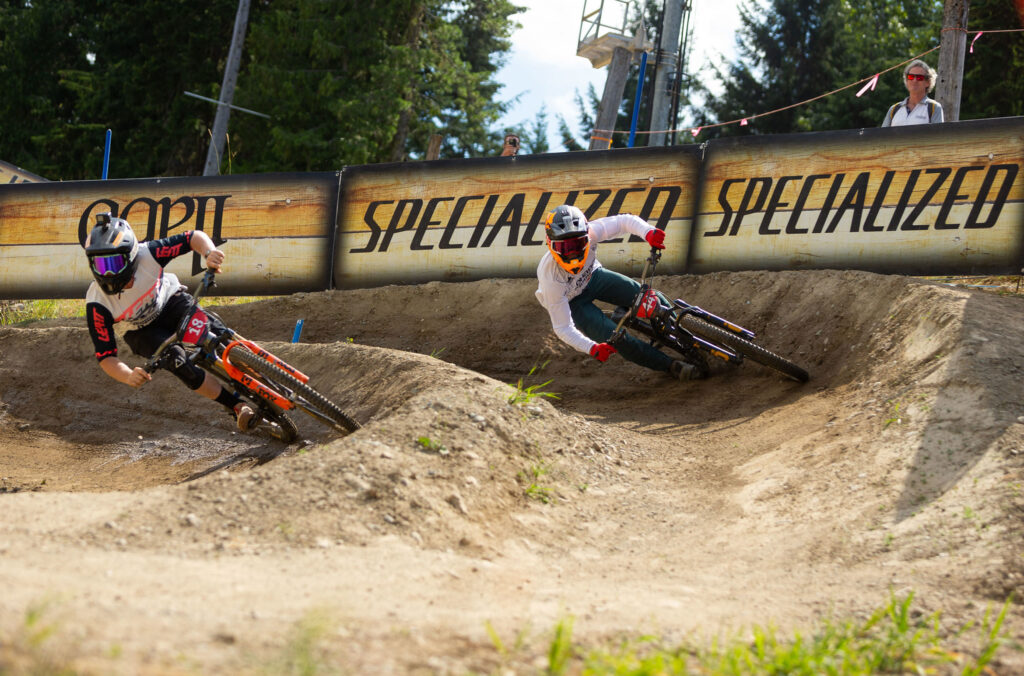 Date: July 27th (CWNext and Adaptive Finals 10 AM – 1:30 PM, Pro Finals 6 PM – 7:30 PM)
Location: "The Boneyard", located at the base of Whistler Mountain
Are you ready for the most intense head-to-head battle in mountain biking? It's time for Dual Slalom, where raw rivalry and epic showdowns are the name of the game! This old-school racing format is the ultimate test of skill, speed and determination as two competitors go head-to-head in a side-by-side battle against the clock, fighting to avoid elimination. Dual Slalom is a melting pot of mountain biking talent, bringing together riders from all backgrounds and disciplines.
From Enduro experts to downhill champions, freeride legends to masters of style, all converge at the Slalom start gate to lay down the most explosive run through tight turns, jumps and rhythm sections. The Dual Slalom event is a thrilling showcase of skill, speed and determination.
Athlete to Watch: Bas van Steenbergen (CAN). Coming off a very close second-place finish at the Crankworx Cairns Dual Slalom, van Steenbergen will be looking for redemption and an opportunity to solidify his current spot atop the King of Crankworx standings. If successful, van Steenbergen will make history as the first ever back-to-back-to-back Champion, winning titles in 2021, 2022 and 2023.
Date: July 26th (CWNext Finals 12 PM to 2:30 PM, Pro Finals 6 PM to 7:30 PM)
Location: "The Boneyard", located at the base of Whistler Mountain
Get ready for the ultimate adrenaline rush in the Pump Track arena! This heart-pumping racing format sees two fearless riders go head-to-head, dropping into a twisting maze of berms and rollers, each vying to cross the finish line first. But here's the catch: no pedalling allowed. This truly "off the chain" event is a battle of raw strength, momentum, skill and pedal-less power.
Every movement counts as these riders navigate the track, leaning into the turns, pumping their bikes for speed and fighting for the lead. It's a high-stakes game, where a single mistake can mean the difference between victory and defeat. With no room for error, these riders push themselves to the limit, laying it all on the line for the glory of crossing the finish line first. So, whether you're a seasoned Pump Track enthusiast or a first-time spectator, get ready to witness the sheer speed, skill and bravery of these fearless riders as they battle it out in the ultimate display of pedal-less power!
Matchup to Watch: Caroline Buchanan (AUS) & Jenna Hastings (NZL). Hot off the heels of her massive win at the Crankworx Cairns Pump Track event, this Aussie powerhouse is not to be missed. Buchanan sits atop the overall rankings and is the defending Queen of Crankworx Champion. However, she is currently only 26 points ahead of New Zealand's Jenna Hastings, who finished a close second behind Buchanan in Cairns.
Hastings had some of the fastest holeshots (first out the gate) in her category at the event in Cairns. With just two stops to go on the World Tour, it's still anyone's game and this matchup is only going to intensify as these two battle it out for the highly-coveted Queen of Crankworx title.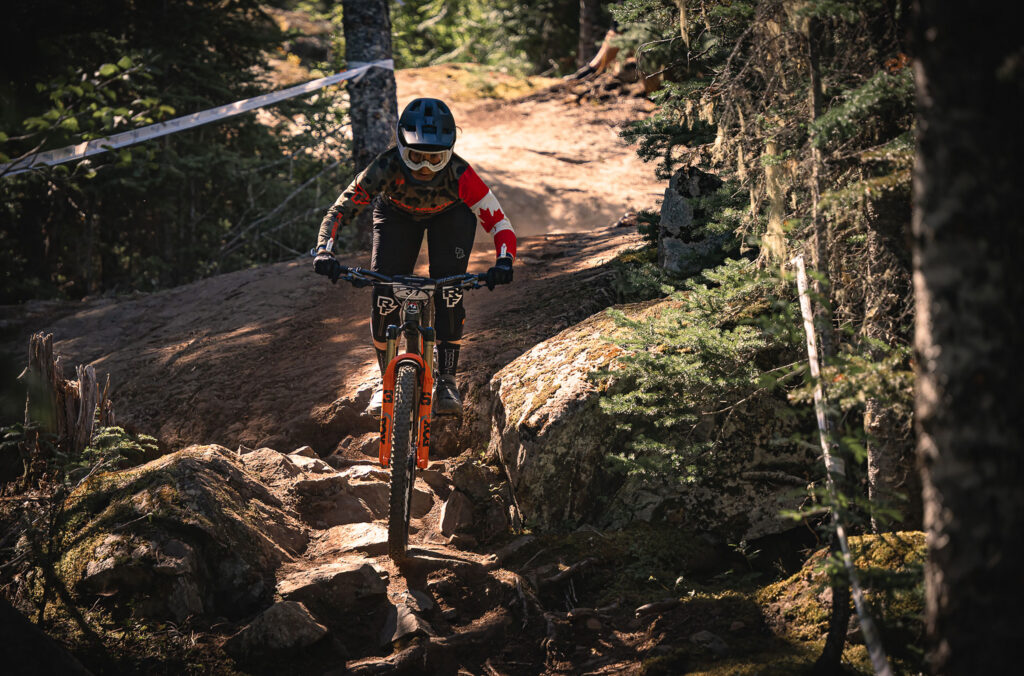 5. Canadian Open Enduro – Heart-pounding Enduro Action Across Whistler Valley
Date: July 30th (8:30 AM to 4:30 PM)
Location: Multi-stage race throughout the Whistler Valley and Whistler Mountain Bike Park
Watch in awe as everyday enthusiasts push their limits and race alongside the pros as they challenge their skills in the ultimate test of endurance and speed. The Canadian Open Enduro, a past EWS event, will now award the National Championship titles for 2023. Back and better than ever, riders from around the world will descend upon Whistler to take on some of the gnarliest trails on the planet.
With multiple descents, each more treacherous than the last, riders must dig deep and lay it all out on the line to come out on top. And with a constantly changing course that rewards versatility and raw talent, this is the ultimate showcase of mountain biking skills. With the new format, this year's event also brings a huge increase in prize money. Elites will race for their share of a $20,000 prize purse, split between the men's and women's events. Come watch these incredible athletes put their bodies (and reputations) on the line for a chance at big money, bragging rights and the illustrious Canadian Open Enduro crown.
Athletes to Watch: Jesse Melamed (CAN) & Andréane Lanthier-Nadeau (CAN). Former teammates on the Rocky Mountain Enduro Team, Melamed and Lanthier-Nadeau are at the pinnacle of their respective categories within this gruelling sport. Melamed is coming off a career-best season that saw him win the Enduro World Series (EWS) overall title and is the defending champion of the Whistler event. Lanthier-Nadeau is also amidst an impressive run of her own as she is coming off of back-to-back UCI World Cup wins earlier this year in Maydena and Blue Derby, Tasmania, Australia.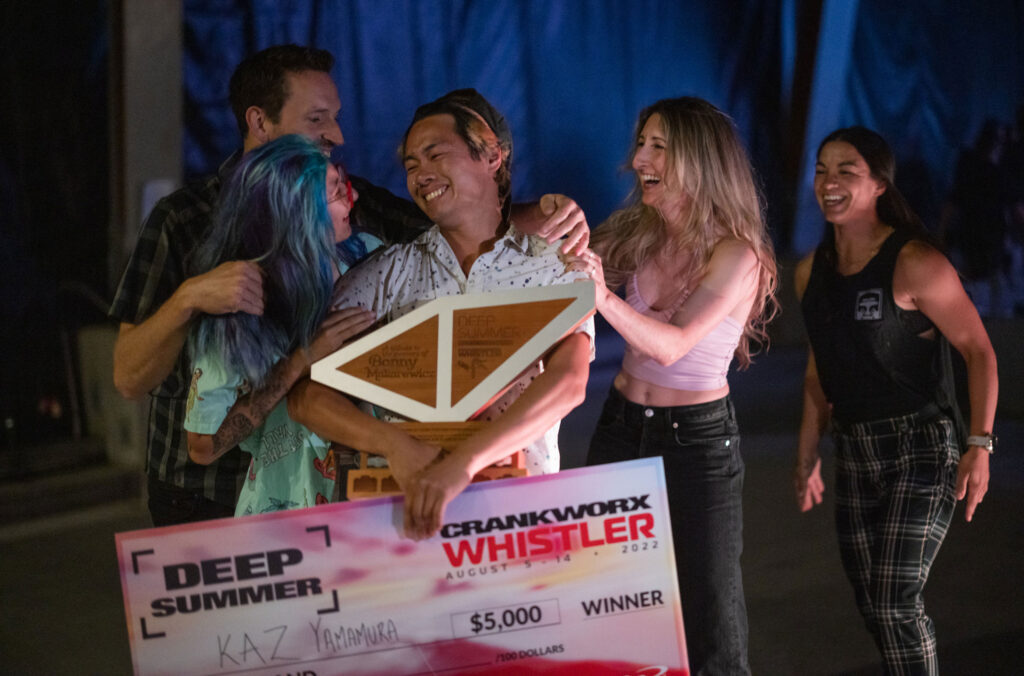 Date: Tuesday, July 25th
Location: Whistler Olympic Plaza – free spectators' viewing with bike valet available.
Prepare for an adrenaline-fueled photography showdown in the heart of the Crankworx World Tour! Five extraordinary photographers and one wildcard contestant spend three intense days in Whistler, British Columbia putting together their show. Brace yourself for a series of mind-blowing slideshows set to music, capturing the essence of mountain biking in its purest form. This is an unforgettable experience that will leave you craving more.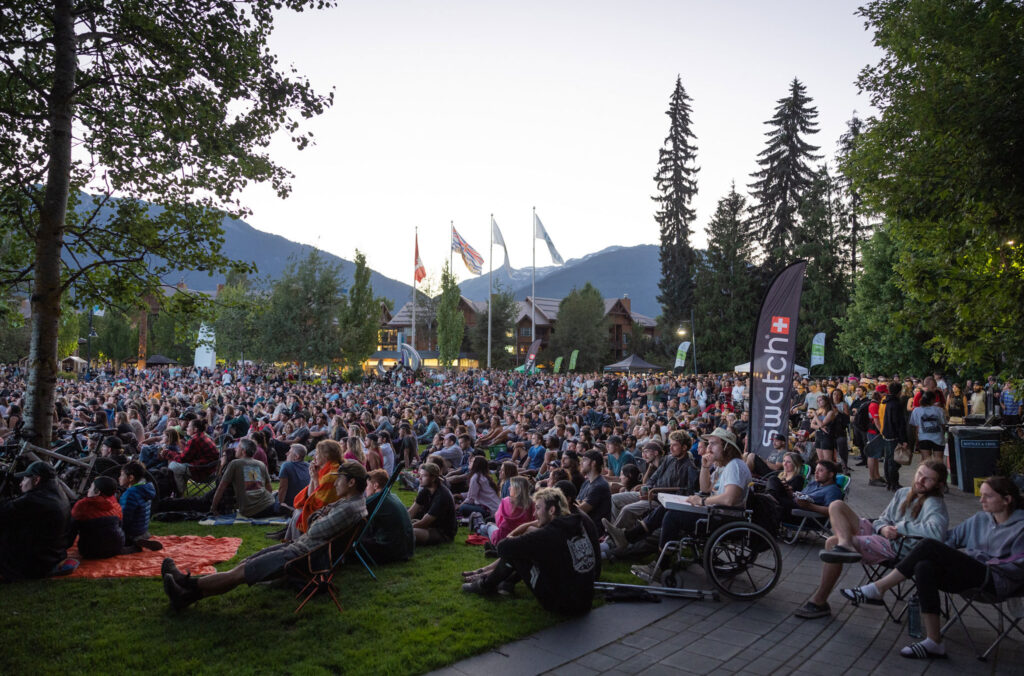 Date: Thursday, July 27th
Location: Whistler Olympic Plaza – free spectators' viewing with bike valet available.
Get ready for a thrilling summer video experience as six, extraordinary filmmakers take you on an exhilarating journey. Brace yourself for heart-pounding action as they bring you a glimpse into the diary of an extraordinary athlete. These action-packed four-to-six-minute films will take shape during the scorching summer and make their grand debut at Crankworx Whistler.
With the freedom to unleash their creativity, these filmmakers will showcase the Whistler Valley and Whistler Mountain Bike Park in a quarter of their films, pushing the boundaries of their craft and capturing the cutting edge of their game. Get ready to be blown away by this adrenaline-fueled cinematic adventure!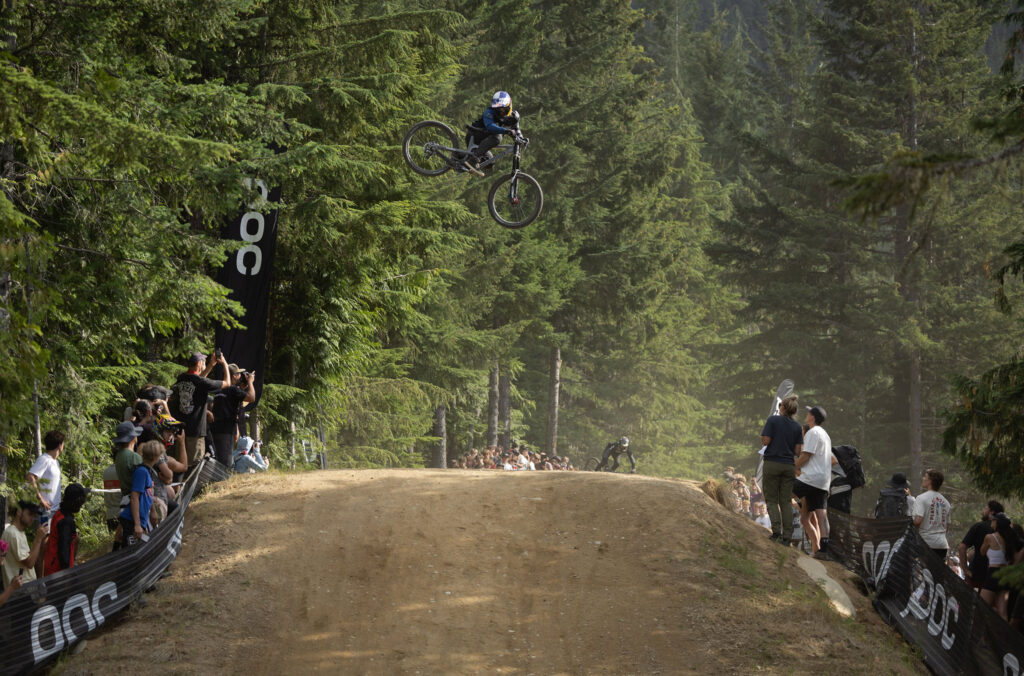 Date: Thursday, July 27 from 11:30 AM to 1 PM
Location: Crabapple Hits, Whistler Mountain Bike Park
Prepare to witness gravity-defying tricks and jaw-dropping aerial displays at the Whip-Off Championships. This event showcases the artistry and style of riders as they whip their bikes sideways in mid-air, contorting their bodies and bikes to execute stylish and exaggerated whips. Crabapple Hits in the Whistler Mountain Bike Park provides the perfect canvas for these riders to unleash their creativity and show off their skills. Get ready for an electrifying atmosphere as the crowd goes wild for every massive whip.
Athlete to Watch: Jackson Goldstone (CAN). Canadian downhill wunderkind Jackson Goldstone has been taking the mountain bike world by storm in recent years and shows no signs of slowing down. At just 19 years old the Squamish local won his first Elite race this year at the Australian Open DH/Australian Nationals on the heels of his incredible win at the hair-raising Red Bull Hardline event last fall.
Goldstone became the youngest-ever winner of the notoriously challenging downhill race taking place annually in Wales. If that's not enough, Goldstone is also the defending champion of the Whip-Off World Championships after taking the crown on home soil at Crankworx Whistler last summer.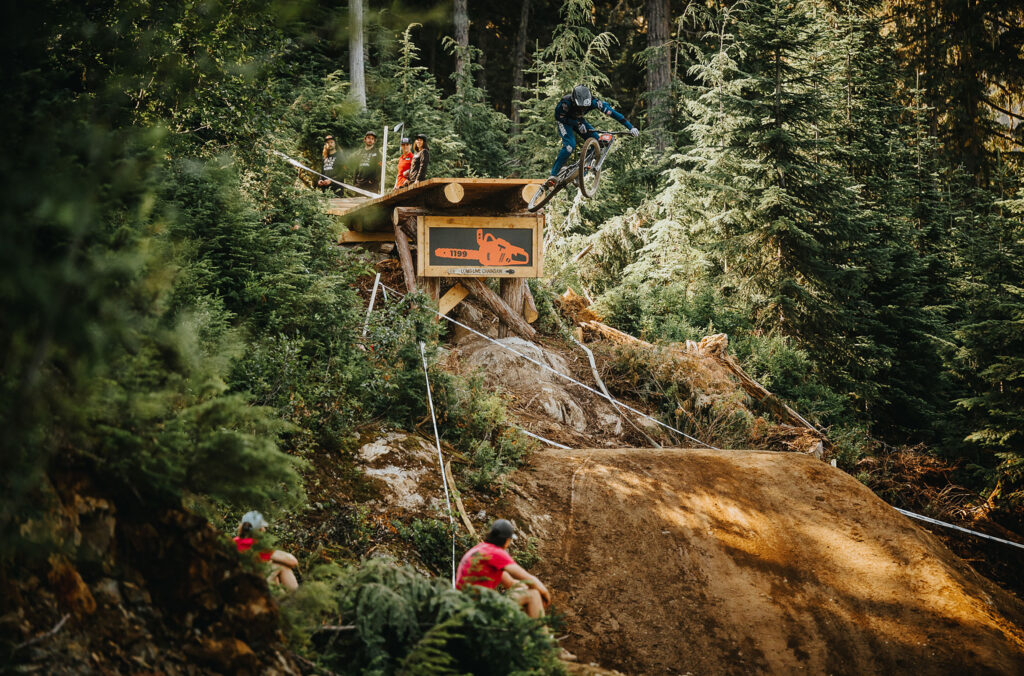 Crankworx Bottom Line
Crankworx Whistler is a haven for mountain bike and outdoor enthusiasts, and these seven must-see highlights are only a snapshot of all the action from the legendary festival. From the high-flying action of Red Bull Joyride to the intense battles of the Speed & Style and the heart-stopping speed of the Air DH, each event offers a unique and unforgettable experience. There are also concerts, parties, kids' events, exhibitions and product demo showcases – there's something for everyone at this one-of-a-kind event!
You'll find a handy, Know Before You Go document on our events page, which has all the key spectator information in one place.
Don't miss out on the adrenaline-fueled action and be a part of this incredible celebration of mountain biking in the breathtaking setting of Whistler, British Columbia this July.
Fall in Whistler means more, like great value on accommodation with rooms from $135 CAD per night, plus a free $100 CAD Dining Voucher when you book a stay of 3-plus nights. Book in confidence with Whistler.com for Flexible Cancellation and a Price Match Guarantee. If you're dreaming of a trip to Whistler, enter our Find Your Altitude contest for a chance to win a six-night vacation with flights, accommodation and activities (including a heli trip) all covered.