When I think about people who specifically love spring, I think of Whistler's chefs. In the spring, Whistler's restaurant scene typically rolls out some incredible dining deals and indulgent, multi-course dinner experiences that are a must-do for any travelling foodie. Not only that, but at the end of May the Whistler Farmers' Market restarts and this June sees the launch of the new Nourish Spring Series by Cornucopia, which has a whole host of foodie events that connect visitors with local chefs and producers.
Ahead of this exciting time, I touched base with three Whistler-based chefs and asked them what it is about this season that makes it a special time both in the kitchen and in the mountains.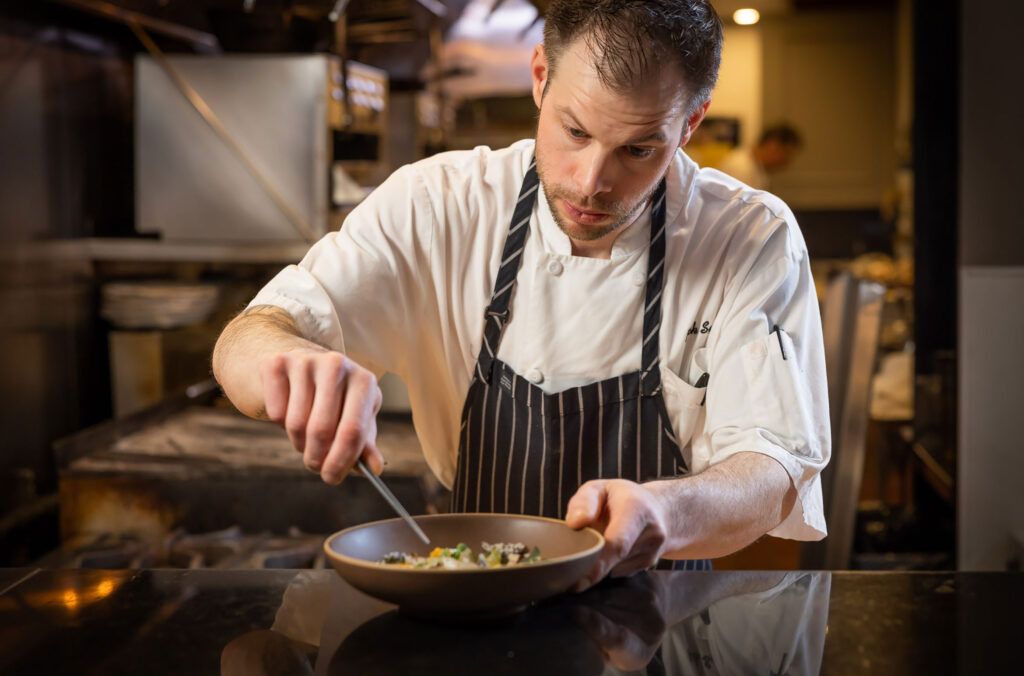 Nick Surowy, Chef de Cuisine at Quattro at Whistler
"My favourite part of the spring is the start of the wild halibut season. This usually starts in mid-March. The first-season halibut is a joy to cook. The fish is so versatile that it pairs well with a wide variety of ingredients. Cleaning and portioning a halibut takes a high level of technique, but is so rewarding when you taste the amazing texture and flavour of the fish. Be sure to look out for it on our spring and summer menus.

When I'm not in the kitchen, my favourite thing to do in Whistler in the spring is to snowboard with my wife. When the days get longer and the weather gets warmer, we love spending our days off riding and enjoying the beautiful views of the Coast Mountains."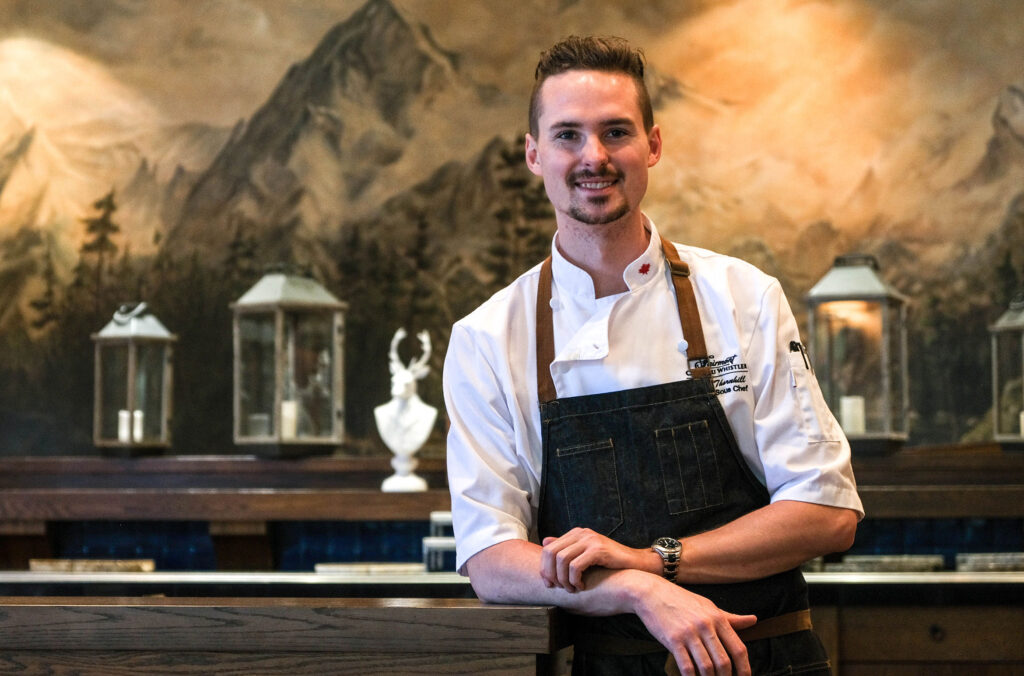 Sean Thornhill, Senior Sous Chef at The Grill Room & The Wildflower at the Fairmont Chateau Whistler
"I would say my favourite part of the spring, here on the coast, is watching the crops come back to life. I find that as a Canadian chef, the selection of fresh, local ingredients is, of course, quite limited during the winter months. I find myself thinking about a specific vegetable or fruit that I can't get at the moment and this often inspires a new dish or flavour combination that I look forward to trying with the change of seasons.

Spring is an inspiring and exciting time for chefs, with an array of different ingredients which are only available for a short season. Starting with ferns and legumes, like fiddleheads, white asparagus, fava beans and green peas; as well as the first fruits of the year such as rhubarb.

Personally, as a born and raised Calgarian, I am always amazed at how soon the snow melts and the greenery returns. This is only my second spring in Whistler, so I am still figuring out what my favourite part of the season is, but when I am not in the kitchen I love heading into the woods with my dog for a hike up the mountain and a swim in one of the many lakes in the area. Along the way, there is always something to forage and take home for dinner.

There's so much to do in the outdoors here, from rock climbing to kayaking, rafting, fishing and biking. I was actually given a helicopter tour with Blackcomb Helicopters, so I am very much looking forward to seeing the Sea to Sky from a different perspective this spring."
The Grill Room and The Wildflower websites.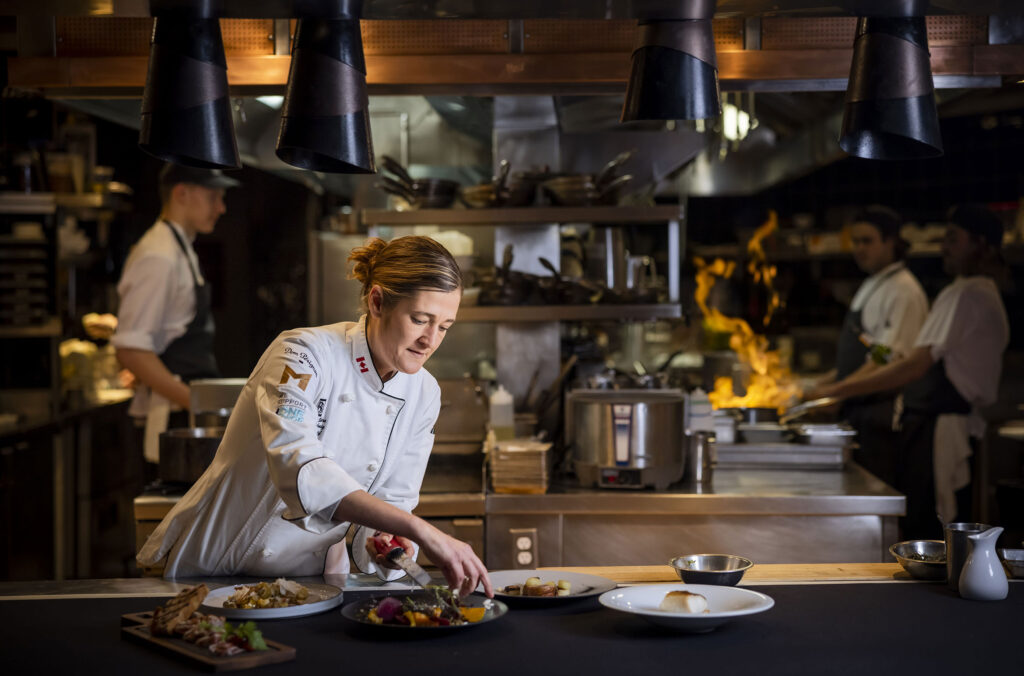 Melissa Craig, Executive Chef at Bearfoot Bistro
"Spring is a very exciting time for a chef. It's inspiring and gets the mind going. After seeing a lot of root vegetables over the winter, it's nice to see the return of the greens. Nettles, wild onion, watercress and English peas all start to come back, adding their fresh pops of green to the plates. I love getting the green strawberries from North Arm Farm in Pemberton and pickling those to serve with foie gras.

I also get excited about the spring halibut and spot prawns. Spot prawns are indigenous to our coast and have such a great texture and sweetness, you should certainly look out for those on our spring menu. I'm currently working on our spring special, a four-course dinner which will include a choice of our signature experiences, the vodka ice room, Champagne sabering, wine pairings or the nitro ice cream.

For someone who lives in Whistler, I'm not actually huge on winter. I love it when the sun returns, and I can get outside. I'm usually one of the first people swimming in the lakes in the spring, they're such a special part of Whistler. I also love the return of the local farmers' markets and seeing all the incredible produce I can work with over the season."
Bearfoot Bistro website.
Join us in the mountains in spring for both culinary and outdoor adventures.
Book your winter trip now to secure up to 25% off lodging, 65% off lift tickets and 45% off rentals. Come experience Whistler Blackcomb's extensive terrain and adventure at every turn to see why we're known as one of the best resorts on the planet. Secure your winter getaway with Whistler.com for Flexible Cancellation and our Price Match Guarantee. Want to win a winter trip for two to Whistler? Check out our Drop In to Winter contest.