Editor's Note: This post was originally written in 2016 and has been updated with new ways to achieve that hygge feeling in Whistler.
Hygge – (pronounced HU-guh) "To create well-being, connection and warmth. A feeling of belonging to the moment and to each other. Celebrating the every day."
Put down the mug of tea, untangle yourself from the blanket and step away from Netflix. It's time to start embracing the cold days and long winter nights outside of your house or hotel room. It may be easy to slip into homebody hibernation mode this time of year but a Whistler winter is too precious to waste!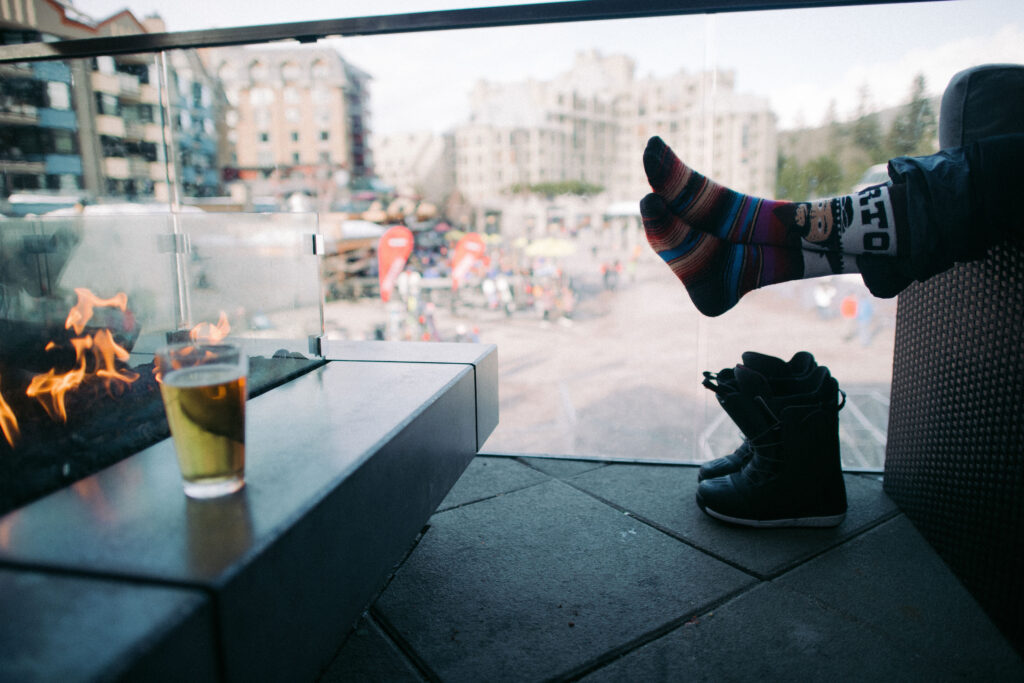 Recent cold weather in Whistler has us looking for ways to warm up, and we've been inspired by our Danish friends' concept of hygge – a word that highlights the importance of connecting with others in the moment. That sounds a lot like the spirit of Whistler so putting the two together can only mean good, cozy fun.
The whole idea behind celebrating the big and small moments, appreciating rituals and embracing community is to combat the winter blues and put you in an optimal state of mind for enjoying winter, instead of trying to avoid it. Try it out for yourself with our Insider's Guide to hygge in Whistler.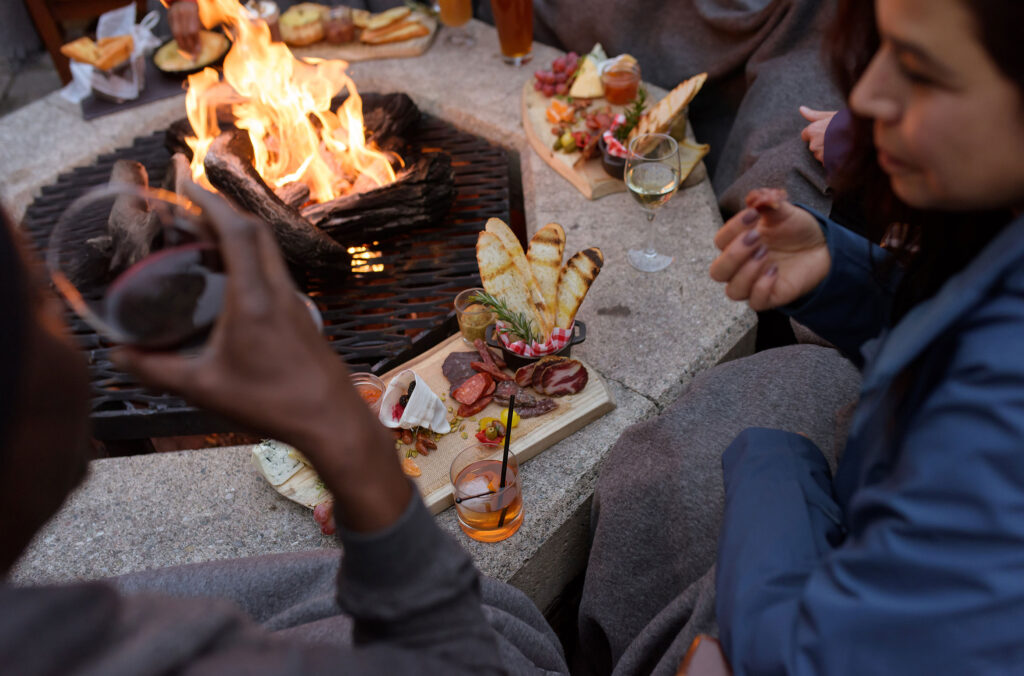 In Your Social Life
Meet or make friends fireside. There's nothing like a good fireplace to induce the warm and fuzzies, throw good company and a seasonal drink in the mix and we have ourselves a moment to celebrate. Bask in the hygge glow at almost any pub or lounge in Whistler.
Cheers. Now, about that seasonal drink we mentioned. Whistler has a talented bunch of bartenders who craft cocktails and creations capable of bringing on a full hygge coma. Mulled wine? Yes! Cocktails that evoke the stoke of a pow day on your taste buds? You bet. The creamiest, richest hot chocolate you've ever sipped? Yep, those too. Treat yourself to one (or two) at these fine establishments.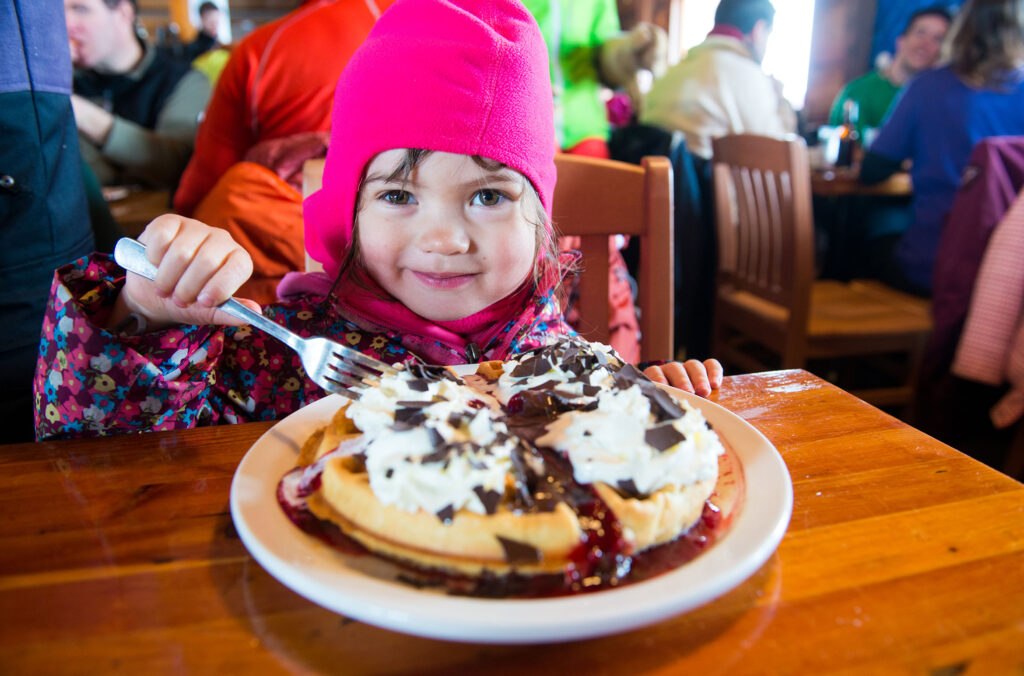 Indulge in comfort food. If there was an edible version of hygge, it would be poutine. Or waffles at the Crystal Hut, or Earl Grey lavender scones, wait- maybe fondue…We can't decide, guess you'll have to try them all!
Create. One of the best things about winter is we slow down and become more reflective, which is great for the creative process. I would bet my poutine there are more artists per capita in Whistler than in any other Canadian resort. Next level hygge? Make something with or for someone you love at an Arts Whistler class or Squamish Lil'wat Cultural Centre workshop.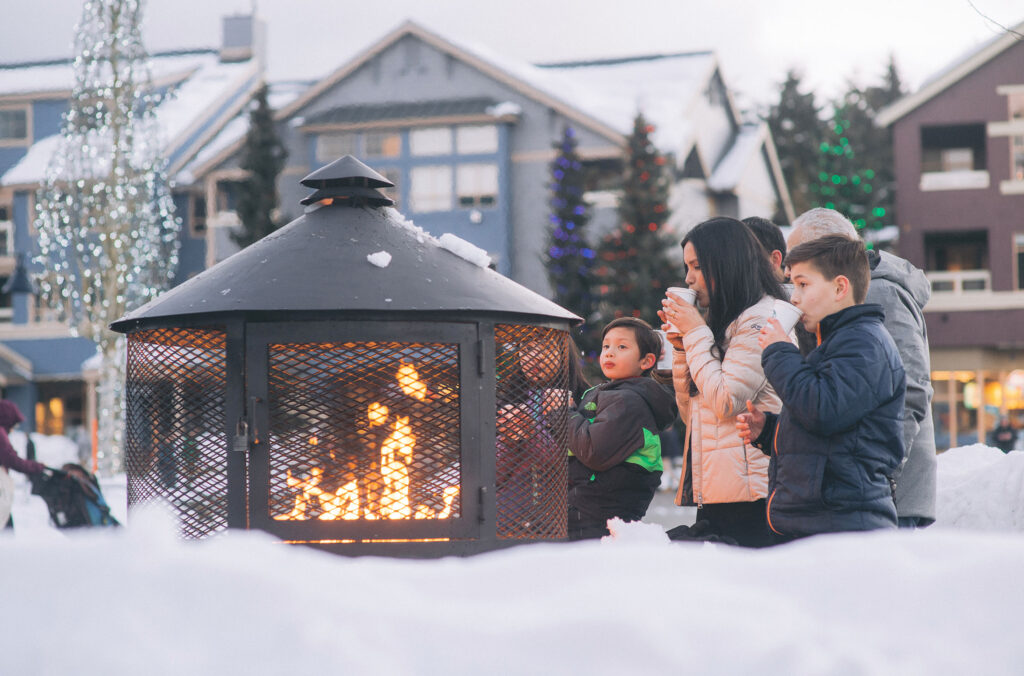 Gather. Whistler knows how to do the holiday season very well, meaning there is no shortage of places to gather and celebrate the little things together. Catch a ski flick, cozy up around the fire at Olympic Plaza, or at a campfire cookout under the stars in the Callaghan Valley, or be astounded at the Fire & Ice show.
On an Adventure
Explore the night. Instead of ziplining or snowmobiling during the day, embark on an adventure after the sun goes down. A starlit journey through the snowy landscape is the perfect way to celebrate a long winter night. Stop to marvel at the moon and connect the constellations.
Another option is to add a bit of magic to your mountain trip with Vallea Lumina. This multi-media show in the forest will have you feeling all warm and fuzzy, even when you're outside.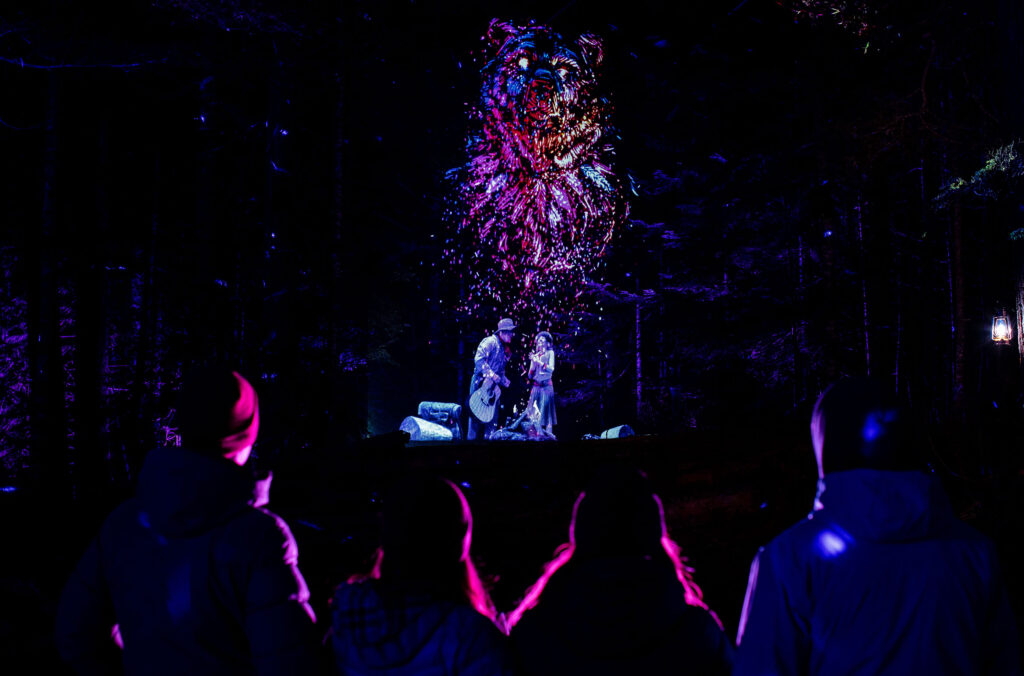 Have a picnic. Just because summer is over doesn't mean you can't eat food outside. Dress warmly and pack or pick up lunch for an afternoon of Nordic skiing or snowshoeing. Stopping to enjoy your food gives you time to take in your surroundings. Carry hot apple cider in a thermos for a hygge pro touch. You can pick up a packed lunch from almost any café, take-out or grocery store in town.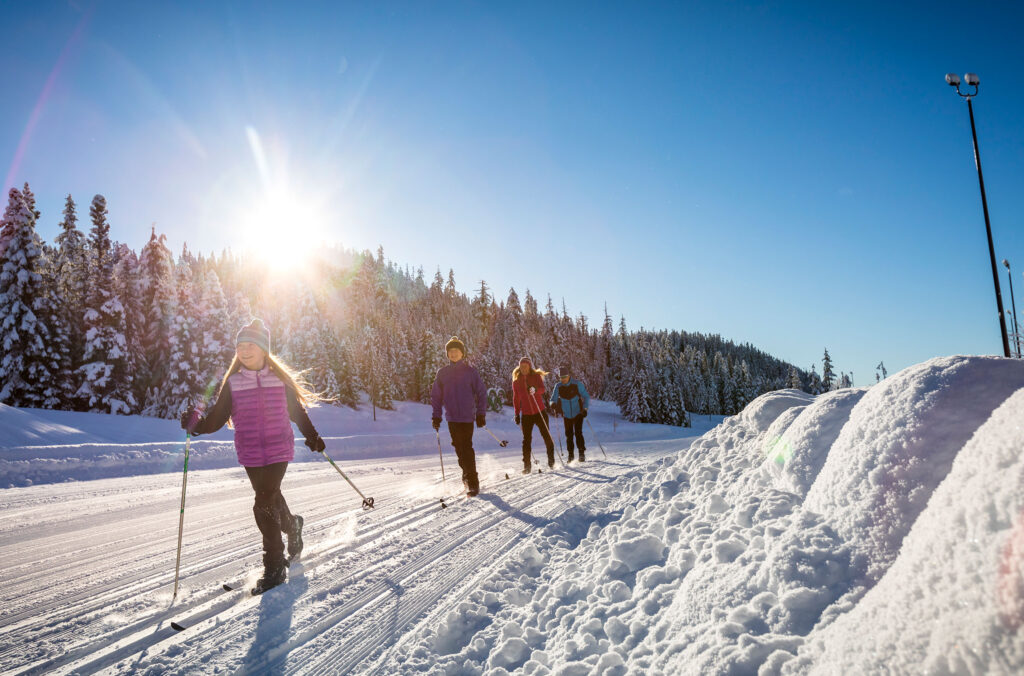 With Self-care
Stretch. Join an evening Yin yoga class at Yogacara and savour the present as your muscles release and mind unwinds. The hit of endorphins and clarity from meditation will have you appreciating everything in this winter wonderland from the graceful fall of a single snowflake to a friendly smile from a passerby.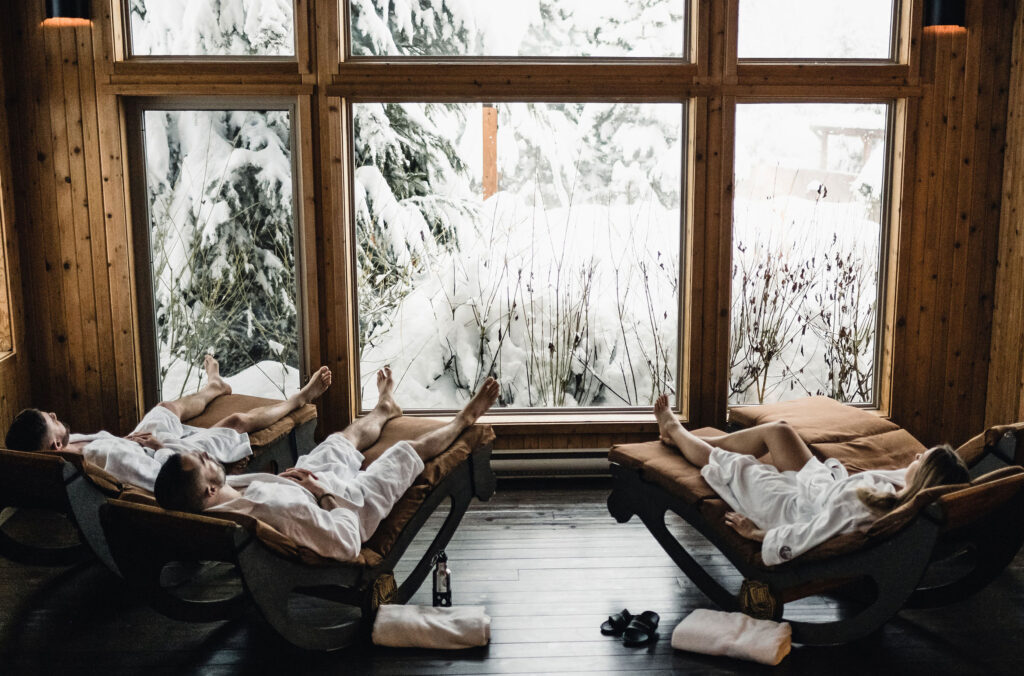 Soak. Sometimes you need the silence to revel in the moment- the kind of silence that comes after a snowfall, blanketing the senses into pure appreciation. You can find that kind of silence at the Scandinave Spa as you soak up the benefits of hydrotherapy while immersed in the hot and cold baths surrounded by mountain views. Or let a professional go at your muscles with a Shiatsu, Javanese, Swedish or Kundalini massage at another of Whistler's spas.
Curl up. Did you know Whistler is home to a coffee shop and bakery that sits right next to a bookstore? You can have your cake and read too. From Village Square enter Armchair Bookstore, hunt for that must-have book and then continue down the hallway to Gone Village Eatery. Pair your literary choice with an appropriate cozy drink (or homemade soup) and curl up in one of the comfy pillowed corners. There is also the impressive Whistler Public Library where you can get lost in a book.
Try Local Favourites
Walk around. One of the great things about hygge is it can help you discover the wonderful in simple, everyday actions. Strolling through the village with the Christmas lights aglow or trusting the Valley Trail to reveal hidden treasures around each bend is simple magic.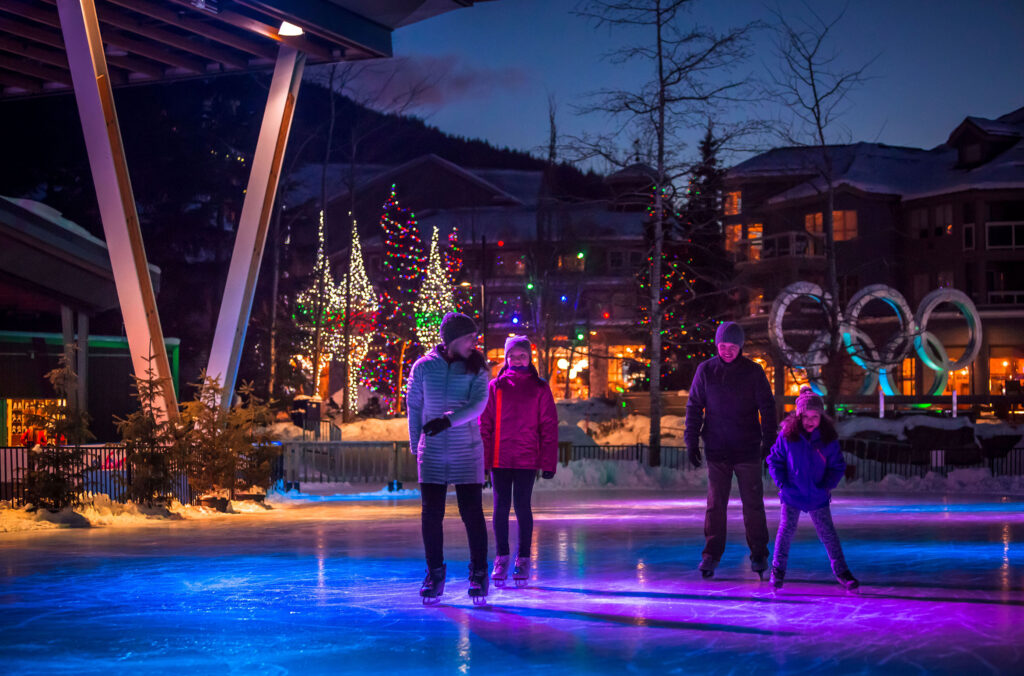 Lace up. Head over to Olympic Plaza for all-ages fun at the outdoor skating rink. Glide under the ever-present gaze of Blackcomb and Whistler Mountains. Or if you have your own equipment, join a local pick-up hockey game on one of the (frozen) lakes for true Canadian camaraderie.
Listen. Get a good foot stomp going and sing along with the crowd at one of the many live music venues in town, or come in from the cold and share a few laughs with fellow humor lovers at a comedy night.
On Mountain Hygge
Do the hygge loop. This, my friends, is the ultimate ski and snowboard hygge. Only to be undertaken if you can handle total, pure enjoyment.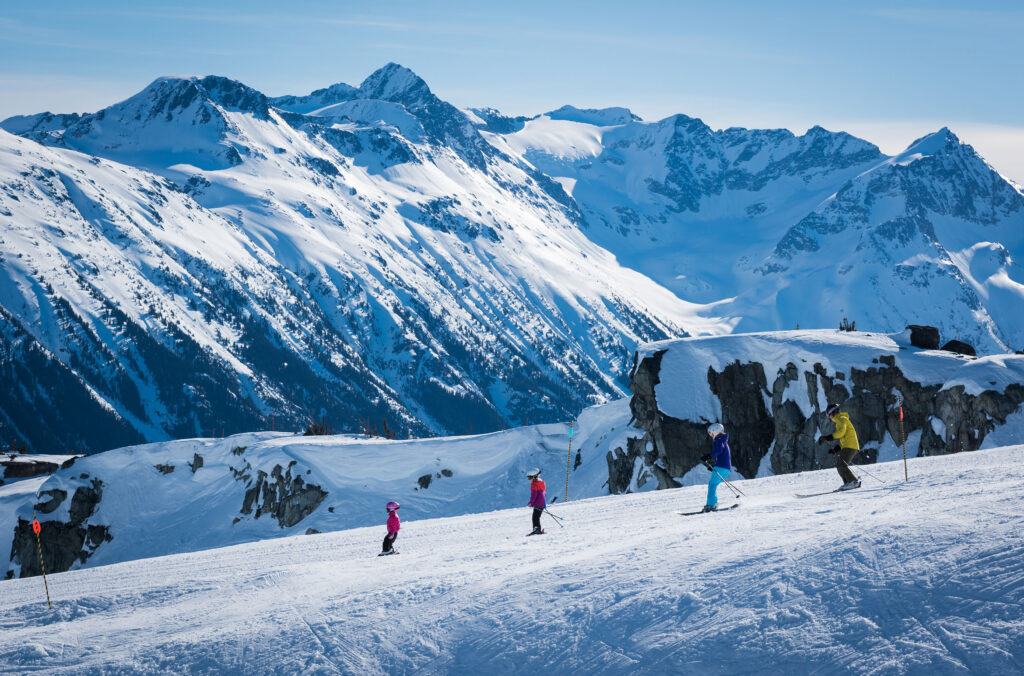 Upload Whistler Village Gondola, have a nice chat with your gondola buddies then upload Peak Chair, wait for it… That view! Mountains as far as the eye can see! Take it all in.
Now, head down Pika's Traverse. Stop as many times as necessary to gape at mountains. Keep going until you reach The Saddle, and shred it. I know, it's amazing, I'm really happy for you.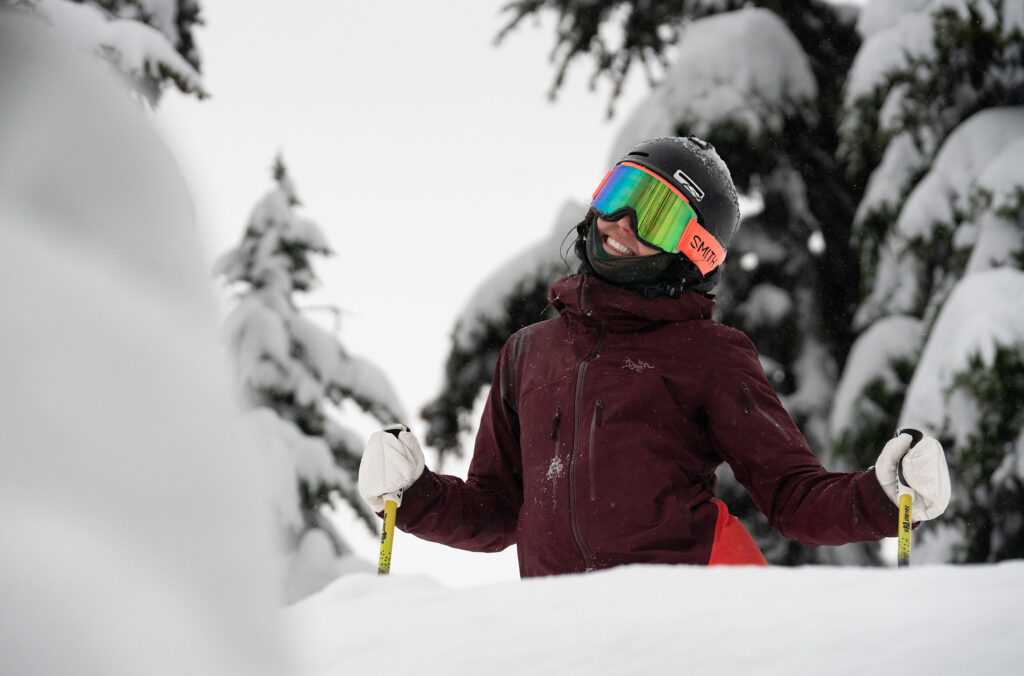 Now, make your way back to the Roundhouse via Franz's Chair. Get on the PEAK 2 PEAK Gondola. You're floating through space over the treetops between two mountains; it's an engineering marvel. Wish your new PEAK 2 PEAK friends well. Nod thanks to the lifties.
Follow Express Way to the 7th Heaven Chair, upload. Take Cloud Nine. You're in it now, you get the name, you're not even sure this is real life. Repeat the loop as many times as you can handle.
Can't get enough Whistler inspiration? Head over to Whistler.com to browse the curated itineraries and find the coziest accommodation options.
Book your winter trip now to secure up to 25% off lodging, 65% off lift tickets and 45% off rentals. Come experience Whistler Blackcomb's extensive terrain and adventure at every turn to see why we're known as one of the best resorts on the planet. Secure your winter getaway with Whistler.com for Flexible Cancellation and our Price Match Guarantee. Want to win a winter trip for two to Whistler? Check out our Drop In to Winter contest.