If Crankworx Innsbruck was any indication of the vibe that's going to happen at Crankworx Whistler, it's safe to say this is a homecoming you won't want to miss.
Proudly brought to you by SRAM, Maxxis and Whistler Mountain Bike Park, Crankworx comes home this August 5 to 14. After a two-year hiatus, Crankworx is beyond stoked to return to the mecca of all that is mountain biking, Whistler, BC.
Whether you're one of the founding members of Heckler's Rock (siiiigh, this is why we can't have nice things) or completely green to all that is Crankworx, allow us to break down three ways you can get in on the action this August.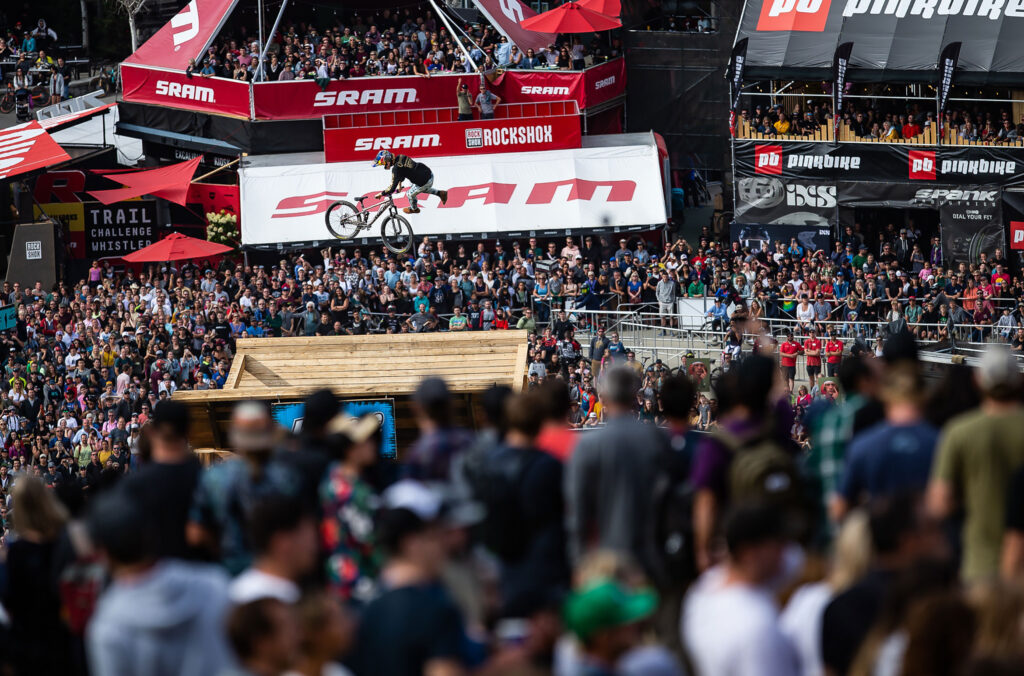 1. Watch the Pros Do What They Do Best
Nowhere else will you find this calibre and collection of mountain bike athletes together in one place.
During the 10-day celebration, the world's largest bike park becomes the global epicentre of mountain biking, as Crankworx Whistler hosts the best mountain bike athletes from around the globe as they compete in elite-level competitions. The full schedule of pro-level events to watch out for can be found on the Crankworx website and here are just a few :
Enduro World Series
When: Opening weekend of Crankworx Whistler (August 4 & 5)
EWS Whistler is BACK, kicking off the festival on opening weekend. The ultimate challenge for all-mountain masters, Enduro combines the endurance of cross-country mountain biking and the skill of downhill mountain biking, across multiple stages. Enduro World Series (EWS) events bring together the best riders from the discipline to compete in multiple rounds of competition over the course of the year, in some of the world's top riding destinations. In Whistler, that means a combination of ascents and timed descents, resulting in some very big days on the bike. The rider with the best combined downhill time takes the win and the glory.
"It's the World Championships of Enduro." – Martin Maes, 2018 winner, on the status of the Whistler event.
Adding to the challenge, the meticulously-chosen trails are kept secret until a week before the race. For the course reveal and a roundup of the best spots to catch a piece of the action check the Crankworx festival news page closer to the event.
Red Bull Joyride
When: Saturday, August 13
Red Bull Joyride is celebrating its 10th anniversary this year, bringing together over 35,000 fans on the ground and millions more around the world. Red Bull Joyride is the biggest stage in the sport of Slopestyle Mountain Biking and you can be there.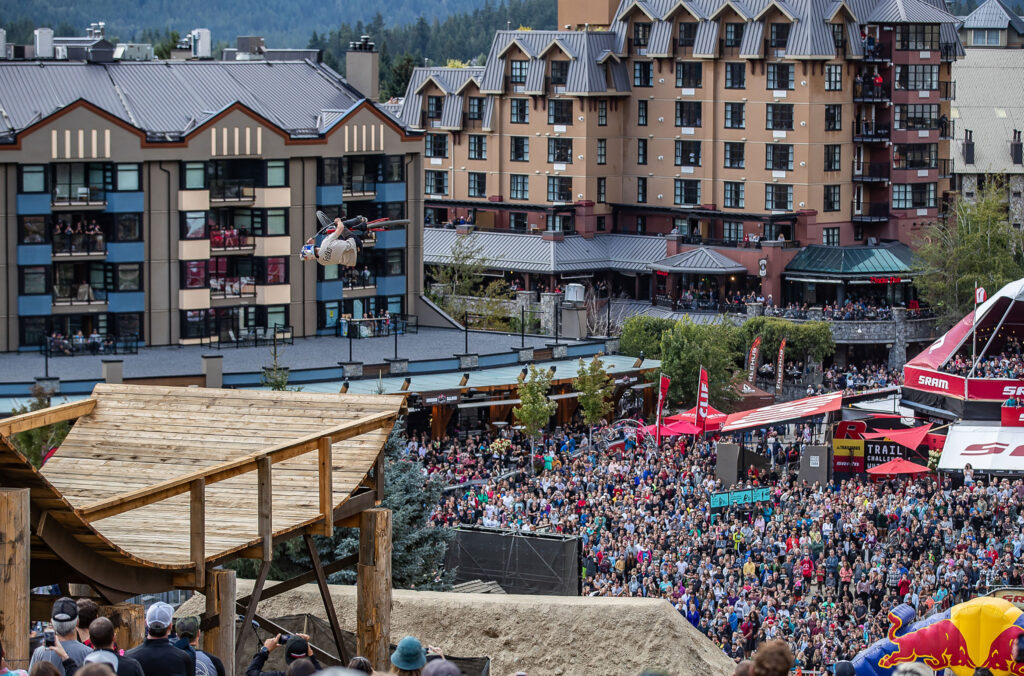 Staged in the aptly named Boneyard, the dirt stadium at the base of the Whistler Mountain Bike Park, Red Bull Joyride offers the best Slopestyle mountain bikers on the planet two runs – that's two chances for glory, two opportunities to throw down high-scoring tricks and move up the leader board, and two moments in time to leave their mark on the history of the sport.
The 14 best riders in the world bring their A-game to this invitational showcase, interpreting a custom-built course and giving it their all. In honour of the 10th anniversary, riders are challenged by a special course, including a fan-voted feature from Brandon Semenuk's "REALM".
If you're planning on coming to Whistler for the return of Crankworx this August, make sure you've got a front-row seat to one of the best events in Slopestyle! As with all events at Crankworx Whistler, this is free for spectators, but you can upgrade your Red Bull Joyride experience with a VIP Pass which gets you exclusive viewing access from the Red Bull Joyride VIP zone Camp Joyride, two refreshing beverages and tasty appetizers (be quick, these tickets sell out fast). 
A step up from the Red Bull Joyride VIP Pass, the Crankworx Skybox delivers the ultimate view of Red Bull Joyride. A 40-foot tower built on the Red Bull Joyride course, above the action with the most incredible sightlines for the culminating celebration of the Crankworx World Tour. Add in refreshing cold beverages, Red Bull, a full-service host bar and a selection of appetizers and you truly have a once-in-a-lifetime experience.
Ultimate Pump Track Challenge
When: Wednesday, August 10th 
Traditionally, the Pump Track sees two riders line up head-to-head and drop into a maze of berms and rollers, each racing to cross the finish line first. The catch? No pedalling allowed.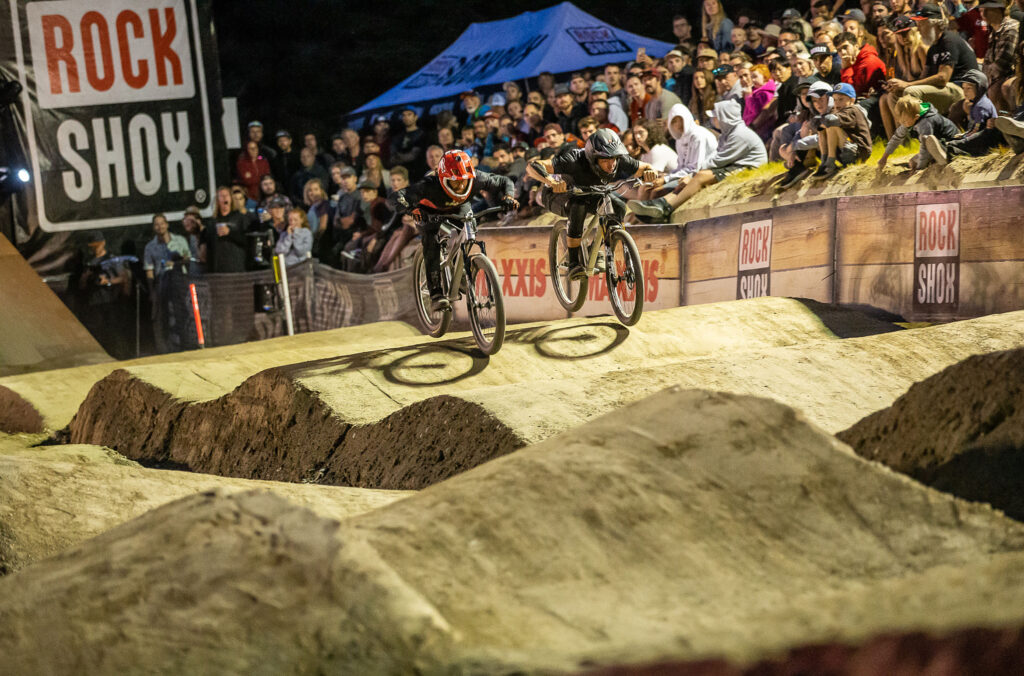 2022 sees a remix of the discipline in Whistler (!!). Instead of two racers, four race head-to-head-to-head-to-head. Each racer will be on an identical side-by-side lane that features rollers and gaps. The single-run format sees the two fastest riders advance from one round to the next. This is tight Pump Track action and good times, next-levelled. A debut not to be missed.
2. Epic Side Events at Crankworx Whistler
Kidsworx
Kidsworx gives the groms a chance to get out and ride and even meet some of their mountain biking idols. 
Want some insight into the future of the sport? Trust us, it's in good hands. Since Crankworx introduced Kidsworx, participation has exploded. Whether your kids are keen to go full send or are just getting started on two-wheels, or you want to cheer these young guns on from the sidelines, there's a ton of Kidsworx fun to be had in 2022.
       

Friday, August 5: EWS Kids

       

Sunday, August 7: Kidsworx B-Line DH

       

Tuesday, August 9: Air DH Kidsworx Invitational

       

Tuesday, August 9: Kidsworx BMX Challenge

       

Friday, August 12: Kidsworx XC

       

Sunday, August 14: Kidsworx Dirt Pump Track Challenge
Note: Event days listed above are finals only – some events have training scheduled on additional days. Check out the Kidworx website for event details and registration.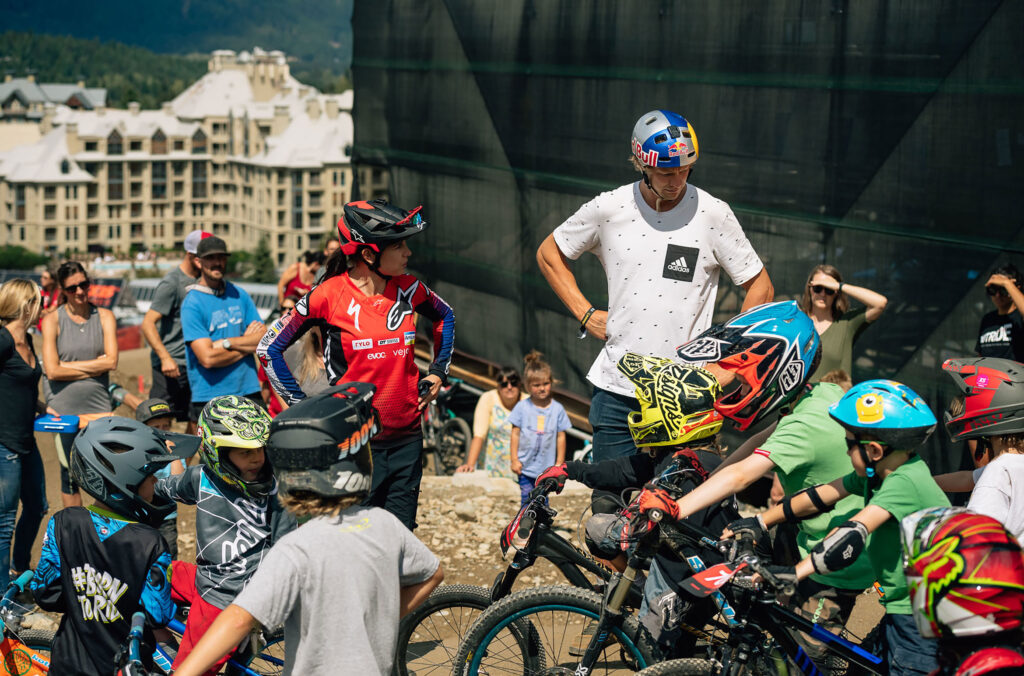 Liv Women's Only A-Line Session
When: Sunday, August 7
Every year, Liv Cycling Canada and Crankworx Whistler encourage women to enjoy one of the world's raddest trails with ease and confidence. Although it is solely a freeride session, bike park coaches and Liv ambassadors are on hand during this women's-only event. Tips, tricks and guidance help participants at those more challenging spots, giving everyone a chance to take their skills to the next level or just have fun with friends with the comfort of a closed trail. When you've had your fill of A-Line laps, join the crew for après (and prizes!).
This event is FREE, but pre-registration is required (and it fills up fast!).
Freehub Trailworx presented by Soil Searching
When: Tuesday, August 9
Trails don't build themselves! Around the world, they are primarily built and maintained by mountain bike community members, passionate volunteers and hard-working trail associations. This annual event brings all the above together, including the crews from Freehub Magazine, WORCA (Whistler Off Road Cycling Association), and Specialized Bicycles Soil Searching, on the iconic Whistler Blackcomb trails to help give a little love back.
Riders of all levels (and non-riders) are encouraged to come out and earn some trail karma. What better way to get involved with all the Crankworx action than swinging tools and shifting dirt with some like-minded folks?
This event is FREE to attend, but pre-registration is required (space is limited!).
Crankworx Whistler Adaptive MTB Jam Session
When: Thursday, August 11
The Crankworx Whistler Adaptive MTB Jam Session is an opportunity for riders who typically cannot ride a standard mountain bike to experience an adaptive mountain bike and discover what it's like to ride on three wheels. The event hub in the Crankworx Tech Zone features adaptive bike manufacturers, access to a range of certified adaptive coaches, representatives from adaptive sport associations and the opportunity to try out an adaptive mountain bike (limited availability).
Interested riders have the opportunity to join a group ride that takes place during the Jam Session, either in Lost Lake or the Whistler Mountain Bike Park. All rides are guided by certified coaches representing Whistler Adaptive Sport Program and Kootenay Adaptive Sport Association.
This event is FREE to attend, but pre-registration is required (space is limited!).
Crankworx Whistler also hosts two amazing outdoor exhibits, which are free to attend. Deep Summer Photo Challenge and Dirt Diaries presented by SWATCH, playing at the outdoor theatre at Whistler Olympic Plaza. See schedule here for more details.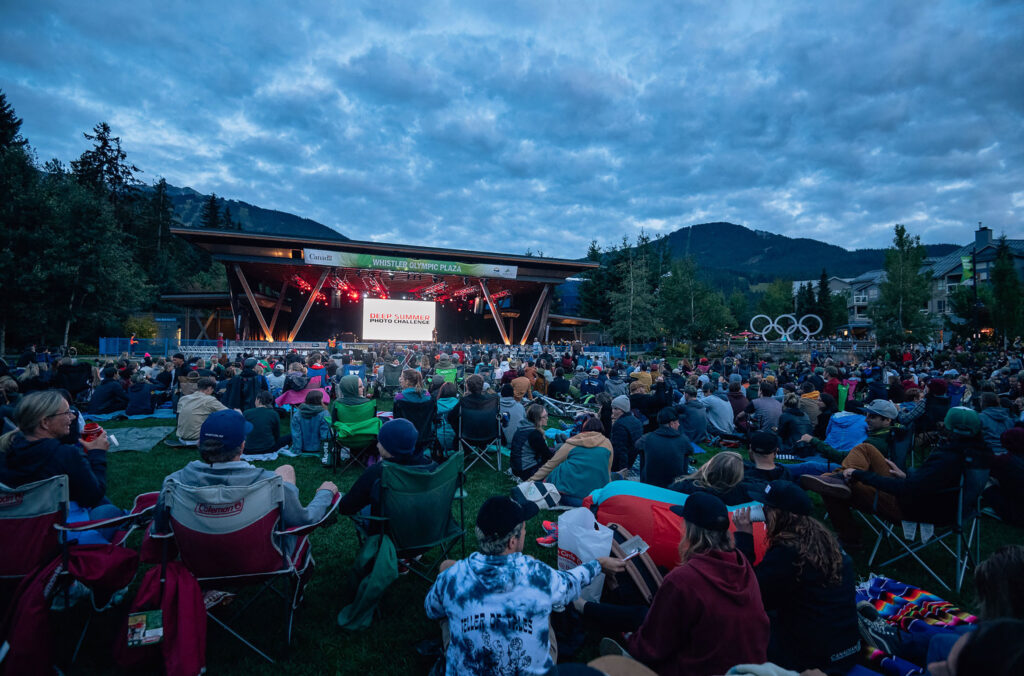 Deep Summer Photo Challenge // Dirt Diaries presented by SWATCH
When: Deep Summer Photo Challenge: Tuesday, August 9
When: Dirt Diaries presented by SWATCH: Thursday, August 11
Explore the creative side of mountain biking at two events sure to take your breath away and inspire you to get out and hit the trails. Considered by many to be festival highlights, the Deep Summer Photo Challenge and Dirt Diaries presented by SWATCH light up the night in Whistler Olympic Plaza every year, bringing together some of the world's best and brightest in MTB film and photography.
Both events are FREE – be sure to get there early, bring some blankets and pull up a patch of grass from which to watch the magic unfold! 
3. Expo Vibes at Crankworx Whistler
Along with athletes, the annual festival brings together the who's who of the mountain bike industry, fans and spectators for the world's ultimate celebration of mountain biking.
Strolling through Whistler Village you'll find expos of the top brands in the mountain biking and the outdoor lifestyle industry. It's an attraction in and of itself, especially with all the incredible prizes and freebies you can win. No matter what you're into, there's something for everyone at Crankworx Whistler and this is why the stoke-level is high for the festival, from both locals and visitors alike.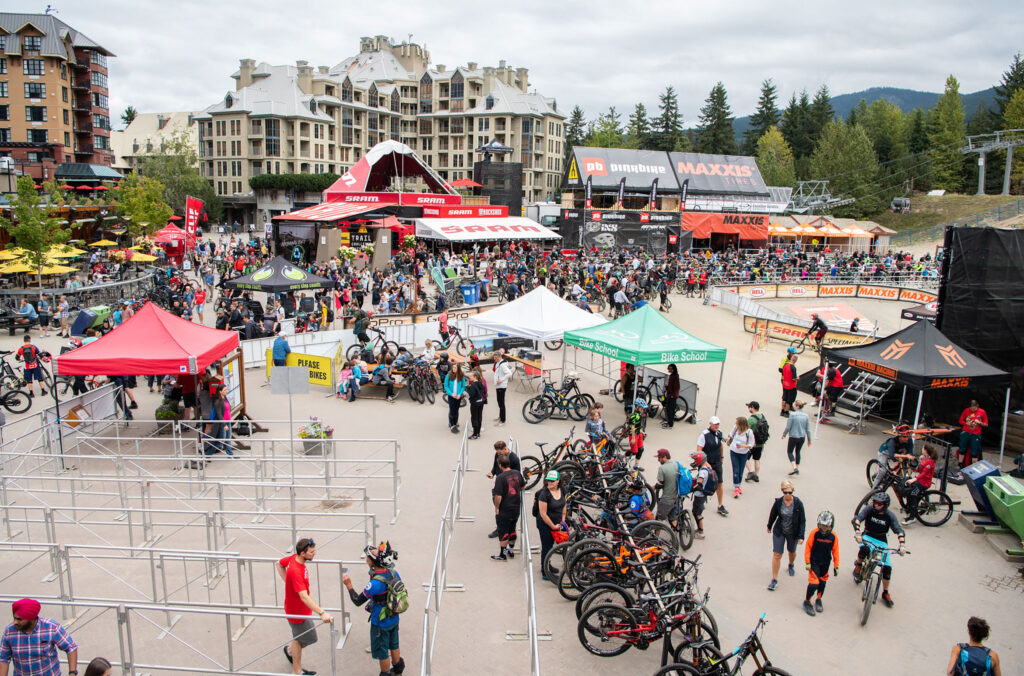 General admission to the festival and all events is free of charge and the full schedule of events throughout the festival can be found on the Crankworx Whistler page.
Bonus: Volunteer at Crankworx Whistler
You can also be a part of the Crankworx Crew as a volunteer. The volunteer team are the lifeblood of Crankworx Whistler and help make Crankworx Whistler come to life.
As a volunteer you get to pick your own shifts suited to your schedule and interests. They'll keep you fueled and provide you with great perks, including a huge wrap up party with tons of prizes. Sign up to be a volunteer on the Crankworx website.
Watch Crankworx Whistler From Home
We know it's not always possible for you to be here in person to experience the stoke (seriously, do you haaaaave to go to your cousin Karen's wedding?!) which is why the Crankworx team are sharing the action live on Red Bull TV. They apologize in advance for the serious feelings of FOMO you might experience when catching the action online, but hey maybe this is motivation to come watch in person next year.
Catch all pro events (Red Bull Joyride, DH, Dual Slalom, Speed and Style and Pumptrack) live on Red Bull TV and follow our Instagram and TikTok for even more behind-the-scenes action!
Secure your lodging for Crankworx Whistler with rooms starting from $198 CAD per night. Plus, extend your stay and receive a free Adventure Voucher. Stay 4+ nights and receive a $100 Adventure Voucher or stay 7+ nights and receive a $200 Adventure Voucher.