You're sat on the soft, lush grass at the Whistler Olympic Plaza. You have kombucha in one hand and in front of you, on your picnic blanket, is an expertly crafted charcuterie box. The sun has started to set and the pinky hues of the alpenglow make the mountain backdrop look surreal.  That's when the band takes to the stage.
You feel the energy ripple through the crowd as the first note reverberates into the warm, evening air. This is the best way to end a summer's day, with music, food and good vibes all around; this is the Whistler Summer Concert Series.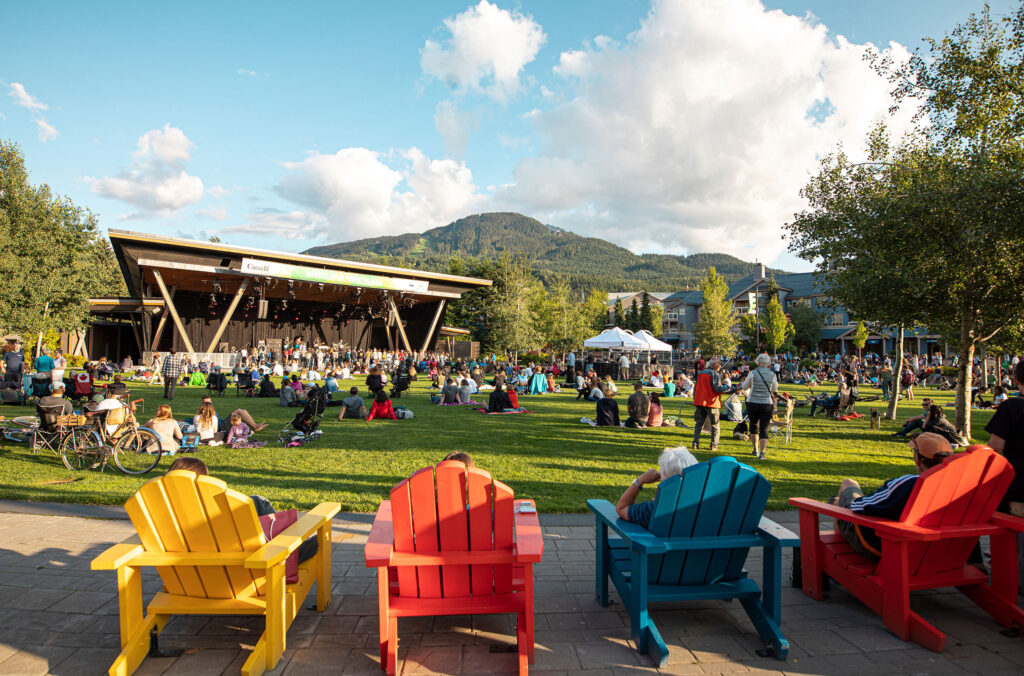 The Resort Municipality of Whistler is especially excited to present the Whistler Summer Concert Series after a two-year hiatus and they've gone big! Putting joy front and centre the lineup is diverse over the 12 nights of shows that kick off on Friday, July 1.
"I am thrilled to see Whistler's Summer Concert Series come back after a two-year hiatus. This is an impressive lineup of musicians and performers from across Canada, and beyond," says Whistler Mayor Jack Crompton. "No matter who is headlining, both locals and visitors are going to love being together, immersed in the energy of a large-scale music-driven event in one of our community's most beautiful outdoor venues. We can't wait to welcome everyone back to this iconic Whistler experience, with the help of the Province of British Columbia."
Each evening's programming starts at 6:30 PM with a live DJ set before the headlining performers take to the stage at 7:30 PM. We suggest getting there early to scope out a good spot, organize your nibbles and simply to relax and take it all in! 
The Paralympic legacy at Whistler Olympic Plaza provides a network of low-grade (less than five per cent) ramps and raised viewing areas for performances, so the music can be enjoyed by all.
Whistler Summer Concert Series Lineup
Friday, July 1 – Sam Roberts Band
This beloved rock and roll band from Montreal has infectious melodies, deep lyrics and a live show that rocks. Their fiery spirit makes their shows legendary, earning them spots performing alongside giants like the Rolling Stones and AC/DC.
Thursday, July 7 – The Funk Hunters
DJs, producers, hunters of funk. The Funk Hunters have cultivated their signature sound by creating forward-thinking electronic music influenced by old-school funk, soul and hip-hop. They've played at major festivals including Coachella, Life Is Beautiful, Osheaga, Burning Man and Shambhala.
Friday, July 8 – Serena Ryder
This vocal powerhouse is a platinum-selling artist due to her raw and earnest songwriting, and electric, live performances. She has received numerous accolades, including Canada's Walk of Fame Allan Slaight Music Impact Honour, seven Juno Awards and the Margaret Trudeau Mental Health Advocacy Award.
Thursday, July 14 – Stars
Indie pop / rockers, Stars have been performing for over 20 years producing nine albums and a number of EPs. Nominated for two Juno Awards and two Polaris Music Prizes, Stars continue to prove themselves as some of the finest musical storytellers in the country, moving through life side by side with their fans.
Friday, July 15 – Barney Bentall
Barney Bentall is loved globally for his band, the Legendary Hearts which, in the '80s and '90s, had more than nine hit singles, won Juno Awards and achieved platinum status for multiple albums. Barney has just released his second 11-track solo album, "Cosmic Dreamer" and Whistler is ready to welcome him back!
Thursday, July 21 – Tynomi Banks and The Bratpack
Canada's Drag Race alumni, the iconic Toronto drag entertainer Tynomi Banks and Vancouver Supergroup, The Bratpack starring Kendall Gender, Gia Metric and Synthia Kiss, will all take the stage for an epic summer night of high energy hits, fabulous fashion and drag in the mountains.
Friday, July 22 – Chin Injeti & introducing ZADA
Vancouver-based Grammy and Juno Award-winning artist and music producer Chin Injeti hits the stage with a special guest; up and coming, Ethiopian-born, Whistler-based artist, ZADA. Chin has worked closely with ZADA over the last two years and is helping her share her neo-soul-soaked songs at her first full-band hometown show. A show made all the more special as she performs on the eve of her 19th birthday.
Thursday, July 28 – Gurdeep Pandher
Gurdeep is best known for spreading hope and positivity during the pandemic through his viral Bhangra dance videos. In this unique performance, he will share his tips on finding joy in darkness and blend an interactive Bhangra lesson with his own traditional Punjabi folk-dance performance.
Friday, July 29 – Choir! Choir! Choir!
This Toronto-based singing group returns to Whistler Olympic Plaza with their non-traditional approach; there is no audition and the audience is the choir. Founded in 2011, Choir! Choir! Choir! has amassed a dedicated and passionate community of singers, and a thriving international fanbase on YouTube.
Thursday, August 4 – Ron Artis II & The Truth
Ron Artis II is a multi-instrumentalist who grew up in Hawaii among an exceptionally musical family. Ron has performed and collaborated with Mick Fleetwood, Jack Johnson, Booker T Jones, and G Love among others. If this wasn't a rich enough lineup of names, go spend a few moments reading the lyrics to Ron's songs. They are laced with intention, deep conviction, story and a heart that has truly been there.
Thursday, August 18 – DJ Shub presents "War Club Live"
Considered to be the Godfather of PowWowStep, DJ Shub won a 2022 Juno Award and has previously won another with A Tribe Called Red. DJ Shub will present a dynamic live show of his critically acclaimed, chart-topping electronic Indigenous album "War Club Live". The show is a celebration of Indigenous music and culture and will feature special guests and Indigenous dancers in full regalia.
Thursday, August 25 – The J.B.'s
The original James Brown band will come together from across the United States to perform their horn-driven funk instrumentals. Known as the hardest working band in show business, The J.B.'s will bring the unique, musical language of The Godfather of funk, James Brown, to make Whistler truly funky again.
Getting There
The Whistler Summer Concert Series is being held at Whistler Olympic Plaza, in Whistler Village North. If your accommodation is in Whistler Village then it's an easy walk along the Village Stroll, but if you're a little further afield then consider using some pedal power.
The car-free Whistler Valley Trail stretches for 46 kilometres, connecting Whistler's lakes, parks and neighbourhoods, the perfect way to cruise in for some mountain tunes. When you get to Whistler Olympic Plaza there's a complimentary bike valet service (open late on concert nights) you can use to make sure your ride (and any other gear) is safe.
What to Bring
It can be hot in the sun, but as soon as it drops behind the mountains it can get a little chilly, so bring some layers. The concerts happen rain or shine, but don't bring an umbrella or tent to the concert as it will definitely be a view blocker! We suggest packing a picnic blanket to lay on the lawn and if you're considering bringing chairs, make sure they're not too big or tall so as to block the view for other concert-goers.
Kids and fur babies are welcome, but be aware that people will be picnicking and are there to enjoy the tunes – so it's not ideal if they're playing food defense against your pooch or curious toddler.
Nearby Nibbles
Whistler Olympic Plaza is ideally situated close to Main Street, a hub of grab-and-go food options. The Deli by Picnic opened earlier this year and offers beautifully curated charcuterie boxes and a range of sandwiches and vegan wraps.
View this post on Instagram
For something warm, there's Peaked Pies where you can get an Aussie-style pie topped with mashed potato, mushy peas and gravy (they do sweet treats and coffees too). Splitz Grill is where to go for burgers and fries (they have great milkshakes and ice cream by the scoop too), and Hunter Gather does a yummy chicken shawarma, and pulled jackfruit sandwich.
We also love the fresh pizza at Pasta Lupino (bought by the slice), or a box of Crispy Chili Beef of Pad Thai from Main Street Noodles. You could also pop into Fresh St. Market (which closes at 7 PM) to grab some goodies including organic, cold-pressed juices, Whistler Roasting Company (coffee) and a range of gourmet donuts.
Concert Etiquette
There's no smoking, vaping or consumption of alcohol allowed
Pack out what you pack in, and if the bins are full please take any garbage back to your accommodation and dispose of it there
Support local by buying your food and nibbles from close-by businesses
Keep dogs on a leash
It feels good to be able to come together again and revel in good music with the mountains as our backdrop. We hope we get to bop along to some tunes with you this summer!