Updated November 2023
If you're into bucket list adventures, heli-skiing is worthy of a checkmark, especially in Whistler. With over 432,000 acres of terrain hosting 173 stunning glaciers and eleven zones, each teeming with mountain peaks, the opportunities are endless for heli-skiing in Whistler.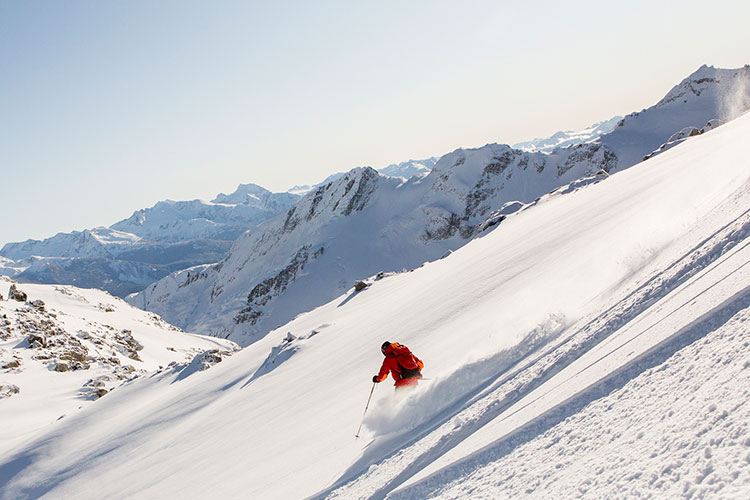 There is a reason why people save up for this special outing and can't stop talking about it years after – it is without a doubt as epic as you're imagining it to be.
In this Insiders blog, my goal is to explain what you can expect from a day with Whistler Heli-Skiing and how you can approach your first heli-skiing experience with some insider knowledge.
The Heli-Skiing Rundown
Here are a few things you need to know, right off the bat, when considering a heli-skiing trip:
Ability: Advanced skiing skills are needed for heli-skiing, along with the physical ability to ski powder for a half or full day (depending on the package you choose). Take a look at the ability guide to help you decide.  
Group: The package you book will play a role in what your group looks like. Generally, most groupings are determined by ability and who has booked together. Skiers and snowboarders can be in the same group and kids 14 and up are welcome on the "Classic Package" with an accompanying adult.
Runs: Each run is unique in its features and can range from 400 to 1,500 vertical metres in length. You could be on the tippy-top of a peak, swooping down a wide-open glacier or weaving through sparse trees. The weather and snow conditions, along with group ability, will determine which runs you'll be riding on the day – know what you'd like to do, but remember that Mother Nature is in control. 
What to Wear: Dress for skiing of course! It's recommended that you bring an extra layer, a reusable water bottle and anything else you might need on a regular day of skiing. A backpack with avalanche gear is provided for you as part of the package. It is strongly recommended that you bring your own powder-specific equipment with a minimum ski width of 105 millimetres at the waist or rent high-end powder-specific skis or boards from Whistler Heli-Skiing. Bring your own poles! 
Packages: The 4 Run is for the advanced skier / boarder and includes four runs. The 6 Run is six runs and for experts only. However, you can do a custom private group, which is six runs for you and your crew with a flexible ability level. Additional runs can be added to any package, on the day, for an additional fee, depending on the weather.
A Day with Whistler Heli-Skiing
The excitement starts brewing as soon as the date is locked in your calendar, but reality only sets in as you head to the Whistler Heli-Skiing storefront at the Carleton Lodge – you're going heli-skiing! The extra energy that surges through you the night before this long-anticipated adventure can be funneled into grabbing a hearty dinner, double-checking all your gear and arranging any rentals you need. Warning – it's like being a kid on Christmas Eve so good luck with falling asleep.
The sun's up and so are you. After a coffee and gear check, you'll be driven to the helicopter staging area where your guide will do a safety briefing. At this time, you'll learn how to use the avalanche gear provided and run through the safety protocols associated with heli-skiing. This is the perfect time to ask any questions you might have – it will also solidify your trust in the guide as their wealth of knowledge and experience is evident. Whistler Heli-Skiing has an incredible roster of Canadian Ski Guide Association and Association of Canada Mountain Guides that know our mountains inside and out – you won't be disappointed.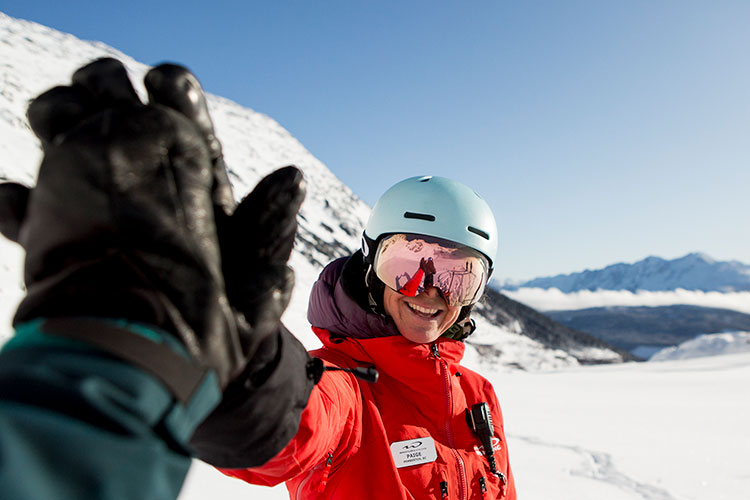 And finally, after your skis or board is secured in the helicopter's basket and your avalanche transceiver is turned on, the long-awaited heli ride is underway. Flying over the lush, valley forests makes for a stunning sea of green (or white – depending on snowfall) as your pilot soars into the alpine showing off the stunning peaks of the Coast Mountains Range.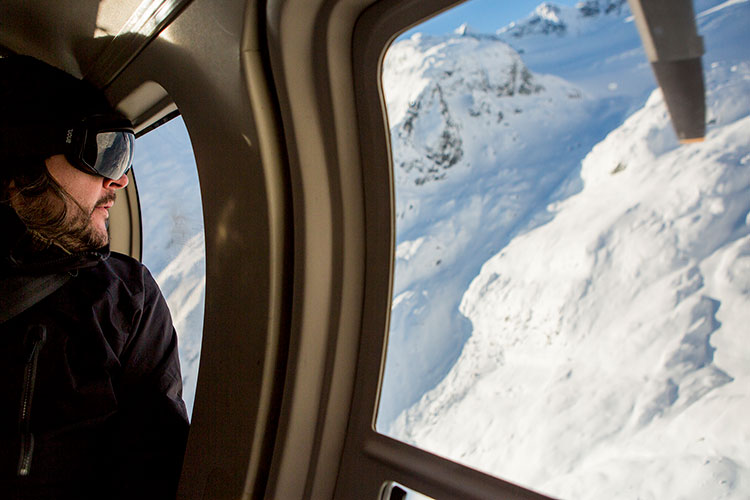 The first flight is usually the longest, so get that camera out and soak it all in. When the helicopter finally touches down on a powder-coated perch reality sets in again – you're about to ride. Crouched under the roaring blades of the helicopter adrenaline pumps through your body. With its departure, there's a serene stillness. You've got your own, remote, private run right ahead of you.
Equal parts tranquil and stoke – welcome to the paradoxical nature of heli-skiing.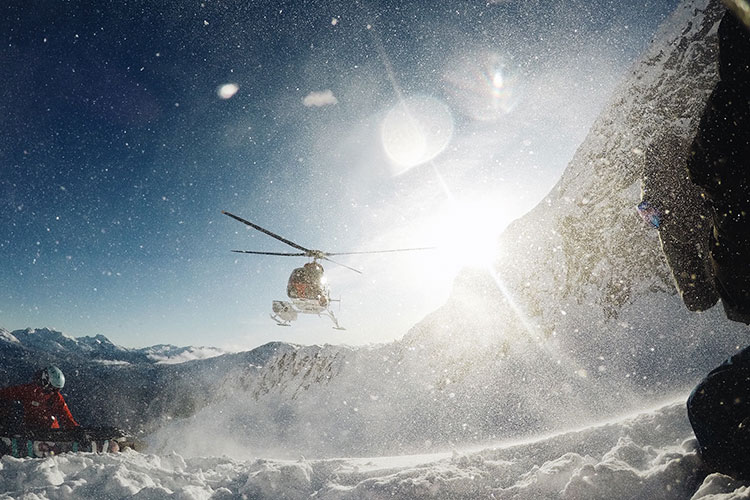 After each helicopter "bump" (pick up and drop off) and before each ski descent, your guide will offer insight as to the line choice ahead and how to ski it. Logistical topics like spacing, timing, speed management and natural hazards are addressed so that all you have to worry about is the feeling of that untracked, fresh snow under your boots.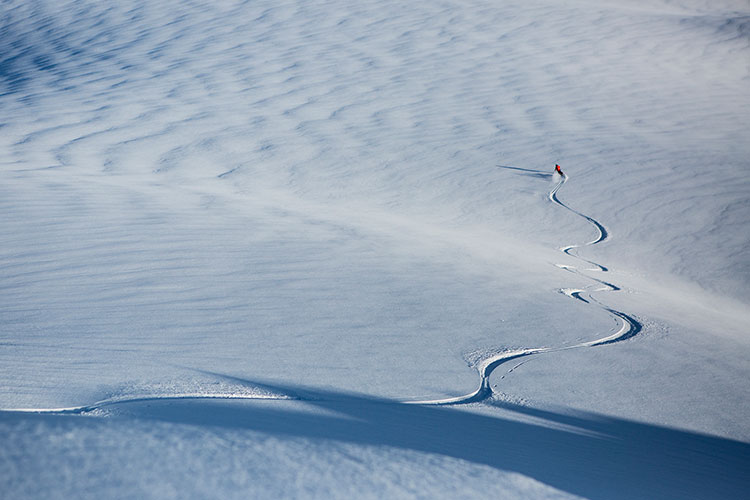 Lap after lap the helicopter soars over volcanic peaks, each time dropping you in a new place. At the end of the day, as you wave goodbye to the previously untracked slopes that are now painted with your turns, you realize you want more – you're addicted. Heli-skiing definitely fuels that yearning for extreme adventure, but there's also a sense of peace that can be found in the remote, vastness of the mountains – a thrill-seeker's perfect match.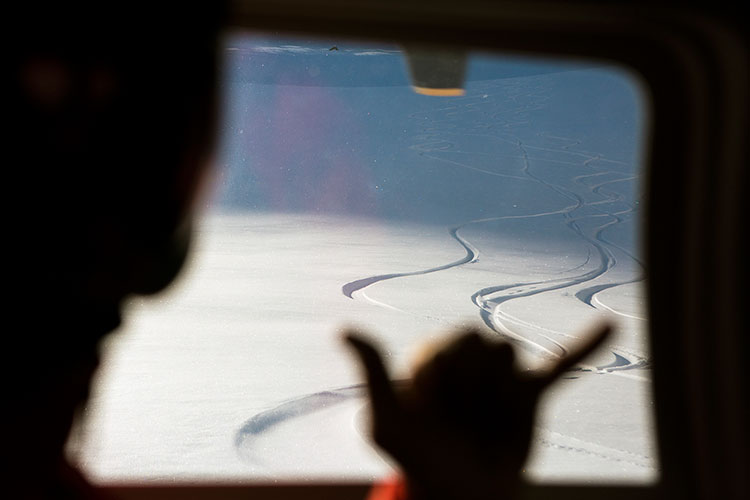 It's not over yet though. Back in Whistler Village at the Garibaldi Lift Co. (GLC for short), you receive a token from your guides for a free drink from the Whistler Heli-Skiing shot ski and a 15% discount off your bill.
Know Before You Go
Before showing up for your day of heli-skiing, here are a few things to keep in mind:
The weather is in charge of your day. Helicopters need good visibility to fly so while your date is locked in, there might be some variance depending on what Mother Nature has in store. When you check-in the day before your heli-skiing trip, you'll be informed of how the weather calls are made and be updated on the status of your day. 

Powder skis and snowboards make a big difference – they help you float on top of the famous powder snow you're seeking. The techs at Whistler Heli-Skiing can help you find the right gear prior to your scheduled day.

Lunch is provided but please refer to your booked package for all details as each package varies.

Bring a reusable water bottle with you and specify any dietary restrictions beforehand. 

Real talk – hungover heli-flights dampen the experience, so be well-rested and hydrated.

Selfie sticks and chest mounts for cameras are not permitted, only head mounts.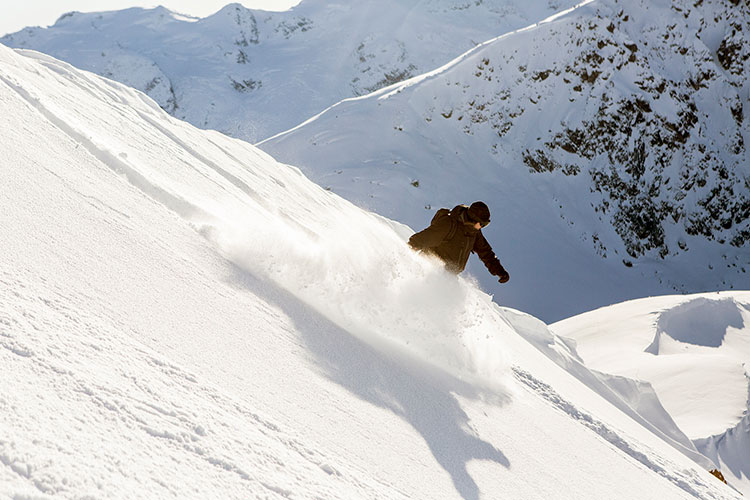 Pro Heli-Skiing Tips
Adopt these best practices to look like a pro:
Check out Avalanche Canada to learn the basics of using avalanche gear before you go to be one step ahead

Whatever you do, don't approach the helicopter before the guide

Never ski or regroup below the guide – they're most likely stopped for a regroup to avoid a hazard or for a specific pick up

Sensitive ears? Bring your own earplugs for the helicopter

Wear a helmet

Keep those skis or snowboard below your waist and get in a crouch position when approaching the helicopter

Gratuitues are not required but are a customary and welcome tradition for mountain guides

Find answers to other frequently asked pre-trip questions here
Whistler Heli-Skiing delivers an endless supply of "that was the best day ever" experiences for both first-timers and heli-skiing veterans alike. You never know, this could start a lifelong addiction with you and fresh, untracked powder. Happy heli-skiing, friends!
To book your own heli-skiing adventure talk to the team at Whistler.com who also know if there are any heli-skiing deals to be had.