When I got the call inviting me on a combination snowmobile tour and steak dinner in a remote alpine cabin, it didn't take me long to say — heck, yes! After my initial excitement wore off, a few small doubts crept in. Would it be cold at night? Would I know how to handle the snowmobile? How do they cook a good steak in the middle of nowhere?
Spoiler alert! It was even more amazing than I had imagined. But, as you might be having similar reservations about this unique dining adventure, I wanted to share my experience with you on the Sproatt Steak Night by Snowmobile.
Getting Geared Up
When our complimentary shuttle from Whistler Village arrived at the Canadian Wilderness Adventure base in the Callaghan Valley, we were immediately taken inside to put on our outdoor gear. While they give you a list of recommended items to wear for warmth, they also stock everything you could need, from boots to jackets, gloves to goggles, to make sure you're toasty warm. After checking that everyone was properly dressed, giving us each a helmet, and dividing us into groups, they took us out to the snowmobiles. Reservation number one covered – I was definitely not cold.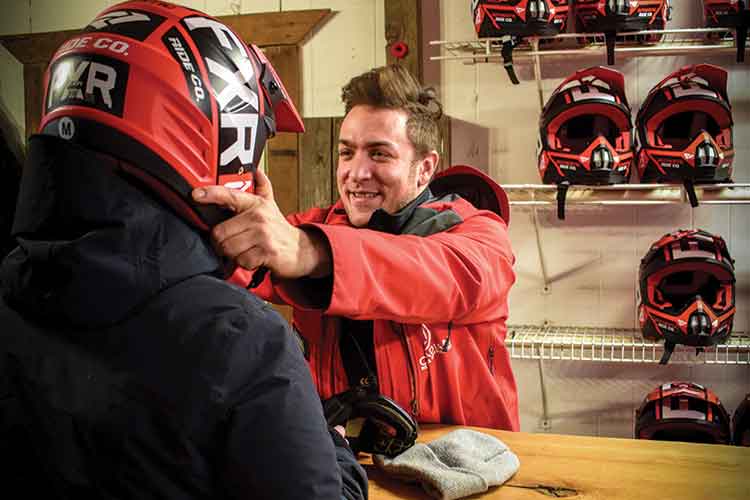 Mastering the Machine: Newbies Welcome
While I have been out on a snowmobile tour before, it has been a while. As I stared at the machine in front of me, I realized I'd completely forgotten everything the previous tour had taught me and I was beginning to feel nervous. With my level of inexperience, I was pretty happy that they took the time to walk through each step of handling the snowmobile. They covered everything from starting it, operating the kill switch, learning to turn, braking and accelerating, to activating the all-important hand warmers – we were well-guided right from the start. Reservation number two thoroughly checked — I could handle the machine.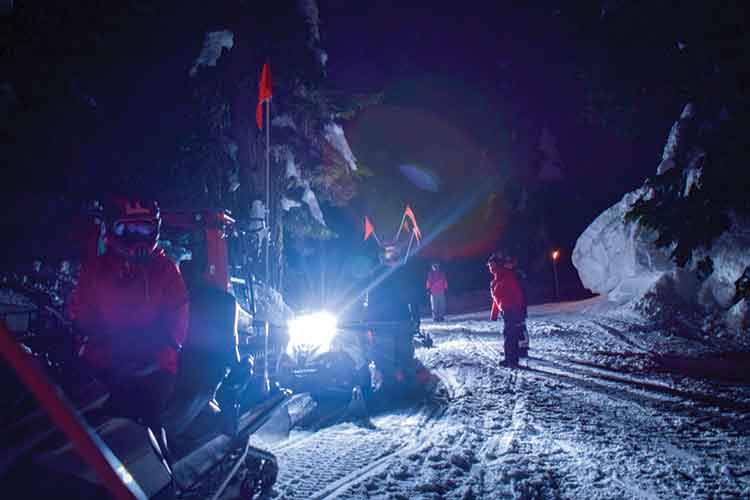 Time to Explore
Once we'd gone through the skills clinic and were comfortable driving, we were off. The tour starts on a wide, groomed trail where we drove out over hills and around corners, getting the feel of the machines beneath us. As much as I love speed, I was pretty happy the snowmobiles were set to a speed-limiting eco-mode. This setting may sound slow, but it was fast enough that I never reached full throttle when driving.
A Cabin in the Woods
After working up an appetite exploring their network of trails, we made our way out to a private log cabin. It was like something out of a fairy tale, perched on the edge of a slope, with wide open views of the starry night sky.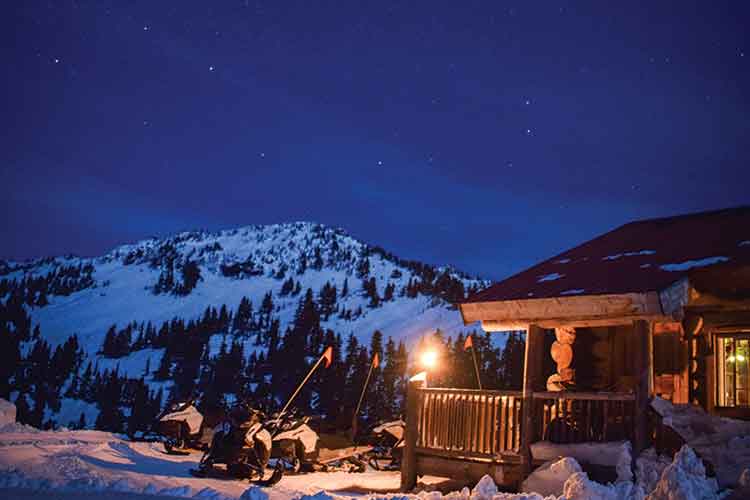 The cabin itself is beautifully rustic, the kind of place where you could imagine snuggling up with a good book. Lit by candlelight and warmed by a fire, it was impossible to not be in a cheery mood when settling down to eat dinner.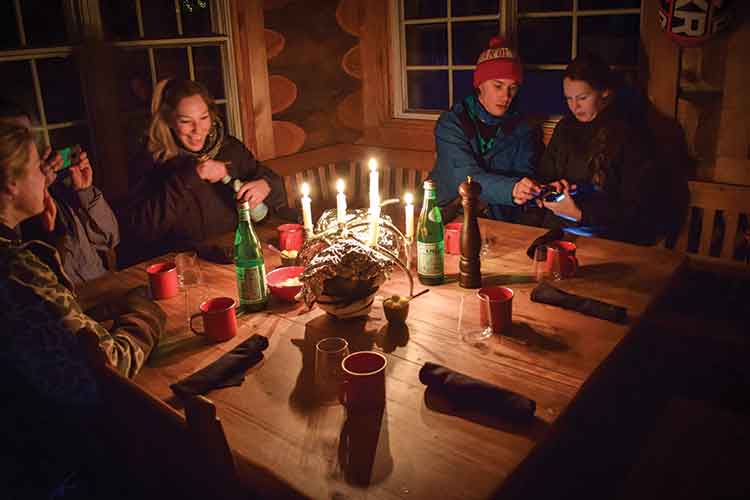 Rustic Premium Dining
You would think that because of its remote location, the food would be fairly basic — but, you'd be wrong. While unpretentious and hearty, the food was delicious. It didn't surprise me when the staff mentioned that their catering partner was the world-famous Bearfoot Bistro.
I was pretty happy that I arrived with a healthy appetite. Our four-course meal was served with hearty portions and plenty of flavour. Clearly the star of the meal was the steak main (note: there is a veggie option), which was cooked to perfection on the on-site grill. Topped off with a delicious, feature dessert, we were all pretty stuffed by the time the meal wrapped up. Reservation number three — smashed.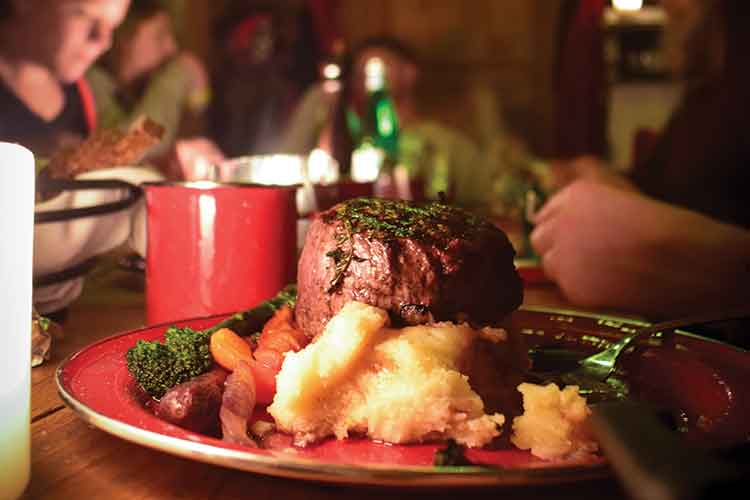 The Team
By far, the thing that really made this snowmobile steak night memorable for me was the Canadian Wilderness Adventure team. From the shuttle drive, when they shared local info about Whistler to entertain us on the drive out, to the incredibly welcoming hospitality we enjoyed during dinner, the whole experience was made perfect by their fantastic team.
It's pretty rare that an experience can not only live up to, but exceed, the high bar of expectations you're sold when booking. I really loved this tour, and would add it to the list of activities I'd recommend to friends and family visiting town.
Booking this snowmobile steak night tour is easy, just visit Whistler.com to reserve this experience, and many other adventures, with ease.