I once told my mom that I never wanted to live anywhere that it wasn't socially acceptable to start work late, or push a meeting because of good snow or surf. She may have laughed at me at the time, but for the last decade I've managed to do just that.
However, learning to ski as an adult, I was initially daunted by powder skiing and took advantage of the widely accepted "30 centimetre rule" less than most. I realized I wasn't alone in being intimidated; skiers and snowboarders of all levels visit Whistler, and for many, it's their first time coming into contact with the main attraction — powder.
Powder is fresh, untouched snow. It coats our Pacific Coastal Mountain Range all winter long, with the heaviest "dumps" happening January to March. You can wake up to an unexpected 30-centimetres of overnight snowfall that has everyone racing to the lifts, or experience all day dumps with white-out conditions.
For the uninitiated, fears about getting stuck, losing your way, or generally being out of your comfort zone, can overshadow the excitement of these coveted days. But thankfully, Whistler is the perfect place to push your boundaries, safely.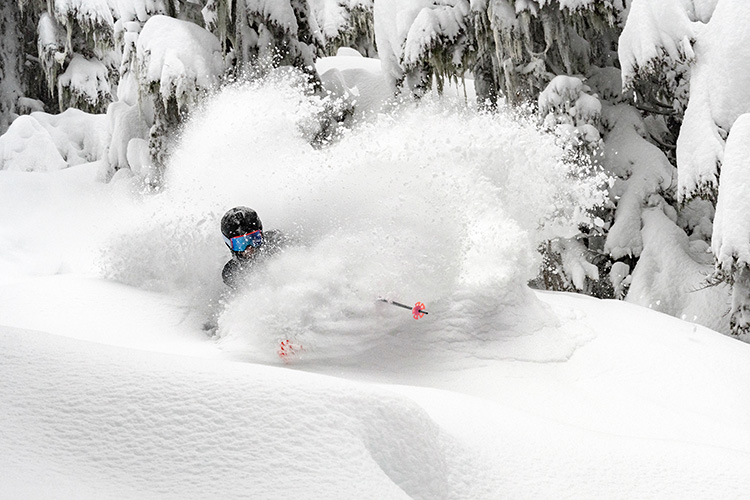 Start with the Right Gear
Condition-appropriate gear can make all the difference, making you feel comfortable and confident. Don't worry if you don't have your own powder set-up, Whistler's rental shops can outfit you with everything you need.
Goggles
Powder conditions often mean low cloud cover which creates flat light. The fog is white, the falling snow is white and the ground beneath you is white — you get it, it's disorientating. But the right goggle lens will help, by using colour to create contrast. Look for a high visible light transition (VLT) percentage when buying.
Skis
Unpacked powder is loose, so to help you stay above it, powder skis are wider at the waist and the tips are raised by a rocker. It's recommended to aim for 110-millimetres wide and above, as the powder in Whistler can have a higher moisture content, which makes it heavier.
Snowboards
Snowboards for powder conditions also have a rocker, and are typically wider at the nose and taper at the back. They can also be a little longer than other styles of boards.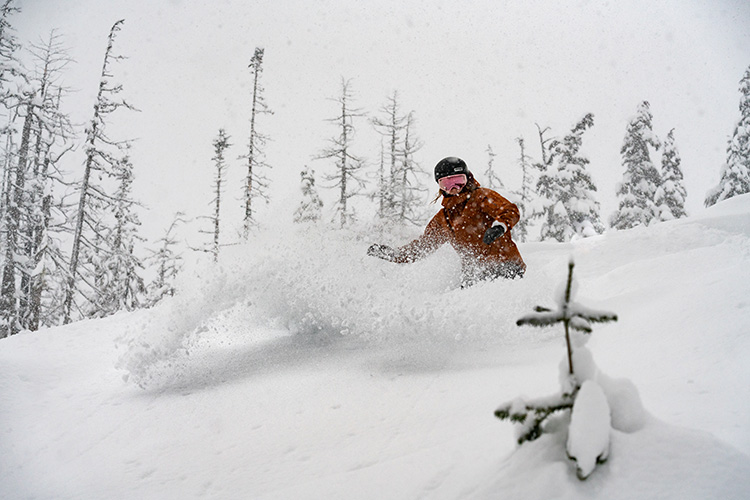 Next, Load up on Advice
If you are visiting Whistler solo, or travelling with people who don't know Whistler Blackcomb well, then booking a lesson for your first or second day is a great idea. Not only will you work on your technique, but you'll have an experienced instructor who can advise you on the best runs to hone your skills and recommend where to go when you're ready to challenge yourself.
Whistler Blackcomb Snow School instructor, Leslie Glaysher, knows the right run can make all the difference. Here's what she suggests.
"Look for a moderate slope, if it is too steep you will feel intimidated and turn away from the fall line."
If you're used to groomed snow, the floating sensation of loose powder can throw you off balance at first. To stay stable, Leslie recommends:
"Look farther down the hill. Try not to look at your skis as you won't see them anyway, they are under all the powder! Looking ahead helps you keep your body stable as you turn your legs to change direction."
Another big factor in staying upright is your body position. She cautions:
"Don't lean back, even if your more experienced pals tell you to. Sitting back makes it really hard to turn and may cause your thighs to spontaneously combust. Stay centred, so that you can turn your feet under your body. I'm serious, your thighs will thank me!"
When I first started skiing powder my biggest fear was getting stuck, it happened every time. The feelings of frustration and helplessness in those moments wasn't something I was rushing to get back to. But, going up with more experienced (and patient) friends cut down on my nerves. They also had great pointers like; face yourself downhill before trying to get up, engage your core, and above all — stay calm.
You're probably going to have to flop around a bit and you don't want to waste energy panicking. So, if you do get stuck take a deep breath, asses your situation and check your outlook. Leslie reminds us:
"Have fun! Yes, you will probably fall and wallow around a bit but you will feel like a kid again playing in the snow. And that's something we should all do more of!"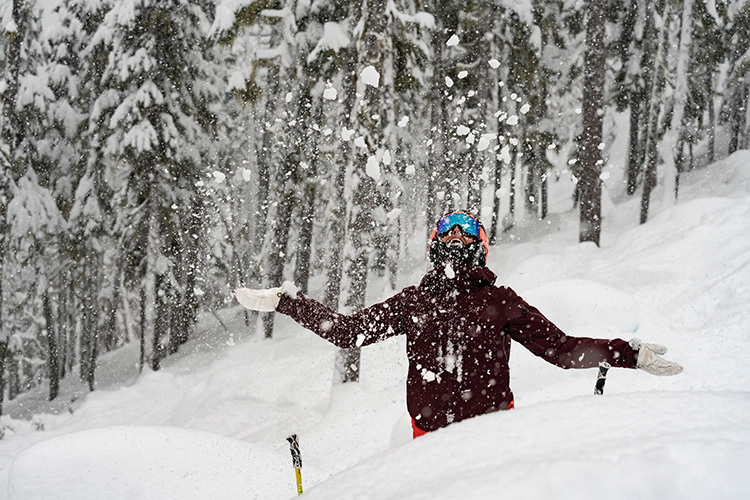 INSIDER TIP:
Stretching (and
conditioning
) before you head up the mountain will help you prevent injury during falls and the Cirque du Soleil like contortions of getting back up.
Of course, the best way to avoid all of that is to not get stuck in the first place! It's most commonly due to loss of speed or improper technique. Leslie advises:
"Keep your upper body facing down the hill and turn with your lower body. A slight bounce will make your skis rise to the surface and when you are light it's easier to turn both legs at the same time in the direction you want to go."
If you are concerned about getting lost in low-visibility conditions make sure you carry a map with you and check out some of the available map apps, like FATMAP, Ullr, and AdventureSmart. It's also a good idea to stay on-piste or close to it, while learning, so you can keep your bearings. Ski with a buddy, and avoid tree wells — one of the major hazards when heading off the slopes. If you do get lost, don't hesitate to flag someone down and ask for a hand, we're all friendly here.
Now, Reap the Rewards!
Why challenge yourself in the first place? Because there's nothing like skiing in powder. The sensation of floating down the side of a mountain is so powerful that whole towns have been constructed to chase it. I promise you, getting out of your groomer or bluebird comfort zone is worth it. Leslie agrees, her final words of wisdom for us are:
"Stay safe, ski with a buddy and enjoy that powder snow!"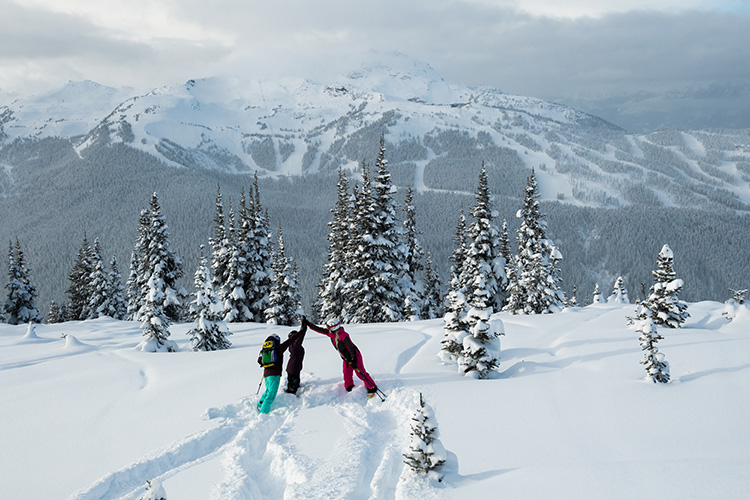 Ready to experience Whistler's famed powder days for yourself? March is actually one of the snowiest months of the year for us up here so there's still time to get your powder on this season. Start planning an unforgettable ski vacation with the team at Whistler.com.