This February 9 and 10 it's going to be all things hockey at Whistler Olympic Plaza, as Rogers Hometown Hockey rolls into town. Hockey is to Canada what football (soccer) is to England, and sumo wrestling is to Japan — it's an intrinsic part of the culture. Although Whistler is known as a ski destination, we do have an arena where teams like the Dallas Stars, Anaheim Ducks, and Vancouver Canucks come to train and play.
Since our arena was built in 1992, our local hockey leagues have taken over the ice with bookings that start at six in the morning and go through to past midnight. This is a town that lives and breathes hockey, and this year we're celebrating it in style with Rogers Hometown Hockey hosting a live Sportsnet broadcast of the Toronto Maple Leafs taking on the New York Rangers, on Sunday, February 10 at 3:30 PM in Whistler Olympic Plaza.
This is in tandem with a whole weekend of hockey-inspired activities like a ball rink, hockey circus show, live music, food stalls, and National Hockey League (NHL) alumni appearances. A parade of champions will also make its way down the Village Stroll from Skier's Plaza to Whistler Olympic Plaza at 3 PM on Sunday, with children and players from local sports clubs, along with special games being hosted at Meadow Park Sports Centre throughout the weekend.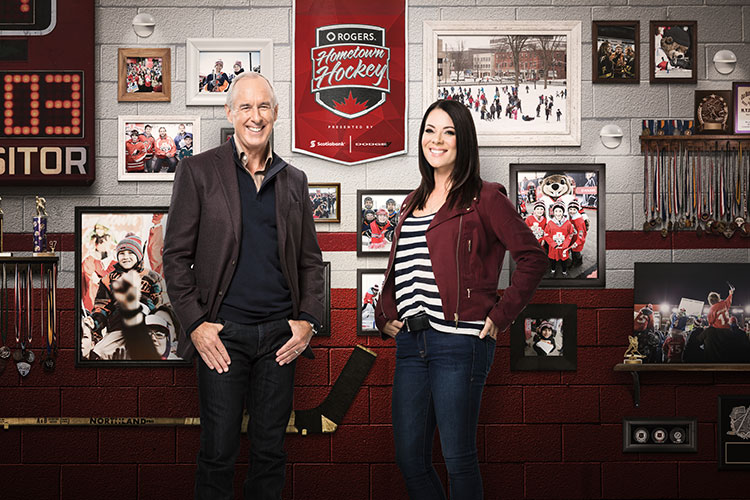 Whistler is a hub for family-friendly events and activities year-round, so it's only fitting that it hosts Rogers Hometown Hockey. A frozen lake is a good enough excuse to drop the puck in Whistler, and a visit to Whistler's community ice rink at Meadow Park Sports Centre at any time of the year shows the love of hockey in our town. I encourage everyone to come out and experience the excitement and energy when Rogers Hometown Hockey comes to Whistler. — Mayor Jack Crompton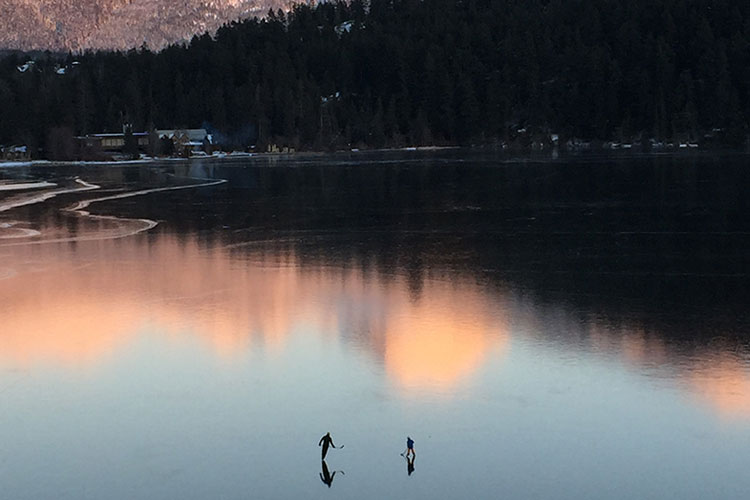 For our non-Canadian readers who weren't born with ice skates on their feet, here are the basics you need to know to enjoy the action on the ice.
Hockey 101
The point of the game is to score as many goals as possible by putting a "puck" (a rubber disc, 1 x 3 inches) in the opposition's net using aluminium or carbon fibre sticks to pass it between players.
There are six players on the ice during a game — three forwards (a centre and two wingers), two defense players, and a goaltender.
Games are 60-minutes long and split into three, 20-minute periods. If the score is tied at the end, the game goes to a five-minute overtime, with just three players on the ice plus the goalie, where the first goal wins — this is called "sudden death." If no one scores during those five minutes then it goes to a shootout until a winner is determined.
Each play begins with a faceoff (a battle for the puck between two players).
The Rink
NHL games are played on rinks that are 200 feet long by 85 feet wide.
A centre-ice red line divides the rink in half, and the blue lines show each team's defensive zones. When an opposing player enters the defensive zone of a team, they're now in the offensive zone. The area between the defensive zones is called the neutral zone. It's important to know these areas for the offside rule.
There's a red goal line at each end of the rink, and if the puck passes over that and into the net, a goal is scored.
The goaltender has a specific area they're allowed to move in around the net (called the crease), and they can be penalized if they play outside of this zone.
Penalties
There are four officials who control the game — two referees (who give out penalties) and two linesmen (who watch for icing and offside). Standard penalties last for two minutes, where a player has to leave the ice and sit in the penalty box. While they're in there, the opposing team enjoy a "power play." What are penalties given for?
Hitting a player from behind, elbowing and fighting.
Stick fouls like slashing, spearing, hooking, holding, tripping, cross-checking (holding the stick in two hands) and high-sticking (contact with a stick on another player above the shoulders).
Other reasons such as delaying of the game, too many players on the ice, and unsportsmanlike conduct (this can escalate to a 10-minute time out in the box).
Offside and Icing
Offside – when a player enters the offensive zone before the puck gets there — they're essentially ahead of the play. The puck has to be the first thing to enter the opposing team's offensive zone; if a player is already in that zone they are offside. A faceoff in the neutral zone happens to resume play.
Icing is when an attacking player shoots the puck from their own side of the centre line across the opposing goal line untouched, or if a defender gets to it first after it's crossed the centre line. However, if the puck goes into the net it's a goal, not icing. A faceoff then happens to resume play from the offending player's defensive zone.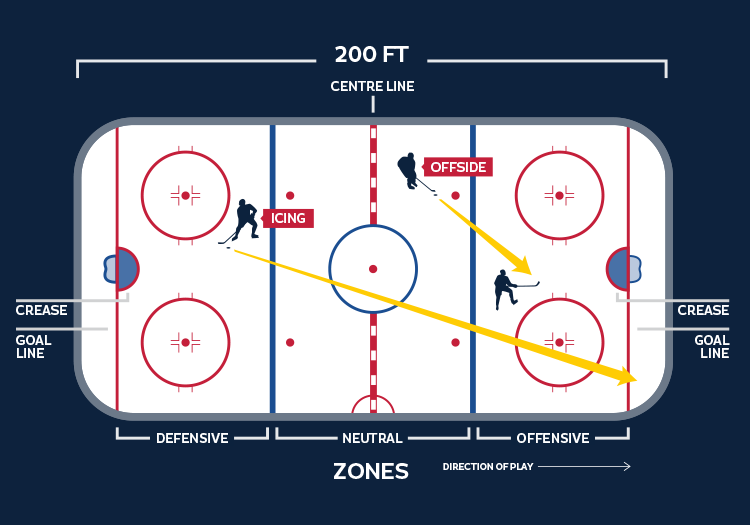 National Hockey League 101
There are currently 31 teams in the NHL, seven are from Canada and 24 from the US.
These are divided into two conferences — Eastern and Western.
Within these two conferences are two divisions. The Eastern Conference has Atlantic and Metropolitan divisions making up 16 teams, and the Western Conference includes the Pacific and Central divisions, which make up 15 teams.
These teams will compete for one of the 16 spots in the playoffs.
Each team will play 82 games in a season, half at home and half away.
It's a point-based system, with a win giving a team two points and one for overtime or a shootout loss.
The playoff champion is awarded the Stanley Cup — the oldest professional sports trophy in North America.
Hockey Lingo
Giv'r!! — Giv'r means "do your best."
Tic-Tac-Toe — Used to describe 2-3 quick passes that result in a shot on the goalie, or a goal.
Breakaway — When a player with the puck rushes in on the goalie 1 on 1.
Cherry Picker — A player who lingers near the centre area hoping for a breakaway pass rather than rushing back into his zone to help with defense — Cherry Pickers are also known as floaters.
Robbed — When a goalie makes a save that maybe should have been a goal, it's said that he "robbed" the player.
Whistler's Hockey History
Before Whistler had its own rink, avid players would venture down the highway to Squamish to get a game in. After winning the league 10 years in a row, Squamish got a bit sick of Whistler teams and the Resort Municipality of Whistler (RMOW) decided it was time to build their own. That winter, the Director of Parks and Recreation at the RMOW, Bill Barratt, hurt his knee while skiing. A trip to UBC's Sports Medicine Department put him in touch with the orthopedic surgeon for the Vancouver Canucks. When Bill mentioned he was helping to build a hockey rink in Whistler, he put him in touch with Stan Smyl, a legendary Canucks player who was running hockey schools. This crazy twist of fate led to Bill being toured around the Canuck's stadium and set in motion plans for the Whistler rink that would lead us to hosting the Team Canada 1996 training camp.
A member of the Whistler Winter Hawks, Bill wanted to make sure that the rink was designed for and by hockey players. He chose an architect who was also a hockey player, and they consulted with other players and rink managers. The outcome are six-foot hallways where two players can fit side-by-side with their gear, five-foot door ways they can fit through, deep sinks for filling water bottles, stand storage for all the gear, a training room, industrial washer and dryer, and a large space for the Zamboni to be fixed and maintained in-house. It's these touches that sets the Whistler rink apart, bringing in world-class teams who love the arena but also the amenities of the resort — golf after practice anyone?
After we built the arena Whistler became more of a community. It's a gathering place where all are welcome. Facilities like this are part of a healthy community and I can't wait to see our first born, bred, and trained NHL player come from Whistler in the near future. — Bill Barrat
If you fancy a skate while you're here, or watching a game, head to Meadow Park Sports Centre and take a seat in the bleachers. You could be watching kids, juniors, women, men, or the old-timers league, but someone will likely be on the ice with a stick in hand.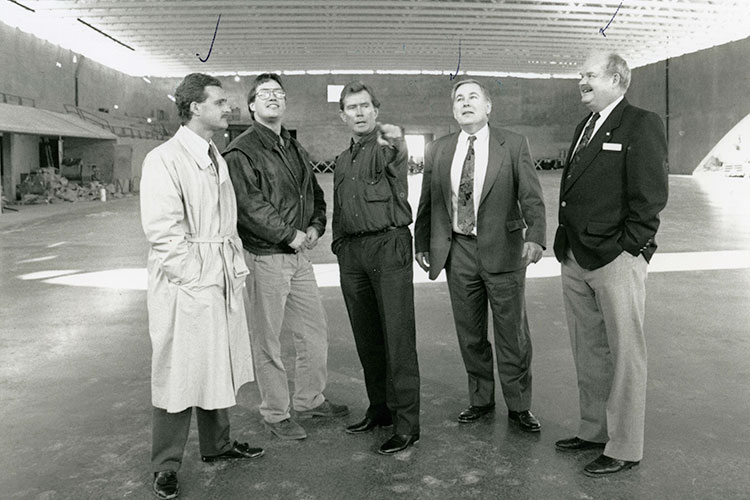 Like Bill said, hockey is about community and we invite you to join ours this February 9 & 10 and throughout the season. For more details on Rogers Hometown Hockey visit Whistler.com.