Header/title image by Reuben Krabbe for Finding the Line.
Fear. Unless you're insane, it's a very natural and necessary part of life in the mountains. Fear can keep us alive and finding a way to understand and either overcome or bow to our fears is where much of the adventure lies.
When professional skiers/sisters Anna and Natalie Segal realized they had very different perspectives on fear, they decided to explore each others' approach to fear by making a film. The result, a feature-length documentary called Finding the Line has its world premiere in Whistler on January 20, 2018.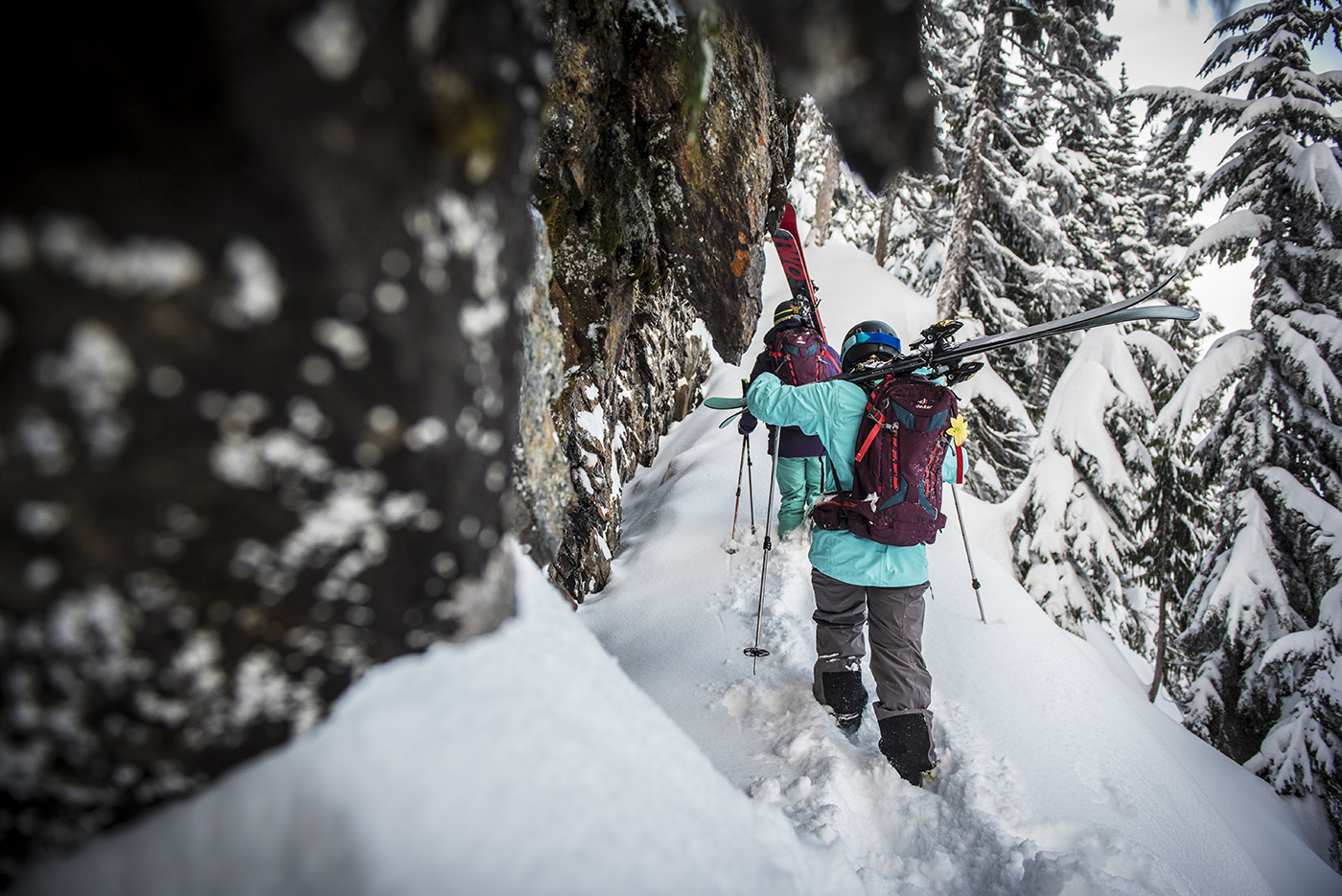 "Nat is a big mountain skier who's been on the world tour and done a bunch of expeditions," explains Anna Segal, a competitive slopestyle skier currently based out of Whistler. "Her approach to fear is to listen to it too much and she feels that has held her back over the years. And my instincts are to ignore fear altogether and send it too hard. Because of this I've been injured most of my ski career."
While exploring their almost opposing views on fear and the balance between comfort and risk, Finding the Line follows Anna and Nat deep into BC's Coast Mountains, the French Alps and the towering peaks of Alaska. "We knew right away we didn't want to make a ski movie about two middle-class white sisters who love skiing," explains Nat, who spends most of her time in Chamonix, France. "So we went on a backpacking trip back home in Australia and mapped out what we wanted to create and contribute to the world. We had a huge fight and realized we were afraid of a lot of things in our lives…that is how the idea really took form. That fight took us deep."
Pulling off a feature documentary shot in the big mountains of three continents proved challenging, even with Nat's experience as co-producer on Shifting Ice + Changing Tides, a film about a ski-and-sail expedition to Greenland.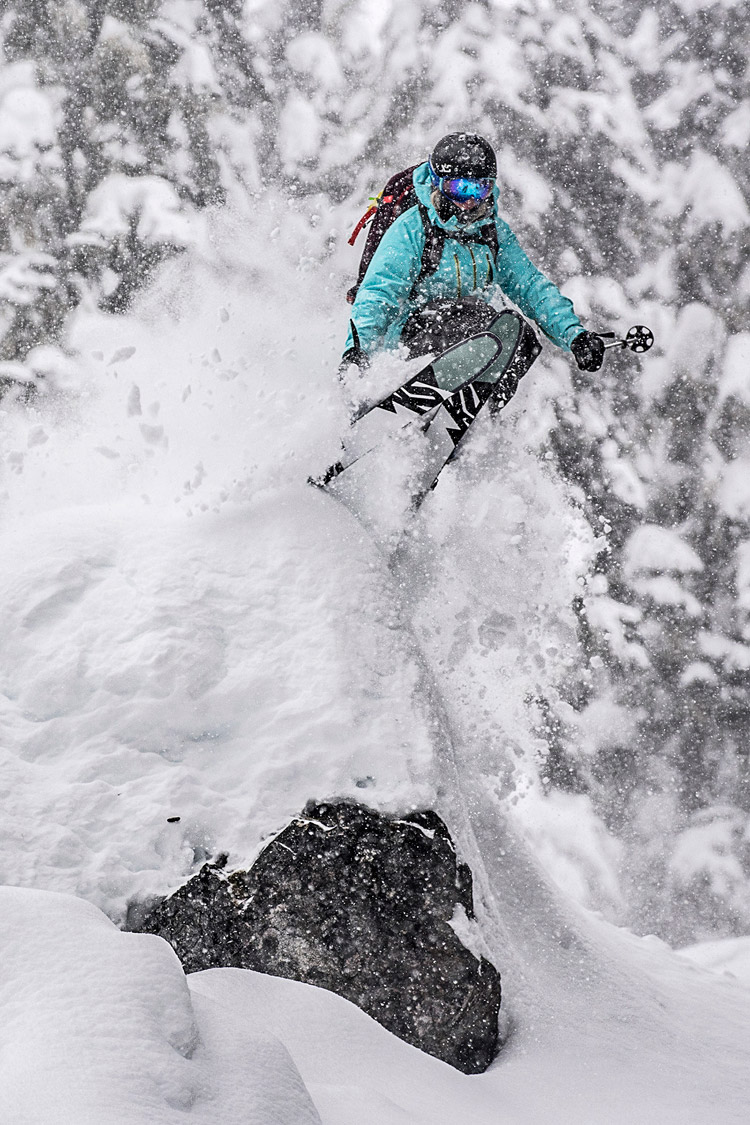 "We bit off more than we could chew," Anna says, "And then we sat there trying to chew it. The film definitely morphed because with a true documentary you can't control what happens, you have to document what happens and try to make it as relatable as possible."
Finding the Line also features some of the top mountain people in the world. Legendary ski mountaineer Greg Hill co-stars to pass along insight and wisdom. As does Internation Federation of Mountain Guides Association (IFMGA) guide Morgan Salén, IFMGA Aspirant guide Giulia Monego, and 2017 Freeski World Tour Champ Lorraine Huber. Each provides their own perspective on fear, risk and reward in the mountains.
"There are a lot of accomplished ski guides and mountain people in the film," Anna explains, adding that they also interviewed esteemed sports psychologist and professor Barbara Meyer, Whistler Search & Rescue master Brad Sills, freeski legend Seth Morrison and recently crowned "Favourite Whistlerite" Mike Douglas.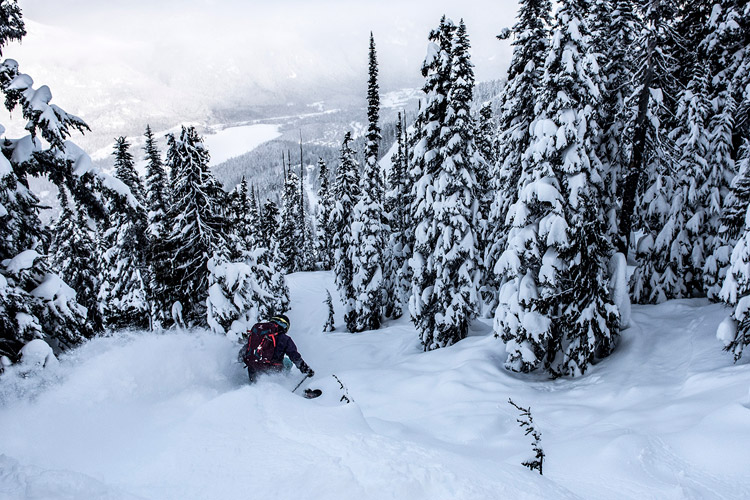 "I think it's a film that a lot of women and men can relate to," says Anna. "Fear is a universal human emotion and one of the things I learned making this film is that I set out thinking my biggest fears were physical harm—injury or dying in an avalanche—but we dove deeper. I found out my biggest fears were more social—failure, judgement –and these are things anyone can relate to, not just skiers or athletes. Once we started to define our fears….it was a can of worms."
The World Premier of Finding the Line takes place January 20, 2018 at Whistler's Maury Young Arts Centre – tickets here. January 20 is also International Women's Ski and Snowboard Day, so Anna and Nat have a morning yoga session planned. After yoga there is a planned International Women's Ski & Snowboard Day ride on the mountains a ski day followed by the Film and an afterparty at Garfinkels hosted by Gibbons Aprés Lager. For more details see the Finding the Line website.
Finding The Line Trailer from Finding the Line Film on Vimeo.