Update July 2020:  Some BC Parks, including Garibaldi Provincial Park (where Garabaldi Lake is) and the Stawamus Chief Park, currently require
Day Use passes
. Passes are free and can be reserved online beginning at 6 AM on the day of your visit.
It seems that anyone with an Instagram account this summer is hunting for a breathtaking turquoise lake to pose in front of – and why wouldn't they? Comparable to waterfalls, they are the stage for stunning mountain views, an incredible connection to nature and for the brave, a refreshing dip. These unique natural beauties are appreciated by nature enthusiasts worldwide. Lucky for us, British Columbia is peppered in turquoise gems and Garibaldi Lake is a 5-carat diamond.
Fun fact: Ever wonder what gives lakes their bright blue colour? In the case of Garibaldi Lake, the glaciers surrounding the lake (Sphinx Glacier and Sentinel Glacier) are eroding, this creates 'rock flour', which ends up suspended in the water. This rock flour refracts the light in a certain way, creating that sought-after aqua-marine sheen.
Hike to Garibaldi Lake

9km | ~ 2.5 – 3.5 hours | Elevation Gain: 900m
The shortest way of getting to the base of the lake is from the Rubble Creek parking lot, a short drive south of Whistler. During the summer (especially on weekends) this parking lot fills up quickly. Take a page from the rooster's book and get there early to secure a spot. From the parking lot, you'll meander on a clean, well built trail through a beautiful forest with tall trees. It won't take long for you to reach switchback city and up, up and away you'll go for 6 kms. Breaks, snacks and water are key ingredients during this time.
Once you reach around the 6 km mark, the trail starts to level out and you will come across The Barrier look out. This spot looks out towards the Squamish area and you'll see The Barrier, a cliff created from a landslide in 1885. Behind this 300m thick rock wall lays Garibaldi Lake. It is rumored that if The Barrier were to collapse, the flood of water from the lake would significantly damage Squamish and the wave could even reach Vancouver Island.
Continue walking, following the trail markers towards Garibaldi Lake Campground for another 3 kms. This section of the trail is fairly flat but gets slightly more technical so keep your eyes out for roots and rocks performing as tripping hazards.
You'll walk around two smaller lakes and then start to descend down towards your destination with motivation boosting peek-a-boo views of the teal water you seek. The trail opens up onto a beautiful view of Garibaldi Lake and its backdrop, Castle Towers Mountain. Here provides one of many great photo opps with a boardwalk along the right side of the lake, pictured below.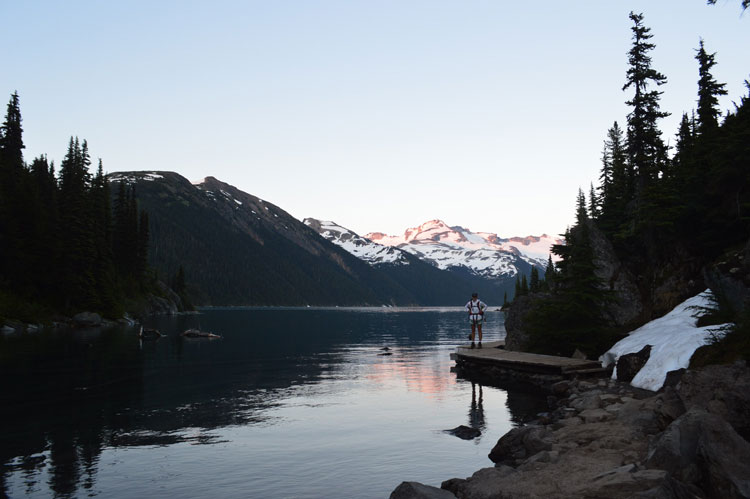 Camping around Garibaldi Lake
Continue along the trail, which will bring you into the Garibaldi Lake Campground (to camp here, reservations are required and can be made on the BC Parks Reservation Service Website. The summer months are busy here, so make sure to lock in your reservation nice and early.)
There are a few options for sites to pitch your tent within the park and depending on your objectives, check to see which one would fit your needs. In addition to Garibaldi Lake Campground, there are two more campsites – Taylor Meadows and Helm Creek. These campsites also require reservations, which can be made on the BC Parks Reservation Service Website. The summer months tend to be quite busy, so lock in your reservation ahead of time to avoid any disappointment.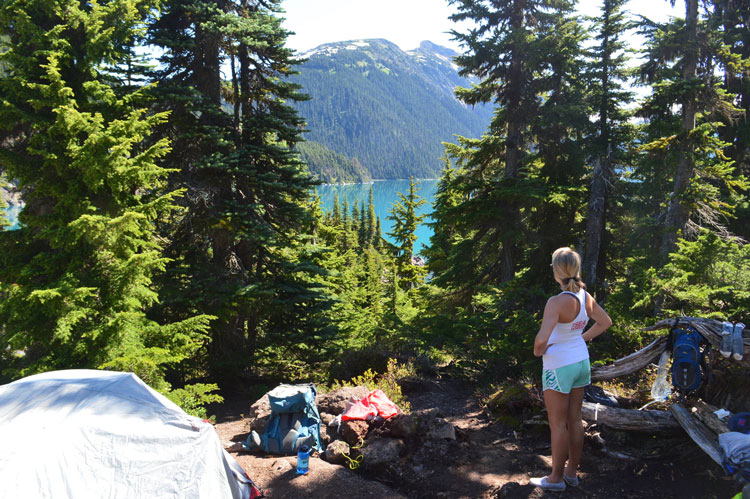 Hiking Beyond Garibaldi Lake

Black Tusk
If you're slogging this hike in one day, you may want to take the slightly shorter route through Taylor Meadows. About 2 km from either Garibaldi Lake or Taylor Meadows campground, you will encounter a map board and a trail junction, off to the left is the trail head to Black Tusk. A steady uphill 3.5 km climb through creeks and gorgeous alpine wildflowers brings you up another 285 m where you'll get up close and personal with the renowned tusk.
Along the trail, you get sights of Garibaldi Lake and the back side of Panorama Ridge. Once at the viewpoint, you'll get jaw dropping views of Garibaldi Lake and the surrounding mountain peaks.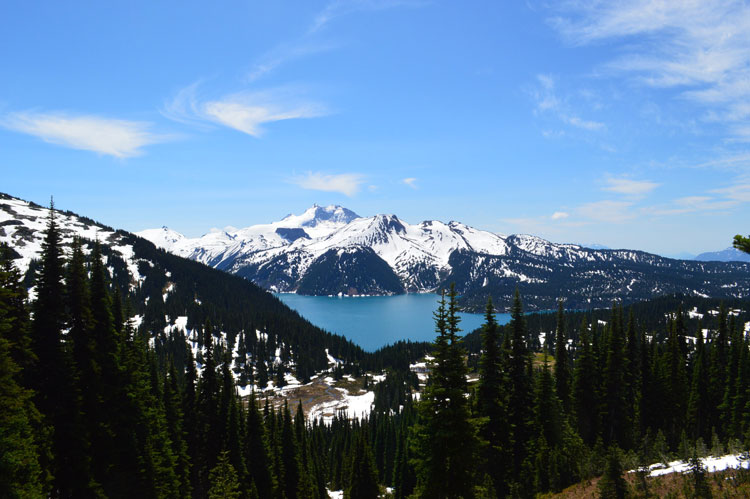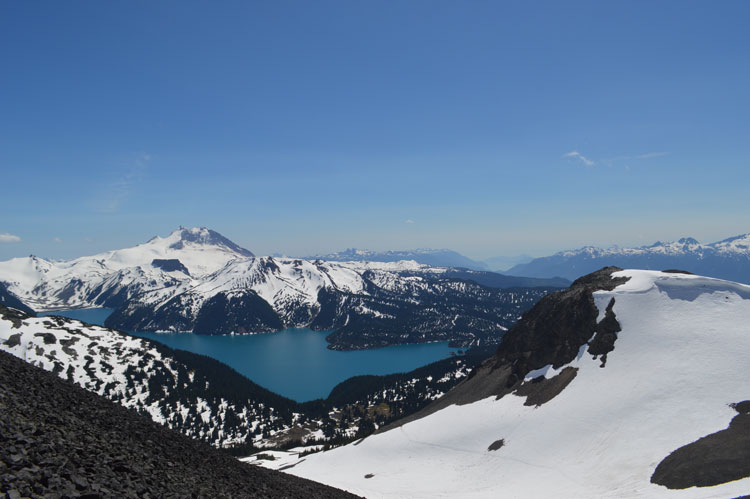 Be sure to wear the appropriate footwear and step with care as there are some small loose rocks towards the top of this hike. Black Tusk is best hiked in late July to early September due to the elevation. Expect some snow if you're planning on going any earlier.
Panorama Ridge
This (literally) breathtaking hike is among the most rewarding within the Garibaldi Provincial Park. Totaling a 30 km round trip, it makes for an ambitious day hike. Take note of the campgrounds above and consider breaking it up into a two or three-day trip to allow time to enjoy the views along the way. At the same map board mentioned above, about 2 km from Garibaldi Lake or Taylor Meadows Campground, you'll continue straight along a mellow, well beaten path for about 2.2 km. Little elevation gain is achieved here but you will cross a few creeks and get some wonderful open valley views, if you've timed it right, complete with alpine wildflowers. Once you've passed two small, not very impressive pools, you'll hike into and across the valley where a steep 2.6 km, 300 m elevation climb begins. Don't forget to stop and look behind you as the entire way up, you'll get a unique view of Black Tusk.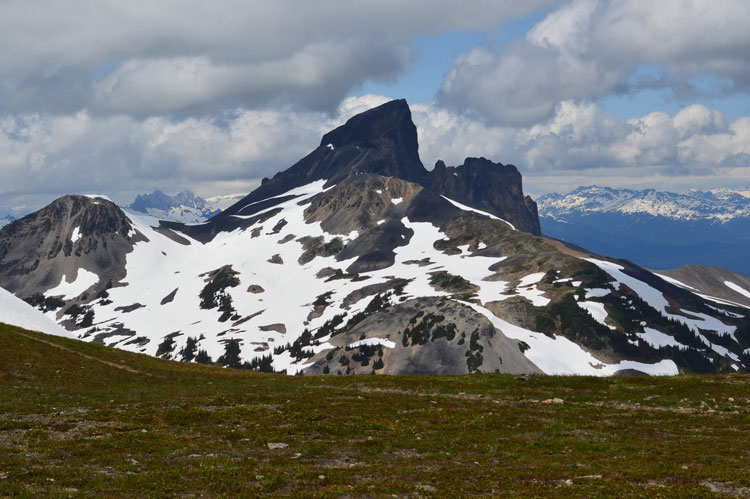 The best is saved until last with this hike, as you don't even get a peek of Garibaldi Lake until you've reached the top. Once you summit, you're rewarded with a 360 degree jaw dropping view of the entire lake. Leave some time to recover and bask in the glory, because you won't want to leave this spot any time soon.
Panorama Ridge is best hiked in late July to early September due to the elevation. Expect some snow if you're planning on going any earlier.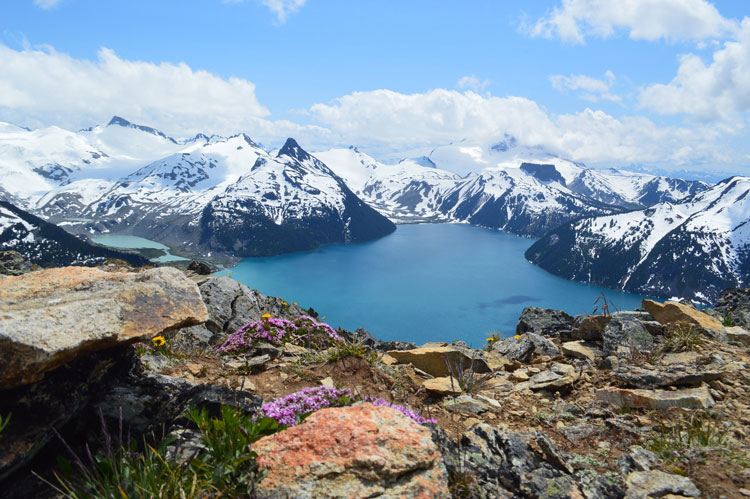 We're heading towards mid September, so now is the time to get out and hike before the snow flies. For more assistance with hiking, biking and all other outdoor adventures – visit Whistler.com.