Editor's note: Sadly, the Writers Adventure Camp no longer exists in Whistler. That said, there are workshops aplenty at the annual Whistler Writers Festival, as well as author talks and more.
Guest Author: Erin Steel
Shimmering Alta Lake. Snow-capped mountains. The quaintest lakeside lodge. A couple of people sitting on the edge of the dock with their feet dangling in the water. A writer with her notebook, sitting at a picnic table, enjoying the late afternoon sun. I'll never forget my arrival at the first ever Writers Adventure Camp (WAC) at The Point on the shore of Whistler's stunning Alta Lake in June of 2015.
Camp director and award- winning Vancouver author, Zsuzsi Gartner, greeted me with the warmest smile, introduced me to the other writers, and gave me an old-school camping badge with the WAC logo.  That's when I knew this was going to be the best weekend ever! And that I would return.
Zsuzsi upped her game the following year by making special merit badges for the campers to earn. First person to read a poem at the Fireside Poetry Bash got a special badge.  First person to sign up for the Cabaret got a badge. First to go canoeing got a badge.  Soon these mostly introverted writers, who came from all over Canada, who rarely seek attention and who were mildly sporty, were trying to outdo each other to snag a much-coveted WAC camping badge. It was a hoot!
That's the genius of the Writers Adventure Camp, returning to The Point from May 31 to June 4,  2017. It was the fun, laid-back environment that allowed me to relax, disconnect from the outside world, and immerse myself in the craft of writing with a group of people who share the same passion.  Despite being a bit nervous the first year, I found the other campers to be as engaging and inspiring as the instructors.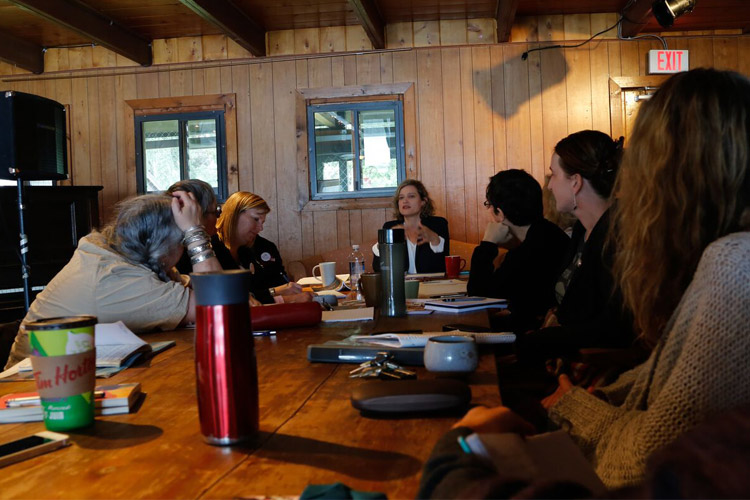 And the instructors are top-notch. I learned from the best of the best in Canada. Zsuzsi's workshop on point-of-view permanently altered, in the most positive way, how I read and write fiction.  Two-time Giller-nominated author Heather O'Neill taught me, among other things, how to treat setting as a character just as she does in her novels, which are all an homage to Montreal.  Comedian Charles Demers regaled our group with the elements of comedy and did his best to teach me how to structure a joke. (Who knew jokes had structure?) And poet Elizabeth Bachinsky showed me how to pluck meaning from the everyday and mould it into poetry.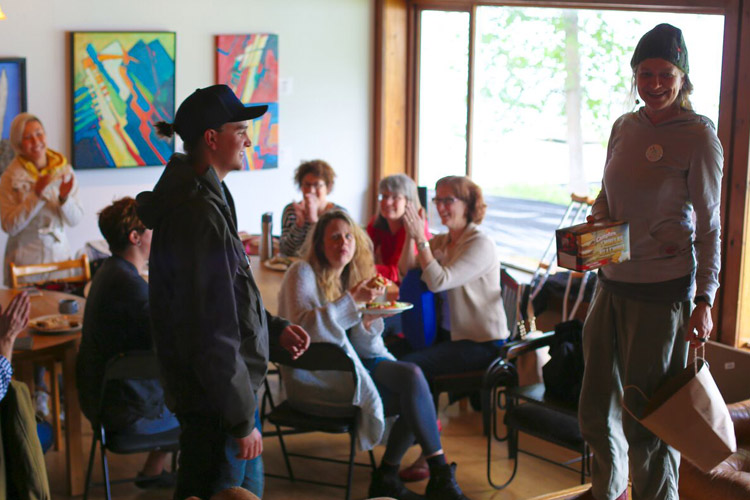 I left those workshops with a toolbox that I'm still using.  And this year's participants can expect the same from the 2017 faculty, which includes: Yasuko Thanh, fiction; Carmen Aguirre, memoir; Dennis Foon, scriptwriting; Shelley Youngblut, artisanal self-publishing; Matt Turner, digital storytelling; Susin Nielsen; YA fiction. The camp's multidisciplinary format allows writers to focus on their chosen genre, as well as explore a couple of new ones and learn new skills.  My preferred genre is fiction but Elizabeth Bachinsky's poetry workshop was like being struck by lightning. I've written many poems since and have included some poetic characteristics in my short stories.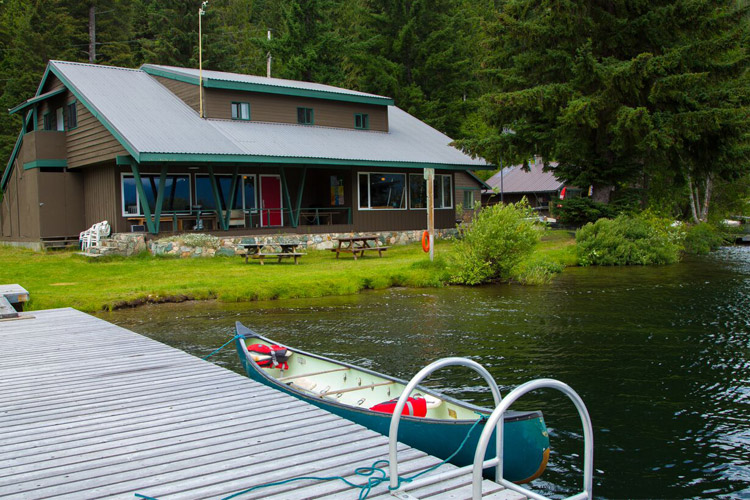 The camp is held at The Point Artist-Run Centre (PARC), an old-fashioned, circa-1960s former fishing lodge, where delicious homemade lunches are served alongside spectacular lake and mountain views. PARC was formed in 2009 by a diverse group of Whistler artists who saw a need for a creative space to incubate artistic activity. The Municipality of Whistler rents the lodge to PARC to support this endeavour.
The Point's artistic director is writer Stephen Vogler, who also does double duty as a musician at the WAC Cabaret where campers are given the opportunity to read their work alongside the headliners,  if they so choose. Last year we were treated to readings by Heather O'Neill and BC writer Erin MacNair, winner of the first WAC writing contest, and Charles Demers' side-splitting comedy.  The show was rounded out by some fantastic local musicians.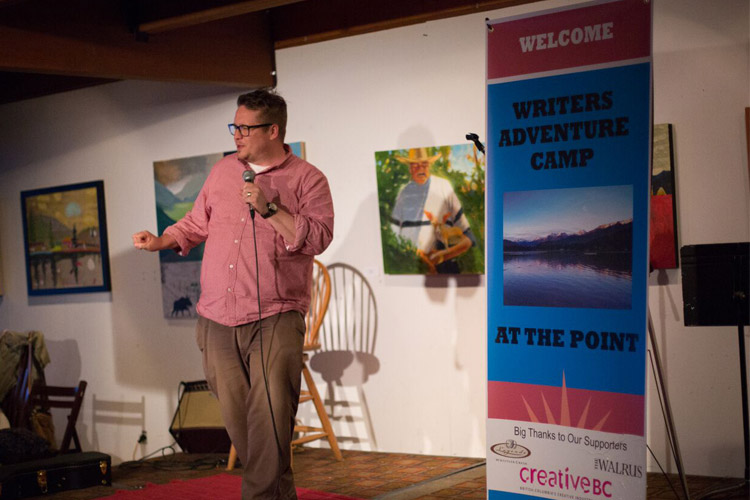 A few months ago as I was re-organizing a drawer at home in Calgary, I found my Writers Adventure Camp badges. I pinned them to the bulletin board above my writing desk for inspiration and as a reminder that I'm now part of a larger community of writers. I also reread the notes I took during the workshops and started a new story.
About The Author
Erin Steel will begin her MFA in Creative Writing at the University of BC in 2017. She also has degrees in education and political science.  She has worked in television news and production, and as a K-12 teacher. She grew up in Coquitlam, BC and currently resides in Calgary, Alberta, Canada.
Spaces to the Writers Adventure Camp are filling up fast, so register today to ensure your place on the dock this spring. Can't make the camp, but love your words? Consider a trip to Whistler for the Whistler Writers Festival in fall. For more on arts and culture in Whistler, visit Whistler.com.