Arts Whistler has kindly let us share these fantastic videos introducing Whistler artists – you can see the original Backdrop Sessions post on The Gallery at the Arts Centre website.
Vincent Massey
The Gallery at Millennium Place chats with Whistler stoneware and pottery artist Vincent Massey.
With his roots in Whistler's 60s ski bum history, Vincent Massey has grown into a popular stoneware craftsman and potter. A look inside his charming studio reveals how devoted Vincent is to both his craft and the Whistler arts community, continuing to give back through mentorship. Drawing inspiration from cherished pieces, Vincent continuously tries new things to generate the one-of-a-kind works he is known for. His high quality stoneware and pottery can be found in the Mountain Galleries at the Fairmont Whistler.

Watch the other videos here:
Baz Carolan, graphic artist | Linda Davies, lampwork artist
Baz ONE
The outdoors may be Whistler's claim to fame but that doesn't mean there isn't a lot going on in the arts and culture scene. Naturally, you'd expect the artists here to be inspired by the impressive landscapes, painting their days away with nature scenes. But not Baz Carolan, he's broken free from the beaten path.
The Gallery at Millennium Place chats with Whistler visual artist Baz Carolan. VIDEOGRAPHER Ryan Regehr
Baz's work may be heavily influenced by his native Ireland's graffiti scene but it is the Whistler arts community that has helped him thrive. Starting with a solo show at the Crystal Gallery last year, he has since gone on to make the most out of any opportunity Whistler throws at him – this guy is putting his work out there and it's getting his name known. We can't wait to see what Baz does next!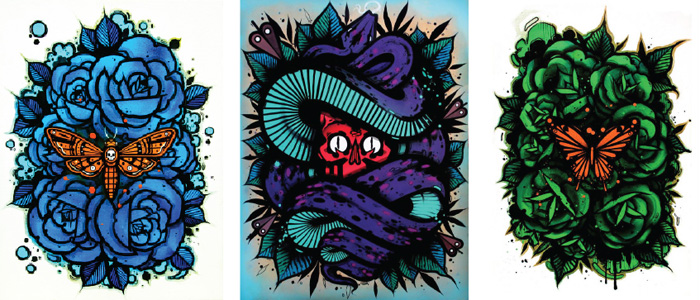 BAZ ONE's work in his signature bold and colourful style
Linda Davies
The Gallery at Millennium Place chats with Whistler lampwork artist Linda Davies.
A Whistler resident since 1997, Linda Davies works magic with glass, colour and light. Taking inspiration from the view outside her Whistler studio she crafts delicate lampwork glass beads and jewellery with no two pieces the same. Take a peek inside her studio in the second video from the Arts Whistler Backdrop Sessions series, and keep an eye out for Linda at the 2016 Whistler Farmers' Markets.

Cheryl Massey
The Gallery at Millennium Place chats with Whistler artist Cheryl Massey.
Cheryl Massey's modeling career took her all over the world but in the end it was Whistler she decided to call home. Her love for and experience skiing made the move an easy decision and saw her through a stint in snow school. Years later she started working with natural materials and found a passion for weaving's rich history and connection to time and nature. Now she transforms anything from red cedar bark to kelp into beautiful and unique baskets, hats, wall hangings and more in her cozy Whistler studio.

Denise Hughes
The Gallery at Millennium Place chats with Whistler artist Denise Hughes.
Used to working with her hands as a chef, Denise naturally made the transition to pottery. Originally self-taught, her style formed with emphasis on creating practical pieces with a strong visual aesthetic, growth made possible with an apprenticeship with Whistler potter Vincent Massey. Denise draws her inspiration from BC's natural beauty, making Whistler the perfect place to call home. A true artist, she has been working with clay for 16 years and is still fulfilled by her craft, finding joy every time she enters the studio. You can find Denise's work on her website, at the Foyer Gallery and Mountain Decor in Whistler.
Heidi Denessen
Artist Heidi Denessen doesn't remember a time when she wasn't creating. A mixed media artist, she makes masterpieces on canvas and fabric transforming the later into apparel that embodies the Whistler spirit. She embraces natural and recycled materials for her locally and ethically made clothing line. A savvy artist who has built her own business around her creativity, Heidi's art is available at local markets, her online shop, the Audain Art Museum and the Gift Shop at the Maury Young Arts Centre.
Andrea Mueller
If you've spent any time cruising around the village you've likely come across artist Andrea Mueller's vibrant paintings punching up the atmosphere in coffee shops and galleries. Her work speaks to many through it's exploration of connection- between us, animals, memory, the environment and other themes. Not one to settle, she has an experimental attitude towards her work, trying new mediums and breaking all the rules like painting with fingers. If you want to have as much fun creating as Andrea does you can sign up for one of her workshops.
Andrea is a big supporter of the Whistler arts community and we have her to thank for producing the Backdrop Sessions series. You're awesome Andrea!
Artworks by Andrea: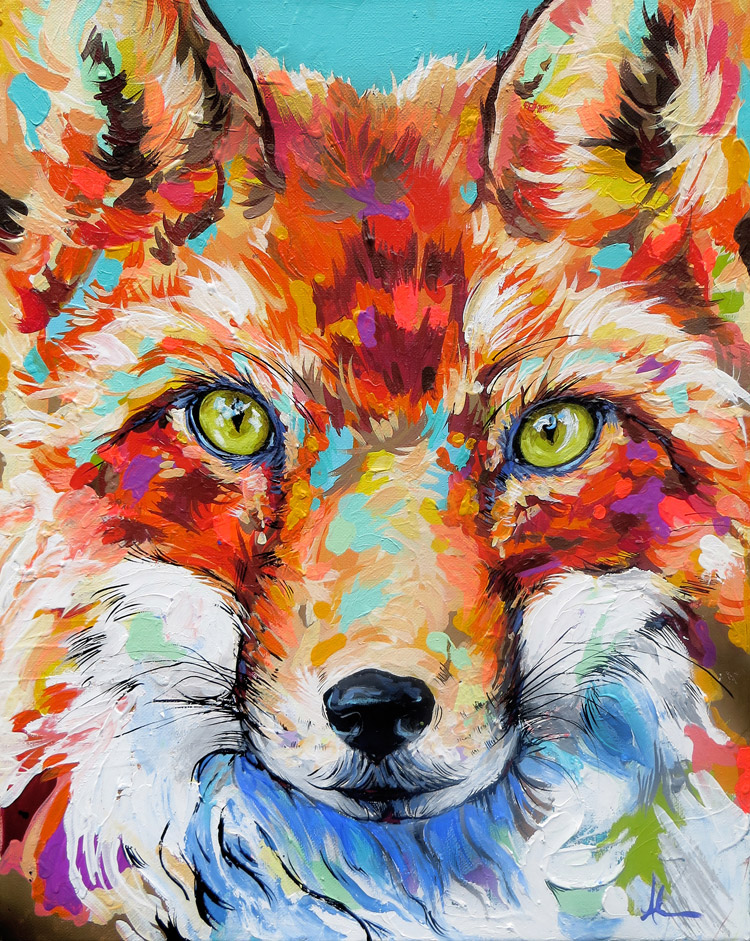 Isobel MacLaurin
'I'm always happy when I paint. Otherwise…why paint? You're not painting for a job, for god's sake. ' – Isobel MacLaurin
Isobel MacLaurin has been a working artist all her life. At 85 years old, she radiates warmth, creativity and her own special energy, with a cracking sense of humour to boot.
A long term Whistler resident, she used to paint posters for World Cup races, and in the early days of Whistler Mountain painted the ski run signs for season's passes for herself and her family. Her bright murals are seen all around town from Blackcomb and Whistler Mountains, on the Valley Trail and in several parks. Her images of life in Whistler, wildlife and nature are vibrant and colourful – perhaps a window into how she sees the world.
Be Like Isobel – Art Workshops on the Lake
Living on the shores of Alpha Lake in Whistler for many years has provided Isobel with plenty of inspiration, from the water views to the alpenglow on Whistler Mountain. Thanks to Arts Whistler all artists and artists-in-training can experience the same feeling, through the popular Art on the Lake Workshop series, held each summer at the Alpha Lake Station House.
Helen Wojcik
Another artist called here by the mountains,
Helen Wojcik
got her start showing her work at a local cafe. She credits much of her success to the opportunities provided to artists at big name Whistler events, and the ability to build relationships with local companies who have world-wide exposure.
Currently her work is heavily influenced by tattoo culture. Always experimenting and evolving her style, Helen is committed to the idea that the act of creating breeds more creativity. This artist is not one to turn an adventure down as evidenced by her winter artist residency at Mica Heli, mural painting in Kuta, Lombok and recent enrollment to a graphic design program in Vancouver. We can't wait to see what she does next!