Has this ever happened to you?
You vacation to some visually stunning location, have the time of your life, shoot a pile of photos of all the awesomeness and natural beauty and then return home only to discover your "epic" photos are totally underwhelming?
"I guess you just had to be there," is no way to brag about a holiday so The Whistler Insider called up Blake Jorgenson, a multi-award winning local photographer and focus of this week's Whistler Sabbatical Project Video, for a few tips on how to shoot better in the Coast Mountains.

Blake moved to town at age 18 and had his first ski photo published in Powder Magazine by age 21. Since then he's twice won the prestigious Pro Photographer Showdown at the World Ski & Snowboard Festival, scored Powder's Photo of the Year award, co-shot an official 2010 Winter Olympic & Paralympic Games coffee table book and over the past 15 years has worked with the best skiers, bikers, publications and companies in the outdoor recreation world.
Blake is an artist whose images perfectly capture the beauty, grace, feeling and character of what life in the mountains means to all of us. And he's here to help you do the same.
Whistler Insider– Hi Blake, what do you like most about shooting in the Coast Mountains around Whistler?
Blake Jorgenson– It boils down to the guaranteed best product. It seems with all the traveling I have done BC still has the best snow, the most reliable, and the best value for the costs. Best everything really.
Whistler Insider– As a pro, what are some of the biggest challenges to shooting in the mountains?
Blake– I think it's keeping the passion for doing something so difficult on its own. The long tiring days in the cold with difficult shooting conditions with no guarantee of any return might deter some but if you're always pumped to get out of bed and get into the mountains then good things will happen.

Whistler Insider– For novice photographers, is it bad to center all the action right in the middle of the frame?
Blake– Yes. Especially for action because your subject is almost always going from point A to B and it helps greatly to frame your shot in a way that tells where the subject is coming from or going to. Generally for composition you want your subject to be balanced. Google Rule of Thirds to learn more. Of course, there are no rules that can't be broken under the right circumstances.
Whistler Insider– What the heck is ISO and what's best for shooting outdoors around here?
Blake– ISO stands for International Standards Organization but in camera terms it means film or sensor sensitivity—essentially a setting to control the light hitting your film or sensor. The best for outdoor conditions is to switch your camera to the lowest ISO you can, probably 100 or 200. The higher the number the more light the sensor or film can absorb but the catch is that the higher settings deteriorate your image quality and lead to graininess or what is called 'digital noise.' I hope that makes sense.
Whistler Insider– What's the best way to keep a battery warm in the cold weather?
Blake– Actually these days camera batteries last a long time. It's rare that I will go through a full battery in one day even in extreme cold. But on overnight trips I have slept with my batteries before.
Whistler Insider– Should beginner photographers just dump as many frames as possible and hope for the best? Or try and catch that golden moment with one frame?
Blake– The most important thing is to know what shot you're looking for. If you have the shot you want to achieve already in your head then you will figure out a way to get it. If you're just waiting for a lucky shot you're going to have trouble figuring out what it is that you're doing.
Whistler Insider– Everyone shoots digital but do you ever bust out the film camera?
Blake– All of my large format landscapes are shot on film with a Hasselblad and Linhoff film cameras. Digital is more geared to 35mm photography. They make medium format digital cameras but they are extremely expensive. For big clean landscape shots film is the only way for me to make it cost realistic.
Whistler Insider– Where is your fave spot to shoot on the local hills? One spot with an epic view or background?
Blake– My favourite sunset spot has always been Disease Ridge on Blackcomb. You have to work a bit to get out there but it's always worth it on a sunny day.
Whistler Insider– Thanks Blake, any last tips for fledgling photographers?
Blake– As long as you're having great days in the mountains with your friends you will be able to get great photos to share with people. This has not changed ever since the day I started.
Blake Jorgenson occasionally runs group photography courses in the spring and autumn for anyone who wants to train with a pro. Keep an eye his website for details. Plus you can always see the Blake Jorgenson Collection at the Adele Campbell Gallery in Whistler's Westin Resort & Spa. In the meantime, keep shooting, keep having fun, and your photos will be brag-worthy in no time.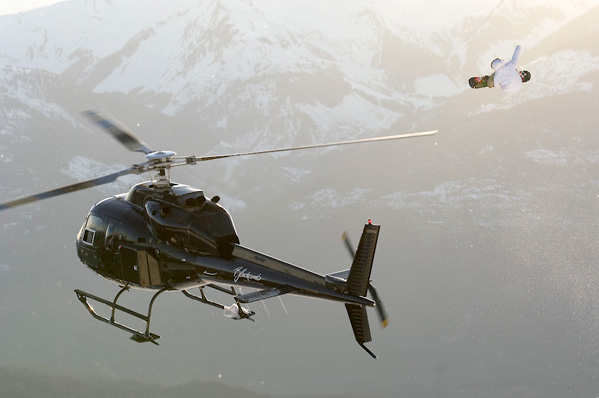 All images this page copyright Blake Jorgenson. (Except the one of him holding the camera with both hands.That was shot by Steve Rogers on Whistler Mountain.)