In Whistler, June is the time of year when we thrive in nature, finding stillness in the forest, our pace out on the trails and our rhythm as we paddle on a glassy lake. With longer days and warming sun, it's also a time when we look to revive and restore our bodies, whether that means a trip to the spa, lake or forest.
However, the focus of this Insider's Guide is on the nourishment side of wellness, and the new Nourish Spring Series, brought to you by the same team behind November's revered celebration of food and drink, Cornucopia.
Happening Fridays to Sundays throughout June, there are over 30 culinary and wellness events on offer. Each one is designed to weave together different aspects of nourishment, from trips to local farms to body movement sessions in incredible settings, and farm-to-table-focused dinners in some of Whistler's best restaurants.
"The events in this new series were specifically curated to provide opportunities for attendees to connect with food, the land and their own bodies," explains Bree Eagles, Events Manager at Tourism Whistler. "Expect to be inspired by guest chefs, delighted by menus, enlightened by local farmers, and moved mindfully in unique, Whistler locations you might not have known existed. Lots of thoughtful details have been woven into these events and the team is excited to bring you a taste of Cornucopia with a nourishing, spring twist!"
In this guide, we take a look at some of the key events happening over the four-week Nourish Spring Series, but be sure to peruse the full schedule on Whistler.com to plan your own wellness-focused, spring getaway to Whistler. If anything makes your tummy rumble then get your ticket as most of the food-based events have limited tickets available.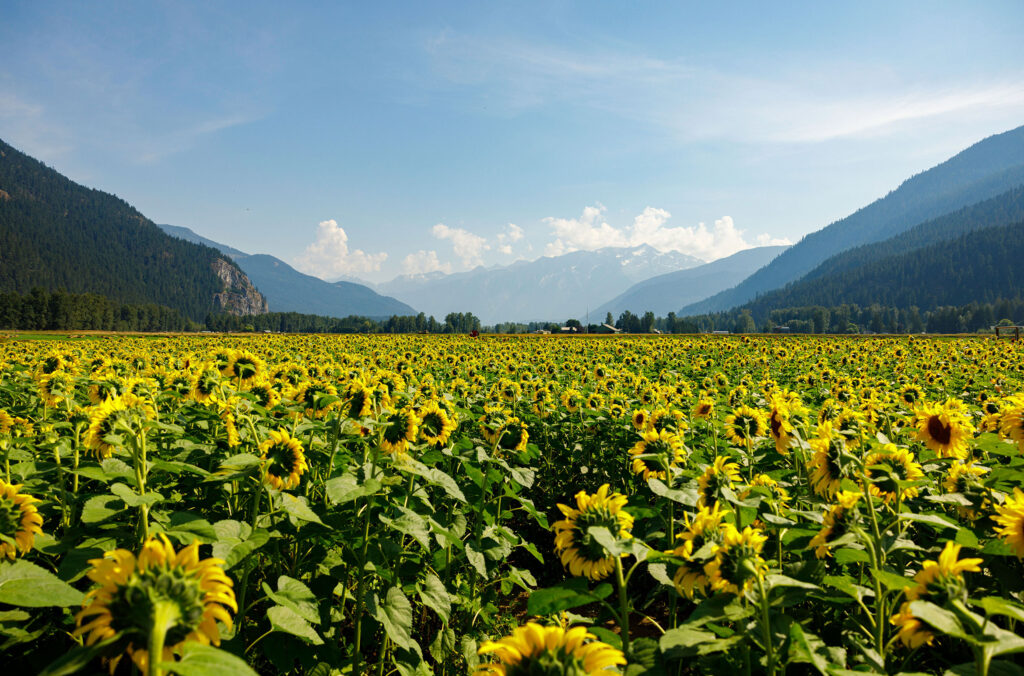 Trip to the Farm
Happening: Saturday, June 3, 10, 17 and 24
You might not think of Whistler as farm country, but in fact, just 20 minutes north lies the fertile plains of Pemberton Valley and this June you're invited to dig in deep.
"In Pemberton, there is a real live sense of how the community is connected through the celebration and the production of the most beautiful food," says Certified Healing Foods Specialist and Nourish guide, Astrid Cameron Kent. "On the Farm Tours, event goers will experience, first-hand the land and connect with the actual farmers and individuals who grow all these foods for us to enjoy. They'll leave with samples of the current harvest from each farm, as well as new nuggets of information."
Astrid was an early pioneer and advocate for the local food movement in the region and is the mind behind the Slow Food Cycle, which celebrates food, farmers and biking every August. She's so attuned to the local food scene that it's a real pleasure to have her as your guide on these tours, just ask her about her thoughts on fermentation (it's her specialty).
Each Farm Tour takes you to four different places in Pemberton, giving you the opportunity to learn about sustainable agriculture, the health benefits of buying fresh, the farm-to-table movement and little-known foodie facts from Astrid. The tour includes all transport, so jump in for a day of fresh air, community and wellness in the beauty and bounty of Pemberton Valley's farms.
Find tickets on the Nourish Series event page.
Grillin' and Chillin'
Happening: Saturday, June 3, 10, 17 and 24
Imagine sitting on a deck, the sparkling waters of Alta Lake in the foreground, and the snow-capped Whistler and Blackcomb Mountains providing the backdrop. Now, imagine you've got a plate of perfectly grilled food to tuck into as you enjoy the scenery – perfection. That's the location of the wellness-focused, grilling classes happening on all four Saturdays during the Nourish Spring Series.
A different local chef is hosting each one and these grill sessions are interactive, so expect to pick up a few skills for your BBQ game this summer.
Find tickets on the Nourish Series event page.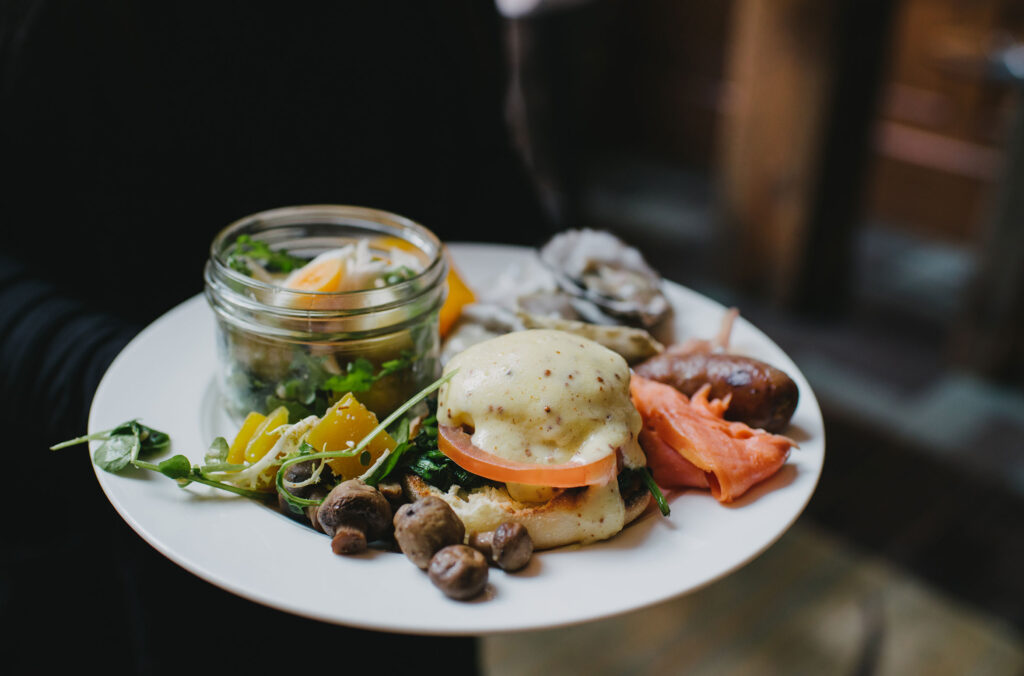 Sunday Wellness Brunches
Happening: Sunday, June 4, 11, 18 (Father's Day Brunch) and 25
Brunches aren't typically the healthiest of breakfasts. What comes to mind is crispy bacon, rich sauces and lashings of maple syrup on stacks of pancakes. However, the Sunday Wellness Brunch series is being hosted by three different chefs who will show you that you can have a scrumptious, healthy brunch.
Find tickets on the Nourish Series event page.
Father's Day Brunch, June 18
However, as long as you're doing it in balance, a decadent brunch is sometimes just what's called for, especially if you're celebrating Father's Day.
A father himself, Chef Julian Bond, a BC Restaurant Hall of Fame inductee with over 20 years of experience in Michelin-Star establishments has whipped up a menu which includes, scones fresh from the oven, a build-your-own smoothie bar, mascarpone-filled French toast, chicken and pancakes, wild keta salmon wellington, herbed new potato, arugula and parmesan salad, and a twisted, no-bake cheesecake for dessert. Dad's gonna be happy.
All the brunches are being hosted at Station House, which is a leisurely, 15-minute walk from Wayside Park and boasts incredible views over Alta Lake and Whistler and Blackcomb Mountains.
Find tickets on the Nourish Series event page.
Meet the Nourish Chefs
For both the Grillin and Chillin, and Sunday Wellness Brunches you'll have a chance to connect with four, local chefs. Let's meet who we'll be learning some tricks of the trade from this June.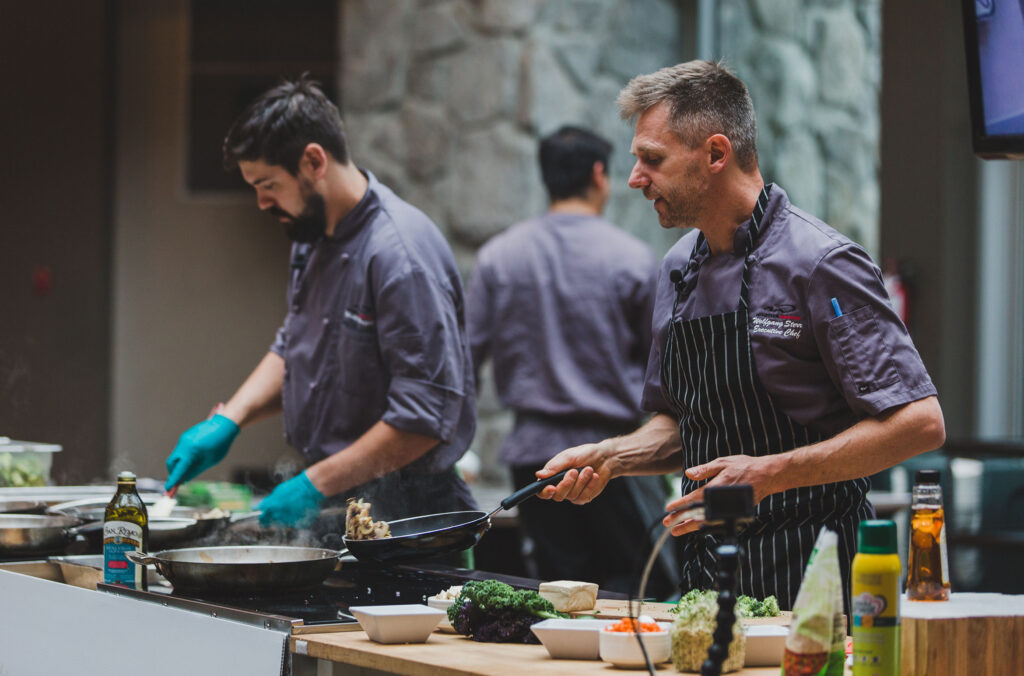 Chef Alana Mass
Raised in a food-centric family, Alana graduated from Dubrulle Culinary School in 2002, worked in some of the most demanding kitchens in Vancouver, and quickly earned recognition as a leading and coveted chef in the city, running the kitchens at Cru Restaurant and The Hart House.
A Chopped Canada winner, her confidence and trust in herself are contagious. Board member of the Les Dames d'Escoffier chapter of Vancouver, Alana is committed to empowering women in her profession.
What can you expect from her at Nourish? Alana is approachable and straightforward, and as a mother and chef, she knows how to give feedback that you'll definitely learn from.
Chef Julian Bond
Even though Julian is a BC Restaurant Hall of Fame inductee, and being taught by someone with this kind of accolade might be daunting, it's good to know that he's also been given Vancouver Magazine's Mentorship Award. In fact, he's mentored well over 3000 culinary arts graduates in his most recent role as Executive Chef and Vice President of the Pacific Institute of Culinary Arts (PICA).
Some highlights in BC for Julian include: Executive Chef and co-owner of Star Anise, designing and opening Le Soleil Hotel's Oritalia, Director of Culinary Programs and Executive Chef at Dubrulle International Culinary & Hotel Institute of Canada and Executive Chef at Cactus Club Cafés (to name just a few!) In short, you're in good hands with Julian.
What to expect from Julian at Nourish? He's animated, energetic and passionate about all things food. A young father, he also knows a thing or two about the need for balance and learning some culinary tips for when you need to think on the fly.
Chef Bruce Worden
Hailing from the wine and fruit belt of Ontario, classically trained Chef Worden has developed a whimsical approach over his 20+ years in the industry. Locally, Chef Worden's culinary journey has continued as the general manager of Milestones over the past six years.
What to expect at Nourish? Bruce loves to experiment with flavour combinations that excite the palate and engage the mind.
Chef Neal Harkins
Raised in a large family kitchen with European roots, Neal played sous chef to his grandmother and quickly learned the heart and soul of hearty home cooking, traditional recipes, and respect for fresh, market ingredients. He quickly understood that sitting around the table isn't a meal–– it's an experience.
Neal thrives in a busy kitchen, where cooks exchange ideas and inject personal and ethnic inspirations to create menus that are innovative. He has hung his chef's hat up and down the Pacific Northwest and into San Francisco, but he always returns to Whistler. A dad to three spirited children, Neal connects to the youthful, friendly vibe of his alpine home.
What to expect at Nourish? Neal's culinary philosophy is simple. Keep dishes delicious and honest – let the integrity of the ingredients steal the show. Less is more.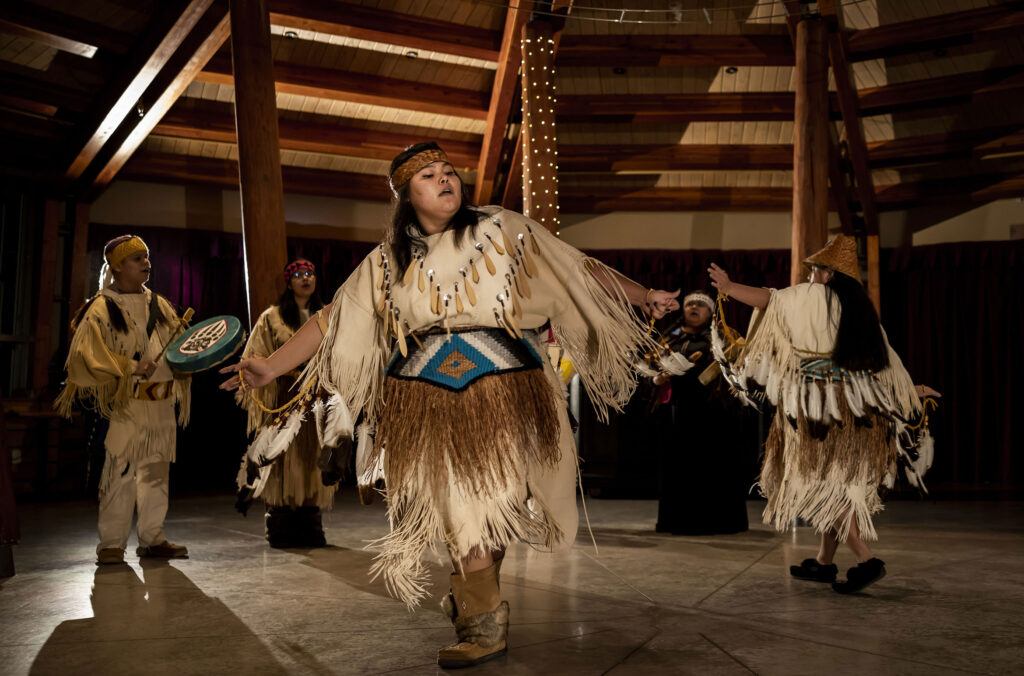 Spo7ez Wellness Feast at the Squamish Lil'wat Cultural Centre
Happening: Saturday, June 10 from 5:30 to 9 PM
The Spo7ez Wellness Feast is something you cannot miss during this series. It's a chance to experience authentic Indigenous cultural sharing, which blends ancient medicine storytelling and ceremony, a traditional shared feast and Spo7ez Performers in regalia sharing songs from Squamish Nation and Lil'wat Nation.
A few highlights from the menu include cranberry-rosemary bannock, braised elk shank, cedar plank salmon, and apple crumble with Xusem chantilly. Note that you can also opt to enjoy wine pairings with your dinner.
Find tickets on the Nourish Series event page.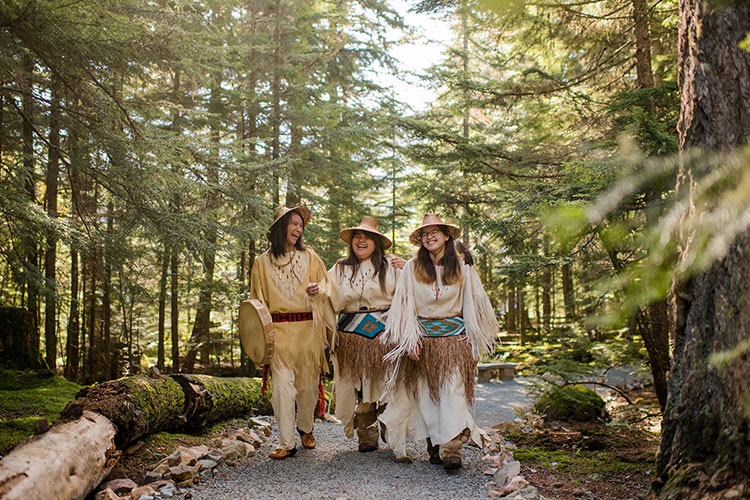 Holistic Tour & Tea Ceremony at the Squamish Lil'wat Cultural Centre
Happening: Saturday, June 17 and 24
Right behind the striking Squamish Lil'wat Cultural Centre, there's a trail that goes into the woods called the Salish Stroll. Towering, old-growth trees provide shelter and shade as you follow a Cultural Ambassador who introduces you to the herbs and medicinal plants that grow in the region.
This is such a unique experience as you have the opportunity to connect with ambassadors from the Sḵwx̱wú7mesh (Squamish) and Líl̓wat7úl (Lil'wat) Nations who have coexisted respectfully as neighbours since time immemorial in the lands around Whistler. This sharing of knowledge culminates in the Longhouse over a sampling of traditional teas.
Find tickets on the Nourish Series event page.
Paint and Picnic
Happening: Sunday, June 11 and 25
Having an outlet for creativity certainly nourishes the soul and that's what will be happening at the Paint and Picnic events, which are being hosted at the Station House with professional artist Andrea Mueller.
"I love everything about the lake. I love the beautiful backdrop of the mountains and trees, the duckies swimming, and fish jumping to catch flies at dusk. I love the sound of people having fun, jumping in the water to cool off on a hot day and spending time with friends. What's not to love?" asks Andrea. "The best part of teaching people how to paint is watching students light up with newfound creativity. Watching people try something new and get out of their comfort zone to gain a sense of accomplishment. It's the best job."
This event starts with an inspiring woodland walk where you can connect with your muses – the trees and the lake. Andrea is then there to help you put what you see on canvas. You create an impressionist-inspired landscape painting that will perhaps have a little Emily Carr and Matisse influence. It's all about painting the feeling of the forest in this session, and between brush strokes, you can nibble on grazing plates arranged with local cheeses, charcuterie, fruits and vegetables. You can also decide to opt for a glass of wine while you paint or a refreshing, non-alcoholic drink.
Find tickets on the Nourish Series event page.
Free Mindful Body Movement Sessions
The Nourish Series offers some uniquely Whistler ways to move your body this spring. From a coached, trail run in the forest and strength and stretch sessions with kinesiologists, to Zumba and hip hop under the award-winning, architectural masterpiece that is the Audain Art Museum.
These event options are all free, but you do need to register ahead of time to secure your spot. Take a look at the schedule and build these wellness options into your own Nourish plan.
Register on the Nourish Series event page.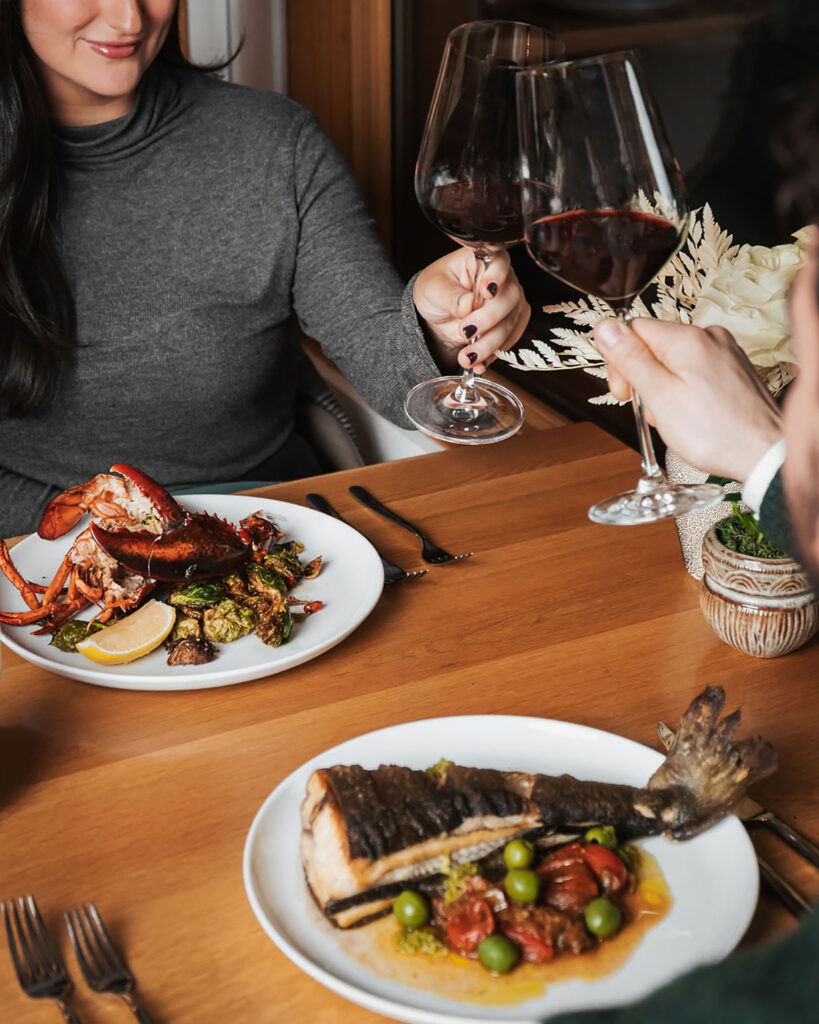 Farm-to-Table Dinner Series & Wellness Dinners
Happening on each Friday of the four-week series, the Nourish team has worked with local restaurants to bring event-goers exclusive menus focused on the farm-to-table approach. These include a five-course dinner at The Den at Nita Lake Lodge, a long table, three-course, dinner at Quattro Whistler, and something from the creative brain of Culinary Director James Walt's at Araxi. All of these dinners proudly showcase produce from the Sea to Sky.
On top of that, Executive Chef Melissa Craig of the Bearfoot Bistro has developed a four-course, Spring Harvest Tasting Menu featuring fresh, seasonal produce from Pemberton, paired with local BC shellfish, fish and meats. This menu comes with a choice of beverage pairings, whether you go for wine or non-alcoholic cocktails. This menu is available every Saturday during the Nourish Series. We recently spoke to Melissa about what she loves about the spring in Whistler, read more in A Chef's Favourite Thing About Spring in Whistler.
The Nourish Spring Series by Cornucopia is an exciting, new addition to Whistler's event calendar with a range of wellness-focused experiences happening over the month of June. As I mentioned, some of the events have low capacity, so get your tickets quickly to avoid disappointment (and major food envy).
Come to Whistler for three or more nights between June 1 and 30 to take part in the Nourish Series, and receive a free $100 Wellness Voucher valid at over 12 locations like Scandinave Spa Whistler, Vida Spa at the Fairmont Chateau Whistler, The Spa at Nita Lake Lodge and Yogacara Whistler.