PHOTO CHRISTIE FITZPATRICK / WHISTLER BLACKCOMB
After nearly 30 years skiing in Whistler, Damian Cromwell decided to learn to be an adaptive ski guide.
"I've always wanted to do it," says Cromwell, an ex-professional ski photographer with dozens of ski mag covers to his credit.  "And now that my son is in the racing program and I'm up here by myself, I figured this was the year to follow through. It's one of the most satisfying things I've ever done, on skis or off. "
The Whistler Adaptive Sports Program is a not-for-profit organization committed to introducing individuals with mobility issues or disabilities to the joys and benefits of sport and recreation in one of the greatest mountain towns on the planet.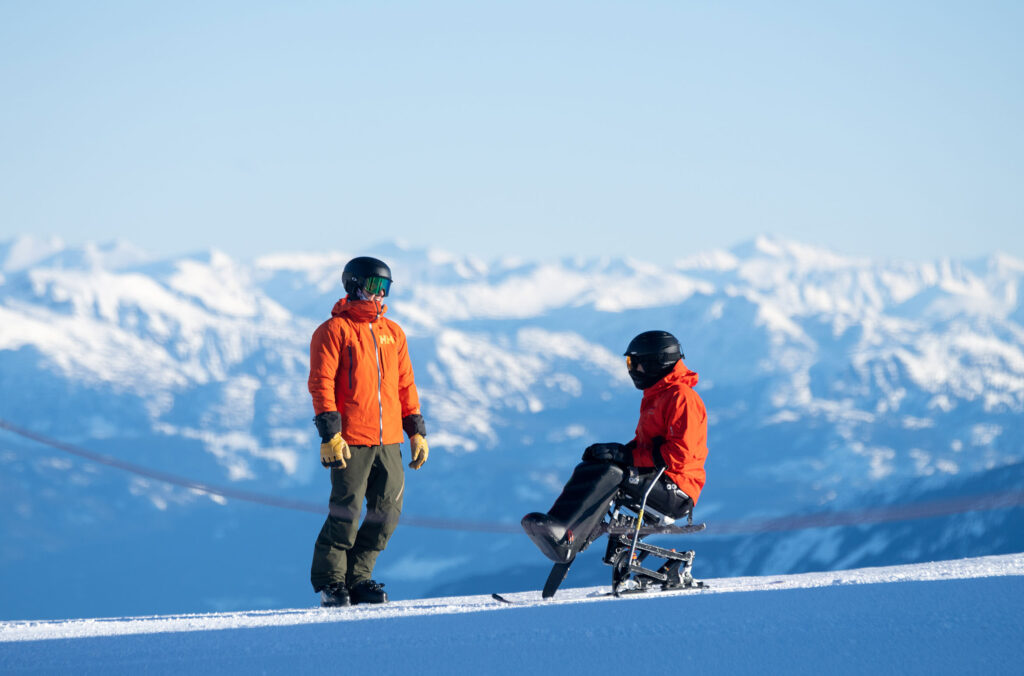 'It's incredible," Cromwell says, "being able to help someone discover skiing, to get the wind in their face and feel the speed and flow of gliding over snow on their own. Especially because some of the people we're working with thought they'd never have that chance, or never have it again. And then all of a sudden we are, ripping."
Whistler Adaptive has been in operation for over 20 years and has given over 3000 lessons across 18 different adaptive sports — everything from biking to kayaking to yoga and gymnastics. But this time of year, it's all about the shred. 
"We partner with the Whistler Blackcomb Ski School," explains Whistler Adaptive Executive Director Shelley Milstein. "They handle the bookings and reservations, and we have anywhere from three to five coaches up at a time. Over the course of the winter we're helping hundreds of people get up the hill."
Many of those are local, Sea to Sky residents, but an increasing number are guests coming to Whistler because they've heard about the Whistler Adaptive program.
"Guest or local, the goal is the same," explains Milstein. "We're here to provide adaptive sports and recreation for people living with physical or mobility challenges, autism diagnosis, cognitive issues, or even someone who's elderly and experiencing mobility loss. If someone has the desire to do it, we want to help make it happen."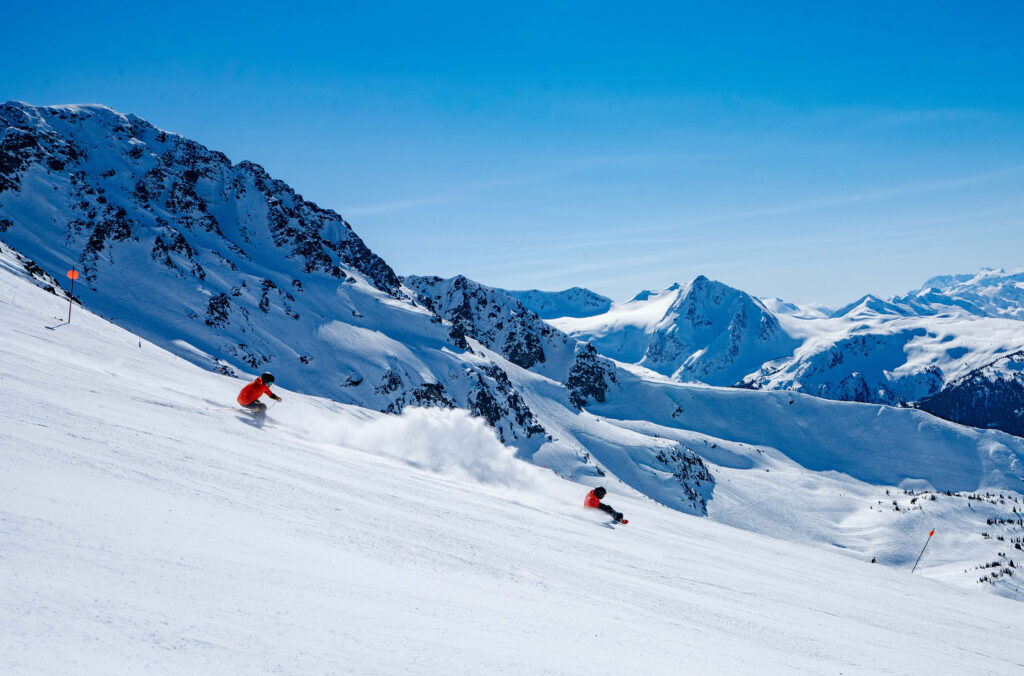 Skier Mac Marcoux was already on the Canadian Paralympic Ski Team when he first arrived in Whistler in 2013.
"I already had coaches," he explains, "but Whistler Adaptive was super welcoming and supportive. I fell in love with these mountains right away but for sure, the community here is my favourite thing." 
Currently the holder of six Paralympic medals (including two golds) and eight World Cup podiums, Marcoux is Canada's top visually impaired racer. Diagnosed with Stargardt's disease at age eight, Mac has no central vision and only six percent peripheral. In competition, he skis behind and is in constant radio communication with a guide. Tristan Rodgers has been Mac's guide since 2018.
However, Tristan and Mac were not looking to race, or even train when they arrived in Whistler during a break from the World Cup circuit early in 2020. Mac was in town to freeski some of Whistler Blackcomb's most iconic lines, and change the way people think about adaptive athletes and what they are capable of.
With a short window between races (and unknowingly just a few weeks before the COVID-19 pandemic would close the ski hills), Mac and Tristan teamed up with local filmmaker Graeme Meiklejohn. The result was Blind Faith, one of the best ski films of its generation.
"It was a bit cowboy," Mac admits, "but we got it done and the whole thing opened my eyes to some different avenues for skiing. I think freeskiing is the direction I am aiming for once I retire from racing. Both in bounds and in the backcountry."
But even world-class (and ridiculously inspirational) skiers like Mac and Tristan had to start small, on the bunny hill. And for skiers without World Cup careers and Olympic medals, or even people who haven't skied at all, Whistler Adaptive is ready to rock, with volunteers and on-staff coaches like Damian trained on all the various ways to help someone, anyone, feel the gravity-fed awe of sliding on snow.
"My first guy this year was an absolute beauty," Damian says. "Fifty-years old, he used to be a windsurfer, snowboarded all over the place, really athletic guy — until he hit a sandbar while surfing in his mid 40s and was paralyzed from the belly button down. We got him in a sit ski and by the end of the day he's linking turns on his own."
And the best part is Whistler Adaptive and coaches like Damian are facilitating those kinds of ski days all year long.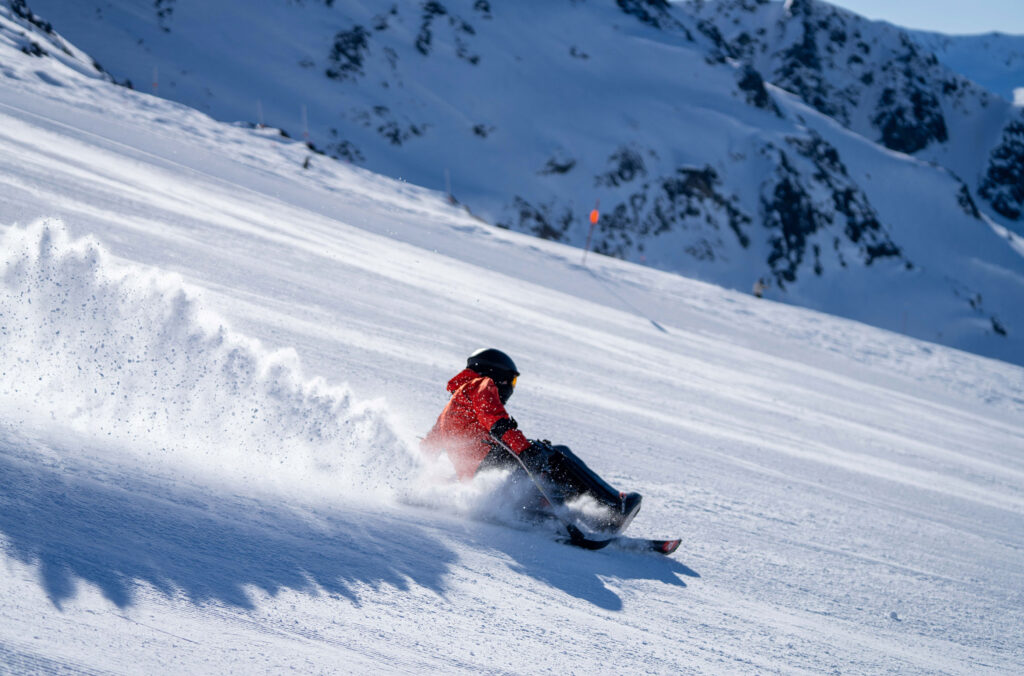 "Just yesterday," Damian says. "I was with an incredible guy from Europe. He'd skied his whole life — used to come here back in the day, knows all the good spots. But a couple of years ago a brain tumour left him with mobility issues on his right side.

We got him out on the magic carpet — super mellow — helping him figure it out. And now today he's skiing the Olympic chair all on his own. Just skiing, you know, feeling the wind in his face. He told me he never thought he'd ever feel that again. That is a ski day I will always remember, you know?

I've skied all over the world; Argentina, Switzerland, heli trips in Northern BC, and twenty-eight years on these mountains here. Today is a day I will never forget."
If this article has made you want to participate, volunteer or donate take a look at the Whistler Adaptive Sports website. The mountains are an inspiring place for everyone. For more general accessibility information visit Whistler.com.
INSIDER TIP:
Whistler Adaptive Sports
is able to provide an Accompany Ticket for persons with a disability requiring assistance, guides, carers, or other personal support to access Whistler Blackcomb.  The Accompany Ticket product is generously provided by the Epic Promise Foundation and Vail Resorts.
Accompany Tickets are available for summer and winter sightseeing, bike park, tube park, and skiing and snowboarding.  The donation is capped at a certain number of tickets for each product, so we encourage you to plan your trip at least 72 hours ahead of time. Tickets can be requested at Whistler Blackcomb's Guest Relations for last-minute visits. Accompany Tickets are provided on a one-to-one ratio with a paying pass holder and / or ticket holder.
For the best rates on accommodation for the late spring and summer, plan a longer stay or consider staying midweek. Stay 3+ nights to receive a free $100 Activity Voucher and up to 25% off. It's easy to book your vacation when you have the freedom of Whistler.com's Flexible Cancellation options backed by their Book With Confidence program.