Whether you've spent the day tiring your legs out on the slopes, adventuring via snowmobile, zipline or snowshoe, or simply relaxing at one of the many spas Whistler has to offer – grabbing a cheeky winter cocktail afterwards is the perfect end to the day.
View this post on Instagram
And in a place like Whistler, where the après scene is bustling and vibrant, the libation choices are seemingly endless. After some very hard work tasting and testing, we narrowed it down to this list of must-try, winter cocktails.
The Mallard Lounge at the Fairmont Chateau Whistler
Nestled at the base of Blackcomb Mountain at the Fairmont Chateau Whistler, is the casual, yet refined, Mallard Lounge. The Mallard is known for its high-end food, live entertainment and inviting, relaxing atmosphere. But if we had to pick just one thing they do best – it would be cocktails.
Master mixologists at The Mallard start crafting their extensive winter cocktail menu as early as summertime. Head Bartender, Fred Lemieux told us they take pride in creating hand-made, sustainable cocktails and developing a unique twist to some of the classics.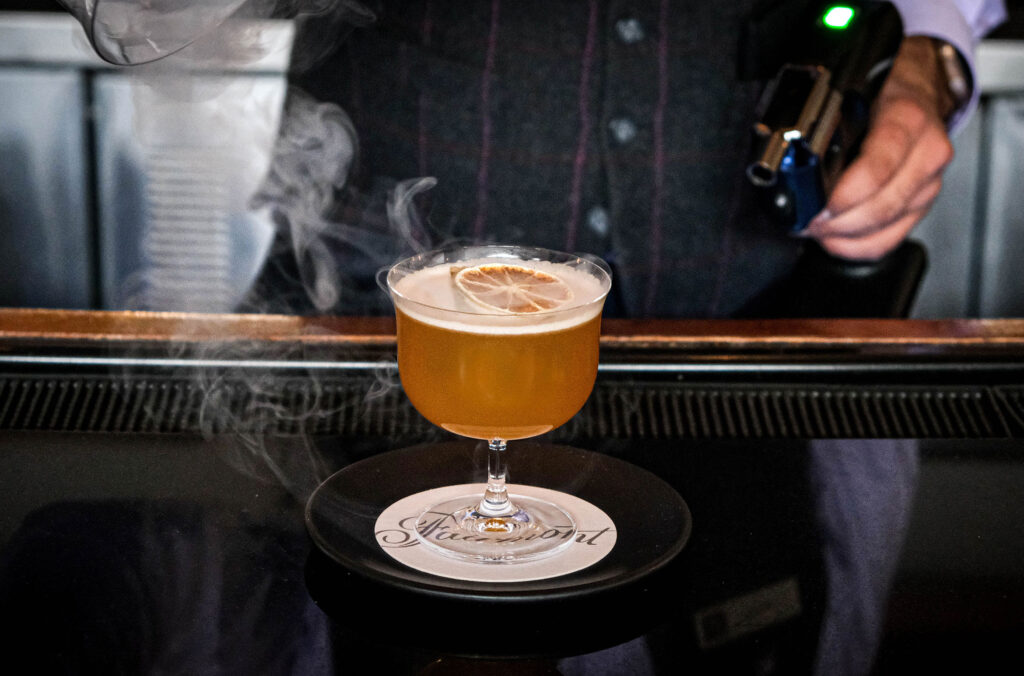 If you're looking for a winter cocktail to warm you up after your day in the mountains, the OldBoy is a great choice. As the Mallard's answer to an Old Fashioned, the OldBoy serves up a bit of a kick with the mix of both whiskey and scotch. But what makes it stand out from a regular Old Fashioned is the addition of fresh ginger, lemon and Gochujang honey syrup.
Looking for something a bit lighter to sip on? The Port Royal Daiquiri is the ultimate après treat. This delicious, rum-based cocktail is the perfect mix of sweet and sour, featuring hints of pineapple and show-stopping cinnamon smoke.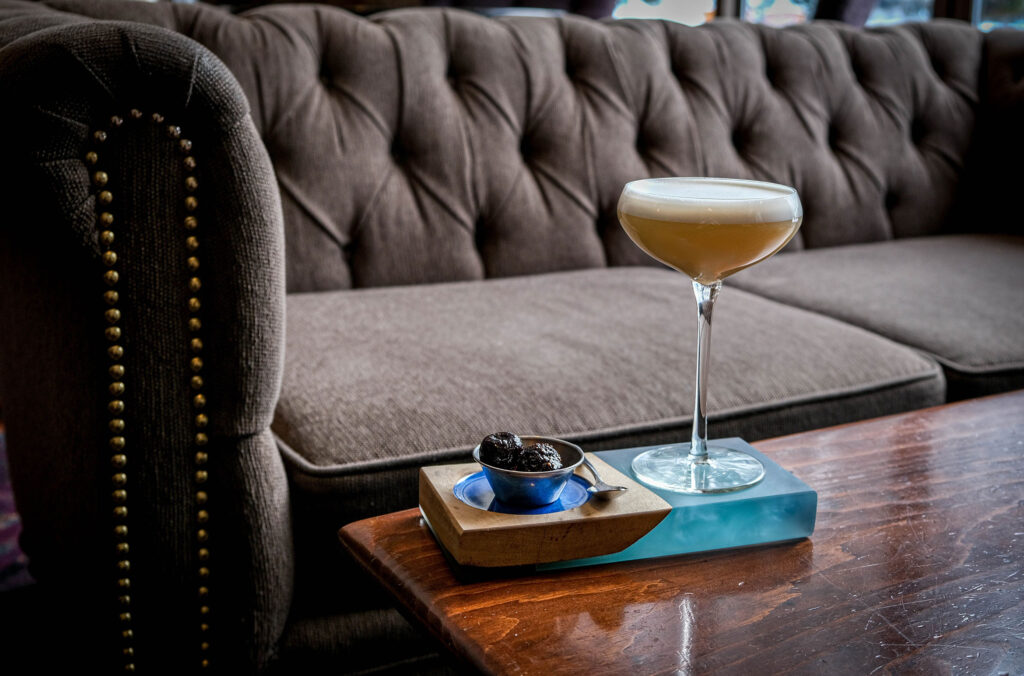 For those who love a cheese board, a must-try is the 50 Shades of Blue. Made with blue cheese-infused gin and served with port-poached figs, it might sound like an odd combination in a cocktail, and yet, it works.
"I was definitely intrigued because I love blue cheese, but it seemed strange to me in cocktail form. However, the cheese was subtle and the figs were sweet, which helped cut the sharpness and created a wonderfully balanced winter cocktail." Jessie Boyd, Whistler local.
The Raven Room
As one of Whistler's premier cocktail bars, the drinks at The Raven Room are undeniably next-level. Their passionate bar team is constantly crafting new recipes that fit with the season and include locally-sourced ingredients. They too start crafting their winter cocktail menu months before the snow actually begins to fly, and you can tell by the creativity (take a look at the cocktail names) and level of detail.
View this post on Instagram
Every drink is lovingly crafted and thoughtfully named, usually with a personal story at its heart. One of our winter favourites, Cuffing Season, is playfully named after the time of year when people seem more inclined to couple up in a romantic relationship. Perhaps to help pass the time during those gloomy winter months? We wouldn't know as winter in Whistler is anything but gloomy. It's made with The Woods Cascadian Gin from North Vancouver and has notes of lemon, honey and homemade crème de mûre (blackberry liqueur).
Imagine the adult version of milk and cookies left out for Santa on Christmas Eve, that would be a perfect description of another stand-out winter cocktail from The Raven Room called Cookie Monster. It boasts a sweet combination of dark, chocolate liqueur with an actual cookie on top making for the perfect holiday drink.
"It's a rich and delicious cocktail. The cookie on the rim is a great touch that adds some sweetness. You can't go wrong with a drink and dessert all in one!" – Olivia Anderson-Baier, Whistler visitor.
The Lookalike is the perfect winter cocktail pick-me-up after a tiring day. Described by bartender Jason Cheung as the lovechild of an espresso martini and a daiquiri. It might sound like a strange combination but it tastes delicious. Not to mention it's a zero-water waste cocktail, which means it's made almost entirely with repurposed ingredients.
View this post on Instagram
FireRock Lounge
Next up is FireRock Lounge, a warmly-lit, intimate chalet-style bar located at the Westin Resort & Spa. It's the perfect spot for a date night, a tasty cheese board and some masterfully curated, winter cocktails.
There is nothing quite like a hot toddy after a day spent shredding some Whistler pow, especially when that warmth comes with a little kick. The Velvet Leprechaun, made with Bushmills whiskey, is FireRock's take on a classic Irish Coffee. With its smooth and creamy coffee flavours, it's the best choice if you're looking for a warming cocktail along with your caffeine fix.
View this post on Instagram
The next winter cocktail will make you want to curl up in front of a cozy fireplace with a Christmas movie favourite. The Charlie Brown tastes like a Reese's Peanut Butter Cup in cocktail form. It's made with peanut butter-infused whiskey, hazelnut liqueur, lemon and egg whites.
Stonesedge Kitchen
Discreetly tucked just off the Village Stroll, Stonesedge Kitchen is one of Whistler's best spots to catch up over charcuterie and cocktails.
Its rustic, elegant charm is fitting for their newest addition to the winter cocktail list, a Spot of Tea. This cocktail is made with Earl Grey-infused Tanqueray Gin, Amaro Montenegro (an Italian, botanical-packed amaro), with a hint of lemon juice, bitters and vanilla syrup. The quaint tea cup it's served in will take you back in time to the days of childhood tea parties.
View this post on Instagram
Another must-try drink at Stonesedge is the Grapefruit Grapefruit. Described as bright and crushable, it's certainly thirst quenching after a non-stop day of Whistler activities. This cocktail is made with Cazadores Reposado Tequila, Aperol, lemon juice and, of course, plenty of grapefruit, in the form of juice and flavoured bitters.
View this post on Instagram
So there you have it, a delicious roundup of winter cocktails from Whistler's vibrant restaurant and bar scene. Which ones have made your must-try list for when you're here? Cheers to a great winter season, we hope to see you on the slopes and perhaps at the bar sipping away on the cocktail of your choice!
For the best rates on accommodation for the late spring and summer, plan a longer stay or consider staying midweek. Stay 3+ nights to receive a free $100 Activity Voucher and up to 25% off. It's easy to book your vacation when you have the freedom of Whistler.com's Flexible Cancellation options backed by their Book With Confidence program.