Updated July 9, 2021
Our Sea to Sky region is a locavore's paradise, with each season yielding rich and flavourful ingredients to savour. A rainbow of fresh fruits and veggies, foraged wild mushrooms and flavourful greens are just some of the delights found within a 30-minute radius of Whistler.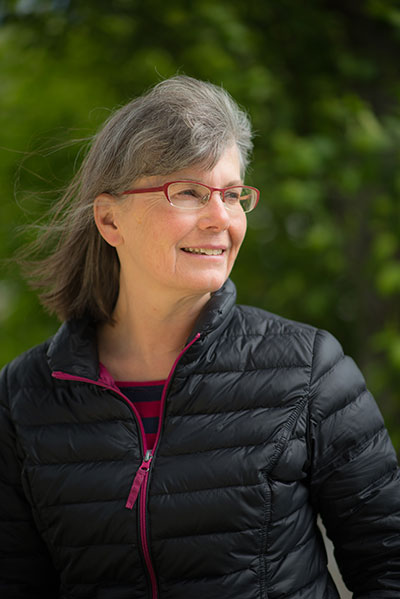 Local author, Jane Reid, recently penned Freshly Picked, a locavore's guide to the bounty of British Columbia. The book takes readers on a journey through BC's heartland, showcasing what's in season, while sharing intriguing facts and delicious recipes along the way.
"We hit the jackpot here in Whistler because we have the Pemberton Valley 30 minutes away," says the author. "Pemberton is incredibly fertile because of the mix of the soil, its climate and the fact that it's flat."
Reid, who can tell a Pemberton carrot just by looking at it, took great pleasure in going on a culinary treasure hunt to write her book. From the royal pedigree of asparagus to the ancient roots of squash, there are many nuggets of knowledge and cultural references to glean from its pages.
BC's harvest season kicks off in spring as rhubarb, apples, asparagus, peas and greens begin to flourish. Summer heralds the arrival of a vibrant array of produce including berries, peaches, beans, zucchini, turnips, peppers and corn. The highly anticipated fall harvest brings a cornucopia of squash, cranberries, apples, kale, corn and pears. Winter offers onions, tubers, root vegetables and Brussels sprouts, as well as a host of year-round greenhouse goodies, including cucumbers, peppers and tomatoes.
So, how can you experience this incredible bounty here in Whistler?
Whistler Farmers' Market
The iconic Whistler Farmers' Market is a great place to pick up items for a home-cooked meal, picnic lunch or unique Whistler gift.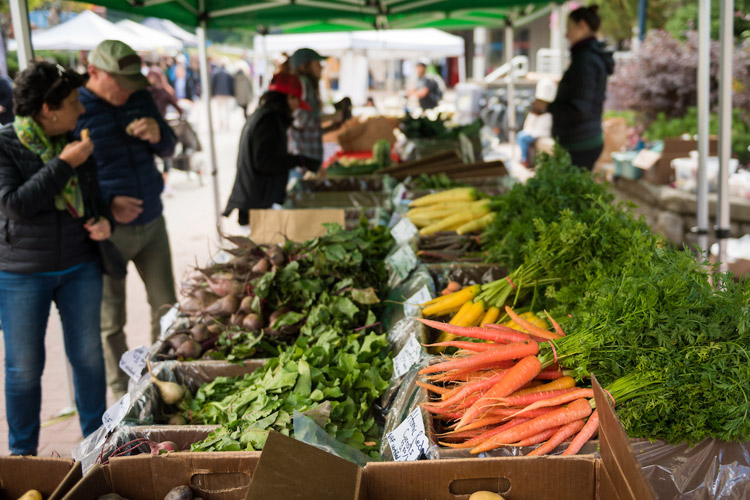 Market hours are from 11 AM to 4 PM every Sunday until the final market on Sunday, October 10 (Canadian Thanksgiving).
This year, the market is situated at the Whistler Racket Club, a short walk from Whistler Village, but if you're coming from farther afield there is free transit on weekends, a bike valet service in Whistler Olympic Plaza and paid parking available in the Day Lots.
Rotating vendors including farms, artisan foods, cold drinks, liquor and a range of artistic creators
It's free to enter.
Pack your patience. We're all adjusting to this new normal, so give people the benefit of the doubt and some extra space.
Please be aware of COVID-19 protocols for everyone's health, safety and enjoyment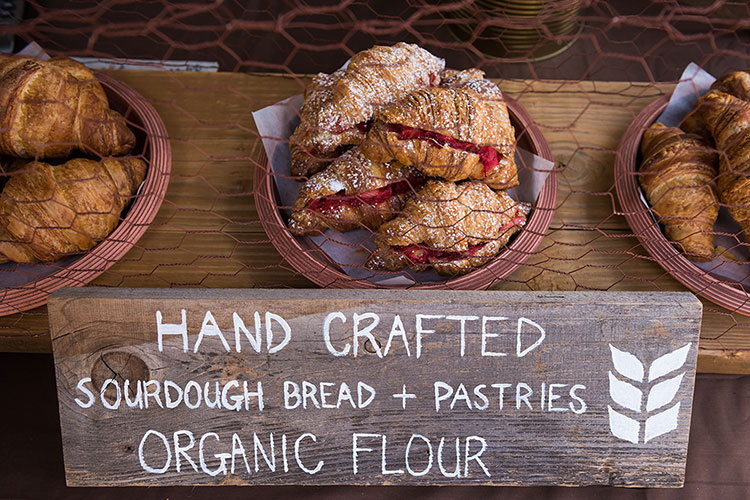 Local Produce on the Menu: Alta Bistro
Many Whistler eateries and restaurants feature regional ingredients on their menus — including the famous Pemberton potatoes. Alta Bistro, which has recently won several awards for its locavore focus, takes farm-fresh to a whole new level.
Chef Nick Cassetari leads the charge at Alta Bistro. The Australian native spent years travelling the world, cooking at some of the globe's top restaurants. It wasn't until he moved to Whistler and began cheffing at Nita Lake Lodge that he developed a deep connection to the food he was preparing. He became involved with their rooftop garden program and developed a passion for sustainable cuisine.
"Growing vegetables and being able to use the whole plant, from the stems to the seeds to the leaf, really inspired me. I'd worked at Michelin-starred restaurants and had never seen the connection from farm to plate," he explains. "It's easy to open up a box or a packet of something and disassociate where it originated from. It just showed up and you'd turn it into something awesome."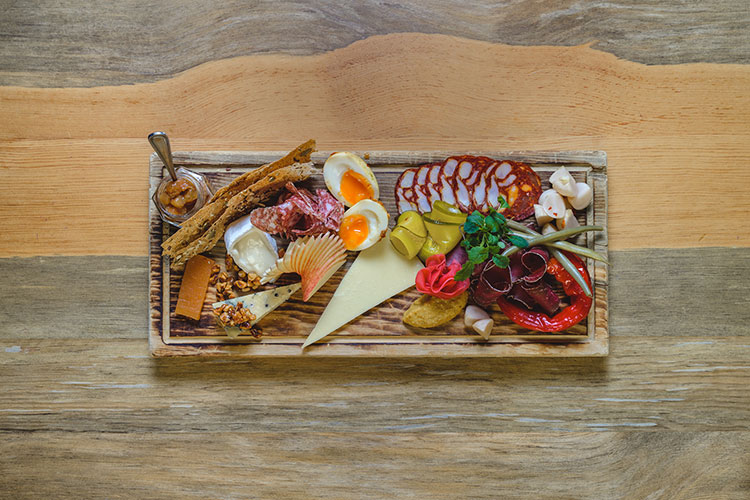 When he had the opportunity to take the position of Head Chef at Alta Bistro, he jumped at the chance. Over the last eight years in this position, he has continued to push the boundaries of what is possible with fresh, seasonal cuisine.
"The number one priority is that the ingredient is local, seasonal and delicious — absolutely utterly delicious," Chef Cassetari says. "It has taken this long to get to a point where I'm really in tune with, and proud, of the relationships I have with the farms we're connected with."
Alta Bistro cultivates its own microgreens and herbs, forages for edible mushrooms, spruce tips and nettles, and works closely with a variety of niche farmers who specialize in producing single items like leeks, gooseberries and greens.
"I believe people deserve to taste ingredients when they're at their freshest," he says, explaining that seasonal menus are constantly reinvented based on when items will be at their finest. Alta Bistro also uses preserving and other innovative preparation techniques to repurpose ingredients so that nothing goes to waste."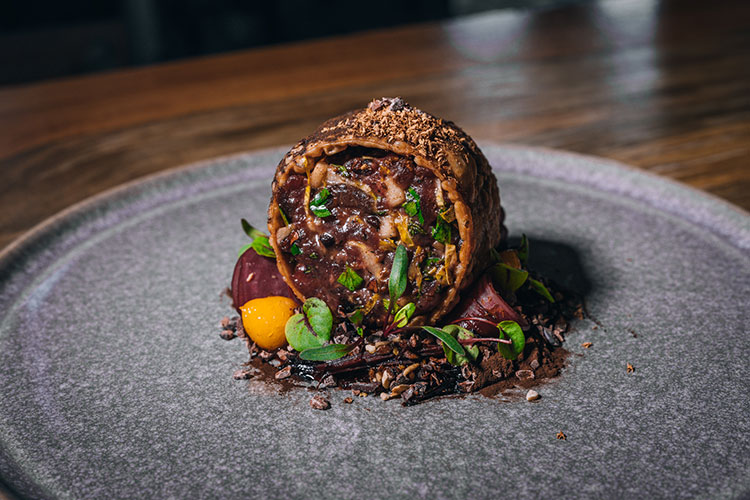 Chef Cassetari has been working on a fresh concept, which sees his love for local food paired with fine art. The new
Alta + Audain: Fine Dining Art Experience
, combines an intimate guided tour of the museum followed by an open-air dinner beneath the rectilinear lines of the museum's award-winning postmodern design. A new menu will be offered each Friday evening and served from a vintage Airstream trailer, retrofitted with a complete kitchen. Numbers are limited, so make sure you
reserve your spot in advance
.
INSIDER TIP:
If you have any must-eat-at places in mind for your trip to Whistler (like
Alta Bistro
), consider
booking ahead
to secure your table. Check out Whistler.com's
Doors Open Directory
for more yummy dining options.
If you have any questions, the Ask Whistler Live Chat Service is available Monday – Saturday from 9 AM to 5 PM PST via Facebook Messenger, WhatsApp, SMS and phone. Summer room rates with Whistler.com start at $109 and there are deals to be had on longer, midweek stays and activity bookings (there's a free adventure voucher offer too).