Ripping around and exploring the wilderness in a 4X4 vehicle is as Canadian as it gets. Tossing your gear into the back of a truck and heading out on some bumpy road with no guarantee of clear passage to your destination (or no destination at all) is a rite of passage even that every young rural Canadian embarks on at some point.
But very few of us ever did it in a Porsche.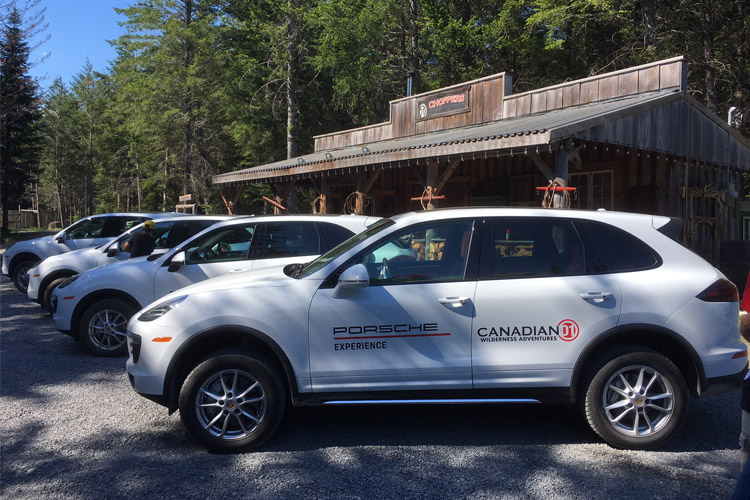 "When I drive my pick up down these roads I come out all shaken up," says Craig Beattie. "With the Porsches, everything is smooth. It's off road but it still feels like a luxury vehicle."
Beattie is the general manager at Canadian Wilderness Adventures. A few years ago, Porsche approached them about setting up an off-road program. Beattie remembers talking with the Porsche engineers.
"They were looking for specific obstacles," Beattie explains. "And we said, 'let's just build them exactly how you want.' So we went up into an old gold mine trail system and built everything to their exact specifications."
The custom trail includes multiple steep hill climbs, side hills, uneven potholes and a water feature. Not what most people expect to be driving over in a Porsche Cayenne.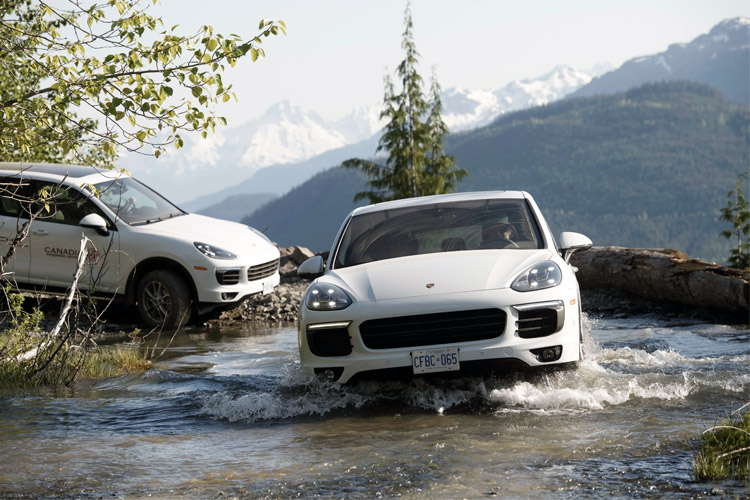 "The cars are stock," Craig explains. "The Cayenne S with a 3.6 litre twin turbo engine kicking out 420 horsepower. These Cayennes have an upgraded off-road package that anyone can order. Even the tires are direct from the factory… Porsche wants to know how these vehicles will handle this terrain right out of the box, so to speak."
Good news, they handle it pretty damn adeptly. With Canadian Porsche expert Nick Ryall in the lead we piloted our Cayennes away from the Canadian Wilderness Basecamp and into a system of Callaghan Valley side trails. After a mix of steep side hills, rocky corners and single-lane exhilaration, the real fun begins. The circuit of man-made hills and muddy trenches Craig's team built test the limits of the most luxurious 4×4 I've ever driven.  And the views aren't bad either.
Part of Porsche's off-road upgrade is an air-hydraulic lift system that gives added ground clearance and a locking hub for solid 4×4 power.  Plus, they have air-conditioned seats, built-in Bose sound and the sweet smell of a new car about to get dirty.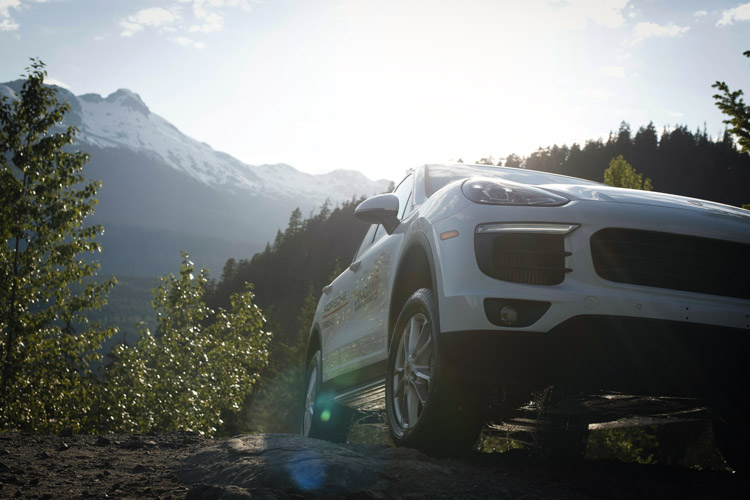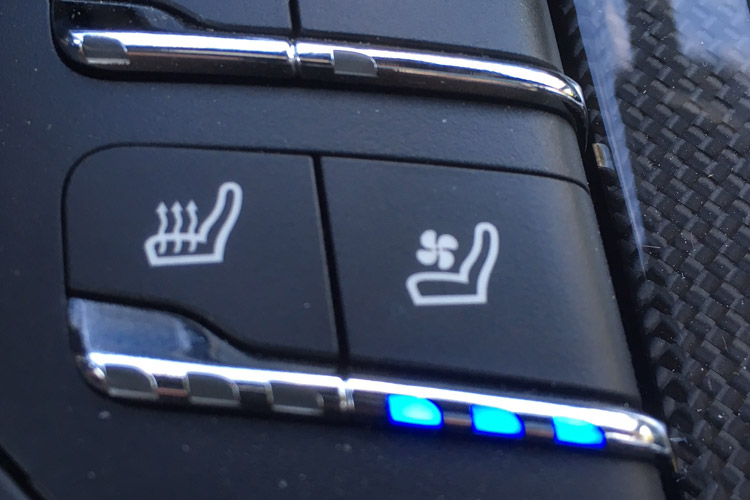 And the Porsches delivered. Up over, down around and through whatever we put in front of them. And with that iconic bucking black horse logo on the steering wheel, there were times when it almost felt surreal. Canadian off-roading is about mud and dust and ripping donuts in gravel pit full of empty shotgun shells, not air-conditioned seats and downhill cruise control. But on the other hand, Whistler is the place to do something totally different, so putting a luxury twist on a classic Canadian activity kind of makes sense, especially if the off-roading is happening in one of the most beautiful parts of the country…
"The sad thing is only 2 per cent of Cayenne owners ever leave the pavement," Craig says. "There's a whole lotta people out there with no idea what kind of fun they could be having. We're hoping to change that."
One mud puddle at a time.
Check out the Porsche Luxury 4×4 tour yourself or opt for a more traditional off-road experience with ATVs or side-by-side UTVs. No matter how you get out there, the Whistler wilderness will deliver the goods! Find anything else you want to know about having fun in Whistler both on and off road at Whistler.com.