What if I told you that Winter Wonderland is a real place? You know that scene from a snow globe, with big fat flakes falling peacefully, a giant lodge and happy humans frolicking in the snow? Start with that vision then add mountains of epic proportion, a steamy sauna and decadent dinners and you're on your way to envisioning Journeyman Lodge – a powder paradise nestled in the Callaghan Valley just south of Whistler – yours for the shredding.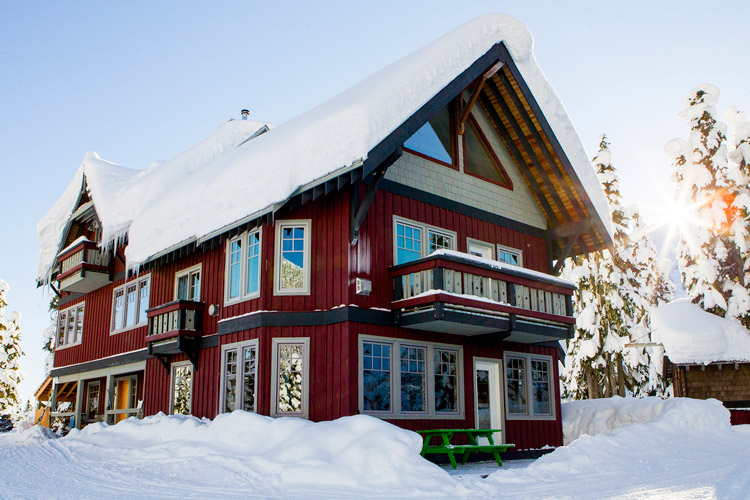 Journeyman Lodge Life
We were lucky enough to head out to the lodge in December. As a group of backcountry skiers and boarders we opted to save our energy for the snow coated faces surrounding the lodge rather than making the 14 km trek to the remote chalet. Our snowcat whisked us and our gear up the groomed cross-country ski trails, occasionally passing a skier or person on snowshoes en route to the lodge themselves. With high hopes of an afternoon filled with pillow lines and face shots we arrived, and were full of awe at the sight of the luxurious lodge surrounded by glaciated peaks. Our curiosity at an all-time high, we absolutely had to see the interior before conquering our first ski objectives.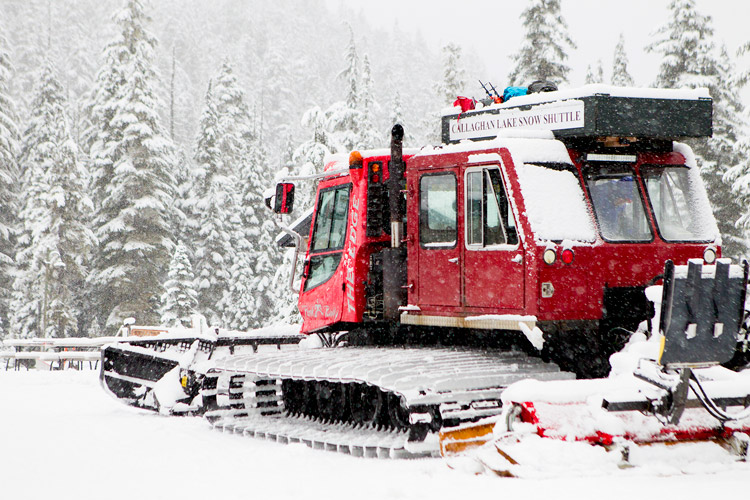 Two friendly lodge hosts welcomed us before we even made it to the front door. Fabien and Valérie escorted our bags inside and offered us warm drinks and fresh fruit. Our lunch bags were made and awaiting our arrival, so we stuffed them in our ski packs and followed Valérie for a tour of the premises. The dining room is lined with big windows, a fireplace, lanterns and a large table for all the guests to eat socially. Food is clearly taken seriously – a commercial kitchen in the backcountry is uncommon, but resident powder-slaying Red Seal Chef Joe has one to craft his culinary creations for hungry visitors.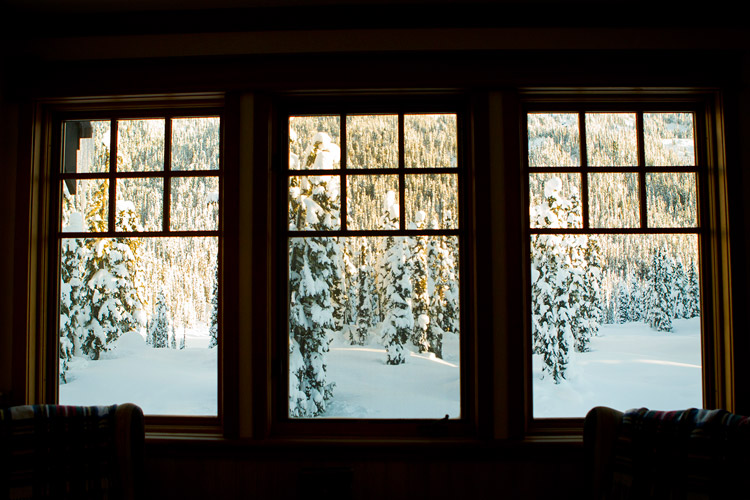 We strolled upstairs past leather couches, a pool table, a game area, a library nook, another crackling fireplace and more cozy seating areas. Sleeping quarters ranged from luxe hotel style suites complete with ensuites to private sleeping nooks with shared washrooms. The quick tour had us wondering whether we should stay in and embrace #lodgelife for the afternoon, but we just couldn't say no to the gorgeous looking peaks outside. With whispers of a sauna being ready after our ski we headed out on an adventure.
Skiing and Snowboarding
Winter was on in the Callaghan Valley, and it looked good wearing it. A plethora of peaks surround the lodge in all directions, making the hardest part choosing one for the adventure. We opted for the classic – Journeyman Peak. Our skin track gained elevation through the trees until we were greeted with pure alpine. The height gave us perspective – there is terrain to keep you entertained for a lifetime up here. There was no way we could tackle it all in a three-day stay, but the challenge excited us!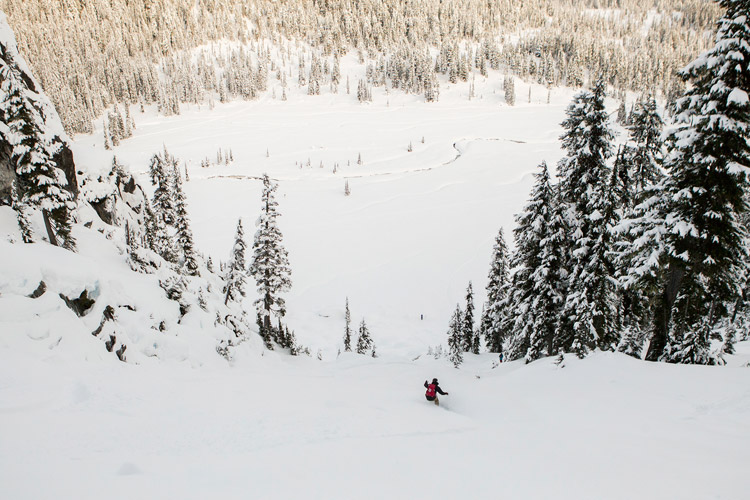 That afternoon we clocked more than a few powder filled runs, and when I say powder, I mean light, fluffy, champagne style snow they brag about in interior BC. Yes folks, we have that on the coast too! As the sun disappeared we made the short skin back to the lodge, where we were greeted with appetizers and towels ready for our first sauna experience.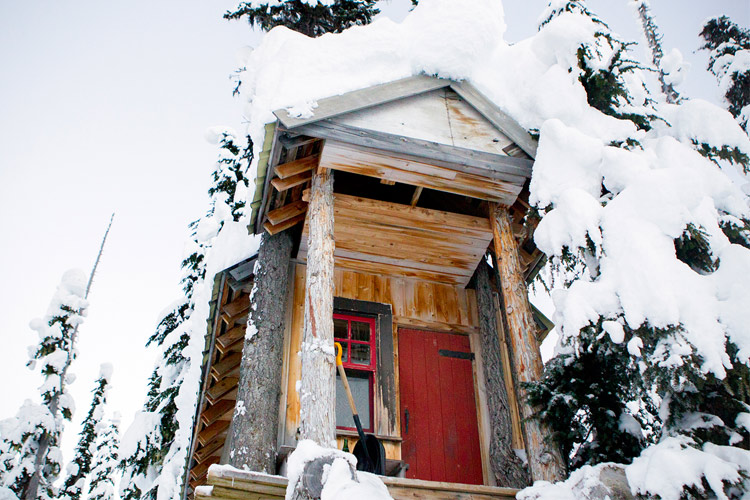 Sitting on the banks of a nearby creek the sauna's stack was smoking and the water below was glistening in the moonlight. The front porch supported by living trees offered a refuge from the heat (with a view), but after one long sauna session everyone decided that a glacial dip didn't sound so bad – into the river we went! The cold was sharp but short lived and the heat welcomed us back, bodies and minds thanking us for the hydrotherapy.
We were not going to fall asleep at the dinner table now – and we return to a feast! A three-course dinner was served and it was everything my taste buds could dream of, and all the nutrition tired muscles could want. Conversations with the fellow guests around the table continued until we retired, to sleep deeply after a day of sun and snow.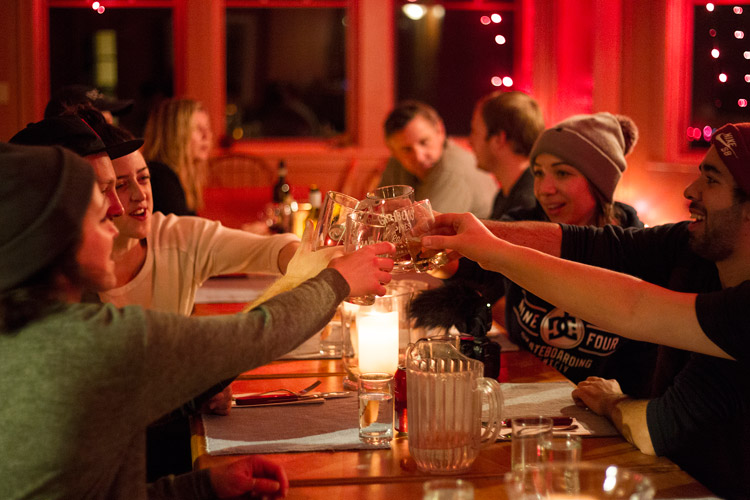 The smell of coffee and fresh baked croissants pulled us out of our comfortable nooks and into the dining room the next day. With steaming mugs we analyzed the weather, avalanche report and lodge terrain book to choose our zone for the day, then  set off again happy in the knowledge we had a warm and friendly place to return to that night.
We lived this way for the next two days. Scrumptious meals, glorious powder, steamy sauna sessions and luxury lodge living, like kings and queens in the backcountry. It was easy to forget a world existed beyond the lodge – the time offline and away from the real world was welcomed by all.
Abby's Insider Tips for a Journeyman Lodge Trip
What to Pack

The rule is bring your own alcohol – if you'd like a drink after skiing you'll need to bring it in with your luggage! May I suggest Après Lager? A locally brewed beer crafted with après skiing in mind (full disclosure – I work for the creators of this brew). Cans also can be crushed and pack in and out of the lodge nicer than glass.
Don't forget your swim suit. As crazy as it may sound to dip in a glacial creek in winter, I can guarantee you'll be very interested in cooling off after a good sweat in the sauna.
Snow boots are nice to have when moving outside the lodge sans skis.
Don't forget a first aid and gear repair kit. Despite all the creature comforts of the lodge you're far from a shop and emergency services if anything goes wrong, particularly if you are on a cross country loop or ski tour away from the lodge.
When the generator is on you can charge up your cameras and phones so be sure to pack the chargers.
A headlamp is nice for evening walks or when the generator is off late at night.
No one will be mad if you bring extra clean socks for lodge hanging, hint hint 😉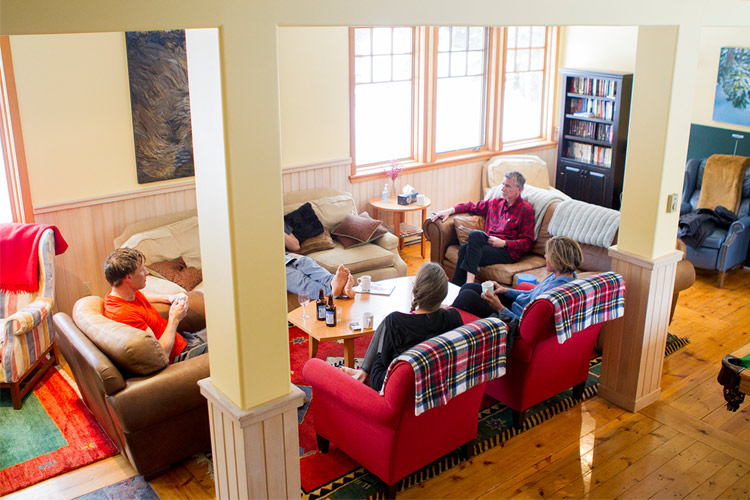 Backcountry Safety
The Journeyman Lodge is a true wilderness experience with backcountry skiing and snowboarding. Travelling in the backcountry is not for the untrained. If you're keen to try backcountry skiing around the Journeyman Lodge but are unfamiliar with the area, book a guide for your experience and at the minimum have your Avalanche Skills Training Level 1 (AST-1) and proper backcountry equipment before venturing here.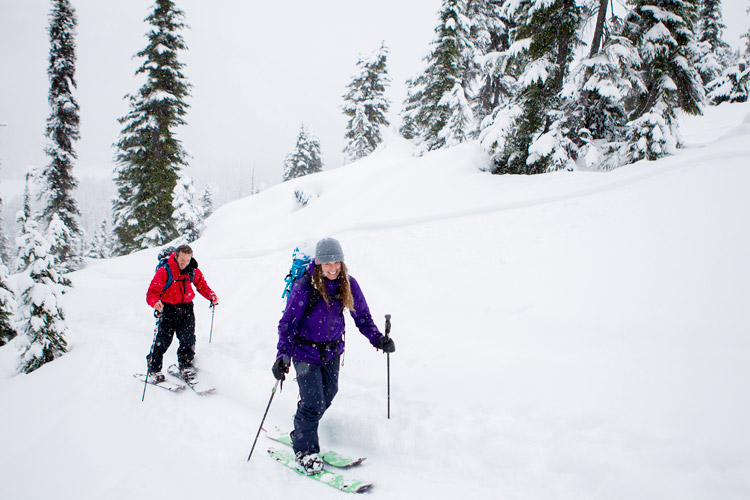 How to Get here
You can book your stay in the Journeyman Lodge at the Callaghan Country website. You can arrive at the lodge by snow cat as we did, or travel via snowshoes or cross-country skiing (classic or skate ski) to get to the lodge, with the trails starting at Ski Callaghan Alexander Falls Touring Centre in the Callaghan Valley. All groomed trails are clear of avalanche danger and offer opportunities for exploration. No matter how you spend your time at Journeyman Lodge you'll be sure to enjoy the outdoors and the indoors equally!
From guided tours to multi day trips, the backcountry options around Whistler are ever expanding. Learn more about options for backcountry tours including where to take your AST-1 course at Whistler.com.