Same mountains, same dudes. LEFT: The team in 1991. RIGHT: Part of the team in 2015
One of our most popular Insider stories from the past few years was about the annual "Black Velvet Ski Weekend", it's worth reading that story to learn how the fellas came up with their team name but for over 25 years a group of friends from the United States have gathered in Whistler to ski hard, après harder (they bring their own shotski over the border each year and host an annual "board meeting" at the Longhorn Saloon) and generally enjoy everything Whistler. With an update on how things went this year, original trip member Gary "Swanski" Swanson filed this report for 2015:
Ten members of The Black Velvet Ski Team returned to Whistler for our 27th annual ski trip. We arrived on March 13th and immediately hit the slopes. What a beautiful day. Whistler had done a fantastic job grooming the runs and it was super sunny out, spring skiing for sure. Whistler had maybe not the best snow pack this year but what snow there was made for some great skiing. Some of us skiied all four days.
We love how Whistler Blackcomb is always improving the lifts and runs. Even for those that didn't ski hard every day, the PEAK 2 PEAK Gondola was worth going up for a ride and some views. Fresh Tracks breakfast on Whistler Mountain is another thing you can and should do, even if it's just for the awesome mountain sunrise.


Left: The shotski first arrived in 1993 and over two decades later it now gets more use than ever (RIGHT).
We always look forward to the Longhorn at 4 PM each day, it's a tradition. They have the best nachos, burgers, fries, drinks, and pure fun. I would rank their service at the top of anywhere and this year we got a nice surprise as they have remodeled their patio – nice overhang roof, big heaters, very comfortable. It's easy to stay there until 7 PM and we did, the shotski definitely collected some fans from the tables around us!
Our other annual tradition is to eat dinner Friday night at The Keg. Wow, even after 27 years we're still so impressed with the great dinner and service, and they have a new menu! All of us all had a great meal.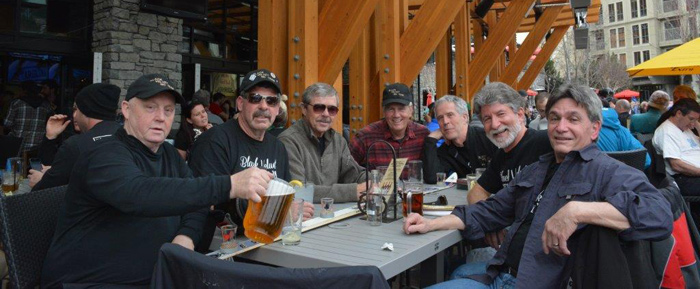 New patio, Same dudes. The Black Velvet Boys test out the new Longhorn patio, 2015
We have skied a lot of different places and one year for our annual trip we even tried another Canadian resort, but never again. Whistler is the best in our World: the service, quality, and hospitality are top notch. Even the guys who didn't ski every day agree, this was the best year yet!
We are already looking forward to our 28th annual visit which will be March 11 – 14, 2016. Come find us at the Longhorn for a shotski.
UPDATE: The boys were back again, read about what they got up to on the 2016 trip.


LEFT:1995, early team uniform. RIGHT: 2015, new uniforms, new friends.