The sun is blazing over Whistler this week and all the local golf courses are firing into action. Golf is a time-honoured game with plenty of tradition but one big trend this season is to get out on the course with the whole family. No longer just an "Old-Boys Club" golf is heading in a more wife-and-kid friendly direction these days and Whistler is embracing the change wholeheartedly.
"The game is growing for women for sure," Courtney Foxgord of Big Sky Golf and Country Club. "More ladies are coming out and more couples are playing the game together. We are seeing a lot more couples and family memberships."
She adds Big Sky's 9-hole, par-3 Academy Course is a great place for women (or anyone) to learn the game and build confidence. "The holes range from 60-200 yards so it's a lot less stressful and an easier environment to learn skills and etiquette."
To take the rust off your game Courtney recommends starting by swinging the short clubs and doing some pre-game stretching. "There's a lot of rotation in your lower back so make sure you're ready for it. Also it's fun to play games and make bets. If you have money on the line it helps, competition is good. Also, work on your pre-shot routine. If you can condition your brain and body to do the same thing every time, it takes the stress off."

Nicklaus North
Practice makes perfect but the absolute best way to learn skills, etiquette and much more is through proper professional instruction and this summer ladies-specific lessons are hot, hot, hot and selling out quickly.
"Last year we had 60 ladies signed up right at the start," says Graham Kehoe, Director of Instruction at Nicklaus North. "This year we have over a hundred. The ladies lessons are sold out."
The fact that the lessons include a gourmet dinner and wine afterwards certainly raises the appeal but Graham has lots of other good instruction packages for anyone looking to improve their game (and you can always order some wine after any lesson if you like.)
Early season, Graham always recommends golfers, "Work on grip, posture and alignment. Get to the range and work on the fundamentals."

Whistler Golf Club
The Whistler Golf Club also offers very successful ladies clinics for any skill level that includes complimentary food and drink as well. In the near future they'll announce plans to host a monthly Ladies-Only event. Stay tuned.
"Our course is very playable for women," Director of Golf Al Kristmanson explains. "Not a lot of forced carries."
Al also recommends golfers take a good look at their clubs at the start of each season. "Evaluate your equipment," he says. "There is lots of new driver technology out these days that is somewhat forgiving. Check your gear, get a lesson so you know what to work on and hit the range."

Fairmont Chateau Whistler
The Fairmont Chateau Whistler Golf Club gets into things with the return of their Date Night program. "Last season we saw really good turnout," says Gregg Lown, General Manager of the Fairmont Course. Starting June 7, Date Night is a Thursday evening event that offers a round of golf followed by dinner for two. To keep things civil, I'd recommend the winner of the round buys the drinks.
When asked for some tips Gregg says to work on, "Chipping and putting – that is the first thing to go and the hardest to get back."
"Kids Golf Free" is another initiative that keeps gaining momentum. Every adult golfer can take a youth out for free and additional youth can join at a reduced rate. Check with each individual course on what age constitutes "youth" and please note that Big Sky, a private course where members' kids have to buy memberships, is unable to offer free golf for youth (but kids can play for $35 or $10 bucks on the Par-3.)
Remember, families that golfs together are statistically happier than those that don't. (I just made that up but I bet it's true – fresh air and scenery are always a good thing. (just be wary letting your youth drive the cart.) Fore!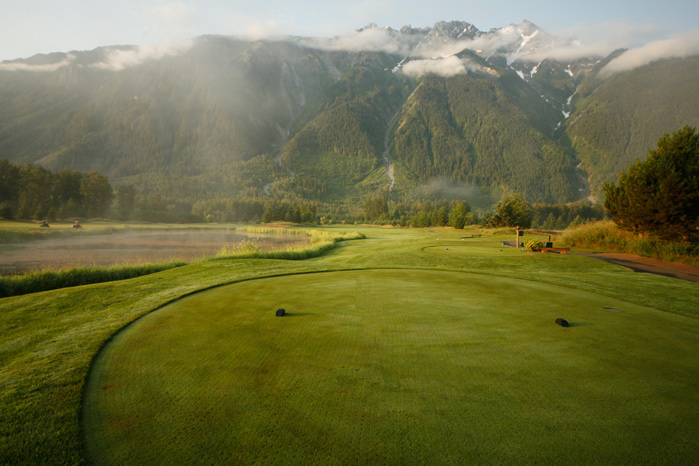 Big Sky