Left Photo Courtesy: Piquenewsmagazine.com
La Fête Nationale du Québec, bien connue sous le nom de Saint-Jean-Baptiste, est la commémoration annuelle d'un héritage unique, d'une identité culturelle et de l'histoire de la Belle Province. Le 24 juin est donc le jour férié officiel du Québec, mais les francophones célèbrent cette fête à travers le Canada entier par des parades, concerts de musique, feux de joie et feux d'artifice.
Bien entendu, ce ne serait pas un vrai party sans prendre un verre et manger une délicieuse poutine, cette combinaison de frites recouvertes de sauce et crottes de fromage. Un éventail d'endroits offre ce met typique à Whistler – nous avons fait le tour des restaurants pour trouver lesquels servaient ce fameux plat. Soyez rassurés, même à l'autre bout du pays vous pourrez poursuivre la tradition québécoise.
* * *
La Fête Nationale du Québec (well known as Saint-Jean-Baptiste Day) falls every year on June 24, a celebration of the unique heritage, identity and history of the province of la Belle Province. Those lucky enough to live in Québec get a whole day off to party but French Canadians all across Canada will be celebrating with parades, bonfires, live music and fireworks.
Of course no celebration is complete without food and drink and one of the well-known delicacies from Québec is Poutine, that hearty combination of French fries topped with gravy and cheese curds. There are plenty of places in Whistler serving this dish – we've done a whip round of the restaurants to see who is serving this dish so even on the other side of the country you can get a taste of Québec culture.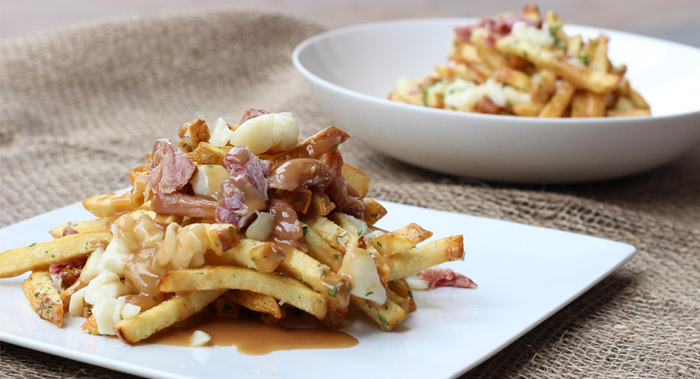 Choose Your Poutine
Here's a quick guide to where to find poutine in Whistler – bookmark and return often as we'll update with more choices as they come in.
The Amsterdam Pub – A delicious classic poutine with a generous portion of dark gravy and a ridiculously big helping of curds.
Beacon Pub & Eatery – Made with Two Rivers Smokey Chicken and house-made BBQ Gravy poured on top of steak cut chips and Quebec cheese curds.
Black's Pub – Serving classic poutine from their prime spot in Skier's Plaza, with views of Whistler and Blackcomb for extra yum.
Buffalo Bill's – Maple Bacon Poutine with shoe string fries, authentic cheese curds and a bacon bit gravy that will give your Canadian taste buds satisfaction. Get it before the menu changes for summer.
Brickworks – Not content with regular poutine, these guys go for blue collar short rib poutine (and they have a new patio, check it out!).
Cinnamon Bear Grille – Traditional recipe made with special gravy from beef short rib shred for a true depth of flavour and nice chunks of meat to pick up with your fires and cheese curds.
Crystal Lounge – Your choice of traditional style with crispy fries, real cheese curds and traditional gravy or Southern style with crispy fries covered in a spicy meat sauce, jalapenos and topped with cheddar cheese.
Dubh Linn Gate – Keeping with a pub environment and love of beer – a favourite is topped with house made pale ale cheese sauce, bacon, scallions & Dubliner cheese.
Firerock Lounge – Specializing in hand cut friends the lounge offers two options, the Firerock Poutine with natural cheese curds, rosemary thyme gravy and the Ham Hock Poutine with natural cheese curds and smoked ham gravy.
KFC – Two poutine options, one classic version and one topped with Popcorn Chicken. Both come as set meals with a drink and a cookie included for just $5 plus tax. Not as fancy as some of the restaurants but they are delicious, filling, and great value.
Legs Diamond Bistro – A luxurious option, with pulled short rib, BC cheese curds, house gravy and thrice-cooked cooked chips.
The Longhorn – Your typical recipe with chicken gravy and the option to add BBQ Pulled Pork plus Spicy Bell Peppers if you're feeling extra healthy.
On-Mountain Poutine – The poutine at the Roundhouse or Rendezvous may be the highest in the country elevation wise, but it also tastes like the top of the world. Hike the snow walls first for a mountainous appetite to match.
Roland's Creekside Pub – This pub goes for spiced fries under the curds and gravy – a cunningly simple twist.
Stonesedge – Available with braised pulled venison, beef bits, Montreal smoked bison or mushroom gravy. Served from noon until 1 AM so you never have to go without poutine.
The Southside Diner – offers a breakfast poutine, plus a couple of variations on the classic including pulled pork and buffalo poutine, making a pedal out to Creekside well worth the effort.
Tapley's – A very traditional Poutine with shoe string fries, cheese curds and a beef gravy, the addition of home-made pulled pork creates the winning formula for an awesome meal.
Three Below – Dive into their short rib poutine with caramelised onions before you check out a movie at the Whistler cinemas.
The Brewhouse – a classic poutine with perfectly proportioned ingredients.
Zog's – has many variations on the classic poutine. The fries are nice and chunky, the portions are generous, and the curds are fresh.
Vive la Bière!
Looking for a liquid celebration? Try a beer from the Éphémère range by Unibroue. This a famous brewery located in Chambly, Québec which specializes in abbey style beers. Light and bright with hints of fruit, these beers demand to be sipped on a sunny patio. Rare to find on tap, it can be found in the bottle – just ask your server or check in at your local liquor store.
Joyeuse Fête Nationale du Québec! Stay tuned for more Canadian treats ahead of Canada Day celebrations on July 1, 2017.